What follows are recollections of conversations — such as they were — with six actresses I met, five in person, the other a phone call set up as a result of some botched communication.
My California visit in 1964 included visits to Universal Studios and MGM. At Universal I met Cheryl Holdridge and Allyson Ames, who back in those days were referred to as actresses, not actors, and often termed "starlets." Both were two lovely ladies, who on the day we met seemed more concerned with personal matters than their careers. We chatted awhile in a recording studio where they were dubbing lines for an episode of "Wagon Train."
Holdridge was the better known of the two, a former Mousketeer who also had made eight appearances as a child performer on "Leave It To Beaver." She was 20 years old and had moved on to guest roles in several prime time series. She was preoccupied with her romance with Lance Reventlow, son of Woolworth heiress Barbara Hutton. Reventlow, usually described as a playboy, had recently divorced actress Jill St. John, a sore subject with Holdridge, who correctly predicted on the day we met that St. John no longer was in the picture; she and Reventlow would wed. Which they did six months later. Then she retired from acting, though she would briefly unretire in 1985 to make two TV appearances in "The New Leave It To Beaver." She also had a role in the 2000 movie, "The Flintstones in Viva Rock Vegas."
Reventlow's full name was Lawrence Graf von Haugwitz-Hardenberg-Reventlow. He also was the stepson of Cary Grant and of another of his mother's husbands, Prince Igor Troubetzkoy, an auto racer. Reventlow had been a friend of James Dean, sharing the actor's love of fast cars. Reventlow, also a pilot, would be killed in 1972 in the crash of a small plane. Holdridge would marry twice after that. She died in 2009.
Ames was considered a better actress than Ms. Holdridge, but her career came to an end soon after she she married producer-director Leslie Stevens, who worked on such TV hits as "Outer Limits," "The Name of the Game," "McCloud" and "The Virginian." He also wrote and directed a 1966 horror film, "Incubus," that starred Ames and William Shatner. By the time the film was released Ames and Stevens were headed for a divorce. Their marriage lasted about one year.
I haven't found any biography of Allyson Ames on-line, but my recollection is she had been married previously and in 1964 was a single mother with two or three children. I may have her confused with another Allyson (or Allison), but I don't think so. During our conversation she joked that if I wanted an interesting look at the glamorous life of a young actress I should stop by her apartment for dinner, which I took to be a reference to caring for and feeding her children. Holdridge egged me on, as though Ames were asking me out, but I figured I was being drawn into a joke, the punchline of which would be "Gotcha!" Besides, a Hollywood-based wire service writer — Bob Thomas, I think — had already done a story of the hard life of Allyson Ames, who was raising children on her own while she waited for her big break.
Both women had work to do, so I excused myself and left.
It was during that California visit that I was invited to an Emmy Awards party where I met Irene Ryan, who had been nominated as best actress in a comedy series. (She correctly predicted Mary Tyler Moore would win, complaining just a bit that the industry had no respect for her series, "The Beverly Hillbillies.")
Ryan was surprisingly friendly and got along especially well with my traveling companion and former Kent State classmate, Lynn Kandel. She invited us to visit the set of her series, which was about to wrap up filming of its last episode of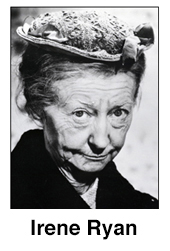 the season. The sitcom was a Filmways Production, but I can't remember where it was shot. Anyway, a day or two later Lynn and I visited the set, had a brief chat with Ms. Ryan, then watched her film a scene — during which she was bitten by a chimpanzee, probably the one known on "The Beverly Hillbillies" as Cousin Bessie.
Such incidents were not unusual for actors working with chimpanzees, and this one required that Ryan be taken to a hospital. As she was being driven away, she told her driver to stop. She rolled down a window, called Lynn and me over, and apologized for what had happened. It was an amazing gesture.
What I recalled more vividly was Buddy Ebsen's reaction to the chimp incident. He loved Irene Ryan and all that, but Ebsen was anxious to finish the season and begin his summer hiatus. Given his druthers, Ebsen probably would have strangled the animal.
I never did get around to having another, lengthier conversation with Ms. Ryan, though I'll always remember how friendly and considerate she was during our two brief meetings.

Of the six meetings listed on this page, the closest one to a date — speed or otherwise — was the time I spent with Barbara Anderson in 1967 at a restaurant in Brecksville, Ohio. She was single, not yet 22 years old, and had come out of nowhere to be chosen to play Officer Eve Whitfield on the Raymond Burr series, "Ironside," which also featured Don Galloway and Don Mitchell.
She was born in Brooklyn, but grew up in Memphis, attending Memphis State University, where she decided she'd become an actress. She moved to Los Angeles in 1966 and got work almost immediately, doing guest spots on "The Virginian," "Jericho," "The Road West," "Star Trek," and "Laredo" before filming the "Ironside" pilot.
I don't recall much of the interview except that she was pleasant, forthcoming, and not at all affected by her sudden success. However, because her success was so sudden, she didn't have any amusing or interesting anecdotes to share about her work or her co-stars.
She went on to win an Emmy as outstxanding supporting actress in a drama series in 1968 and was nominated for the award the next two seasons. In 1971 she married former actor-turned-stockbroker Don Burnett, 15 years her senior and once married to actress Gia Scala.
Barbara Anderson left "Ironside" after the 1970-71 season, and worked sporadically after that, though she did appear in seven episodes of "Mission: Impossible" in 1972. For all practical purposes she retired in the late 1970s,, though she has made a few appearances since then,, most recently in "The Return of Ironside" in 1993, made just before Raymond Burr's death.
Soon after I launched this website about 15 years ago, I included pages devoted to "Dallas" and "Knots Landing," two programs I felt were under-rated by most critics, who may have resented the former because it became so wildly popular around the world. "Knots" operated in the shadow of "Dallas," which was ironic in a way because "Knots Landing" was created first.
However, CBS was not immediately interested and told "Knots" creator David Jacobs to come up with a prime time soap about a Texas oil family. Then, when "Dallas" caught on, Jacobs was required to insert one of the Texas Ewings into his cast of "Knots Landing" characters.
During the "Dallas" heyday, CBS never offered interviews with Larry Hagman, Patrick Duffy, Victoria Principal or other regulars to newspapers the size of the Providence Journal. However, in 1987, a publicist did arrange an interview with one of his clients, Deborah Shelton, who played Mandy Winger, J. R. Ewing's most interesting mistres.
Unknown to me at the time was that Mandy Winger had been written out of "Dallas." When she called, she admitted as much, but said she wanted to talk about her movie career, but the more she talked, the more I was certain her film career would go nowhere. Her
first post-"Dallas" film was a German comedy — that's right, a German comedy — called "Zartiche Chaoten II," which translated as "Lovable Zanies II." (Her co-stars included Michael Winslow, Thomas Gottschalk and the ever-popular David Hasselhoff.)
That year (1988) she also appeared in "Perfect Victims," a thriller about a psycho who contracts AIDS and goes on a killing spree, his victims young and beautiful women. Clarence Williams III and John Agar also had roles in the film, which quickly disappeared.
She also appeared in something called "The Choice," with Ferdy Mayne, a German-born actor who did some horror films in England. "The Choice" also had a limited release, and all prints of it may be sitting on a warehouse shelf somewhere in the UK.
As far as I know, Shelton still works occasionally, though "Dallas" remains the highlight of her career. That and her small role in Brian DePalma's "Body Double" in 1984.
Shelton was Miss USA in 1970 and runner-up in the Miss Universe Pageant. She was a stunning brunette, and I suspected she was written out of "Dallas" at the requests of Victoria Principal and Linda Gray, who may have felt threatened by Shelton's presence.
In any event, my interview with her didn't produce anything interesting enough to put into a story. She wouldn't be drawn into juicy gossip about "Dallas," and I couldn't get interested in "Lovable Zanies II."
In 1976, Raquel Welch, her film career apparently not headed in the right direction, made what I thought was a gutsy move — she went on tour as a singer. Among her stops was the Warwick (RI) Musical Theater.
Granted, audiences at these summer arenas-in-the-round were not particularly demanding, known to give standing ovations to The Golddiggers, the singing group that was born on "The Dean Martin Show" and was comprised of women selected more for their looks than vocal ability.
Still, Ms. Welch was taking a big chance. She hadn't actually proven herself as an actress, and now she was presenting herself as a singer who could carry a show all by herself.
As it turned out, I thought she performed surprisingly well, and after the show, Burton "Buster" Bonoff, with a gleam in his eye, asked if I wanted to meet the glamorous woman who had starred in such films as "Myra Breckenridge," "Hannie Caulder," and "Kansas City Bomber," and had held her own with some biggies in Richard Lester's "The Three Musketeers" and its sequel.
Bonoff popped into her dressing room, and she told him she had a few minutes to talk to the fellow who had just reviewed her show. She was very gracious, though obviously in no mood to be interviewed. We talked for a few minutes, but when I suggested maybe she'd rather be alone, she smiled and said, "If you wouldn't mind."
For whatever reason, 1976 was a pivotal year in Raquel Welch's career. She appeared mostly on television shows after that and her movie career was confined to a handful of supporting roles.