Boleslaw (William) Smolinski
Polish immigrants arrived in droves between 1890 and the start of World War I in 1914. It is estimated that more than four million Poles — out of a population of 22 million — emigrated to the United States during that period.
My grandparents, Helena Kalinowski married Boleslaw Smolinski in 1902 in Kolno, a city in a part of Poland under Russian control from the late 1700s until the end of World War 1. They were teenagers. He left for America soon after the wedding, she followed a year later.
My grandfather's name, in Polish, appears as Smolnik or Smolnek. My grandmother's maiden name was Kalinowska, though others from the same family who settled in Lackawanna County, Pennsylvania, had a variety of spellings, including Kalinowski, Kalinoski andKalinowsky. I once saw my grandmother's name written as Kalinowskich.
Helena and Boleslaw were reunited in New Jersey where their first child, Wanda, was born in 1904. For reasons unknown, they returned to Kolno in 1905 and remained there until their second child, Boleslaw, was born in 1906. Then they sailed again to the United States and settled in Solvay, New York, just outside of Syracuse. Two of Boleslaw's brothers, Ignacy (or Ignatz) and Josef (Joseph) soon followed. So did Stanley and Rosa Smolinski, listed in the 1910 census as the parents of Boleslaw, Ignacy and Joseph.
That census shows ten Smolinskis living at 319 Second Street, Solvay: Boleslaw, 26; Helen, 24: and their children, Wanda, 5; Boleslaw Jr., 4; Helen, 2, and Edward, three months; Stanley, 56; Rosa, 45; Ignacy, 22, and Joseph, 20. (According to the census, the household also included a boarder, Peter Naja, 23, a native of Russia-Poland.)
AFTER A SHORT STAY in the United States, Stanley and Rose separated. He returned to Poland, she remained in Solvay and in 1913 married Stanley Karulevski (Karolewski). On the marriage license, Rose listed her parents as Martin Koziol and Marian Bugnacki. Karolewski died in 1915, and Rose would marry again, to Peter Lubak, though the date of their wedding is unknown.
Soon after Stanley returned to Poland, my grandfather, Boleslaw Smolinski, left his wife and children and moved elsewhere. My mother never talked about her father, but in the 1980s (see story below), we inadvertently discovered Boleslaw may have started another family in the Binghamton, New York, area.
My mother then admitted her father hadn't actually left home intending to desert his family. He went in search of a job, and found one in Elmira. He wrote to my grandmother, and asked her and the children to join them. My grandmother, employed as a cook at the Solvay Process Company, refused to move. And that was that. Whether they ever saw each other again is unknown. My immediate family — my parents, my sister and myself — kept in contact with Boleslaw's brother, Joseph, in Highland Falls, New York, but for some reason did not maintain a relationship with another brother, Ignacy (James), who lived only a mile from our home in Solvay.
BOTH BOLESLAWS in our family — my grandfather and my uncle — changed their first names to William. My grandmother dropped the "a" from her first name, and was known to co-workers as Helen, though everyone in our family called her Nana.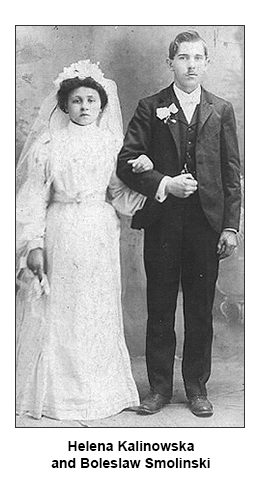 Occasionally we were visited by a woman we called "Babka." This was my Great-Grandmother Kalinowska, and I'm fairly certain she lived in Pennsylvania, but I do not know her real first name. Babka usually refers to a cake, but viewers of "Seinfeld" may remember an episode that included a woman called "Babka," which comes from the Polish word, "babcia" (bahp-chah), or "grandma."
Ignacy (or Ignatz) Smolinski remained in Solvay and became known as James. However, when he applied for citizenship in 1917, he apparently had to use the name that appeared on his birth certificate — Ignacy Smolnik.
The 1920 United States census has him married to Iadwiga Basceska (Baczewski), but this was an incorrect transcription of a first name that was difficult to read. Her first name most likely was Jadwiga, translated as Hedwig or Hattie. (Jadwiga is pronounced as though it is spelled Iadwiga.)
In the 1930 census Mrs. Smolinski's first name is listed as Agness, the same first name the couple gave their third daughter, who was born in 1918. (I assume this spelling was incorrect and that Agnes, with one S, is preferred.)
Ignacy and Iadwiga Smolinski — aka James and Agnes Smolinski — and their five daughters, Helen, Jennie, Agnes, Ann and Dorothy, lived at 301 Center Street, a few blocks west of where the Smolinski brothers had lived after they arrived in Solvay. My grandmother moved a few blocks in the other direction, to Summit Avenue, atop a hill a short distance from the main entrance to the Solvay Process factory.
JOSEF SMOLINSKI, better known as Joseph, soon left Solvay and joined the United States Army. He had the good fortune to spend almost all of his time stationed at the U. S. Military Academy in West Point, New York. He married, settled in nearby Highland Falls, and raised three children. The Solvay Smolinskis frequently visited Master Sergeant Joseph Smolinski, and his family even more frequently visited Solvay. One of his grandchildren, Ray Mesaris, who died in 2012 in Florida, spent several weeks with the Smolinskis on Russet Lane during at least two summer vacations.
Interestingly, Nana's first child, Wanda, married Peter Kaldowski, thus strengthening our family's connection with the Koziols. Three of her husband's sisters married Koziol brothers and lived in West Solvay. The name is pronounced KAY-zel, which is why, after experimenting with Kozo, this particular family finally settled on Kazel as their Americanized last name.
The search for more information will continue. Any corrections or additional information would be appreciated. Likewise, if you want your name removed from any of these family trees, let me know.
Contact: jackmajor38@gmail.com
NOTE: Since writing the above, I came upon a marriage record for William Smolinski and Catherine Zalewska in Hallstead, Pennsylvania. The wedding took place November 19, 1915.
This interests me because the first clue I had of the possible whereabouts of my grandfather after he left my grandmother was provided by my cousin, Tom Smolinski of Falls Church, Virginia, after his son, Scott, was married. At a family gathering in Syracuse, at the home of Tom's sister, Sandra Grecco, we watched wedding films and heard a story that Scott (or his brother, Tim) met someone in the Washington, DC, area, who asked him if his family had any connection with Syracuse.
This person claimed to know Smolinskis from Binghamton, NY, who were children or grandchildren of a Smolinski who had left the Syracuse area and started another family.
Known as Boleslaw Smolinski for the 1910 United States Census, my grandfather listed his parents as Stanley and Rosa Smolinski. His birth year was listed as 1884.
The William Smolinski who married Catherine Zalewska in a Pennsylvania town just a few miles from Binghamton, listed his parents as Stanley Smolinski and Rose Keglovska Smolinski. His birth year was listed at 1887. The difference between 1884 and 1887 could easily be explained by the way people print the two numbers — 4 and 7. It's possible in both cases he said he was born in 1884, or 1887, and it was transcribed incorrectly.
Or perhaps the fact Stanley and Rose (or Rosa) Smolinski were listed as parents for Boleslaw (or William) Smolinski may simply be a coincidence.
Boleslaw (William) Smolinski
Boleslaw (William) Smolinski (1884-19??) m. Helen Kalinowski (1887-1962). Helen worked for many years as a cook at the Solvay Process Company. She was a doting grandmother to 11 children who called her Nana. She was a strong woman, loving and good-hearted, but with an iron will and a fierce sense of family loyalty. She and Boleslaw Smolinski had four children:

Alma Kaldowski (1927-2012) m. James Furcinito (1926-2018).

Alma J. (Kaldowski) Furcinito, 84, of Liverpool passed away on Saturday July 21, 2012.
She was born in Solvay, and was a resident of Liverpool for 42 years. Alma was a graduate of the Convent School in Syracuse and continued her education attending Marymount College.
(James Furcinito's obituary appears at the bottom of the page.)
James Furcinito m. Bonnie Ernst (divorced)
Peter Furcinito m. Ann Marie Russell. They have two children:
Elizabeth Furcinito (1997- )

Edward Furcinito (2000- ).
Suzanne Alisha "Suzie" Smolinski (1963) m. Donald L. Winchester. Suzanne and Donald Winchester live in Florida.
Matthew Winchester (1995)
Michael Winchester (1998)
| | |
| --- | --- |
| Helen Smolinski (1970) lives in San Francisco and is a staff attorney at the Lawyers' Committee for Civil Rights. | |
Mary Smolinski m. Bob deLoe
Katherine Ann "Kate" Smolinski
Robert P. Smolinski (1935- ) m. Patricia Sullivan (1941-2020). Bob is an attorney and the former police justice of the village of Solvay, NY.
Patricia A. "Patty"(Sullivan) Smolinski, 79, of Solvay, NY and Dania Beach, Florida, passed away on June 1, 2020 free of pain with her beloved family at her side. She was a graduate of Syracuse University and was formerly employed by American Airlines as a stewardess where she met her husband on a 45-minute flight!

She was predeceased by her parents Irene and Edward Sullivan; sisters-in-law Avril and Joanne; brother-in'law William "Bimby".

She is survived by her husband of 56 years Robert P. Esq; son William A. Esq; and daughter Jennifer Irene RN; cousin Janet Singer; brothers-in-law James and Philip; a beloved sister-in-law Colette; and numerous nieces and nephews.
Obituary from the Syracuse Post-Standard.
William Smolinski (1965- ). Like his father, Billy graduated from LeMoyne College and played basketball for the the Dolphins. He also is an attorney in Solvay.
Jennifer Smolinski (1967- )
James D. Smolinski (1941-2020) m. Avril Judson. 2nd wife: Joanne O'Connor (obituary below)
Alison Smolinski (1961) m. Richard Wilson; North Grafton, MA.
Joseph Wilson (1994-2010) died of injuries suffered in an automobile accident.
James Smolinski (1968- ) and Kierstin G. Lavoie, North Grafton, MA

Delaney Smolinski (1999- )
Elizabeth Smolinski (1970- ) and Frank G. Beshai IV, North Grafton, MA
James David Smolinski, of Syracuse, passed away Sunday, December 27 at his home. He was a kind and gentle man who enjoyed his family, friends and his many grandchildren.

Jim graduated from Solvay High School in 1957 at age 16, then took a year off before attending and graduating from Le Moyne College in 1962.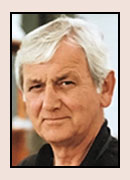 He served in the Army National Guard for six years where he trained as a medic while at Fort Sam Houston in San Antonio, TX.

He raised his family in Massachusetts before returning to Syracuse. Jim worked in sales for many years with several companies, eventually retiring from Lewis Goodman, Inc.

Jim loved old western movies, doing crossword puzzles and spending time having coffee with friends and family. He was a fan of all sports, especially the New England Patriots and Boston Red Sox. He also enjoyed golf, tennis and was his grandson Brady's biggest fan and loved watching him play baseball, whose tournaments at Cooperstown were some of his greatest memories.

Jim was predeceased by his wife, Joanne (Hildenbrand) O'Connor-Smolinski; parents, William and Gertrude (Maltby) Smolinski; brother, William (Bimby) Smolinski; sister-in-law, Patricia Smolinski; the mother of his children, Avril Judson Smolinski; his dear grandson, Joseph Wilson; and his beloved dogs, Jordan, Jr., Casey and Annie.
Surviving are his children, Alison Wilson, James (Kierstin) Smolinski and Elizabeth (Frank) Beshai; grandchildren, Delaney Beshai, Delaney and Brady Smolinski and Charlie St. Pierre; brothers, Robert and Philip; sister-in-law, Collette; best friend of 70 years, Jack Ryan; stepchildren, Ellen O'Connor, Kevin O'Connor, Mark (Rachel) O'Connor, Elizabeth (Tod) Avery and Christopher (Jessica) O'Connor; grandchildren, Henry and Charles Hennigan, Katelyn O'Connor, Cayman George and Tyler Dygert, Abigail and Josie Avery and Parker, Estella and Carley O'Connor; and many nieces, nephews, cousins and friends.

Services will be held at a later date in Summer 2021 at the convenience of the family.
Obituary from syracuse.com
JoAnne Marie Hildenbrand O'Connor-Smolinski, "Neena", 72, passed away February 8, 2016 at Crouse Hospital. JoAnne was a very loving, caring and selfless person. She will be greatly missed by her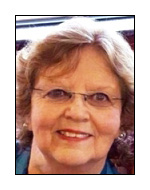 family and friends, and will always be remembered for her heartwarming personality and wonderful smile.
JoAnne was predeceased by her first husband, Robert J. O'Connor, in 1979.
Surviving are her husband, James D. Smolinski; children, Ellen, Kevin, Mark, Elizabeth, and Christopher; stepchildren, Alison, James, and Elizabeth; sister, Judi Chlebus; and many grandchildren.
A funeral Mass was celebrated Friday, February 19, 2016 in Holy Family Church, Fairmount. Burial: St. Mary's Cemetery, DeWitt.
Phillip D. Smolinski (1949- ) m. Colette Godard. Home: Marcellus, NY
Alexander "Alex" Smolinski lives in Milwaukee. He is owner of Wonder Wonder Sound, au audio production and mixing studio. He works with Milwaukee agencies whose clients need music or sounds for a commercial.

He studied music in college and was a member of the band, Johny Vergas. After the band split, Alex joined The Churchills, met and married another band member, Kim Henry.
Jonah Allen Major (2000- )
Ethan Henry Major (2002- )
Edward Smolinski (1910-80) m. Sarah "Sally" Eldridge (1913-1986). They had four children: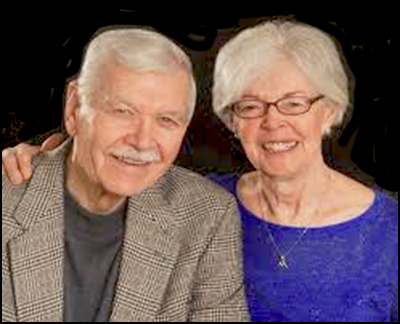 Thomas Smolinski (1937- ) m.
Edith Fiske
.

Home: Falls Church, VA. They have four children.
1. Scott Thomas Smolinski (1963- ) m. Valerie Singleton; Arlington, VA.

Kelly Anne Smolinski (1990- ) and husband John Thorsen.
Heather Smolinski (1994- )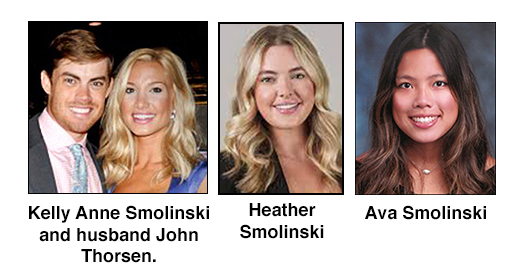 2. Timothy Stephen Smolinski (1964-) m. Vicky Woodbury

Ava Smolinski is a freshman (2023) in the Culverhouse College of Business studying digital marketing at the University of Alabama.
3. Mary Smolinski (1966- ) m. Ken McInerney. Home: Arlington, VA.

4. Sarah Smolinski (1968- ) m. Gregg Kassan

Sandra Smolinski (1941- ) m. Paul Grecco (1944- ) Home: Bluffton, SC.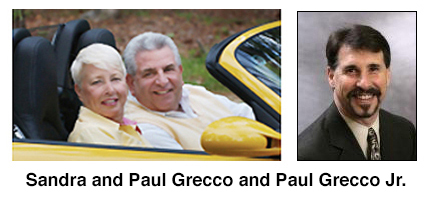 1. Paul Grecco Jr. (1965- ) lives in Fortt Lauderdale, Florida, with his life partner, Rusty Fitzpatrick.
Isabel Carter Sharp (Grecco) (2004- )
Alexandra Quinn Viele (Grecco) (2008- )
2. Edward Grecco m. Trina Russo; Bluffton, SC.

Edward Ty Grecco (2003- )
3. Peter Grecco (1971-2014) m. Luz Marina; Bluffton, SC. Peter Grecco passed away July 15, 2014, from from complications associated with congestive heart failure. Peter was born in Syracuse, NY, and was a 21-year resident of Bluffton and ran the family business, Superior Pools Services.
Isabella Bianca Grecco (2003- )
Linda Smolinski m. ?? Whalen. 2nd husband: Anthony "Chappie" Romano. Home: Syracuse
Kathleen Ann Smolinski (1951- ) m. Michael Donegan. Home: Syracuse
Jessica Ann Smolinski (1970- ) w. Matthew W. Kenyon
| | |
| --- | --- |
| Mackenzie Matthew Kenyon (1999- ) | |
Alexandra Ashley Donegan (1988- )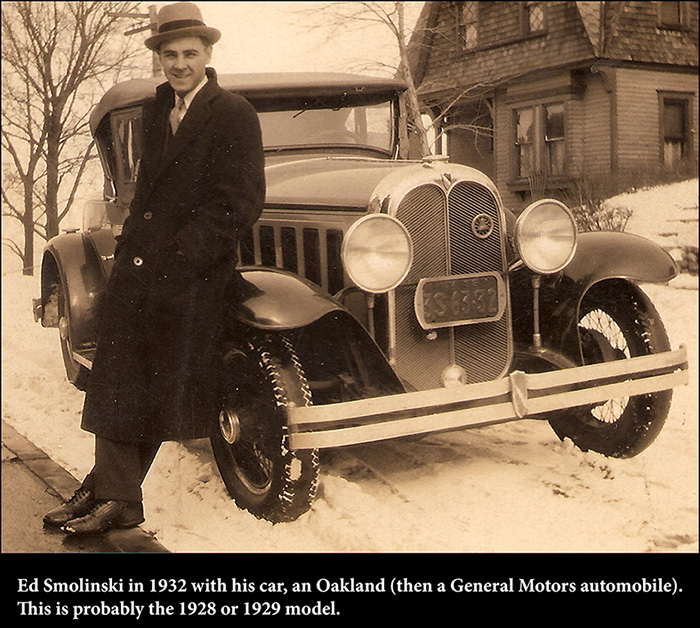 James Furcinito: home builder
and veteran of World War 2
James Furcinito, 91, of Liverpool, passed away on Tuesday (June 5, 2018). He was born in Syracuse and had been a resident of Liverpool for the past 48 years.
James attended Christian Brothers Academy and continued his education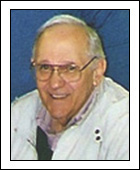 attending LeMoyne College as well Syracuse University. He served his country in the Army 11th Airborne Division during World War II. He and his son Peter loved participating in Honor Flight Mission 9.
He was a member of the CNY Home Builders Association. James was retired from being a home builder and was a partner in several successful companies, Furcinito Construction Corp, Willowbrook, Radcor, and Furcinito Builders Inc. Upon his retirement, he enjoyed winters in Marco Island.
Both James and his late wife, the former Alma Kaldowski, enjoyed supporting their grandchildren's athletics and activities. Therefore, in lieu of flowers, friends and family are asked to donate in memory of Jim to Liverpool Crew Boosters, 8214 Molson Way, Liverpool, N.Y. 13090.
Surviving to cherish his memory are two sons, James P. (Charlotte) Furcinito of Houston, TX, and Peter S. (Ann Marie) Furcinito and two grandchildren, Elizabeth and Edward Furcinito, all of Liverpool. Also surviving are many nieces, nephews and cousins.
A calling hour will be held 10 to 11 am, Tuesday, June 12, 2018, at Pope John XXIII Catholic Church, 8290 Soule Rd., Liverpool, with a Mass of Christian Burial to be celebrated at 11 am.