Joseph — born Josef — was the youngest of three brothers who began our Smolinski family in the United States. Like his brother, Ignacy (James), Joseph left Poland (then under Russian rule) to join the oldest of the Smolinski brothers, Boleslaw (William), who had married Helena (Helen) Kalinowska in Kolno in 1902.
(Boleslaw and Helena are my grandparents. In Polish, Smolinski often appears as Smolnik or Smolnek. Kalinowska also has a variety of spellings, including Kalinowski, Kalinoski and Kalinowsky. I once saw my grandmother's name written as Kalinowskich.)
Boleslaw left for America soon after the wedding, she followed a year later. They were reunited in New Jersey where their first child, Wanda, was born in 1904. For reasons unknown, they returned to Kolno in 1905 and remained there until their second child, Boleslaw Jr., was born in 1906. Then they sailed again to the United States and settled in Solvay, New York, just outside of Syracuse. Boleslaw's brothers, Ignacy and Josef soon followed. So did Stanley and Rosa Smolinski, listed in the 1910 census as the parents of Boleslaw, Ignacy and Josef.
That census shows ten Smolinskis living at 319 Second Street, Solvay: Boleslaw, 26; Helen, 24: and their children, Wanda, 5; Boleslaw Jr., 4; Helen, 2, and Edward, three months; Stanley, 56; Rosa, 45; Ignacy, 22, and Joseph, 20. (According to the census, the household also included a boarder, Peter Naja, 23, a native of Russia-Poland.)
AFTER A SHORT STAY in the United States, Stanley and Rosa separated. He returned to Poland; she remained in Solvay and in 1913 married Stanley Karulevski (Karolewski). On the marriage license, Rosa listed her parents as Martin Koziol and Marian Bugnacki. Karolewski died in 1915, and Rosa would marry again, to Peter Lubak, though the date of their wedding is unknown.
Soon after Stanley returned to Poland, my grandfather, Boleslaw Smolinski, left his wife and children and moved elsewhere. In the 1980s, we discovered Boleslaw may have started another family in the Binghamton, New York, area, but there was never any contact between my immediate family — my parents, my sister and myself — and my maternal grandfather.
We did remain in contact with Boleslaw's brother, Joseph, in Highland Falls, New York, but for some reason did not maintain a relationship with another brother, Ignacy (James), who lived only a mile from our home in Solvay.
Joseph left Solvay after he joined the United States Army. He had the good fortune to spend almost all of his time stationed at the U. S. Military Academy in West Point, New York. He married, settled in nearby Highland Falls, and raised three children. The Solvay Smolinskis frequently visited Master Sergeant Joseph Smolinski; his family even more frequently visited Solvay. One of his grandchildren, Ray Mesaris, who died in 2012 in Florida, spent several weeks with the Smolinskis on Russet Lane during at least two summer vacations.
— JACK MAJOR
| | |
| --- | --- |
| Joseph Smolinski (1891-1964) married Catherine Lewis (11896-1958). They lived in Highland Falls, NY, and had three children. | |
Olga Smolinski (1917-1943) m. Joseph A. Mesaris (1908- ). Olga Smolinski was his second wife; he and his first wife had divorced, and he was a soldier stationed at West Point, NY. They had one child:
Raymond Mesaris (1934-2012). He was married to the late Anne Conley Mesaris, beloved mother of their children, and later to Kathleen "Kitty" Gorry Mesaris (1944-2009) who also predeceased him. After 33 years, Raymond retired as Chief of Police with New York State Park Police, Bear Mountain. He moved to Port Charlotte, FL, where he died. In addition to the children listed below, he was survived by ten grandchildren.
Raymond J. Mesaris, Jr. of Fort Montgomery
Betsy M. Anderson of Port Charlotte, FL. (Her last name appears as Lane in the obituary for Rev. Joseph J. Smolinski, below.)
Kathryn A. Mesaris m. James Pole of Denton, TX
Christine L. Mesaris m. Derek C. Deegan of Highland Falls
Mary Smolinski (1918-1993) m. John Gorry (1917-1993)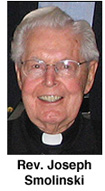 Rev. Joseph J. Smolinski (1922-2016 ) Father Joseph J. Smolinski served as a U.S. Army chaplain, 1953-1973, in Germany, Korea and Turkey, and was a parachutist stationed with the Airborne Corps Artillery
From 1973 until his retirement in 1997 Father Smolinski was chaplain at Letchworth Village, a since abandoned mental facility in Thiells (Rockland County), NY. He is living in the Bronxin a home for retired priests.
His obituary, courtesy of the William F. Hogan funeral home in Highland Falls, NY:
Reverend Joseph J. Smolinski, 94, a lifelong resident of the area, passed away on Monday, June 6, 2016 at Our Lady of Consolation in the Bronx. Son of the late Jozef Smolinski and Catherine Lewis Smolinski, he was born on April 5, 1922 in West Point, NY.

Father Joe was ordained in the priesthood on April 17, 1948 at St. Patrick's Cathedral. He was commissioned June 15, 1953 in the U.S. Army serving as a Chaplain and Paratrooper during the Korean and Vietnam Wars. He retired with the rank of Lieutenant Colonel on June 30, 1973.

His awards included the Bronze Star Medal, Meritorious Service Medal, National Defense Medal, Korean Service Medal, Vietnam Service Medal and the Army Commendation Medal with 2 Oak Leaf Clusters.

Upon discharge from the U.S. Army he served as Chaplain at Letchworth Village in Thiells, NY from 1973-1997 and then retired to live in Highland Falls where he often assisted at Sacred Heart Church.

Survivors include his nephew Raymond J. Masaris, Jr. & family; his nieces: Kathryn Pole & Family, Betsy Lane & Family, and Christine Deegan & Family.

He was buried in West Point Cemetery, West Point, NY.