The Maltby branch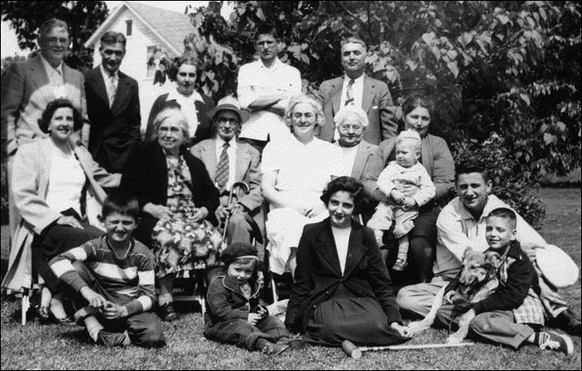 BACK ROW (L-R): Ambrose Welch, William Maltby, his wife Helen (Worden) Maltby, Bob Smolinski, Leon Maltby.
MIDDLE ROW: Elizabeth (Kinsella) Maltby, unknown, unknown, Ruth (Maltby) Welch, Helen Smolinski, Gertrude (Maltby) Smolinski, holding son Phil on her lap.
FRONT ROW: Jimmy Smolinski, Kathleen Maltby (Corgliano), daughter of William and Helen Maltby), Maureen Maltby (Finn), Bimby Smolinski, Jim Maltby, holding his dog, King.
Thanks to Jim Maltby for providing the information for this family tree. Gertrude Maltby, a great-granddaughter of Minor Maltby, married William Smolinski, which is how our families were linked. Of all the people on our family tree, perhaps the Maltbys were the first to arrive in America.
Minor Maltby
(1816-1914)
Minor Maltby of Baldwinsville, NY, married Avaline Vosburgh (1819-1891) of Camillus. About 1866 they moved to the town of Brutus, in Cayuga County, but a few years after his wife's death Minor Maltby moved again, to the village of Jordan.
Syracuse Post Standard, January 10, 1914
JORDAN, January 9 — The funeral of Minor Maltby, 97, was held at the home of his daughter, Mrs. Charles Nesbitt, at 1 o'clock this afternoon. Mr. Maltby was one of the oldest residents in this vicinity, moving here from Baldwinsville about fifty years ago.
With his parents, Jacob Maltby and Sally Minor, of Puritan stock from Salem, Massachusetts, he became a settler on the site of what is now the village of Baldwinsville. At that time there were only two other familities in that territory, one the Baldwins, after whom the place was named.
At the age of 50 Mr. Maltby moved to the town of Brutus, Cayuga County, where he followed the occupation of farmer for many years. Ten years ago he took up his residence near this village with his daughter, Mrs. Nesbitt, who with a son, Atchison Maltby of Weedsport and four brothers survive.
Mr. Maltby had been active for a man of his years until last summer, when he had an illness from which he did not fully recover. His mind, however, was exceptionally bright until within a few hours of his death. He did not use tobacco or stimulants. His entire family has lived to reach the age of 70.
Rev. Frederick L. Anderson, pastor of the Baptist Church, officiated at the funeral services. Burial was made at Weedsport Rural Cemetery.
Avaline and Minor Maltby had three children:
1. Atchison Maltby (1849-1928) m. Jennette ("Nettie") Johnson (1856-1939)

James Maltby (1890- ) remained a bachelor.
2. Eleanor Maltby (1851-1928) m. Charles W. Nesbitt (1854-1934)

Allen Miner Nesbitt (1874- ) m. Edith May Everts (1873- )
John Henry Nesbitt (1876-1951) m. Bertha Grant
John Henry Nesbitt (1876-1951) m. Mary Marvin Bailey (2nd wife)
3. Alexander Vosburgh Maltby (1851-1912) m. Polly Ann Crim (1845-1923)

Merritt Maltby (1876-1955) m. Agnes Callahan (1876-1915)
1. Ruth Genevieve Maltby

(1899-1991) m.

Ambrose Welch

(1894-1985)
2. Raymond E. Maltby

(1901-1993)
3. Alexander William Maltby

(1902-1903)
4. William L. Maltby

(1906-1970) m.

Helen Worden
Kathleen Maltby

m.

Frank Corgliano
5. Leon James Maltby

(1908-1977) m.

Elizabeth Johanna Kinsella

(1909-1996)
Maureen Elizabeth Maltby

(1937-2020 ) m.

Robert Michael Finn

(1937-2000) See Maureen Maltby Finn's obituary (below)
Kathleen Elizabeth Finn

(1961- ) m.

Edward Bienczewski
Erik Edward Bienczewski
(1994- )
Elizabeth Bienczewski
(1998- )
Michael Vincent Finn

(1962- ) m.

Sujata Mhatre
Kevin Francis Finn

(1966-2020 )
James Robert Finn

(1974- ) m. Becky Kerrigan
James Joseph Maltby

(1942- ) m.

Charlotte Ann Mahalick

(1941- )
Mary Katherine Maltby

(1962-) m.

John Michael Almasy

(1962-)
Julie Elizabeth Almasy
(1992- ) m.
Nathan Pfeiffer
Calvin John Pfeiffer
(2021)
Stephanie Rose Almasy
(1995- ) m.
Michael Keith Snyder
Katherine Ann Maltby

(1964- ) m

. David Andrew Lance

(1964- )
Ryan Francis Lance
(1993- ) m.
Shannon Renae Shepard
Andrew James Lance
(1995- )
John David Lance
(1997- )
Michael Edward Lance
(1999- )
James Joseph Maltby II

(1965- ) m.

Katherine Susan Neer

(1965- )
Karly Susan Maltby
(2000- )
Jaden Elizabeth Maltby
(2003- )
Elizabeth Patricia Maltby

(1966- ) m.

James Delton Harper

(1962- )
Megan Elizabeth Harper
(1996- )
Joseph Michael Harper
(1999- )
Patricia Margaret Maltby

(1969- )
1.

William J. "Bimby" Smolinski

(1932- ) m.

Marcia Maloney (divorced) 2nd wife:

Reed Catlin

(divorced). Bimby and Marcia had five daughters:
1. Suzanne Alisha "Suzie" Smolinski (1963- ) m. Donald L. Winchester. Suzanne and Donald Winchester live in Centennial, Colorado

Matthew Winchester
(1995- )
Michael Winchester
(1998- )
Joseph Winchester
(2000- )
2. Amy Smolinski

(1964- )
3. Helen Smolinski

(1970- ). Helen Smolinski lives in San Francisco and is a staff attorney at the Lawyers' Committee for Civil Rights
4.

Mary Smolinski m. Bob deLoe
5. Katherine Ann "Kate" Smolinski
2
.

Robert P. Smolinski (1935- ) m. Patricia Sullivan. Bob is an attorney and the former police justice of the village of Solvay, NY. Bob and Patty have two children:
William Smolinski

(1965- ). Like his father, Billy graduated from LeMoyne College and played basketball for the the Dolphins. He also is an attorney in Solvay.
Jennifer Smolinski
(1967- ).
Alison Smolinski

(1961) m.

Richard Wilson

; North Grafton, MA
Joseph Wilson
(1994-2010) North Grafton, MA. Died of injuries suffered in an automobile accident.
James Smolinski

(1968- ) m.

Kierstin G. Lavoie

;

North Grafton, MA
Delaney Smolinski
(1999- )
Elizabeth Smolinski

(1970- ) m.

Frank G. Beshai IV

;

North Grafton, MA
4.

Phillip D. Smolinski

(1949- ) m.

Colette Godard

. Home: Marcellus, NY
7. Marjorie Agnes Maltby

(1912-1997) m.

Richard Charles Chapin

(1908-1977)
Merle Richard Chapin

(1938- ) m.

Doris Mayhew Cole

(1939- )
Edward Charles Chapin

(1959- )
Marjorie Rose Chapin

(1961- )
Kathleen Jane Chapin

(1965- )
8. John Francis Maltby

(1913-1915)
Merritt Maltby (1876-1955) m. Cora Kordmacher (1880-1958) 2nd wife.
9. Arlene Rhoda Maltby

(1919- ) m.

Art Cole

; m.

Jim Elmore
Sylvia Cole

m.

Louis E. Martinelli

(1935- )
Jauton Renee Martinelli

(1963- )
Louis Brett Martinelli

(1968- )
Maureen Elizabeth (Maltby) Finn of Annandale, Virginia passed away peacefully at her home on May 18, 2020. A devoted daughter, wife, mother, and grandmother, Maureen was born in Syracuse, New York on April 11, 1937 to Leon James Maltby and Elizabeth Johanna (Kinsella) Maltby.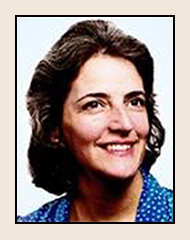 She attended Le Moyne College and earned a degree in mathematics. Following graduation in 1958, Maureen taught math at Solvay High School and later at Hazard Street Middle School.

On September 17, 1960, she married her college sweetheart Robert Michael Finn. Maureen moved to Annandale in 1975 where she spent many happy years raising her family, supporting her children's extensive interests whether it was science fairs and math competition; baseball and softball games; or flute performances and scouting.

One of the great joys of her life was spending time with her grandchildren whom she adored. With them she shared her keen sense of humor; her love of learning; and, the importance of poise, grace, and compassion. She enjoyed keeping her mind active with puzzles, reading, and spirited conversation and was a parishioner of Holy Spirit Catholic Church.

Maureen was preceded in death by her parents, her husband Robert Michael, and her son Kevin Francis. She is survived by her daughter Kathleen Elizabeth (Edwin Binczewski); sons Michael Vincent (Sujata) and James Robert (Rebecca); grandsons Erik Edison Binczewski and Sean Michael Finn; granddaughters Laura Elizabeth Binczewski, Anjali Mhatre Finn, and Hanna Caroline Finn; and brother, James (Charlotte) Maltby; as well as numerous nieces and nephews and their families
.
The family extends deep appreciation to the kind staff of First Light Home Care of Springfield who have helped care for Maureen for the past several years. A private graveside service will be held on June 2, 2020 at Fairfax Memorial Park, 9902 Braddock Road, Fairfax, Virginia.
Please visit www.fmfh.com for additional information.



Published in The Washington Post on May 24, 2020.