Kidnappings dominated the national news in 1932 and 1933. There were several reasons so many criminals and desperate people resorted to this particular crime, but there is no doubt one kidnapping stood out from all the rest. Charles and Anne Moore Lindbergh, putting the 1932 tragedy behind them, were much in the news a year later for other reasons, but 1933 proved even a busier year for kidnappings.
Nation's prayers unanswered
The kidnapping of Charles A. Lindbergh Jr. was 1932's biggest story in the United States, a despicably cruel crime that devastated the nation and touched people throughout the world.

While some may have suspected the worst soon after the boy was abducted on March 1, millions remained hopeful and kept praying long after it was too late. When the body was discovered ten weeks later not far from where the kidnapping took place, it was obvious the child had been killed soon after he was taken.

Meanwhile newspapers went to outrageous lengths to cover the story, reporting every rumor, no matter how ridiculous. There were sightings of the Lindbergh baby all over the country, even abroad. Publicity seekers offered to help, making all sorts of claims. The baffling case remained under investigation until late 1934 when Bruno Hauptmann was arrested. He was tried and found guilty, then executed in 1936.

Whether Hauptmann was really guilty or acted alone has been the subject of controversy ever since.

EVEN BEFORE Charles A. Lindbergh Jr. went missing, kidnapings had become all too common. Many believed there was a nationwide kidnapping syndicate, one with ties to Al Capone, whose offers to help find the Lindbergh baby made law enforcement agencies suspicious that Capone had something to do with the abduction and would use it to barter a deal on his behalf.

Most kidnapings — at least, those of the gangster on gangster variety — went unreported. Also, most kidnapings should have been placed in a separate category because what was involved were gangsters from one gang capturing a gangster boss from another group and demanding money — or else. Almost all captured gangsters quickly coughed up the ransom and did not report the incident, for several reasons.

Many of the reported kidnapings were perpetrated by gangster wannabes who figured it was an easy way to make money, though, in general, ransom demands were modest by today's standard. In most other cases the kidnap victim returned alive, often after the ransom had been negotiated down from the original demand. One victim was released after making a promise he would pay later. It was a promise he must have made with his fingers crossed. What was odd is that this man had been kidnapped by one of our most notorious gangsters, "Machine Gun" Kelly, but, then, this was Kelly's first attempt at abduction.

Some reported kidnapings weren't kidnapings at all, but convoluted stories concocted to cover up the real reasons people went missing for a few days. One "victim" event wrote an account of his "thrilling escape" and succeeded in having it published via the International News Service in newspapers throughout the country. Police who investigated the crime knew something was wrong; sure enough, a few days after his "thrilling" account was published, the "victim" admitted he had made up the whole story.

It was early in the year that another American child was kidnapped. Her parents weren't famous and her story had a happy ending, though the story also may have encouraged would-be kidnappers.
Syracuse Journal, January 29, 1932
MEXICO CITY (Universal) — Search for the 11-months-old kidnapped daughter of Mr. and Mrs. Thomas Aguilar of Los Angeles, shifted to Tampico today, although police and the distraught mother are both convinced the child is still in Mexico City.
The American consulate took a hand in the investigation with instructions to Consul Macy at Tampico to make every effort to locate parties there who are believed to have planned the kidnapping
A week later Caroline Pugh Aguilar was returned to her parents after a ransom was paid. Aguilar declined to reveal the amount.
Police suspicious about this one
Police obviously had doubts about another January kidnapping. Howard A. Woolverton had banking interests, which made him a target, except that Woolverton had not fared well during the Depression. Nonetheless he was snatched by two men while he and his wife were returning from a visit to some friends.
Syracuse Journal, January 29, 1932
SOUTH BEND, Indiana (Universal) — Possible grand jury action to uncover how much money, if any, was paid to kidnappers by Howard A. Woolverton, wealthy manufacturer, to obtain his release, was widened by officials today.
Woolverton insisted first he had not paid any part of the $50,000 ransom demanded. Later he said that $86 was taken from his purse prior to his release late Wednesday night in Michigan City, Indiana.
The manufacturer's wealthy relatives are reported to have raised more than $25,000 to effect his release.

One of the men responsible for the crime was George Kelly, who soon would become better known as "Machine Gun" Kelly. It looks now as though Woolverton was telling the truth about the $86. Kelly had demanded a $50,000 ransom, but was naive enough to let Woolverton go after two days in return for a promissory note. As you might expect, Woolverton did not deliver on that promise.

Woolverton's story was not accepted at the time. Bruce Catton, who later became famous, at least among historians for his books on the American Civil War, was a journalist at the time and wrote a newspaper story in 1932 about a kidnapping syndicate operating out of Detroit, Chicago and St. Louis. He believed Woolverton's kidnappers were part of the syndicate and that they received a $50,000 ransom.

Catton also estimated that in the Chicago territory alone, there had been 200 kidnapings in a two-year period and that the syndicate made about $2 million. He said that in the beginning the targets were gamblers and bootleggers. Problems arose, he said, when the syndicate began abducting legitimate business men and their families. These kidnapings were reported to police who launched intensive, widespread investigations that made life difficult for career criminals. Police hadn't shown much interest when gangsters abducted gangsters, especially because the gangster "victims" denied the abductions ever took place.
Kidnappers were party crashers
Theories about a widespread, even nationwide kidnapping syndicate didn't seem to stand up when applied to some high-profile cases. In January, 1932, for example, Benjamin P. Bower, a wealthy bakery executive from Denver, was kidnapped by a gang that demanded a $50,000 ransom.

This was one of the year's most elaborately planned and interesting cases, starting with the manner in which Bower was abducted. Two members of what would turn out to be a five-man gang began the evening by seizing two married women who apparently had been invited to a party at the Bower home. The two kidnappers forced the women to accompany them to the front door. Mrs. Bower answered the doorbell, looked out onto her front porch and saw two couples, so she opened the door.

The gun-toting kidnappers entered the house, rounded up all the party guests, then told Mrs. Bower they were kidnapping her husband, and that he would be killed if she didn't have $50,000 in cash by the next morning. The Associated Press article said the two men disguised themselves with "large colored spectacles." You'd have thought these kidnappers would have robbed the party guests before leaving, but they didn't.

Mrs. Bower contacted police immediately after the kidnappers left, but a two-day manhunt which spread to several other states failed. That's when police did something you'd expect to find only in a movie. They contacted newspapers, asking editors to print a phony letter, one supposedly received by Mrs. Bower. The purpose was to make the kidnappers suspect that one of them was double-crossing the others, since no such letter was ever sent.

The plan worked. Apparently the kidnappers decided the best course of action was to release Bower, which they did five days after they had abducted him. They drove past his house and pushed him out of an automobile.

One of the kidnappers then contacted the police and made a deal. He told police where they could find the rest of the gang. When police arrived, the alleged leader of the gang, Joseph Riley, a murderer and escaped convict, killed himself rather than be captured. The others were arrested. Later, when Bower viewed Riley's body, he said he recognized the gangster as the man who had robbed his bakery weeks before.
If your name is Brodsky, beware
There were two kidnapings involving families named Brodsky, one living in Philadelphia, the other in Wilmington, Delaware. It's possible the families were related, but I found no story that made any connection. The first actually was more of a robbery, but because the man with the money was forced to take a ride, it was called a kidnapping, though the victim was quickly released:
Syracuse American, February 14, 1932
PHILADELPHIA (INS) — Bernard H. Brodsky, president of the Philadelphia Wool and Hide Corporation, was kidnapped in front of the company's mill in North Philadelphia this afternoon and robbed of a $2,650 payroll.
Three thugs jumped into Brodsky's car as he pulled up to the curb, jammed a gun into his ribs pushed him into a rear seat, then sped away.
A half-hour later Brodsky was released. He was immediately taken to the city hall by police to scan the rogues' gallery in hopes of identifying photos of the bandits.
Syracuse Journal, April 16, 1932
WILMINGTON, Delaware (INS) — Harold Brodsky, whose 9-year-old daughter, Hilda, was kidnapped yesterday morning while on her way to school, desperately pleaded to police to let him negotiate with the abductors, but was turned down as Wilmington and Philadelphia lawmen began a grim search today which, if successful, will result in the hanging of the kidnappers
Delaware is one of the few states in which kidnapping is a capital offense, and the knowledge that capture will mean death has prompted the Brodsky family, frantic with fear for the child's safety, to ask police to give them a free hand in dealing with the kidnappers, who sent a letter to Brodsky telling him that police interference will mean death to the child.
The family has refused to cooperate with the police, but Mayor Frank Sparks of Wilmington, a neighbor of the Brodskys, immediately ordered the Wilmington police force to bend every effort to capture the kidnappers
It is speculated that the kidnapping, the first of its kind to ever take place in Delaware, is one of revenge, for Brodsky recently prosecuted several employees because of thefts in his business establishment. Police, however, are convinced it is a case of kidnapping for ransom.
Police may have been correct about the effect the law would have on the kidnappers, who may not have been aware of the Delaware law when they abducted the girl. Two days later she was dropped off at the home of a priest. No ransom was paid and the crime remains unsolved.
In this case, justice was swift
Justice sometimes is amazingly swift, just the way it is in most television programs. But even television's law and order doesn't move with the speed of Ohio authorities when they wrapped up a kidnapping case that began on March 1, the same day Charles A. Lindbergh Jr. was abducted:
Syracuse Journal, March 5, 1932
James De Jute Jr., 12, of Niles, Ohio, was kidnapped by two men in an automobile last Tuesday [March 1]. He is still being held by his abductors. The men demand $10,000 ransom from the father, a wealthy contractor. The kidnappers threaten to return the boy "in installments" unless the ransom money is forthcoming. The boy was walking to school with his cousin when snatched up by the two men.
By the time The Journal reached most of its subscribers that day, the boy had already been returned home, unharmed. Police found him in a roadhouse a few miles outside of Warren, Ohio. Two men were captured at the establishment. They offered no resistance.
The roadhouse, called "Scotty's Place," was known as an underworld hangout and had been the scene of the 1931 murder of a bootlegger known as Big Tony.
Eleven days later, one of the men arrested, Dowell Hargraves, 30, of Youngstown, was found guilty of kidnapping James De Jute Jr. and was sentenced to life imprisonment. The Judge, Lynn B. Griffith, overruled a motion for a new trial after he had heard the case without a jury.
The other alleged kidnapper, John Demarco, was tried a week later and was sentenced from one to 20 years after the prosecutor accepted a guilty plea to a lesser charge of harboring an abducted child.
On the day Demarco was sentenced, four other men received long prison sentences for kidnapping, three of them for the abduction of a California race track official, the other for a case involving a Brooklyn butcher. Also in the news that day (March 16) was an Illinois doctor, missing and presumed kidnapped
Mistaken identity solves case
There was one positive sidelight to the Lindbergh kidnapping, and it demonstrated how strongly people were affected by the case and wanted to help solve it:
Syracuse American, March 20, 1932
KALAMAZOO,, Michigan (INS) — Mrs. Virginia Hashagen expects to have her 16-months-old son restored to her because of his resemblance to the missing Charles Augustus Lindbergh Jr.
Mrs. Hashagen's son, Billy Robert Reed, according to her story, was taken seven months ago by relatives. She lost track of him.
Last Sunday Crossville, Tennessee, police, noting Billy's resemblance to the Lindbergh baby, questioned Mrs. John Young and Mr. and Mrs. Homer Mitchell, who had been caring for the child.
When Mrs. Hashagen saw the boy's picture in newspapers she identified him as her son.
No more looking the other way
In early June it was reported that "two rich Hollywood men," an unidentified film director and a business man, had been kidnapped "by eastern gangsters" and forced to pay $12,000 for their release. Another man, a Hollywood manufacturer, was under police protection after three kidnap attempts failed, said a police detective.

In November, Providence, Rhode Island, police got involved in what clearly was a gangster on gangster abduction. However, the Lindbergh kidnapping and stories about kidnapping syndicates prompted authorities to investigate even when victims and their families denied a crime had taken place.

So it was with the Providence victim, a known bootlegger, who was missing for two days. When he returned home, police questioned him. He claimed everything was okay, but would not account for his absence. Police were certain a crime had taken place and that $10,000 ransom had been paid. To investigate the case, Providence police rounded up more than 75 known underworld characters for questioning, along with five people who claimed to have witnessed the abduction on Federal Hill, a predominately Italian neighborhood a few blocks from downtown. This was the kind of attention gangsters wanted to avoid.
He's number one! He's number one!
In July there was a kidnapping that was quickly (and happily) resolved, but would reverberate for many months. The person who planned and carried out this kidnapping would become the surprising answer to a trivia question, which will be explained further down the page.
Albany (NY) Evening News, July 7, 1932
ST. PAUL (AP) — Tired and unshaven, but otherwise unharmed, Haskell Bohn, St. Paul youth, was back home today, with a story of having been held captive by several men for nearly a week.
Whether any money had been paid for his release, as demanded in a note left at the home last Thursday when Bohn was seized by two men and thrown into an automobile, was not revealed. The writers had asked $35,000.
Bohn walked into a farm house at Medicine Lake, near Minneapolis, late last night and said his captors had just freed him.
Bohn said he was at the family garage a week ago today when the men seized him at the point of guns.
"They took off my glasses and wound tape over my eyes," said the youth, whose father is a manufacturer here. "They drove for an hour and stopped at what apparently was a garage. After about three hours, one man walked me for about 200 feet. He took me into a house and down some steps, into a basement, I think."
He said he was kept there until an hour before his release. He thought there were four or five men in the gang. He was well fed and had plenty of cigarettes to smoke, but the tape was kept over his eyes.
After young Bohn's return, police revealed that three men who allegedly had attempted to extort $10,000 from the elder Bohn had been arrested Tuesday and that they faced charges of attempting to perpetrate a hoax.
Chief Thomas Dahill said the men had confessed they had promised to return Bohn if the money was forthcoming. They gave directions where to leave the money. A fake package was prepared and taken to the designated spot. Arrest of the men followed. they gave their names as Harold Wilder, 28, alleged leader in the attempted extortion; Louis Bartol, 30, and John O'Connor, 29.
The three men arrested were not responsible for the abduction. They were attempting to capitalize on it, as several had tried during the Lindbergh case.

Haskell Bohn's family negotiated the ransom demand down to $12,000. The money was paid and the young man was released. The kidnappers later were identified as Verne Sankey and Gordon Alcorn, who began their criminal career as bootleggers who moonlighted as bank robbers in Canada and the United States.

Early in 1933 they temporarily succeeded in another kidnapping. Their victim was a Denver playboy, Charles Boettcher II, grandson of one of the state's wealthiest industrialists. The kidnappers reportedly received $60,000, then released Boettcher back to his family. The victim's reputation was such that the joke around Denver was that the kidnappers got the better of the deal.

For reasons not clear to me, Sankey was deemed more dangerous, or, at least, more notorious, making him the first person ever named Public Enemy Number 1. He was captured in January, 1934, but hanged himself in a jail cell before he could be put on trial. By then Alcorn also was in custody and was later sentenced to life imprisonment for the Boettcher kidnapping

Sankey was briefly considered a suspect in the Lindbergh case and later in two kidnapings carried out by the Barker gang.
They decided it was a bad idea
While many believed kidnapping had become an underworld industry run by professional gangsters, there was no doubt several abductions were instigated by people who had little criminal experience. Often their crimes were the ones reported to police, which made them fair game for newspaper coverage. The following story concerns a kidnapping committed by people who obviously weren't sure what they were doing and soon had second thoughts.
Kingston (NY) Daily Freeman, September 20, 1932
NEW YORK (AP) — A kidnap band which restored eight-year-old John Arthur Russell to his wealthy father when the police hunt became too hot was sought throughout New York and many parts of the east today.
Abducted and held for $25,000 ransom, the boy was returned mysteriously last night to the Brooklyn home of his father, Arthur S. Russell, stock exchange broker. Police announced no ransom was paid.
The boy said that on his way home from school yesterday two men stopped him and took him for an auto ride and then to a small flat where they gave him sandwiches, milk and a picture book.
In the evening, he said, a woman and another man came in and the woman took him by automobile to a streetcar, gave the conductor a nickel and asked him to let the boy off near his home. Three telephone operators saw him get off the car, recognized him from his picture in a newspaper and took him home.
While the boy was missing, two telephone calls were received at the Russell home demanding $25,000 for the boy's safe return. Detectives expressed the belief the kidnapping was engineered by "amateurs."
Notice the boy's photograph already had appeared in a newspaper. The 1920s and '30s were the heyday of newspapers. Each city had several fiercely competing newspapers. Deadlines were later than they would be years later when circulation departments needed more time to deliver their product to subscribers who had moved to the suburbs, far from the city. In the 1930s an evening newspaper published news that happened that afternoon. The news didn't move quite as fast as it does on television and the internet, but it was usually more complete than the early accounts we are given today.

Because people had become so concerned — even frightened — by kidnapings, newspapers covered every such crime that was reported or even anticipated. Their frenzy to do so produced a lot of evidence that you can't always believe what you read, though it often helps if you simply keep reading.
Some 'victims' really weren't
In February 1932 the Winter Olympics were underway at Lake Placid, New York, and while it wasn't nearly the event it would become after television came along many years later, it was still important enough to attract many of the country's rich and famous who attended the games by day and partied at the Lake Placid Club by night.

One of the millionaires attending the event was E. Roland Harriman, son of the late E. H. Harriman, a railroad baron, and brother of W. Averell Harriman, statesman and a future governor of New York. Invited to Lake Placid as Harriman's guests were three of the five Blagden brothers, most of them successful and all of them graduates of Yale where they had been outstanding athletes.

Harry H. Blagden, however, was a troubled man. Soon after he arrived in Lake Placid he went missing. A letter sent to one of his brothers sounded an alarm that sent hundreds of people on what would be a wild goose chase:
Syracuse American, February 14
LAKE PLACID, February 13 — Plowing through a blizzard that threatens to block the wood trails, the mightiest posse of manhunters ever assembled in the North Country is scouring the Adirondack region in a desperate effort to rescue Harry H. Blagden, wealthy and socially prominent explorer and sportsman, from the kidnappers who are believed to have abducted him from a cottage at the Lake Placid Club Thursday night.
The search was intensified today after it became known that Thomas Blagden Jr., vice president of the White Motor Company and brother of the victim, had received a note in the handwriting of the missing man, directing the payment of $1,000 to his abductors before noon tomorrow. The note was not made public, and members of the family and officials in charge of the search refused to discuss it, but it is reported to read substantially as follows:
"I am writing this with a pistol at my head. Please bring $1,000 ransom to Tupper Lake to be paid at 12:14 p.m. on Sunday. Do not mention this to anyone else or I will be killed. I am being treated well now, but . . . "
The envelope, it is understood, bore a Utica postmark, and the handwriting identified by two of his four brothers, members of the famous "Five Blagdens of Yale," and by E. Roland Harriman, multi-millionaire and heir of the late E. H. Harriman, railroad magnate, who was to have been Harry Blagden's host at a weekend party organized to view the Olympic games.
The two brothers, Thomas and Augustus S., the latter president of the Keesby-Mathewson Asbestos Company of Ambler, Pennsylvania, are believed to have arranged for payment of the ransom, but so far as could be learned tonight the hunt for the kidnappers will go on.
The other two Blagden brothers — Douglas, president of the Blagden Construction Company, and Donald, a real estate operator — are both hurrying here from New York to aid in the search for the missing man and his abductors.
The veil of secrecy which was draped around the case yesterday was ripped away today as it developed into a sensational kidnapping mystery, eclipsing in public interest even the final events of the winter Olympic program.
Blagden, the central figure, is the third of the five sons of the late Thomas Blagden, all outstanding athletes at Yale and all prominent in social and business circles. He is 45 years old, more than 6 feet in height, and weighs 185 pounds.
For several years he has been the owner of the La Jeunnesse camp for boys on Upper Saranac Lake, a partner in the Cady Sporting Goods Company with his cousin, Edward D. Cady, and a large land owner in the woods area. He spends most of his time here, but is active in New York and Washington society, spending last Sunday in the national capital as a guest of Mr. and Mrs. Thomas R. Bradley.
Thursday night he came to Lake Placid, intending to join Mr. Harriman's party Friday morning. At the Lake Place Club, where he cashed a check for $250, he was assigned to Midland cottage, which had been reserved by Mr. Harriman — one of the small buildings about 150 feet from the main entrance to the club. At 8 p.m. a maid, who went to tidy up the cottage, found him preparing for bed. She was, so far as is known, the last to see him.
Reaching here early Friday, Mr. Harriman inquired for his friend, and Mr. Cady became alarmed. Going to the cottage he found it empty. The front door was locked, but the rear door was open, as was a window in the bedroom. Blagden's pajamas were on the bed, his reading glasses and a book rested on the night table beside it, and a heavy fur coat which the owner had intended to wear to the games was hanging in the hall. His hat, however, and a lighter topcoat, were missing, as was the contents of a wallet on a dresser in the bedroom.
Outside the window there were footprints, indicating that someone had approached it during the night, and there was mud on the steps leading to the rear door. But there was no trace, anywhere, of the occupant of the cottage.
On February 14 the story began to unravel. Money in hand, Thomas Blagden went to Tupper Lake, four miles west of Lake Placid, and waited. And waited. There was no sign of his brother or the kidnappers

Thomas Blagden later told reporters he did not believe his brother was held by kidnappers, but he denied reports his brother was suffering from a nervous breakdown or from the effects of injuries suffered in an automobile accident two years earlier. (In an earlier accident, in 1917, Harry H. Blagden was one of six people in an automobile hit by a passenger train in North Carolina. Five of the people, including Blagden, escaped with injuries, the sixth died.)

In his statement, Thomas Blagden also claimed his brother was "wonderful financial and physical condition," but declined to discuss the case further.

Meanwhile, state police determined there was only a single set of footprints leading away from the bedroom window on the back side of the cottage. They wondered why, with so many people in attendance at the Lake Placid Club, less than 100 yards away, no one had heard or seen anything unusual at the cottage.

On February 16 Harry H. Blagden surfaced in Cleveland, Ohio, claiming he had escaped after a hand-to-hand battle with one of his captors while the other two had run an errand. Blagden appeared haggard and worn, saying he had been forced to take knockout drops after he was kidnapped. He was placed under a physician's care. While sticking to his story that three men had kidnapped him, he claimed he saw eight other members of the gang. But it was the names of those three kidnappers that might have made police even more skeptical about Blagden's story. He referred to those three abductors as Zeke, Jimmy and Curly. It was Curly he claimed to have beaten in that hand-to-hand battle.

On February 17 a first hand account of his "thrilling" escape appeared in newspapers, a story Blagden wrote "expressly for International News Service," a news agency started by William Randolph Hearst.

Appropriately, perhaps, it was on February 22, the birthdate of George "I cannot tell a lie" Washington, that Harry Blagden confessed he had made up the kidnapping story. Police had reached the same conclusion, but kept silent until Captain Charles J. Broadfield of the New York State police received this letter from Blagden:
Dear Captain:

I have at last gotten myself straightened out. I wish to state that I was never kidnapped. I had been worrying about the times, my problems and the future. The load seemed so heavy that I could not bear it. There just seemed to be no way out until alone in the cottage at Lake Placid this kidnapping scheme suddenly came to me. I immediately acted upon it. The farther I got into it, the more difficult it seemed to turn back.

"In Cleveland after discovering the publicity and its effect on others I finally grasped the whole situation and used the story of my escape as the best way out.

"It has taken me till now to make this statement, which I should have made in Cleveland."
I have found no explanation of Blagden's "problems," nor any mention that he faced any charges for filing a false report and putting so many people through so much trouble. I found no information on what happened to him afterward, except that he died in 1957.

He was best known in the Adirondacks as the operator of La Jeunesse, a summer camp for boys.

Another highlight of Harry H. Blagden's life was a 1911 expedition in Canada's Rainbow Mountains. On that expedition, a joint venture of the Alpine Club of Canada and the Smithsonian Institution, Blagden served as a hunter who also was assigned to secure big game specimens. Incidentally, another member of that expedition was Donald Phillips, whose nickname was "Curly."
Groupie, mistress or kidnapper?
Embarrassment, shame, jealousy, anger . . . something prompted Mrs. Elsie O'Brine to tell police her husband had been abducted right in front of her eyes. Our guess: her husband told her he had to meet someone, but when he left their hotel room, she insisted on accompanying him:
Syracuse Journal, February 23, 1932
ST. LOUIS (INS) – Forrest O'Brine, 35, co-holder of the world's endurance flying record, was kidnapped from the side of his wife by a woman in front of a local hotel early today. News of the kidnapping was given police by the flier's wife, Mrs. Elsie O'Brine.
The flier was dragged bodily into a yellow sedan by its lone woman occupant and spirited away, Mrs. O'Brine revealed.
A strange woman had been phoning her husband at 20-minute intervals last night and this morning at the Fairgrounds hotel, where the O'Brines were staying, Mrs. O'Brine said. The woman demanded an interview with the flier. Finally O'Brine said to his wife, she declared, "Let's go and see what she wants."
When O'Brine and his wife reached the front of the hotel, the woman driver jumped out of the sedan, grabbed the aviator, who is of slight build, by the collar and yanked him into the car, Mrs. O'Brine said.
O'Brine and Dale Jackson, who recently was killed [January 6] while stunting in Florida, set an unofficial world's endurance flying record of 647 hours 25 minutes.
Mrs. O'Brine said later in the day that her husband might have gone off willingly with the woman. An automobile drove up, she said, and the door was opened and "somebody reached out and grabbed Forrest by the coat collar and pulled him halfway into the car. I grabbed Forrest and pulled the other way, but he finally was pulled in."

I found no mention of whether Elsie and Forrest O'Brine remained married. Twelve years later, in 1944, O'Brine was a captain in the Army air force and a senior flight officer stationed in El Paso. He was killed that year while flying a dive bomber.

As for the endurance record that O'Brine and Dale Jackson set, apparently it involved flying in circles over St. Louis, landing only long enough to refuel. Sounds like an incredibly boring, potentially dangerous way to set a record, but it was all the rage in the 1920s and early '30s.
'And spell our names correctly'
Perhaps this is a harsh judgment, one based on my astonishment (and dismay) that bridge was ever such a big deal that newspaper published accounts of the card game on its sports pages. However, it seems that Mr. and Mrs. Ely Culbertson, were both celebrities in the bridge circuit, which is why the press was interested when the couple announced to police that kidnap threats had been made. Seems like a shameless publicity stunt. And what kind of people nickname their son "Jump Bid"?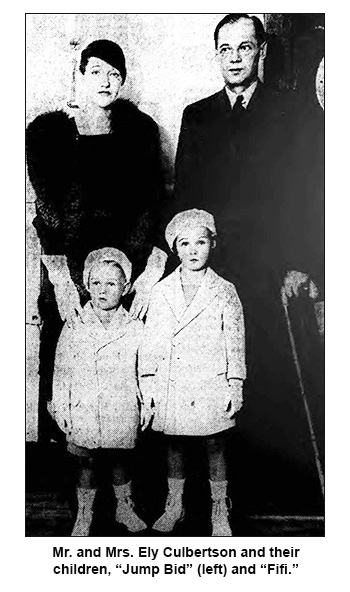 Syracuse Journal, March 17
NEW YORK (Universal) — Letters threatening the kidnapping of the children of Mr. and Mrs. Ely Culbertson, bridge experts, have caused them to be surrounded with special safeguards, it became known today.
There are two children, Fifi, 3, and her brother, Bruce, 2, known as "Jump Bid" to his parents. Threatening letters were received as long as two months ago.
In addition to protecting the youngsters in other ways, the governess in charge of them wears a police whistle around her neck, ready to give instant alarm.
Playing tug of war with children
As remains the case today, many children were abducted by parents or other family members. One of the most bizarre settlements was the one reached in the case of a child held hostage for this ransom demand — a divorce.
Syracuse Journal, May 19
CHICAGO (INS) — Details of a strange bargain whereby Mrs. Katharine N. Read has given over her husband to Mrs. Ethel Much in trade for her missing 9-year-old child were revealed today.
In return for a promise that her daughter, Carol Elizabeth, would be restored to her, Mrs. Read has agreed she will drop a kidnapping charge against her husband, Fred J. Read.
Mrs. Read also promised to drop her suit for separate maintenance and ask instead an absolute divorce which will enable Read to marry Mrs. Much.
Destination: a vending machine
The next crime actually was a bank robbery that began as a kidnapping The masked thieves made a clean getaway, but they could not have been happy with their haul.
Syracuse Journal, June 30
URBANA, Ohio (INS) — Kidnapping Mrs. Lena Woodward, assistant cashier of the People's Bank in the village of Woodstock, near here, two armed and masked bandits took her from her home to the bank early today, where they forced her to open the vault.
For all their trouble the bandits obtained only $78 in nickels and $21 in pennies.
Mrs. Woodward was released and the bandits fled in an automobile with the $99.
A week later a gang in Santa Monica, California, kidnapped a 70-year-old doctor and threatened to kill him unless he paid $3,500. The next morning, however, the gang freed him after settling for the doctor's watch and $30 he had in his wallet.

Collecting a ransom frequently stumped kidnappers Two young West Virginia men, pretending to be internal revenue agents, kidnapped two wealthy men, then drove to a bank where they ordered one of the men to withdraw $7,500. The kidnappers were oblivious when someone from the bank summoned the police, who quickly arrived and arrested the men.

Three men in Dallas kidnapped a visiting shoe salesman, held him prisoner for two hours, then decided to flee with the man's car and $35 in cash. Before making their escape the kidnappers gave their victim $3 for bus fare.

The family of a Gibsonburg, Ohio, doctor reported him kidnapped after seeing him whisked away by four men. Police quickly found the doctor — in a Toledo jail. His "abductors" were federal officers.
Look before you steal
Considering the way people felt at the time, it was wise for car thieves to take a good look inside an automobile before stealing it. Because if you didn't . . .
Syracuse Journal, May 10
NEW YORK (Universal) — Thieves who stole a motor car belonging to Dr. and Mrs. Otto Runge, of Queens, didn't intend to be kidnappers, so they abandoned the car after they discovered four-year-old Otto Runge Jr. in the back seat.
Both Otto and the car were found three hours after their disappearance. Otto was crying for his mother. He was taken to the station house where he and his parents were soon reunited.
Despite many warnings and the publicity given such crimes as the Lindbergh kidnapping, some parents continued to leave their children unattended in public. Besides the back seats of parked automobiles, infants were often left in carriages parked on streets outside of stores where their mothers were shopping.

A 19-month old child was kidnapped in December from outside a Poughkeepsie, New York, department store. The kidnapper then left the child with a woman who recognized the boy and contacted the parents.

A young Syracuse woman, shopping with her mother, left her infant outside a department store, then panicked later when the child was missing. Turned out someone thoughtfully, but anonymously, moved the carriage from the street to the inside of the store, where the mother eventually found the child, unharmed.
The kidnappings continue