Syracuse Post Standard, September 7, 2018
Charles Meagher Major was born in Syracuse on August 30, 1933. He was educated at CBA, Le Moyne College, Syracuse University, and Saint Bernard's Seminary among other opportunities.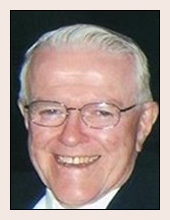 Ordained as a Diocesan priest in 1959, his assignments included associate pastor at St. John the Evangelist Parish, in Syracuse; biology teacher and athletic director during the beginning years of Bishop Ludden High School; faculty and dean of discipline at Wadhams Hall Seminary, Ogdensburg; The Diocesan Director of Vocations'; co-founder of Aquinas Seminary at Lemoyne College. From 1977 to his retirement in 2011, he was Pastor of his beloved community, St. Joseph the Worker Parish, Liverpool.

Fr. Charlie left the following words to express his appreciation for his days on this earth:
(Rev.) Charles M. Major, having successfully completed his allotted time on spaceship earth, has gone on to more profound realms. His accomplishments were modest, his enthusiasms were varied, his devotion as a pastor was warm, profound and personal; his mistakes were many, his offenses were garden variety-not an original sinner but practiced in imperfection.

Charlie was devoted as friend, resourceful as companion, restless and inquisitive as student/learner. There was always more to do than time to do it. Gratitude loomed large in his spirit and expectancy marked his attitude. He relied on others in hosts of different ways and in a variety of circumstances. Remember him as a cheerleader, ever so appreciative of what has been and open to what will be.
Nunc Dimittis.

Charlie's death — on September 5 — was caused by an undetermined neurological event that his body could not heal. As a man of faith in medical science and in spirit, he donated his body to SUNY Upstate Medical University.
He was predeceased by parents, Dr. Stanley J. Major and Margaret Regina Major; by his siblings, Barbara and Bill Major and Jean Major Lovas.

His family includes numerous cousins, especially Bill Cuddy (Pat Hoffmann); niece, Mary Barbara Lovas, (John Sharon), great-niece and nephews, Rory, Rebecca, and Brendan Sharon, many friends, especially Ellen McDonald, Jack Heagerty, Chuck Fahey, Jane Hugo, Ellen Golden and Jack Sipple.

Celebrations of Charlie's life will be held at St. Joseph the Worker Church, 1001 Tulip Street, Liverpool. Calling hours will be Friday, September 14 from 3-7 p.m. with a Vigil for a Deceased Priest to follow at 7:00 p.m., led by Msgr. Charles Fahey.

Liturgy will be held on Saturday, September 15, at 11:00 a.m. Led by Bishop Thomas Costello, Fr. Peter Major (Charlie's cousin), Msgr. John Heagerty, Dc. Steve Manzene. All other brother priests, vested or not, are welcome to sit among the people of the God.

In lieu of flowers, donations may be made to Jail Ministry, 259 East Onondaga St., Syracuse 13202, Food Pantries at St. Lucy Parish, 432 Gifford St., Syracuse 13204 or St. Joseph the Worker Parish, 1001 Tulip St., Liverpool, 13088 or The Maryknoll Sisters, PO Box 311, Maryknoll, NY 10545.