Sleeping with snakes
That's what my family did during two extended power failuress.
Radio Days, Too
Woody Allen's classic film inspired me to write my own version.
Ralphie would understand
I had a BB gun. And I did not shoot out either one of my eyes.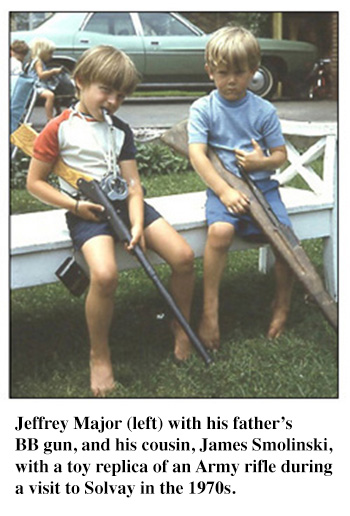 Coneys and salt potatoes
Our taste buds keep calling us back to Central New York, our comfort food heaven.
Chasing waterfalls
According to a wise old TLC song, you shouldn't do it.
Look! Up in the sky!
Charlie Major isn't the only family member who spotted a UFO.
Here a chick
One Easter my cousins and I were given chickens instead of eggs.
Gone, but not fotgotten
We called in The French Fort, a reconstructed relic of Central New York's past, and for years you could explore it at your leisure.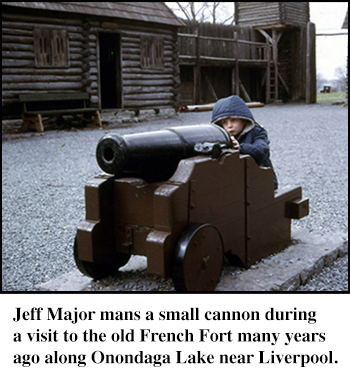 Sleepless in Solvay
It was hard enough to fall sleep on Christmas Eve, but the amplified carols from a neighbor's house made it impossible
Basketball memories
Until the early 1960s all junior high and high school basketball courts were not created equal. Their lengths varried and some weren't even level.
Not recommended
Buster Major had an interesting method when he set out to stop smoking. It eventually worked, but in the process, it's a wonder he didn't go up in flames.
Al Pawlik's popcorn
One of my childhood's great mysteries was the secret to Al Pawlik's fantastic popcorn. He guarded it as closely as Coca-Cola guards its formula. Al was married to my mother's closest friend, Stella Rydelek, and so we often visited them, knowing he'd make popcorn.
The Sugarplum Princess
Stella Rydelek Pawlik (see above) was my mother's closest friend, so close she seemed like one of the family. What emerged as my strongest memory of Stella, is what's she called me, though I knew I was far from the only one.
Hotchee Botchee!!
Halloween has changed a lot since I was a kid. Today it's kinder and gentler.
Paradise Lost?
My favorite vacation destination along Lake Ontario is being washed away.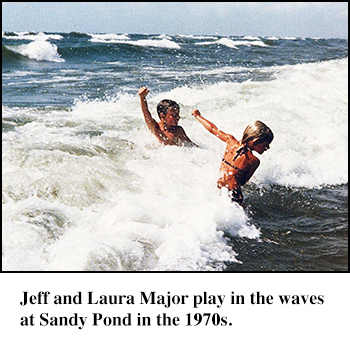 Young and very lucky
A recollection of bad decisions that, fortunately, did not end badly.
The Pilgrim Estates Gang
Fond memories of Warwick, Rhode Island, and Pilgrim Estates.
Endangered: Colorful Nicknames
Time was people — mostly, but not exclusively males — were dubbed with memorable nicknames that often were insensitive. Yet those so dubbed managed to cope, and often came to use those nicknames to their advantage. Today such nicknames have all but disappeared.
Photos are time machines
Looking at old photographs is a fast, sure way to be travel backward..
Mom didn't miss out
I've given it some thought, and concluded it's a good thing my mother never had a cellphone.
I couldn't refuse
One summer, while I was in college, I received an interesting offer ...
Unleashed
Solvay dogs back in my day were free to run wild. Two of my canine relatives took full advantage.
Russet Lane
To me, Russet Lane truly was the center of an interesting universe; the fun and games never seemed to end.
The real Major leagues
Thousands of [Jack] Major league baseball games were played in Solvay without balls, bats, gloves or real players. All you needed was a spinner and discs from an Ethan Allen All-Star Baseball game and a love of statistics.
Forever Prospect
My old elementary school is the last school building standing in Solvay, though serving a different purpose.
Elephant Rides
Something no longer available — for good reason — are elephant rides at the Rosamond Gifford Zoo in Syracuse (formerly the Burnett Park Zoo). Here's a look at two Major girls who took a ride before common sense prevailed.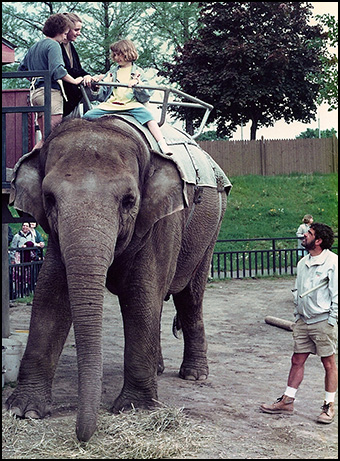 Ci-Yi's shack
It actually was a tool shed, but to us it was the home of the bogeyman.