Cornelius McLaughlin
(1862-1943)
Cornelius McLaughlin was the eleventh child born to Ann McKinney and '40 Acres' McLaughlin
Cornelius McLaughlin was born in Skaneateles, where he was associated with his brother James McLaughlin Jr. in the Glenside Woolen Mills and later he was a successful teasel merchant.
On October 5, 1887, Cornelius McLaughlin married Elizabeth O'Hara (1864-1916). Two years after her death, Cornelius married Helen Purcell. His second marriage is not mentioned in the following obituary.
The Skaneateles Press, November 19, 1943
Cornelius McLaughlin, 80, a prominent and native citizen of Skaneateles, died at his home in Jordan Street, Monday afternoon, November 15, 1943, after a short illness. He attended a meeting of the village board only two weeks ago.
He was born in Skaneateles, December 7, 1862, and had been a life-long resident of this village. He was the last of a family of 10 children born to James and Ann McLaughlin.
When a young man he was associated with his brother James McLaughlin in the Glenside Woolen Mills at Skaneateles Falls. He later and for many years was a very successful teasel merchant. He retired from active business about two years ago.
For more than 20 years and at the time of his death, he was a trustee of Skaneateles Village – by far the longest that position ever was held by one person.
Mr. McLaughlin was a quiet, unassuming man, fair and honest in all his dealings. He had a host of friends. He was a member of St. Mary's Church. His wife, the former Miss Elizabeth O'Hara, died in 1915.
Surviving are two sons, J. Ray McLaughlin of this village and Frederick D. McLaughlin of Shaker Heights, Ohio; two daughters, Mrs. Mark P. McCarthy of Syracuse and Miss Louise McLaughlin of this village; also eight grandchildren and one great-grandchild.
Services were held from his late home Thursday, November 18, at 9 a.m., and from St. Mary's of the Lake Church at 9:30 o'clock.
Active bearers were William McLaughlin, Leo McLaughlin, George Mahlerwein and Leo Dougherty, all of Syracuse; and Hugh Shear and Ephraim Brounstein of Skaneateles.
Honorary bearers were Skaneateles Village officials: Mayor Jerome J. Murphy, George Bentley, president of the Municipal Board and Trustees Dr. A. D. Wells and Irving T. Bobbett.
Burial was in St. Mary's Cemetery.
Children of Cornelius and Elizabeth McLaughlin:
1. Fred D. McLaughlin
married
Elizabeth South
in 1920 in Sewickly, PA; they later lived in Shaker Heights Ohio.
2. James Raymond McLaughlin married Stella Bentley (1902-82). He was much better known as J. Ray, and, according to one story I found, also enjoyed the nickname, "The Razor."
J. Ray McLaughlin was clerk for the village of Skaneateles for more than 21 years, which means his name appeared on legal documents published in the local newspaper. Thus many people who didn't know the man were familiar with his name. (Obituary right,, below.)
Stella Bentley and J. Raymond McLaughlin had three children:
• Cornelius (Neil) Raymond McLaughlin (1927-1953)
• Pauline Louise McLaughlin apparently died in infancy, in 1929.
• Ann S. McLaughlin (1930-1998) m. Robert Kranock (19??-1990). Ann McLaughlin Kranock, 67, of Williamsville, New York, died at Kenmore Mercy Hospital on Feb. 11,1998. Born and raised in Skaneateles, she graduated as an RN from nursing school in White Plains, New York. She worked as a nurse at the V. A. Medical Center before marrying Robert S. Kranock.
After marrying, she enjoyed living overseas in Italy, the Netherlands and Mexico as the result of her husband's work relocations, before settling in Williamsville, New York. She dedicated years of service in local soup kitchens, homeless shelters/Meals on Wheels and in a preschool for children with developmental disabilities.
Children:
Mary Ellen Kranock m. ?? Buchholz, Cheektawaga, NY
Suzanne Kranock
,
Williamsville, NY
Steven Kranock
,
Boulder, CO
Alan Kranock
,
Raleigh, NC
• Marybeth McCarthy (1929-2015) m. Thomas P. O'Leary (1929-1981) She died April 1, 2015. She was a graduate of Most Holy Rosary High School in Syracuse and the College of Mount Saint Vincent in Riverdale, NY. She received a master's degree in social work from Fordham University and was a social worker in the Syracuse City School District for 34 years. (Obituary, below)
Brian P. O'Lear

y

m.

Karin ??

,

West Windsor, NJ
John T. O'Leary

, Camillus
Anne C. O'Leary

,

Columbus, Ohio
Paul O'Leary

, Hoboken, NJ
• Connie McCarthy (1932-2010) m. Alan F. Coates. Connie McCarthy Coates was a 1949 graduate of Most Holy Rosary High School in Syracuse. She attended Marymount College in Tarrytown, New York, and then graduated from Syracuse General School of Nursing as an R.N. She worked at Castle Rest Nursing Home for 25 years before retiring in 1984. Years earlier she had also worked as a hostess at the McCarthy family restaurant. She loved golf and was an especially good tennis player.
Susan Coates
m.
Philip O'Neil
.
Syracuse. They are no longer together.
Elizabeth (Beth) O'Neil

(1987- ) m.

Bryan Perry
Elizabeth Coates

m.
Frank Besio
,
Camillus
Nealie Coates

m.

Bill Dungey

,

Jordan, NY
David Coates
,

Tucson, Arizona
Daniel Coates

m.
M. Eileen Philips
• J. Mark McCarthy (1937- ) m. Peggy Kirwin on July 4, 1959. Like his father, he served in the U. S. Marine Corps. Afterwards he became a lawyer in Syracuse. Children:
Mark P. McCarthy
(1960- ) teaches English in Thailand
Katie McCarthy

(1961- ) m.

Jerry Bruni

,

Astoria, NY.
Patrick Matthew McCarthy
(1963- ) m.
Karen Maiolo
,
Westchester County, NY
Michael P. McCarthy
(1963) m.
Theresa M. Overdyk
,
Syracuse. Divorced.
Kerry McCarthy

(1965- ) Astoria, NY
| | |
| --- | --- |
| Matthew "Moody" McCarthy (1967- ) m. Molly Mandell, Astoria, NY. Moody McCarthy is a stand-up comedian who often performs on television. | |
4. Ann Louise McLaughlin

(1903-1971) was a life resident of Skaneateles. She retired as a secretary for Traveler's Insurance Co. She was a member of the IFCA and the American Legion Auxiliary of Skaneateles. She attended the Academy of the Holy Name, Rome, and the College of St. Elizabeth, Convent Station, New Jersey.
Obituaries
Syracuse Journal, January 3, 1916
Mrs. Elizabeth O'Hara McLaughlin of Skaneateles died this morning at the Womens and Children's Hospital where she had been a patient about two weeks.
She was the wife of Cornelius McLaughlin and also is survived by two sons, Raymond and Frederick McLaughlin; two daughters, Bessie and Louise McLaughlin, all of Skaneateles, and two sisters, Miss Mary A. O'Hara of Skaneateles and Mrs. John Horne of San Jose, California, and one brother, John T. O'Hara of Skaneateles.
Mrs. McLaughlin was a cousin of E. H. O'Hara, general manager of the Syracuse Herald. She had lived at Skaneateles all her life and had many friends there.
In the obituary above, Elizabeth O'Hara McLaughlin's daughter Elizabeth is identified as Bessie and Ann Louise is called Louise, which I believe is how they were better known, at least at that point in their lives.
Skaneateles Press, October 31, 1958
J. Ray McLaughlin, who has been clerk of the Village Board and the Municipal Board as well as Village Treasurer, turned over his keys yesterday when he retired from both offices where he has served for many years.

For more than 21 years the name of J. Ray McLaughlin as village clerk has appeared on all published legal documents of the village and he has been the official representative of the village of Skaneateles and manager of its offices in the municipal building for most of that time.

His tenure as village treasurer has not been so long.

The outgoing village clerk first served in a temporary capacity, being called to act in the absence of Lucien Horne, who was ill. That was June, 1937. Upon the death of Mr. Horne, McLaughlin was on April 4, 1938, sworn in as village clerk. The village board at the time was made up of Samuel A. Kane, mayor, and trustees Albert D. Wells, Lester A. Harse, Cornelius McLaughlin and Jerome J. Murphy.

The motion naming McLaughlin was made by Dr. Wells, seconded by Cornelius McLaughlin (his father).

At the same meeting Charles H. Hunt was named village treasurer.

Recalling those early days yesterday, Mr. McLaughlin said that he had been working for his father in the teasel business when Mr. Horne's illness occurred and the mayor drove out and picked up Mr. McLaughlin and asked him to take over the affairs of the village clerk until Mr. Horne returned. Mr. McLaughlin agreed. He has been there ever since.

In April, 1951, he was appointed treasurer, succeeding Mrs. Bessie Cavell.

A veteran of World War I, Mr. McLaughlin recalled that following his attendance at Skaneateles High School and Niagara University, he was employed by Empire United Railways as Syracuse freight agent when the United States entered World War I. He was enlisted at the Syracuse recruiting station by Major Louis B. Lawton, well known in Skaneateles.

He was assigned to the ordinance and sent to the Watervleit Arsenal in Watervleit, New York. He remained three weeks and then was shipped overseas, landing at Brest, France. He was ordered then to Le Sur Tille, where he was promoted to sergeant. He later was stationed at Tours, headquarters of the Service of Supplies and at Chaumont, general headquarters of the AEF (Allied Expeditionary Forces).

McLaughlin in his high school days was a baseball player and played third base for the Skaneateles Lakeshores. He is a communicant of St. Mary's Church and a member of its Holy Name Society.

He is a member and past commander of Robert J. Hydon Post 239, American Legion, and a former member of the Knights of Columbus.

McLaughlin served under five mayors – Kane, Murphy, Grant, Grapotte and Smith.

He is married and resides at 50 West Genesee St.

Commenting on his long service he said, "I can only saya that over the years I have worked with a bunch of wonderful people."

Auburn Citizen-Advertiser, August 14, 1953
Cornelius "Neil" McLaughlin, 24, of Skaneateles, died early today of injuries received in an auto accident on July 29. He was to be married to an Auburn resident on October 24.

The accident occurred when a car driven by McLaughlin and a second one operated by Randall F. Waterson, 34, of RD3, Skaneateles, collided on Jordan Road, just outside Skaneateles.

Wedding plans were being made by the accident victim and Miss Catherine Kierst, 29, of 52 Bradford St.. They were planning to be married in St. Alphonsus Church, Auburn.

In the collision, McLaughlin sustained a fractured pelvis and other injuries. After the collision, his car knocked over a fire hydrant, broke a tree off and careened into the front yard of a home owned by Dominic Patronelli of RD3, Skaneateles.

The door of McLaughlin's car was torn off and hurled through the front door of a grocery nearby. McLaughlin was found lying some distance from the auto. Trooper Frank Nichols and Amos May investigated.

The victim was a car salesman. He worked for an auto dealer in Auburn for some time before joining an Elbridge dealer recently.

He attended Skaneateles High School and entered the Navy, serving in the Pacific Theatre during World War II.

Surviving him are his parents, Mr. and Mrs. J. Ray McLaughlin of Skaneateles and a sister Miss Ann McLaughlin.

Helen Casey Purcell
Helen Casey Purcell was Cornelius McLaughlin's second wife, but she wasn't mentioned in his obituary, an unfortunate oversight; she seems to have been an interesting, noteworthy person.

Helen Casey was born in Templemore, Ireland, in 1867, daughter of Margaret Purcell and James Casey. When she emigrated to America, I do not know, but there was a mention in the Skaneateles Free Press on Saturday, August 14, 1886, of a Miss Nellie Casey, a saleslady at E. C. Purcell's dry good emporium, who the week before had visited friends in Rochester and Syracuse.

And, indeed, in those days that's what she was called. Records shows that on April 18, 1888, Nellie Casey married Edward C. Purcell, her boss, who was twenty years her senior. Purcell, a native of Killeenleigh in County Tipperary, Ireland, not far from his wife's birthplace, came to the United States in 1865 and for several years worked as a clerk in the dry goods business in four different Central New York communities before setting up his own business in Skaneateles in 1883.

His brother, Rev. Francis J. Purcell, was well known throughout the Skaneateles area. He was pastor at St. Mary's of the Lake Church in the village, but also served neighboring communities, helping to get at least two Catholic Churches started. Father Purcell officiated when his brother Edward and Nellie Casey were wed at St. Mary's.

Edward Purcell died just ten years later. His death was reported in the Skaneateles Press on Tuesday, February 1, 1898, in an article that, unfortunately, was not entirely legible on the page that was available online.

On Friday, January 28, Purcell experienced difficulty walking home from work. His home was on a hill and he was unable to make the climb. Ironically, the man who came to his assistance was Dennis McLaughlin, brother of the man who several years later would marry Purcell's widow.

McLaughlin gave Purcell a ride to his home, where, in typical male fashion, Purcell spurned his wife's advice to call a doctor. He went to his chamber on the second floor and sat in a chair, claiming his problem was merely indigestion.

His wife cared for him throughout the night, but at 4 a.m. went downstairs to take a nap. When she awoke at 7 a.m., she went upstairs to find that her husband had undressed and gone to bed where he died soon thereafter. She summoned the family physician, who pronounced the cause of death as heart disease.

Besides his wife, Purcell was survived by four daughters, his brother and a sister, Mrs. J. M. Purcell, both of Skaneateles, and two brothers and a sister in Ireland.

According to the newspaper, Purcell was "an affectionate husband and father. He was a man of domestic habits and fairly worshiped his family, being especially indulgent to his wife and children ... He was a member of St. Mary's Catholic Church. In politics he was always a Democrat, though not an active political worker. He was a good citizen, a good neighbor, a kind-hearted and charitable man."

His widow was active in church and village affairs, but by 1915 she must have moved to Syracuse where she was appointed by Bishop John Grimes to become the first matron of The Ludden Club, a home for working Catholic girls. Three years later, however, she resigned that position when she married Cornelius McLaughlin of Skaneateles.

She died in November 1933 and was survived by her husband and four daughters, Mrs. Marie Katherine (William F.) Ludington of Skaneateles, Mrs. Philip Morris of Bristol, Rhode Island, Miss Marguerite Purcell of Schenectady and Miss Catherine Purcell of Syracuse, plus a brother in Ireland and six grandchildren.

Mark McCarthy and family

1

Syracuse Journal, July 23, 1917


Only One Marine Recruit
Starts for Buffalo Depot


Just one recruit enlisted at the Syracuse station left this morning for Buffalo the recruit depot of the United States Marine Corps for the local district. He was Mark P. McCarthy of 1266 S. State St. No one recruit was secured on Saturday for the "soldiers of the sea," although many were examined. The high physical standards of the USMC robs that branch of the service of many men.

Syracuse Post-Standard, August 26, 1918
McCarthy, Gassed By Huns,
Recovering in Hospital
Mr. and Mrs. Mark McCarthy of 1266 South State Street have received a letter from their son, Mark P. McCarthy, who was gassed in the trenches around Chateau-Thierry June 16. Young McCarthy at the time of writing was about to be transferred to a convalescent hospital. Previous to that he had been in three hospitals, his condition being at first regarded as very serious.

He is a member of the Sixth Regiment, Seventy-eighth Company of Marines, and went through practically the whole of the fighting around the now historic battle ground without a scratch. He was seventy days in the trenches, fighting, before he was finally gassed. He enlisted in June, 1917, while a senior at Cornell.

Skaneateles Press, January 12, 1962
Mark P. McCarthy, Restaurant Head, Marine Vet, Dies at Home
Mark P. McCarthy, owner of the well known McCarthy Restaurant at 1026 South Salina St., Syracuse, and a Skaneateles summer resident, died last Sunday (January 7, 1962) at his home, 320 Stolp Ave., Syracuse, after a long illness.

He was the husband of the former Elizabeth McLaughlin of Skaneateles and a frequent visitor to the village.

He attended Christian Brothers Academy in Syracuse and participated in several of the city's charitable organizations.

A native of Syracuse where he was born June 28, 1895, he was a veteran of World War I, serving with the United States Marine Corps in a brigade attached to the Second U. S. Division.

He took part with his brigade in many operations of the Corps and was present in the action at Belleue Wood and Chateau Thierry, preceding and during the second Battle of the Marne from June through July 1918.

He was wounded in action and received a Purple Heart decoration.

McCarthy's Restaurant is a well known establishment of Syracuse, founded by the decedent's father, Mark McCarthy, in 1873, a block from its present location. It is the oldest family-owned restaurant in the city.

A communicant of Most Holy Rosary Church in Syracuse, he was a member of its Holy Name Society.

He was a member of Post 41, American Legion, and was interested in the Syracuse Boys' Club.

His brother, the late Frank C. McCarthy, founded the School for Retarded Children in Syracuse.

Surviving are his wife, Mrs. Elizabeth McLaughlin McCarthy; two daughters, Mrs. Thomas P. O'Leary and Mrs. Alan F. Coates; a son, Lt. J. Mark McCarthy of the U.S. Marine Corps stationed at Camp LeJeune, North Carolina, and a brother, the Rev. John A. McCarthy, pastor of St. Theresa's Church, Syracuse.

Funeral services were held at 8:30 a.m. Wednesday from the DeWitt Funeral Home and at 9 a.m. from Most Holy Rosary Church in that city

Burial was in St. Mary's Cemetery, Skaneateles.

Marcellus Press Observer, December 5, 1979
Mrs. Elizabeth McLaughlin McCarthy, 84, 745 Stinard Ave., Syracuse, died Monday morning, December 3 at her home.

She was born in Skaneateles and resided in Syracuse the past 50 years. She was the daughter of the late Cornelius and Elizabeth O'Hara McLaughlin. Her father was a partner of the McLaughlin Bros. Teasel Co. formerly on Fennell St., Skaneateles.

She was a member of Most Holy Rosary Church, Syracuse. In addition she was a member of Post 41 American Legion Auxiliary.

Mrs. McCarthy was a graduate of Skaneateles High School. She was graduated from the College of St. Elizabeth in 1920 with a degree in Education. She was a member of the St. Elizabeth Alumnae Assn. and had taught school in Ovid for several years.

She was the widow of Mark P. McCarthy, who died in 1962. She was associated for many years with her late husband in the operation of McCarthy's Restaurant, a well-known seafood restaurant located at 1030 S. Salina St. It was family operated since 1873.

She is survived by her son J. Mark McCarthy of Syracuse; two daughters, Marybeth (Mrs. Thomas P.) O'Leary of Solvay and Connie (Mrs. Alan F.) Coates of Syracuse; 17 grandchildren; a brother, Frederick of Shaker Heights, Ohio; a brother-in-law, the Rev. John A. McCarthy of Syracuse and several nieces and nephews.

Syracuse Post-Standard, April 9, 2015
Mary Elizabeth "Marybeth" McCarthy O'Leary, 86, of Skaneateles, NY, died peacefully at home on April 1, 2015. Marybeth was the daughter of Mark McCarthy and Elizabeth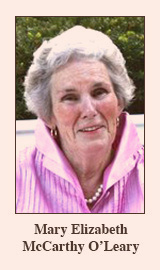 McLaughlin McCarthy, who owned McCarthy's Seafood Restaurant, a family restaurant open for over 100 years in Syracuse, NY.

She was a descendant of the McLaughlin family who started the teasel industry in Skaneateles.

Marybeth was a graduate of Most Holy Rosary High School. She graduated from the College of Mount Saint Vincent in Riverdale, NY and received a master's degree in Social Work (MSW) from Fordham University.

She was a social worker in the Syracuse City School District for 34 years and dedicated her career to helping kids and families in need.

Marybeth loved to spend time with her children and family, especially her sister, Connie and her brother, Mark. Marybeth also loved to decorate, travel, go to the beach and read. She also volunteered with the Skaneateles Laker Limo and Meals on Wheels and enjoyed many friends in Skaneateles that brought her much joy these last several years.

Marybeth was predeceased by her husband of 25 years, Thomas P. O'Leary; son, Thomas, and her sister, Connie Coates.

Marybeth is survived by three sons, Brian P. (Karin) of West Windsor, NJ, John T. of Camillus, NY, and Paul J. of Hoboken, NJ; two daughters, Betsy O'Leary of Syracuse and Anne C. O'Leary (Joy Maurer) of Columbus, OH; four grandchildren, Brendan, Justin, Jennifer and Michelle O'Leary, all of West Windsor, NJ.

Marybeth is also survived by her brother, J. Mark McCarthy (Peggy); brother-in-law, Alan F. Coates and several nieces and nephews.

The O'Leary family would like to thank Celeste Stevens for her kind and compassionate care for the last three years.