Charles Thomas Major Sr. (1896-1962) was a remarkable person. As a youngster he had spinal tuberculosis, which put him in a body cast. This was followed by a hip infection. According to his son, Charlie Major, a rod had to be pushed down inside his hip covered with soaked gauze every day, a task that fell to Thomas Major the boy's father.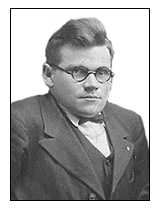 The family lived across street from school, but Charles remained at home until he was 12. "For high school," Charlie told me, "my father took the train to the village. He could not always go, especially in snow." He was severely crippled and had difficulty walking up hill. He was about five-feet-four, with a deformed back.
Still, said Charlie, his father built an ice cream, candy store and pool hall in Skaneateles Falls while in high school to support himself and buy law books. He would meet the early train and drag about 200 pounds of ice to the store to pack the ice cream. He had the first crystal radio store in town.
His interest in and aptitude for law earned him a job as law clerk in the office of Martin F. Dillon, who unfortunately died in 1919 — on the very day Charles T. Major was elected justice of the peace, at age 23.
Charles Major continued working with C. R. Milford, who later became his law partner.
When Charles Major ran for reelection as justice of the peace in 1923 his opponent was Peter Curtin. What resulted was a double victory for Major – he won the election and a few years later married his opponent's daughter, Anna Elizabeth Curtin (1898-1971)..
Major went from justice of the peace to supervisor of the Town of Skaneateles, later becoming attorney for Onondaga County and a New York State Court of Claims judge.
He loved his hometown and was one of its biggest boosters, earning the nicknamed "Mr. Skaneateles."
He and his wife had two sons:
1. Charles Thomas "Charlie" Major Jr. (1934) married Margaret Anita Palmer (1934) Charlie and Margaret Major have eight children.
You'll notice a certain pattern in their first names:
1. Michael John Major
(1959) m.
Mariann McAndrew
(1961)
2. Mary Laura Major
(1960) m.
Brian Hart
(1959)
3. Margaret Anne Major
(1961) m.
Jeffrey Pritchard
(1959)
4. Mark Charles Major
(1964) m.
Martha Manilla
(1965)
5. Matthew Peter Major

(1965) m.

Susan Graham

(1970)
6. Martha Catherine Major
(1966) m.
Michael Schattner
(1969)
7. Martin Joseph Major
(1968) m.
Beth Ashby
8. Mitchell Patrick Major
(1971) m.
Kristen Hutchings
2. Peter Curtin Major (1939) From an article in Le Moyne College Magazine:
Peter Curtin Major, son of Judge Charles T. Major and Anne Elizabeth Curtin Major, grew up in Skaneateles with his brother, Charles T. Major Jr.
Charles Jr. followed in his father's footsteps, becoming a lawyer and later a state Supreme Court judge.
Peter followed his own path. After graduating from Syracuse's LeMoyne College and from law school, Peter studied for the priesthood at Mill Hill Missionaries in England and was ordained in Skaneateles in 1968. Since then he has devoted his life to the missions in Borneo, Cairo and the Sudan. He has great empathy for the poor and also is gifted at learning languages. He learned Arabic in Lebanon and Egypt. Before that he learned the Dyak Language in Borneo – and mastered their birdcalls.
In 1982 war broke out in Sudan and Father Major was held hostage for nearly two months.
"They demanded ransom from the church and the U.S. government, which they didn't get. We were eventually released. I went to Khartoum, the capital city in the North. I've been there since 1987, when we started a new parish with the displaced people. There are about one and a half million displaced people living in Khartoum. I worked with them for 10 years."
When he left that parish, Father Major went to work in prison ministry.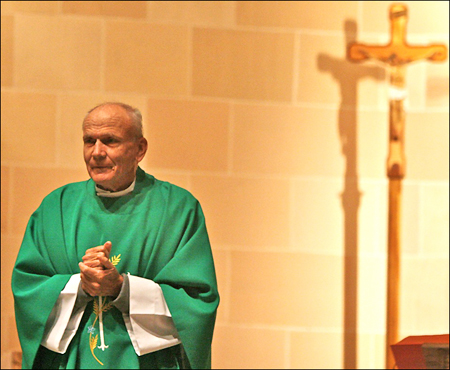 The photo was taken in 2009 by Father Major's brother Charlie Major of Skaneateles, who said, "Peter is back in Malakal in Sudan. It's on line between north and south, sort of a DMZ on the Nile."
Skaneateles Press, Friday, August 5, 1955
Peter Major, 16-year-old son of Judge and Mrs. Charles T. Major of Austin St., surprised his parents by swimming across the lake last Sunday morning.
While his father was in church the lad decided to make the try. He was accompanied by James and William Becker in a dingy.
Thomas Colby in an outboard motorboat also accompanied young Major after he got about halfway across. After the young swimmer had made the mile and a quarter swim from the Major Cottage about four miles down West Lake Rd., to a point across near the former Ray Church cottage, Colby brought him back home.
Next generation
1. Michael John Major

and

Mariann McAndrew

have three children:


•

Victoria Jee Hye Major

(1992)

;


•

Brendan Michael Major

(1993)


•

Patrick Michael Major

(1998).
2. Mary Laura Major

and

Brian Hart

have two children:

•
Laura Margaret Hart

(1992)

•
Mitchell Joseph Hart

(1995).
3. Margaret Anne Major

and

Jeffrey Pritchard

have six children:

•
Joshua Charles Pritchard
(1989)
•
Joseph Olin Pritchard
(1990)

•
Jacob Michael Pritchard

(1993)
•
James Peter Pritchard
(1997)
•
John Pritchard
(2001)


•

Jonas Pritchard

(2003), as a new pattern emerges.
4. Mark Charles Major

and

Martha Manilla

have three children:


•

Kevin Mark Major

(1994)




•

Michael Palmer Major

(1996)




•

Madeline Bristow Major

(1999)

.
5. Matthew Peter Major

and

Susan Graham

have three children:


•

Peter Matthew Major

(1999)




•

Anna Major

(2003)


•

Grace Major

(2005).
6. Martha Catherine Major

and

Michael Schattner

have three children:


•

Casey Michael Schattner

(1992)




•

Matthew Charles Schattner

(1993)




•

Jack Patrick Schattner

(1995)

.
7. Martin Joseph Major

and

Beth Ashby

have a son:


•

Max Benedict Major

(2005).
8. Mitchell Patrick Major

and

Kristen Hutchings

have three children:


•

Charles Clayton Major

(2004)


•

Henry Mitchell Major

(2007)


•

Cora Mae Major

(2009).
Auburn Citizen, March 31, 1922
SKANEATELES – Burglars believed to be members of the same band that has terrorized the western village of Onondaga County for the past two weeks broke into the store of Charles T. Major here Wednesday night and made away with $400 worth of cigars, cigarets and tobacco and about $4 in cash. The interior of the store was wrecked.
Chisels and other tools used by the robbers were identified as implements that were stolen from the home of a Skaneateles Junction carpenter a few nights ago.
Local authorities are certain the men who robbed Major's store are members of the band that have robbed places in Elbridge, Mottville and other villages.
Mr. Major says the burglars evidently had a master key to his front lock. He says no windows were opened and that entrance and exit were made through the front door. The goods were strewn all over the store floor. The cash was taken from a gum slot machine.
Mr. Major says that he locked up for the night about 10 o'clock and discovered the robbery when he opened his store at 6:30 this morning.
Auburn Citizen Advertiser, May 24, 1932
Miss Anna E. Curtin, daughter of Peter Curtin of West Lake Road, will become the bride of Charles T. Major, supervisor of the Town of Skaneateles, Saturday. The ceremony will be performed in St. Mary's of the Lake Church.
Miss Curtin will be attended by her sister, Miss Agnes Curtin, as bridesmaid, and Sarto C. Major will be his brother's best man. The couple will reside in the new home recently completed by Mr. Major in Austin Street.
Auburn Citizen-Advertiser, July 2, 1962
Charles T. Major, 66, of 29 E. Austin St., Skaneateles, died in Mercy Hospital Sunday after a short illness. He has been a New York State Court of Claims Judge since Jan 1, 1953. He was appointed by former Gov. Thomas E. Dewey.
He was formerly justice of the peace of Skaneateles, town supervisor for Skaneateles and attorney for Onondaga County from 1940 until his appointment to the bench.
Judge Major was reappointed for a full nine-year term in 1957 by former Gov. Averill Harriman.
Born in Skaneateles Falls, Jan. 13, 1896, the son of Thomas E. and Ellen McCarthy Major. He began his law career in the village of Skaneateles as a member of the firm of Milford and Major. He left the firm upon his judicial appointment.
Mr. Major was a communicant of St. Mary's of the Lake Church, a member of the Holy Name Society, the Syracuse Council 191 Knights of Columbus, Steuben Assembly Fourth Degree Knights of Columbus, the Auburn Lodge BPOE Elks.
He was past president of the Skaneateles Chamber of Commerce and secretary-treasurer of the Skaneateles Short Line Railroad. He was also a member of the Skaneateles Country Club.
He is survived by his widow, Mrs. Anna Curtin Major; two sons, Charles T. Major Jr. and Peter C. Major, both of Skaneateles; two sisters, Miss Laura M. Major and Mrs. James A. O'Shea, both of Skaneateles Falls; three brothers, Floyd J. Major and Lloyd M. Major, both of Skaneateles Falls, and Onondaga County Sheriff Sarto C. Major of Skaneateles, and three grandchildren. A deceased brother, John Major, was a member of the Auburn Police Department.
Burial will be in St. Mary's Cemetery.
Marcellus Observer, August 19, 1971
Mrs. Anna Curtin Major of 29 Austin Street, Skaneateles, died recently at home after a long illness. She was 73.
She was born in Niles and had resided in Skaneateles 62 years. She was the widow of Charles T. Major, who had been attorney for the State Court of Claims.
Mrs. Major was a communicant of St. Mary's of the Lake Church, Skaneateles, and was a member of the Confraternity of Christian Mothers. She also was a member of the Stella Maris Retreat House Guild, Skaneateles.
Surviving are two sons, the Rev. Peter C. Major M.H.M. of East Malaysia and Charles T. Major, Town of Skaneateles justice; two sisters, Mrs. John Emperor and Miss Catherine Curtin, both of Skaneateles; a brother, Joseph Curtin of Rochester, and eight grandchildren.
Services were held Thursday at the family residence, 29 Austin Street. A Mass of resurrection was offered by the Rev. Robert Casey in St. Mary's of the Lake Church. Burial was in St. Mary's Cemetery, Skaneateles.