Thomas E. Major and his wife, Lucinda McCarthy Major,
pose with their children who are identified below.
Thomas Edward Major was the sixth of 12 children of Charles J. Major (1837-1905) and Margaret Mallon (1841-1888). Charles was one of three brothers who emigrated from Ireland in the 1860s. He settled in Skaneateles Falls, NY.
Thomas married Lucinda Ellen McCarthy (1873-1947). They lived in Skaneateles and had ten children, three of whom died in infancy.
Skaneateles Press, February 10, 1950
When Thomas E. Major, venerated barber of Skaneateles Falls, lays down his tools tomorrow night, it will be for the last time.
For Skaneateles Falls' grand old man who has seen them come and go, shaved and shorn the young and the old for the past 55 years says that he is "just tired out" and wants to get out of it. "Besides," he says, "my feet hurt — standing on 'em all these barbering years."
A cheerful personage, Mr. Major's pleasant countenance shines out to add lustre to his 78 years, most of it spent within the limits of the town he loves so well.
Born September 13, 1871, Mr. Major started barbering when he was 23 years old and first utilized the shop upstairs in a barn near the hotel. That was in 1895.
Business was brisk, he recalled, when he would have as many as 80 customers on a Saturday.
The price of a shave was only ten cents those days, he reminisced, and everybody had his neck shaved as part of the deal. Haircuts were twenty cents and all cuts were done with scissors – not many clippers, he related. And there were no "straight down" haircuts – everybody was shorn "round" about the neck.
One incident he recalled with humor was when the old Skaneateles Railroad was running, the boys would make for the train when the 1:30 whistle would blow. Those who missed the train had no way of getting out of town, so they got fixed up at the Major barbershop. A lot there were, too.
The industrial picture has changed over the years, Mr. Major said, and none so good as "the old days."
Mr. Major built his present shop opposite the Waterbury Felt Company in 1932. It houses his shop and gas station. Though he is giving up the barber shop, he will retain the gas station.
Mr. Major is the father of seven children – two daughters, Miss Laura Major, who keeps house for him, and Mrs. James O'Shea, who lives next door, and five sons – County Attorney Charles T. Major and Deputy Sheriff Sarto Major, both of Skaneateles, twins Floyd J. and Lloyd Francis Major of Skaneateles Falls, and John E. Major of Auburn.
Mrs. Major died three years ago.
Most momentous event besides giving up his shop was the fire which burned his home about three weeks ago.
Though Mr. Major is laying down his barber tools, he'll still be trustee and school clerk of Skaneateles Falls Union School – he's had the job 18 years – and a general all-around friend to all the townspeople who know him.
Children of Lucinda Ellen McCarthy and Thomas Edward Major:
Charles T. ("Charlie") Major Sr.
(1896-1962), who would become known as "Mr. Skaneateles," was a remarkable man, an attorney, a town administrator and a judge. He and his wife,
Anne Elizabeth Curtin
(1898-1971), had two sons, Charles Jr. (1934) and Peter (1939).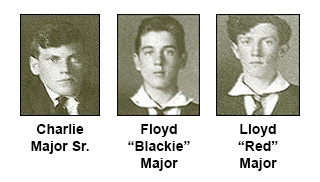 Floyd Joseph Major (1899-1984) was nicknamed Blackie as a baby because his black hair set him apart from his twin brother, Lloyd, who had red hair, which, naturally earned him the nickname, Red. Floyd married Anna Loretta McGinn(1898-1976). They had one son, Thomas. Floyd Major's second
wife: Teresa Costigan (1903-1990)
Lloyd (Red) Major
(1899-1963) married
Clara Westlake
(1908-1986) Lloyd F. (Red) Major of Skaneateles Falls was a life resident of the area, and a retired employe of the Waterbury Felt Co. He was a communicant of St. Bridget's Church, Skaneateles Falls. They had no children.
Laura M. Major
(1900-1976) was a life resident of Skaneateles Falls and a 1929 graduate of St. Joseph's Shool of Nursing in Syracuse. For 26 years she was head of the Onondaga County Physical Handicapped Department. She was a Republican committee woman for 52 years. She was a communicant of St. Bridget's Church of Skaneateles Falls and a member of the Ancient Order of Hibernians.
Cecil Major
(1902-1903) died at 11 months of age.
Sarto Cecil Major
(1904-2001) was the Onondaga County (NY) Sheriff from 1959-63. He died on March 9, 2001, two days after his 97th birthday. He was married to the former Jane Hourigan (1904-1989).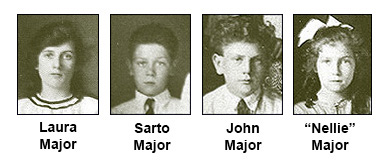 John Edward Major
(1905-1952) married
Marie Anna MacBeth
(1908-2005). He was a police detective for the city of Auburn, New York. He and his wife had six children – Anne, Laura, Joann, Rita, Patricia and John Edward Major Jr.
Ellen Veronica "Nellie" Major
(1907-1977) married
James A. "Chick" O'Shea
(1906-1990). They had five children: James, Ellen, Daniel, Gerald and Jean.
Mary
and
Margaret Major
were twin daughters. They died in infancy.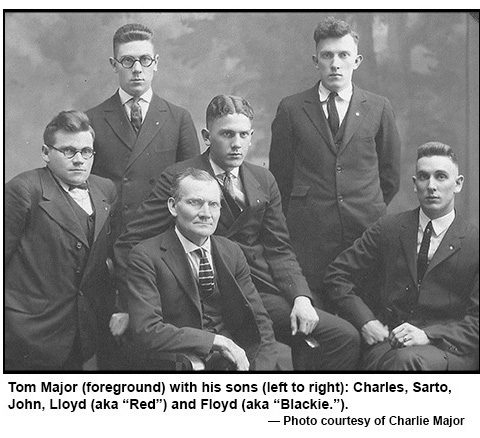 Many thanks to Kathy DeJoy and Ted Skowron Jr. of Auburn, NY, and to Charles T. ("Charlie") Major Jr. of Skaneateles for providing photos used on this page.
Auburn Citizen-Advertiser, May 27, 1957
Services for Thomas E. Major, 85, of School Street, Skaneateles, who died Friday night were at 8:15 a.m. today at the family home with a solemn high Mass of requiem at 9 a.m. in St. Mary's of the Lake Church, Skaneateles. Burial was in St. Mary's Cemetery.
Mr. Major was the father of Judge Charles T. Major of the Court of Claims and Sarto M Major, Onondaga County undersheriff.
He operated a barber shop in Skaneateles until five years ago. He was also formerly employed by the Glenside Woolen Mills and the Waterbury Felt Co. of Skaneateles Falls.
During his youth Mr. Major was a topnotch ballplayer and pitched for the old Skaneateles Lakeshore Ball Club. He was also active in the now defunct Skaneateles Falls School Board.
He was born Sept. 18, 1871 in Skaneateles Falls, the son of Charles and Margaret Mallon Major.
He was a communicant and trustee of St. Bridget's Church in Skaneateles Falls; a member of its Holy Name Society; and a member of Auburn Assembly Fourth Degree Knights of Columbus. He was a life member of the Auburn Council, Knights of Columbus.
Besides Judge Major and Undersheriff Major are twin sons, Floyd J. and Lloyd F. Major, both of Skaneateles Falls; two daughters, Miss Laura M. Major and Mrs. James O'Shea, both of Skaneateles Falls; two sisters, Mrs. Patrick Wickham and Mrs. Thomas Heverin, both of Syracuse; two brothers, Michael J. of Syracuse and Joseph Major of Skaneateles Falls; 14 grandchildren and seven great-grandchildren.
Auburn Citizen Advertiser, May 10, 1947
Mrs. Ellen L. McCarthy Major, wife of Thomas Major, died suddenly at her home in Skaneateles Falls Friday evening following a cerebral hemmorrhage, which she suffered 24 hours before her death.
Mrs. Major was born in Skaneateles Falls and had always resided there. She is survived by her husband; two daughters, Miss Laura Major and Mrs. James O'Shea of Skaneateles Falls; five sons, Judge Charles T. Major and James of Skaneateles, Floyd and Lloyd of Skaneateles Falls, and Patrolman John E. Major of Auburn; 13 grandchildren and several nieces and nephews.
The funeral will leave the home Tuesday morning at 9 o'clock. Services will be held at St. Mary's of The Lake Church, Skaneateles, at 9:30. Burial will be in St. Mary's Cemetery.
Lightning can strike twice;
just ask Thomas Major
Skaneateles Democrat, July 31, 1919
One of the most severe storms in the history of this place [Skaneateles Falls] took place Saturday night. The steeple of St. Bridget's Church was smashed to slivers, the home of Thomas E. Major was struck by lightning twice and the home of Mrs. Dennis Clark was also struck. Much damage was done on all four occasions.
Skaneateles Press, January 20, 1950
A fire which originated in a smudge in the chimney of the Thomas E. Major home in Skaneateles Falls, did considerable damage to the place about 7:30, a week ago last night, Thursday, January 12.
High winds, which were prevailing both on the night before and on Friday night following the blaze, happily were not a problem during the fire, so the blaze was confined mostly to the second floor.
The amount of damage done was not as yet known.
The blaze was discovered by Miss Laura Major, who keeps house for her father, and Skaneateles firemen under First Assistant Chief George Spearing and Second Assistant Chief Charles Lansbury Sr. responded. Firemen from Mottville assisted.
Though the fire began about 7:30 p.m., the firemen were kept there until about 10 p.m., running down the source of the blaze which was breaking out in various parts of the walls and the attic roof.
Considerable water damage was done in fighting the persistent blaze.
Thomas Major, owner of the home, is father of Charles T. and Sarto Major of Skaneateles. He and Miss Major are making their home with relatives while the home is undergoing repairs.