Syracuse Herald-Journal, November 27, 1940
Alton Tallmadge Will Coach
Solvay High Basketball
Hadley Steps Aside After 20-Year Term, But
Will Remain Coach For Football and Baseball

Earl Hadley, supervisor of physical education for Solvay High School, today announced appointment of Alton Tallmadge as his successor in basketball coaching at the school.
Hadley, in his 24th year at Solvay, has coached basketball himself since the sport was adopted by the school in 1920. He declared he would continue as football and baseball coach as well as directing the physical education program.
Tallmadge, new to the Solvay school faculty this year, formerly taught and coached basketball at Split Rock.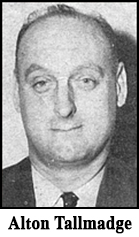 Tallmadge had a highly successful season at Split Rock last winter, finishing the 1939-40 schedule in the Onondaga County League in a first place Western division tie with Camillus, both teams showing a record of 10 games won and two lost. Hadley's Solvay boys were tied with Jordan for fourth place. Solvay defeated Jordan to reach the playoffs, but lost a 36 to 20 game to Camillus in the first round. Split Rock toppled Baldwinsville in its opening playoff session by a 19 to 17 score, but lost in the second round to Camillus by a 29 to 23 score.
Although golf is still an unofficial sport in the Onondaga County League, Tallmadge may do much to bring the sport into more prominence and form a more active league. He coached the links squad at Split Rock and will direct the Solvay club swingers.
Tallmadge will have an abundance of basketball material advancing from the junior varsity team of last year, which went through an undefeated season, conquering Camillus, Split Rock, Baldwinsville, Jordan, Skaneateles, Elbridge, Marcellus, Onondaga Central and Warners.
The Jay-Vee youngsters joining the varsity will include Ralph Willoughby, Ken Bailey, Robert Hempler, Robert Petrault and the Szczech brothers, Joe and John, members of the undefeated Solvay football team and younger brothers of Alex Szczech, all-scholastic stars of a few years ago.
Three veterans of last year's varsity team returning include Ralph Lanceros, who received honorable mention on the all-scholastic team of last year, Nick Gettino and Leland Mitchell, two of the team's ablest players.
Euligio Pirro, who was selected as all-scholastic center on the second team last season; Nick Demperio and Manuel Martinez, who finished in a tie for 10th place in the individual scoring race with a record of 96 points scored in 12 games, has reported to Coach Ribs Baysinger on the Syracuse University freshman quintet.