For old-timers, any discussion of Solvay High School basketball very quickly turns to Gus Castellini, who proved that while practice may not make perfect, it sure makes a big difference. Thanks to countless hours of practice, Castellini was able to rewrite County League scoring records.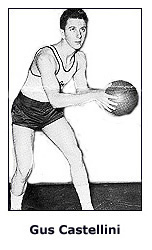 Castellini was a 6-foot-3 forward who positioned himself in a corner, usually to the left of the basket in what would now be 3-point land. Like most of us in the 1950s, Castellini developed a two-handed set shot, but he launched it overhead, not from in front of his nose, the conventional method.
He may have been influenced by the great Dolph Schayes, an NBA star for the Syracuse Nationals. Schayes also was a forward, but he often stopped 25-to-30 feet from the basket to fire his overhead set shot. I'm sure statistics would prove Schayes' set shot from long range was not particularly accurate, not when compared with the more traditional set shot of former Minoa (NY) star Larry Costello, who became Schayes' teammate in 1957. However, its rainbow arc made Schayes' shot spectacular. It was basically the same style Schayes used at the free throw line where he became one of the best free throw shooters in NBA history.
CASTELLINI'S set shot wasn't as spectacular – he didn't hold the ball as high as Schayes – but it was amazingly accurate. Castellini also was above average from the foul line – with the same basic shot.
He'd often fake the set shot, then drive around the defender two or three steps, stop and take a jump shot from 10-15 feet. The jump shot was just coming into vogue in the early '50s. Or he'd drive to the basket for a layup.
Castellini averaged in double figures his first two seasons, but it was as a senior that he came into his own, shattering the Onondaga County League scoring record of 270 points set the previous year. Castellini scored 380 points in the 10 league games. In the process, he helped establish a trend that must have tried the patience of area coaches for the next several seasons.
Castellini certainly wasn't shy about shooting. Early in the 1951-52 season he set the league single-game record by scoring 48 points against North Syracuse. When the teams met again in January, Castellini scored 51.
I also recall hearing that he was upset and threatened to quit one night when he didn't get enough shots. Relations between Castellini and his teammates didn't always run smooth.
HOWEVER, Castellini wasn't the only terrific player on the team. At center was 6-foot-6 Bob Smolinski, who later played at LeMoyne College, and at guard was George Wright, probably the best all-around player in the league. Other starters were the Baratta brothers, Mike and Carmine. Mike had a unique over-the-head set shot that he fired with very little arc. It exploded off the backboard, but somehow often ricocheted into the basket. It was the kind of shot that should have come with a warning: Do not try this at home.
Other team members were Jack Napoli, Hank Vona and Leo Zoanetti. They were undefeated in league play, setting a scoring record in the process. Counting playoffs and non-league games, the Bearcats were 19-0 going into the Section III championship game against Whitesboro.
Solvay often embarrassed its league opponents, sometimes winning by 50 points or more. Coach Al Talmadge, who led Solvay to 11 league championships in 12 seasons, suffered an uncharacteristic lapse of judgment against East Syracuse when he removed all but two players from the court after Solvay went over the 100-point mark. The East Syracuse coach let the game continue for about a minute, then appealed to officials to rule a forfeit in his favor because Solvay was three players short. Talmadge had to summon three players from the dressing room; when they returned to the gymnasium for the final 30 seconds, they were dripping wet from their showers.
The sectional playoffs promised stronger competition and closer games, though Solvay continued to win. The seven-point victory over Syracuse's Central High School was particularly satisfying. Central was a much larger school; its star was Manny Breland, one of the best players ever to come out of the Syracuse City League.
However, on the day of the Section III championship game, against Whitesboro High School, Coach Talmadge decided against an early departure for Utica, where the game was to be played. The team bus left from Solvay about 90 minutes before the game, encountered either mechanical or weather problems – or perhaps the driver got lost – and did not arrive at the gymnasium until several minutes after the scheduled tipoff time. This put them at a decided disadvantage against Whitesboro, which was gunning for its third straight Section III championship.
The Solvay players were rushed onto the court, had little or no warm-up, and fell behind by as many as 18 points in the first period. It wasn't until the final quarter that Solvay rallied, but lost, 53-47. Castellini had 23 points. He wound up averaging 25 points in the five Section III tournament games. For his career at Solvay, Castellini scored 1004 points. At that time, only one player, Bill Danforth of Camillus, scored more (1207). Danforth, I believe, played four years of varsity, while Castellini played three seasons.
[NOTE: It was during this season that Solvay's junior varsity basketball team, coached by Lester Stone, had its winning streak stopped at 71 games, losing to North Syracuse, 27-25, on December 7. A month later, Solvay's JVs avenged the loss, 43-36.]
Castellini went on to Syracuse University where he was a teammate of Manny Breland. After a promising start in his sophomore year — he scored 28 points against a team from Sampson Air Force Base — Castellini spent most of his SU career on the bench, especially after the arrival of Vinny Cohen and a fellow named Jim Brown. (I wish "experts" who cover SU games on TV would give Cohen his due. While they frequently babble on about the many great Orange players, they never go back beyond Dave Bing. Cohen belongs in Bing's company.)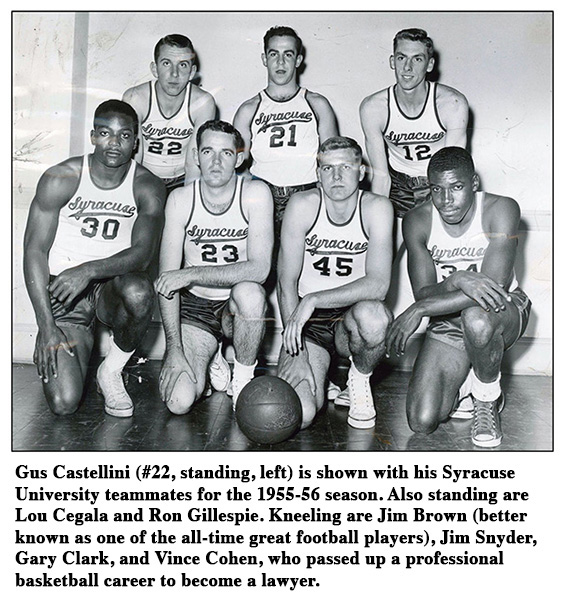 BUT I DIGRESS . . . By the next season some Castellini wannabes emerged to make life difficult for County League coaches, including their own. Among the gunners were two guys who fired the wildest assortment shots I'd ever seen – Bob Gumaer of Jordan High School and Bob North of Elbridge High. I saw each play a couple of times – I scrimmaged once against North – and they thought nothing of missing a dozen shots in a row. I must have caught them on off-nights because North wound up his high school career with 1,391 points, a new County League record. He also set a single game record of 64 points.
Gumaer also put up impressive figures, though the Syracuse Post-Standard doesn't seem sure just how many points he scored. On a list of all-time County League scorers, Gumaer's name appears twice – with 1,164 points and with 996, including 458 in 12 league games his senior season. In one of their head-to-head games, North outscored Gumaer 57-52. Gumaer's best night was a 59-point performance against Split Rock High School.
But the best of the bunch was Bernie Finlay, who played four years of varsity ball at Onondaga Central High School. He graduated a year after North and Gumaer and finished his career with 1,387 points. Finlay, at 6-foot-3, scored 55 points one night, but wasn't a gunner who forced his shots. He went on to play college ball at San Diego State, and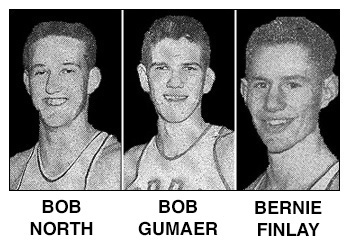 according to a newspaper letter by his cousin, David Gwilt of Liverpool, Finlay averaged more than 20 points per game. He was named to the all-conference team three years and was drafted by the Syracuse Nationals in 1960, but instead chose to become a dentist in the San Diego area. Gwilt's letter was prompted by a Post-Standard article about high school stars of the past. The article neglected to mention Finlay. The newspaper also left Finlay off its list of single-game scoring records.
AFTER FINLAY, things quieted down in the County League for several years. Then the league expanded and teams began playing several more games each season. At Solvay a typical season in the '50s consisted of 10 league games and 2 non-league games. We usually made the playoffs, which, if you kept winning, gave you 3 more games. There was no state championship, but rather a tournament of teams within a certain region, or section. That's how Solvay got to play 20 games in Castellini's senior year.
In one recent season, (2003-4), Solvay didn't qualify for the playoffs, but still played 19 games. Those extra games are the reason North, Finlay, Danforth, Castellini and Gumaer are now way down the list of league scoring leaders. That list is headed by Bernard Blunt of Jamesville-DeWitt High School, who is listed as playing for five seasons (1985-90) and scoring 2,507 points.
Also on that list are such notables as former NFL running back Dorsey Levens, who scored 1,472 points for Nottingham High School (1985-89) and Lazarus Sims of Henninger High (1988-91) who scored 1,162 points before going to Syracuse where he was the point guard on the Orange's Final Four team that lost to Kentucky in the championship game. Sims now plays for the Harlem Globetrotters.
Offspring of former Syracuse Nationals stars also are on the list. Paul Seymour Jr. of Liverpool High (1970-73) scored 1,064 points, just ahead of his son, Paul Seymour III of Liverpool High (1994-98), who scored 1,059. Danny Schayes, son of Dolph Schayes, scored 1,012 points for Jamesville-DeWitt High (1974-77) before going on to Syracuse University and the NBA.
I also noticed that Castellini no longer is Solvay High's all-time scorer. Rick Backowski scored 1,137 points for the Bearcats from 1974-77. But it was Castellini, who, for better or worse, helped change the way a lot of kids played the game.
– JACK MAJOR