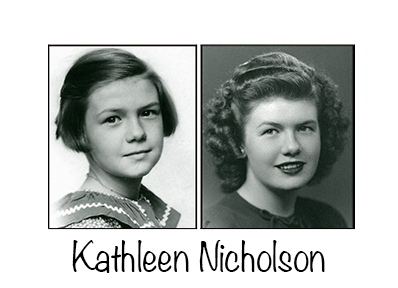 A face from the 1940s
Almost anytime I see a movie from the 1940s, I think of my cousin Kathleen Nicholson. She was young, pretty and reminded me a lot of woman I'd see up there on the big screen.
Another cousin, Loretta Kane (photo, below) also was attractive, but in a different way. I could picture them in separate films in a double feature, which was the way movies were shown in the '40s. Each film lasted about 90 minutes; in between there were previews of coming attractions and a cartoon. The film considered the main feature was presented twice each evening, the co-feature once. Strangest of all, people arrived at the theater throughout the first showing, then they'd remain until that point during the second showing that they decided, "This is where I came in!"
Anyway, Kathleen was upbeat and usually smiling, so I pictured her in romantic comedies or musicals; Loretta was more sultry, so she'd play Audrey Totter-Barbara Stanwyck parts in those murky mysteries known as film noir.
Kathleen did us all a big favor when she married Bob Mullally, a wonderful guy who was equally at home playing games with kids or baiting my father into a silly argument about sports or food. Bob worked in the meat department of a supermarket – I'll say it was Loblaw's, but I'm probably wrong – and my father gave him grief about the taste of ham.
Bob claimed ham was as good as ever, maybe better. The problem, he said, was my father's cigarette smoking. It was affecting his sense of taste. My father's response: "Ridiculous!" Until the day he stopped smoking, which is a whole other story. Then he had to admit Bob was right. That he believed food suddenly tasted better was probably the biggest reason my father succeeded in quitting cigarettes cold turkey.
Bob and Kathleen had six children. Kathleen lost her father, Ray Nicholson, when she was 12, and after that my dad became sort of a substitute father. And with Kathleen's children, my father enjoyed playing the role of grandpa.
My father had three sisters and loved them all dearly, but it was Kathleen's mother, Maggie, whom we saw most often. Christmas wasn't Christmas without Maggie, Kathleen, Bob and, later, their children ... though sometimes I got tired of Bob beating me at every game.
– JACK MAJOR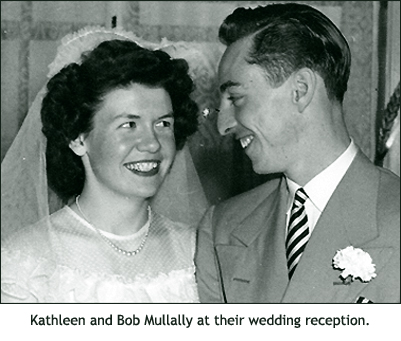 Kathleen Nicholson
Mullally Johnson
Syracuse Post-Standard, March 2, 2001
Kathleen Nicholson Johnson, 74, of 4181 Canterbury Road, Onondaga Hill, died Thursday (March 1, 2001) at home.
She was born in Syracuse. She retired in 1987 from the payroll department at Crouse Hospital.
She was a communicant and Eucharistic minister of St. James Church, and a member of Orchard Valley Golf League and Camillus Business and Professional Women's Organization and a volunteer at Loretto.
Her first husband, Robert Mullally, died in 1984; a daughter, Eileen Mullally, died in 1997. She is survived by her second husband, Donald A. Johnson.
Donald Johnson
Syracuse Post Standard, October 9, 2005
Donald A. "Don" Johnson, formerly of the Valley, Onondaga Hill and The Nottingham, died October 7, 2005 after two difficult years battling cancer.

He was born in Rochester, NY, and moved to Syracuse when he was 12. He attended East-wood High School and graduated from East Syracuse High School. He was a World War II veteran, serving with the 12th Armored Division.

He was married to two lovely ladies, Marion Coon, who died in 1985, and Kathleen Mullally, who died in 2001.
He graduated from Central City Business Institute and worked at Lincoln Bank for several years, where he met Bernard Corbishley, who became a lifelong friend of over 50 years. He later worked for Blue Cross and Blue Shield, where he retired as a procedure analyst in 1987 after 33 years of employment.

Throughout his life Don was very active in volunteer work, including Valley Little League in the late 1960s, where he was a team manager for Arctic Island as well as secretary of the league for many years. He was active in Meals on Wheels and volunteered at Community General Hospital and Van Duyn Home and Hospital. He did the weekly read-out program for WCNY for several years.

Don enjoyed golfing and bowling and belonged to the Onondaga Seniors Friday Morning Golf League at Orchard Vali and Tuesday bowling league at Syracuse Bowling Center.

Don was a communicant of St. James Church for over 40 years, where he was a lector and Eucharistic minister. Don will always be remembered for his sense of humor, which carried him through adverse periods, including the illnesses of his two wives as well as his own health problems.

Survivors:
Three daughters and sons-in-law:
Mary Ellen and Russ Zackevich of Onondaga Hill.
Elizabeth and Gregg Rush of Waterport, NY,
Kathleen and Maynard Holt of Houston, Texas.
Son and daughter-in-law:
Paul and Tricia Johnson of Flower Mound, Texas.
Eight grandchildren:
Natalie Zackevich
Ken and Bradley Rush
Owen, Eliza and Ethan Holt
Kendall and Brooke Johnson.

A sister and her husband:
Gloria and Chuck Rogers of Brewerton
A brother-in-law, Ron Coon of Winterpark, FL.
Several nieces and nephews.
In addition, he is survived by Kate Mullally's children:
Michael Mullally.
Karen Smythe.
Patty Knopp.
Kathy Mullally.
Maureen Fekete
And their families.
Burial in White Chapel Memory Gardens.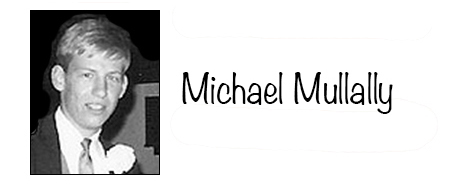 Michael Mullally
Michael Patrick Sean "Goose" Mullally, 61, passed away July 28, 2010 in Duncannon, PA, surrounded by his family.
Michael was born and raised in Syracuse, NY, moved to Florida in 1972 and spent the last year and half living in Costa Rica. Growing up in Syracuse, Michael participated in Valley Junior Athletic Association playing both baseball and football. It's also where he developed his love for fishing alongside his Dad and Granddad, which fueled his life-long pursuit of "the next" fishing trip.
He graduated from Christian Brothers Academy and attended LeMoyne College before serving in the Navy. Along the way, Michael enjoyed skydiving, logging 100-plus jumps, scuba diving and snorkeling, was passionate about great food and cooking, travel, including several cruises and two trips to Ireland, in 1994 with his entire family and again in 1999 with his sister, brother-in-law, niece and nephew, and coming home to Syracuse for Christmas and our family reunion each year.
In Florida, he worked more than 30 years, employed by Wool Wholesale Plumbing and Florida Tropical Plumbing.
It was his friends, family and co-workers palate's he sought to please over the years with his Thanksgiving dinners, slabs of ribs and seafood – Michael's love to entertain all the people in his life as one big family is a gift bestowed from our parents – who led by example starting with their annual Christmas Party, and any other time that friends gathered in their home - good food and lots of laughter were always the order of the day.

Michael was predeceased by his parents, Kathleen Mullally Johnson and Robert A. Mullally, and his sister, Eileen M. Mullally.
He is survived by his sisters, Karen (Lloyd) Smyth of Duncannon, PA, Patty (Rick) Knopp of Lafayette, NY, Kathy Mullally of St. Louis, MO, Maureen (Lou) Mullally Fekete of Tully, NY, step-brother, Paul (Trish) Johnson of Texas, step-sisters, Mary Ellen (Russ) Zackevich of Syracuse, NY, Kathleen (Maynard) Holt of Texas, Elizabeth (Greg) Rush of Albion, NY, 14 nieces and nephews, and 11 great-nieces and nephews.
Michael's wishes were to be cremated and his ashes scattered in the ocean.
– Obituary provided by Michael's sister, Maureen Mullally Fekete