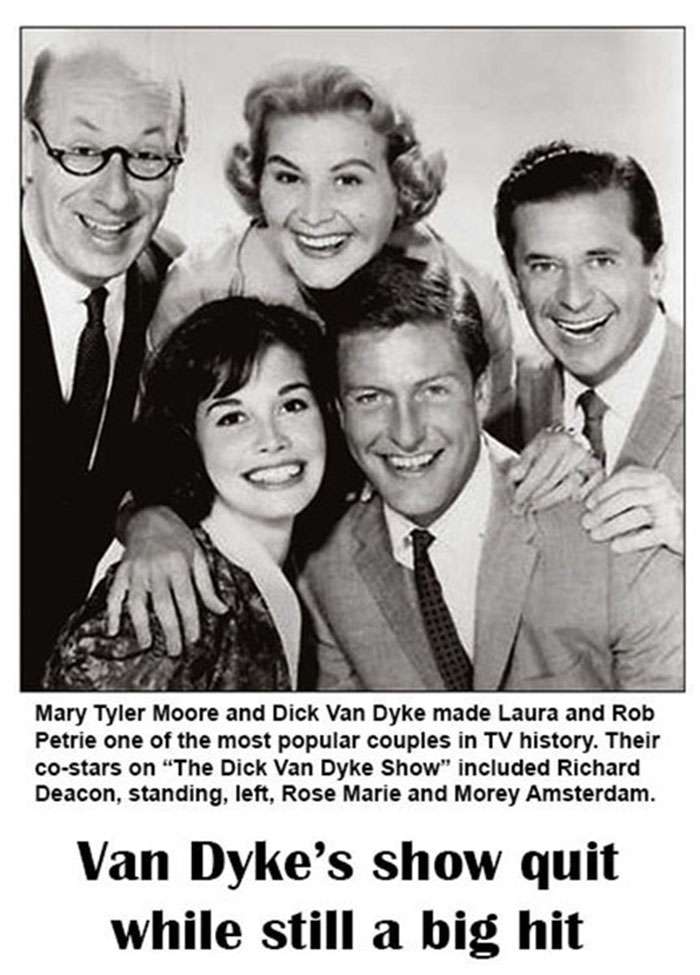 Back in the late 1950s Dick Van Dyke was a frequent guest performer on various television shows. It was difficult to get a handle on him; he wasn't a stand-up comic as such, at least, not a typical stand-up comic. He was more like Stan Laurel without Oliver Hardy. (It was not surprising to learn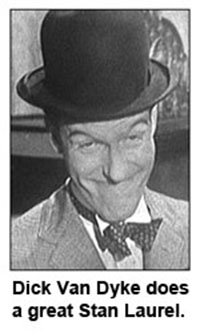 years later that Laurel was a particular favorite of Van Dyke, who on occasion would do a wonderful impression of the skinny half of the famous comedy team.)
My family was not impressed with Van Dyke. Sometimes, when he was announced as one of the guest stars, my parents and I would groan.
In 1961, at the age of 23, I enlisted in the U. S. Army Reserves to take advantage of its six-month plan; that is, you served six months of active duty, then spent the rest of your six-year obligation as a member of a Reserve unit. I did my active duty from June-to-December of 1961, at Fort Dix, New Jersey, and at Camp Kilmer, about 50 miles to the north of Dix, near Rutgers University.
By this time Van Dyke had established himself on Broadway in the hit "Bye Bye Birdie," which was an interesting fact, but did not immediately change my mind about him.
Anyway, during the last half of my active duty, at Camp Kilmer, I had my car on the base and most weekends was free to go home to Solvay, New York. One weekend, in early October, my mother said, "You'll never guess who has his own TV show –– Dick Van Dyke." While she was aware of the program, she hadn't yet watched it.
When I finished my active duty and returned home in early December, my mother's television viewing habits had changed. "I started watching 'The Dick Van Dyke Show,'" she said. "You won't believe how funny it is!"
I watched it and was instantly hooked. Van Dyke was marvelous, as was everyone else on the show about a writer for a TV variety program, his writing staff, the meddlesome, humorless producer, the writer's wife and young son, and their neighbors in New Rochelle, New York.
Critics loved "The Dick Van Dyke Show" as much as I did, but unfortunately the program's ratings were low, so low that at the end of the season CBS was prepared to pull the plug.
IN THE MEANTIME I had gotten a job at the Akron Beacon Journal where I was assigned to the newspaper's television magazine. I prepared the listings, selected highlights, and interviewed celebrities. The interviews were evenly divided between those conducted by phone and those done in Cleveland, then home base of "The Mike Douglas Show." I didn't know when I started, in January, 1962, that a disproportionate number of interviews over the next four years would be with people connected with "The Dick Van Dyke Show."
My first such interview was done over the phone in March, 1962, not with a regular on the show but with Dick Van Dyke's brother, Jerry, then an up-and-coming stand-up comic. He was featured in a memorable two-part episode of "The Dick Van Dyke Show," playing Stacey Petrie, Rob's younger brother (type casting, obviously), who had an unusual split-personality problem. Awake, he was a shy, retiring fellow; asleep, he'd walk around as though he were still awake, but as an extreme extrovert, always ready to perform.
Both halves of the two-part episode were hilarious, but for awhile it appeared Jerry Van Dyke would be the only one to benefit. He made such a hit that CBS began exploring series ideas for him, while at the same time figuring to cancel his brother's show. In retrospect it seems unbelievable "The Dick Van Dyke Show" couldn't hold its own during the 1961-62 season when its opposition was ABC's "Bachelor Father," with John Forsythe, and the NBC Western, "Laramie," with John Smith and Robert Fuller. (While it was the third season for "Laramie," it was its first season in color. "Van Dyke," on the other hand, was a black-and-white series throughout its run. The thinking at the time was that people who had invested in color television sets would watch almost anything that was presented in color. Advantage: "Laramie.")
However, "The Dick Van Dyke Show" was soon to experience an amazing, though somewhat frustrating turnaround.
FOR ME, the 1962-63 television season began with a phone call from Mary Tyler Moore, at the time considered the weak link in "The Dick Van Dyke Show." Obviously, critics who felt that way eventually would eat their words. It took a while for people to get used to Moore, whose Laura Petrie was a sitcom housewife and mother unlike any the TV audience had seen before. She was young, gorgeous and sexy, which no one ever said about June Cleaver or Harriet Nelson. Moore began the series as a relative unknown in a cast that included such comedy veterans as Rose Marie and Morey Amsterdam.
Moore had done regular work on one other TV series. She was Sam, the telephone operator for David Janssen's private detective character on "Richard Diamond," but only her knees and sultry voice were exposed.
When she called from her California home, Moore's voice was more whiny than sultry. Like the housewife she played on TV, Moore had a son named Ritchie, a six-year-old from a previous marriage to Richard Meeker, a CBS sales representative. (Her son would die in 1980 from an accidental, self-inflicted gunshot wound.)
Her real-life husband in 1962 was an NBC vice president named Grant Tinker, which resulted in a nickname she despised: "Tinker's Toy."
She said there'd be no changes on the show because, despite its narrow escape from cancellation, everyone connected with the program believed it was fine just the way it was during season one. The ratings had picked up during the summer reruns and she expected the show would be even more popular when the fall season began.
And, sure enough, "The Dick Van Dyke Show" soared into the Nielsen ratings Top Ten. That was the good news. The frustration came from the most frequent explanation for its sudden success — it followed "The Beverly Hillbillies," a new series that exploded into first place in the Nielsens and stayed there all season. Without "The Hillbillies," said several observers, "Van Dyke" would still be in trouble. That "Van Dyke" finished not second, but ninth in the ratings also was regarded as telling.
However, when the Emmys were handed out in 1962, it was "The Dick Van Dyke Show" that was named best comedy of the season. "The Hillbillies" wasn't even nominated. The two shows, linked by their CBS timeslots, were as much rivals as teammates. "Hillbillies" got the ratings, but "Van Dyke" got the respect. When awards were handed out, they'd go to "The Dick Van Dyke Show."
IN JANUARY, 1963, I had another Van Dyke-related interview, this one with the man who created the show, Carl Reiner. The reason I was being offered these interviews was because "The Dick Van Dyke Show" was represented by the Rogers and Cowan public relations company. Isobel Silden, who worked at Rogers and Cowan, handled the "Van Dyke Show" and she worked very hard to generate publicity. I don't know who handled "The Beverly Hillbillies"; I did have an interview with Buddy Ebsen, but the only other interview I had with anyone connected with that show came almost by accident during my one and only trip to Los Angeles. (More on that later.)
"The Hillbillies," however, was generating its own publicity. At the time CBS was known for its rural comedies. "The Andy Griffith Show," which began in 1960, set the tone. "The Beverly Hillbillies" followed, along with "Petticoat Junction," "Green Acres" and "Gomer Pyle." To steal a phrase from "30 Rock," these programs appealed to the "rural jurors" among those selected by the Nielsen company to sit in judgment of America's television programs.
On the other hand, "The Dick Van Dyke Show" was considered too slick and urban to appeal to these rural jurors.
Anyway, Carl Reiner explained how he had created a show for himself, one that was to be called "Head of the Family," about his experiences on Sid Caesar's "Your Show of Shows." CBS liked the pilot script, but weren't keen on having Reiner star in the show. Months later, the network bought Reiner's show, but with Dick Van Dyke as the star. You can understand the network's reasoning if you watch "Head of the Family" on YouTube. Reiner would be great when he eventually joined the "Van Dyke Show" as Alan Brady, but he simply didn't click in the pilot film.
Reiner didn't know at the time of our conversation that he'd ever take over the role of Alan Brady, the star of the program that employed the writing team Rob Petrie, Sally Rogers and Buddy Sorrell (Van Dyke, Rose Marie and Morey Amsterdam).
[NOTE: Reiner's voice was heard on several early episodes of the show, and he did make a brief appearance as Alan Brady during the first season on one of the episodes that featured Jerry Van Dyke as Rob Petrie's sleep-walking brother. Near the end of the third season, on April 8, 1964, Reiner played a wacky artist, Serei Carpetna, in the "October Eve" episode, and during the fourth season – 1964-65 – began showing up fairly regularly as Brady.]
Reiner said he always wanted his own show, but admitted he was a lot happier than he expected when he put acting aside to concentrate on writing. "I'd still like to act," he said, "but I don't have the time anymore."
He is still active, though in recent years he has done more acting that writing.
THE RIVALRY between the two CBS teammates, "The Beverly Hillbillies" and "The Dick Van Dyke Show," was more apparent and awkward as the 1963-64 season began. The shows were still joined at the hip on Wednesday nights, from 9 to 10. This time the competition for both programs was "Ben Casey" on ABC and "Espionage" on NBC.
In October, 1963, I had a phone interview with Dick Van Dyke, who seemed a bit prickly.
Yes, he was a bit annoyed, Van Dyke admitted, because of what he believed was a lack of respect given his series, and he was hoping that would soon change.
"I'm tired of hearing people say 'The Beverly Hillbillies' were the only reason we were successful last season," he said. "I want to prove we made it on our own."
What I found interesting was Van Dyke's claim that he was more concerned about competition from "Espionage" than from "Ben Casey." He advanced the theory — admittedly far-fetched — that other viewers might watch "Ben Casey" the way he said he did. "I just stick around long enough to find out what is the disease of the week. After that I know what's going to happen."
He said this wasn't true about NBC's "Espionage," which he felt was a compelling show from start to finish.
Few shared his view of "Espionage," which was never a factor in the ratings. "Ben Casey" had a few good weeks, but finished the season out of the Nielsen Top 30. "The Dick Van Dyke Show" had its strongest Nielsen showing, finishing in third place, behind "Bonanza." But in first place, for the second year in a row: "The Beverly Hillbillies."
It was near the end of that season, in early May of 1964, that I visited California with a friend from college, Lynn Kandel. Isobel Silden of Rogers and Cowan arranged for Lynn and I to attend a party staged to promote the upcoming Emmy Awards. It was here that we met Irene Ryan, who played Granny on "The Hillbillies." She was an Emmy nominee as best actress in a comedy. She told us she had no chance of winning, that the award would go to Mary Tyler Moore of "The Dick Van Dyke Show." I detected some bitterness, but she insisted she was merely being realistic.
At the party Lynn and I also met Richard Deacon, who played producer Mel Cooley on "The Van Dyke Show." Lynn Kandel, but the way, is a man. The fact he and I were together may have given Deacon the impression we were a gay couple ... because during our conversation he raised the possibility that we might attend another party, one which would give us the opportunity to meet Rock Hudson. That was my first indication that Hudson was not the ladies' man America thought he was.
In any event, both Irene Ryan and Richard Deacon couldn't have been nicer. Both agreed to do interviews later that week. Our second meeting with Ryan was on the set of "The Beverly Hillbillies," which was filming its last episode of the season. Unfortunately, during the filming Ryan was bitten by one of the show's chimpanzees and had to be taken to the hospital. She actually delayed her ambulance ride to say goodbye to her two visitors from Ohio.
Lynn had to return to his job in Cleveland, I hung around Los Angeles for another week to do more interviews. One of them was conducted over lunch with Mary Tyler Moore and her husband, Grant Tinker.
On television she had come across like Snow White, with jet black hair and a fair complexion. I was surprised, therefore, that the woman who joined me for lunch had brown hair and skin that might have won an honorable mention in a freckle contest. Her voice was different, too. It lacked that whiny quality her TV role often brings out.
Moore had started using her spare time to do other television work. She had been a guest on "The Danny Kaye Show," appearing in comedy sketches and displaying her dancing talent. That's how she got into show business – as a dancer.
She didn't claim to have much singing talent, however, which is why she had a dispute with producers of "The Ed Sullivan Show," where she was supposed to perform a month earlier. She accepted the offer on condition she could pre-record the song she was supposed to sing with her dance number.
When she arrived in New York to do the show she was told "The Ed Sullivan Show" didn't allow guests to pre-record their songs. So she went back to California without doing the show. She said she and the Sullivan folks had arranged for her to do the show — on her terms — later in the year.
I asked about her Emmy nomination and she said she was honored, but felt she had no chance against Irene Ryan. She said it modestly and, I think, honestly, but she seemed a cinch for the award. Sure enough, she won the Emmy, with the best actor in a comedy award going to Van Dyke. Jerry Paris, who played neighbor Jerry Helper, also won an Emmy that year, but for his directing.
CBS SHIFTED its Wednesday night line-up forward just a notch for the 1964-65 season. One result was "The Dick Van Dyke Show" finished higher in the ratings than did "The Hillbillies," but both programs were down from the previous season.
"Van Dyke" aired at 9 p.m. and finished seventh in the Nielsen ratings opposite Mickey Rooney's "Mickey" on ABC and the first half hour of NBC's Wednesday Night at the Movies. However, the 9:30 p.m. CBS series, "The Cara Williams Show," was a ratings failure. "The Beverly Hillbillies," meanwhile, was presented at 8:30 opposite ABC's "Shindig" and the last half-hour of NBC's ambitious 90-minute Western, "The Virginian." For the first time the Clampett family did not rule the ratings, but fell to 12th place.
In February, 1965, I interviewed one of the producers of "The Dick Van Dyke Show," Sheldon Leonard. He called mostly to talk about another of his programs, "The Bill Dana Show," one of his few flops.
Leonard began as an actor, then went into producing, though he continued to perform occasionally. He and Danny Thomas became a producing team and for awhile in the 1960s seemed to have cornered the market on his programs. They were the team behind "Make Room for Daddy," "The Dick Van Dyke Show," "The Real McCoys," "Gomer Pyle," "The Andy Griffith Show" and "I Spy."
Leonard, the actor, specialized in playing gangsters. He also was featured on radio — back in the days radio was what television would become 20 years later — and was best-known as The Tout on "The Jack Benny Show." No matter where Benny might be, he'd hear The Tout's familiar, "Pssst! Hey bud ... ", followed by some questionable, but amusing advice. Leonard repeated the role several times on Benny's television show.
He also made one appearance on "The Dick Van Dyke Show," in 1963, playing a tough guy who hired Rob Petrie and his staff to write material for his son, a would-be comic.
Leonard also shows up every Christmas season as a not-so-friendly bartender in "It's a Wonderful Life."
Leonard was an extremely bright, well-educated man, but his manner was Runyonesque and his speech was Brooklynese. He had what you might call "a cauliflower mouth."
When we talked, Leonard was still unsettled by the cancellation of "The Bill Dana Show." He said he was studying the failure in the hopes it might help him plan future shows.
"There are aspects of the audience that we dimly understand," he said. "A partial answer to the mystery lies in the phenomenon of personal acceptance."
That's what he said, all right, but to me it sounded like "de phenomenah of poysenal accepdence" because Leonard's off-screen speech, it turned out, also was Brooklynese.
He firmly believed the TV audience "accepts or rejects performers largely on the basis of how those performers fit into a household. Many people thought Jose Jimenez – Bill Dana's character – was amusing, but somehow he didn't seem right in the living room.
"We never identified him as Mexican, Puerto Rican or Spanish, but apparently there was something about him that made people uncomfortable."
I suggested the real reason might have been that Jose Jimenez simply wasn't funny. Leonard didn't agree, of course.
He also made another observation, one I had heard and read previously — that television stars are not held in frightened awe as are movie and stage stars.
"I was in Miami with Dick Van Dyke last year when he was spotted by some fans. They marched over and talked to him like he was an old friend. They asked him to pose for pictures and I'm sure they would have been mad if he hadn't done so.
"If Dick were a movie star – like Cary Grant, maybe – I'm sure most people would simply gawk at him from a distance. But a TV personality is someone you've had in your living room. Someone, if you will, you've had a beer with."
THE 1965-66 SEASON was the last one for "The Dick Van Dyke Show," which dropped out of the Nielsen Top Ten, but finished a more-than-respectable 16th in the ratings. It was Carl Reiner who set the five-year limit. Van Dyke said recently he would have continued the show forever, but Jerry Van Dyke, during a 20-minute film, "Fun With Dick and Jerry Van Dyke," claimed his brother was anxious to pursue movie roles. Mary Tyler Moore was freed up to do the same. Each starred in a few movies over the next three years, but they were soon ready to return to television, albeit in separate projects.
CBS must have known the fifth season would be the last one for "The Dick Van Dyke Show" because the network scheduled it at 9:30 on Wednesdays, after "Green Acres." The reason given was to link two rural comedies, "The Beverly Hillbillies" and "Green Acres." "Hillbillies," at 8:30, opposite "Gidget" and the last half-hour of "The Virginian," climbed back into the Top Ten, at number seven. "Green Acres" at 9, opposite "The Big Valley" and "The Chrysler Theater" and "Bob Hope Specials," finished 11th.
A year later, CBS went rural for 90 minutes, putting "Gomer Pyle, USMC" into the 9:30 slot. "The Beverly Hillbillies," "Green Acres" and "Gomer Pyle" all finished in the Nielsen Top Ten.
In October, 1965, I had my last Van Dyke-related interview. This one was conducted in Cleveland when I met Jerry Van Dyke face-to-face. He was there to promote his own show, which became a spectacular failure that is well remembered because of its title and its premise — "My Mother, the Car," a sitcom about a man whose old automobile is taken over by the spirit of his dead mother (Ann Sothern) who is able to talk to him.
"Van Dyke" regulars who eluded me included young Larry Mathews, who played Ritchie Petrie; Morey Amsterdam, who played writer Buddy Sorrell; Rose Marie, who played writer Sally Rogers; Jerry Paris, who often directed and played dentist Jerry Helper, the next door neighbor, and Anne Morgan Guilbert, who played Millie Helper. When the show started in 1961, Amsterdam and Rose Marie were probably the best-known cast members.
Amsterdam was an acquired taste, a member of the Henny Youngman-Jack E. Leonard school of comedy, a master of the obvious, often corny joke. He struck me as someone who was always "on" and very likely would answer a question with an old joke. He died in 1996 at the age of 85.
However, pairing him with Rose Marie as writers for the fictitious "Alan Brady Show" was a stroke of genius. Both were loud, overbearing personalities, but all of their obnoxious qualities were canceled out in their weekly quip contests. Their exchanges were so fast and furious that the audience had no time to groan at the bad jokes because they were laughing at the good ones.
Rose Marie had been performing more than 30 years by the time the Van Dyke Show started. Born Rose Marie Mazzetta in 1923, she was an amazing singer as a child.
I recently saw — on Turner Classic Movies — a short film she made in 1929. It was appropriately titled "Baby Rose Marie: The Child Wonder." At age six she had a voice and singing style that made her seem like a young woman in a child's body. (Online I found another Baby Rose Marie song; it was done a few years later, but she is still a child wonder.)
When she reached her teens she could no longer be called Baby Rose Marie, and her singing, while still excellent, no longer seemed exceptional. However, she had a talent for comedy and became a stand-up performer who also worked on Broadway. After the Van Dyke Show, she appeared in guest roles on several television shows and also toured from 1977-85 in "4 Girls 4," a stage show that also featured Rosemary Clooney, Helen O'Connell and Margaret Whiting. She worked only occasionally after 2000, and in 2017 passed away at the age of 94.
Larry Mathews didn't pursue an acting career after "The Dick Van Dyke Show" went off the air. He did work in television, behind the scenes, and occasionally appeared on camera in connection with his role as Ritchie Petrie.
Jerry Paris died in 1986 at the age of 60. He had appeared in supporting roles in several movies (including "The Caine Mutiny") and a bunch of television shows (especially "Michael Shayne" and "The Untouchables"), but is best known for "The Dick Van Dyke Show." After that series ended he worked mostly as a director.
Ann Morgan Guilbert (aka Ann Guilbert) performed up until the year of her death in 2016. She was 86 years old. She was one of my favorites on the show, a funny neighbor, but one who could drive you crazy. However, one of the best things about "The Dick Van Dyke Show" is that it never let any of its several entertaining characters overstay his or her welcome.
The only episodes I didn't enjoy were those that found an excuse for cast members to sing or dance and, in general, turn a great situation comedy into a mediocre variety show.