Akron Beacon Journal, September 30, 1962
By JACK MAJOR
After the producers of the "Route 66" television show decided last year to film an episode in New Orleans, they sent set builder John T. "Red" McCormack ahead to look over the location.
McCormack searched in vain for a suitable Louisiana shrimp boat, so he ordered his crew to build a reasonable facsimile – in 11 days.
Since the "Route 66" vessel did not have to float, McCormack didn't lay a keel. He started the hull about halfway up.
Among the interested spectators was an old Cajun who couldn't believe his eyes.
"Young fella," he said to the 50-ish McCormack, "you gotta put in a keel."
McCormack replied that he used a new method of boat-building.
"I said I'd turn the boat over and lay the keel last because it would be easier."
But the Cajun was not convinced. "You durn fool!" he shouted. "You must be crazy!"
McCormack said his friends often agree with the Cajun's analysis.
When McCormack accepted the assignment to work with "Route 66," he took on a job that might be impossible for many other men. It's a tribute to McCormack's ability – and good-naturedness – that he has maintained his sanity during his 25 months with the show.
"Route 66" is the only series that films entirely on location. As the season approaches the halfway mark in filming, the show runs out of scripts.
McCormack and the rest of the 60-person television crew are in Cleveland this week filming the second of three shows in northeast Ohio.
"I don't know what my crew will have to do next week," he said, "because that script isn't finished."
"Route 66" had nine episodes completed for the current season when it rolled into Cleveland. There were only two more scripts finished, and just one of those had been cast.
Co-stars in the first Cleveland episode were Jack Kruschen and Madlyn Rhue, and they weren't signed for their roles until four days before shooting started.
Kruschen flew into Cleveland on a Wednesday and began filming that evening. He finished at midnight.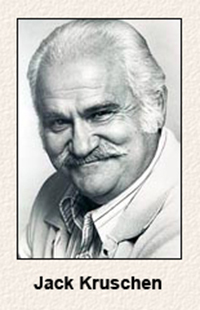 "About 1 a.m.," he said, "I got a call from the director who said weather conditions were going to force a change in the shooting schedule the next day. The new schedule would cover a part of the script I hadn't even looked at yet."
So Kruschen stayed awake until 3:30 a.m. reading that section of the script and had only a few hours sleep before reading it again later that morning.
Delays in script writing and casting and last-minute changes in the shooting schedule make it difficult for everyone, and much of the pressure falls on McCormack. He must finish his job before anyone else can begin.
McCormack's work usually includes some hurry-up construction projects and a city-wide scavenger hunt. The first Cleveland episode required both.
McCormack's initial task was to convert a lounge at the downtown Sahara Motel into a night club. (Executive producer Sam Manners had the more pleasant job of finding 40 beautiful women to fill that nightclub. "We filmed a sort of twist orgy," said Lou Weiner, the show's publicist.)
McCormack then went to the Rand Mansion on Lake Shore Boulevard to change a dining room into a gambling den. This was accomplished after he located two one-armed bandits from other homes in the area. Also required were a pool table, a portable bar and some decorative statuettes.
Such items aren't part of the equipment that travels around the country with the ever-wandering "Route 66" gang.
The show moves in a caravan of five automobiles and five moving vans. These vans carry wardrobe, cameras, lights, dressing rooms and some props, but each location usually has McCormack out hunting for something new or unusual.
Oddly enough, McCormack says his most difficult job is finding good sign painters. Signs are vital for designating the names of cities and towns, but they can't be prepared until the actual location is chosen. Then it's a rush operation; McCormack has learned many local painters can't be hurried.
"In the east last year I had only two days to get signs made for two shows," he recalled. "I covered 200 miles around Harrisburg, Pennsylvania, stopping at every sign painter I could find, before I got a man."
One of McCormack's toughest breaks involved a mine shaft he built in Santa Fe, New Mexico. Before he got the supporting timbers in place, a rare blizzard dumped heavy snow on the area and the shaft collapsed.
McCormack quickly rented a bulldozer, scooped out the rubble and rebuilt the mine shaft.
At Seagoville, Texas, for an episode using flashbacks, the company worked at a dilapidated old house which had to be shown as it looked 20 years earlier. McCormack and a three-man crew brought in shrubs, pre-fabricated wall sections, fencing and latticework and accomplished the rejuvenation in two hours.
Later, in Indio, California, McCormack directed a crew to completely remodel the exterior of a home, building shutters, a fence, a large porch and an additional room. It was all left to the owner in return for his permission to use the property.
The "Route 66" crew travels about 25,000 miles a year because the show's owner, Herbert B. Leonard, believes real settings are a marked improvement over the make-believe studio backgrounds.
The show thrives on this sort of realism, but McCormack is handy in case minor trickery is needed. Thus, in Lewisville, Texas, McCormack got permission to put up a motel sign on a house on the main highway, Route 77.
The homeowner called McCormack at 2 a.m. asking if he could take down the sign until morning.
"He told me he'd had a steady stream of motorists stopping to ask for sleeping accommodations," said McCormack, with a smile.
Similar trickery was needed at another location and McCormack convinced a furniture store manager to let him transform a display window space into a cafe setting, with tables, chairs and blue plate special signs.
"The woman who owned the store had been out of town," said McCormack. "When she got back and saw the outside of her place, she stormed in and started screaming at the manager because she thought he'd turned it into a hamburger joint without telling her."
The rest of the "Route 66" company sets up immediately after McCormack is finished. Each scene is rehearsed three times before it is filmed. The film is then flown to Hollywood where Leonard supervises the processing and editing.
No one working on location has a chance to see their work until the program is shown on CBS. "We seldom see it even then," said publicist Weiner, "because we work so much at night."
Sometimes it takes more than five hours to get a minute's worth of film. Actors and members of the production staff spend much of their time waiting to work.
Manners, who supervises all production on "Route 66" and "Naked City," another Herb Leonard production, is one person who never has to wait. He's on the go all the time. He selects the locations and sends McCormack to work. When McCormack is finished, it is Manners who schedules the day's shooting. He also picks the local actors who audition when "Route 66" arrives in town.
(Manners was born in Cleveland and was graduated from West Tech High School. He selected his hometown for shooting "because it has several interesting things to photograph.")
Manners also has the last word on script changes which are recommended by members of the staff.
"In all," he said, "I'm going at least 18 hours a day. I've gone 96 hours without sleep, and I haven't had more than an hour's sleep each night for several weeks."
He said the work schedule for each member of the "Route 66" crew is at least 12 to 16 hours a day. "We even work Sundays most of the time."
Even with such an extensive schedule there are times episodes aren't finished on time.
"We try to do each episode in six and a half or seven days," said Manners, "but we often work for ten days."
This puts the show under extreme pressure in January when Manners loses the cushion he had at the beginning of the season and finds himself filming only two weeks before the episodes are scheduled to air.
"We'd like to have eight weeks from camera to can," said Manners, "but that will be impossible by the start of the new year."
The lack of time presents a challenge to music director Nelson Riddle, who scores "Route 66" in Hollywood. "He'd like two weeks to compose the music and dub it in," said Manners, "but sometimes we give him only three days."
"It's a miracle this show gets finished," he said, "but we love it. You know, I've still got 96 per cent of the people who started with me two years ago."
"The casual observer might think this operation is confused," said Kruschen, during a long break on the second day of work in Cleveland, "but it is the most organized confusion you will ever see."