Enter the O'Neills
Mary Ann O'Neill Major (1845-1936) married William James Major (1836-1905) in 1865 in St. Mary's Church, Bellaghy, Magherafelt, County Derry, Ireland, connecting the Majors and the famous O'Neill clan and The Legend of the Red Hand (below). Mary Ann was the daughter of William O'Neill and Katherine McErfane.
Soon after their marriage, William and Mary Ann Major emigrated to the United States and settled in Skaneateles Falls, NY. Nearby were William's younger brother, Charles Major, and Mary Ann's older brother, James O'Neill, who lived in an area known as Skaneateles Junction (but often referred to as Hart Lot). Another of her brothers, Anthony, would emigrate to the Skaneateles area, settling in the nearby city of Auburn, in Cayuga County.
Information about James O'Neill was provided by Will Hier, who lives a few miles east of Skaneateles on Otisco Lake with his wife, Maureen Elizabeth O'Neill Hier.
What follows is an O'Neill family tree that excludes the descendants of Mary Ann O'Neill Major. That list is only a click away.
Most of this family tree is based on information given me by Will Hier. I've added a few names that I found in a 1948 newspaper obituary for Katherine O'Neill Heverin (whose married name aroused my curiosity because Sarah Major of Skaneateles Falls, born a year after Katherine, also married a Heverin).
William O'Neill married Katherine McErfane in County Derry, Ireland. They had seven children:
1. James O'Neill (1842-1928) m. Anne O'Toole (1852-1917). The wedding took place in Skaneateles, NY, in 1878. Anne O'Toole was born in County Carlow, Ireland. James and Anne O'Neill lived in Skaneateles Junction (Hart Lot) and owned the J. O'Neill Hotel.
His obituary in the Syracuse Journal (February 24, 1928) doesn't mention the hotel, but says he was a veteran employee of the New York Central Railroad. It also says his survivors include a brother named Arthur O'Neill of Auburn, which I believe is a mistake; his name was Anthony. Most interesting, there's a mention he was survived by a sister, Miss Sarah O'Neill. This shows up again in the obituary for his sister, Mrs. Mary Major (below), though I can find no other reference to Sarah O'Neill.
Anne O'Toole and James O'Neill had six children:
1.
Infant girl,
died at birth (1879- )
2.
Katherine O'Neill
(1880-1948) m.
Bernard Heverin
(1876-1926). (Some sources spell her name with a C.) They had five children:
Joseph Heverin (1909- ) Home: College Point, Long Island, NY
Bernard Heverin (1911- ) Home: College Point, Long Island, NY
Anna Heverin (1914- ) m. Donald McMahon of Syracuse
Harriet Helen Heverin (1916- ) m. George Chamberlain of Syracuse
Rita Heverin (1922- ) m. Norman Straker Home: College Point, Long Island, NY
3. John Patrick O'Neill (1883-1960) m. Bridget Murray in Skaneateles Falls, NY. in 1907. Bridget and John O'Neill had four children (below). According to the obituary for his sister, Anna, John P. O'Neill was living in Syracuse in 1951.
1. John Francis O'Neill (1908- ) m. Anna Burns
William O'Neill
m.
Dixie ?
2. Edward William O'Neill (twin) (1912- ) m. Frances Arian
3. Edna Rose O'Neill (twin) (1912- ) m. Phillip Kennedy
Joyce Eileen Kennedy
m.
?? Cerio
Michael Cerio
m.
April ??
Bailey Ann Cerio
(2003- )
Phillip (Mike) Kennedy
m.
Maureen Hartnett
4. Laurence Murray O'Neil (1916-2006) m. Eleanor Ryan
John Thomas O'Neil
(1944-2000)
John Patrick O'Neil
(1968- )
Jennifer Marie O'Neill
(1972- )
Maureen Elizabeth O'Neil

(1948- ) m

. Will Hier
Bridget O'Neil Hier
(1987- )
4. William James O'Neill (1884-1968) According to the obituary, below, for his sister, Anne, he lived in Randolph, Minnesota, in 1951.
5. Anna Marie O'Neill (1886-1951) m. John L. Powers (1886-1971)
Skaneateles Press, September 14, 1951
Mrs. Anna O'Neill Powers of Hart Lot died in Syracuse on Saturday, Sept. 8, 1951. A native and life resident of Hart Lot, she was a retired school teacher and had taught at Hart Lot grade school and Elbridge High School.
The daughter of the late James and Anna O'Toole O'Neill, she was a communicant of St. Bridget's Church, Skaneateles Falls, and a member of the Altar and Rosary Society.
Surviving besides her husband, John L. Powers, are two brothers, John P. O'Neill of Syracuse and William J. O'Neill of Randolph, Minn., and several nieces and nephews.
6.
Infant girl,
died at birth (1888- )
2. William O'Neill (remained in Ireland)
3. Edward O'Neill (died in Australia)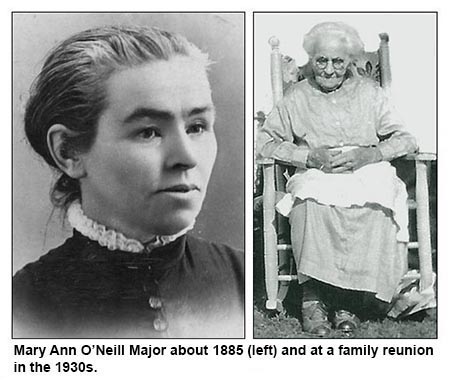 4. Mary Ann O'Neill (1845-1935) wed William James Major (1836-1905
Skaneateles Press, December 5, 1935
Six grandsons of Mrs. Mary A. Major, the oldest resident of Skaneateles Falls acted a bearers at her funeral which was conducted last Friday morning at her home and later from St. Mary's of the Lake Church.
Mrs. Major had been ill for a long time. She died last Wednesday morning, November 27, 1935 at her home.
Surviving are two sons, John Major of Solvay and Patrick Major of Skaneateles Falls; two daughters, Sadie and Elizabeth Major of Skaneateles Falls; one brother, Anthony O'Neill of Auburn; one sister, Miss Sarah O'Neill of Rochester, and several nieces and nephews and several grandchildren.
The six grandsons who acted as bearers were Robert Major, Vincent Dougherty, Donald Major, William Major, Stanley Major and William Dougherty.
5. Anthony O'Neill (1857-1943) m. Mary Madden (1859-1938). Mary and Anthony O'Neill were married in Auburn, NY, and lived there the rest of their lives.
6. Katherine O'Neill (married name was Cassidy)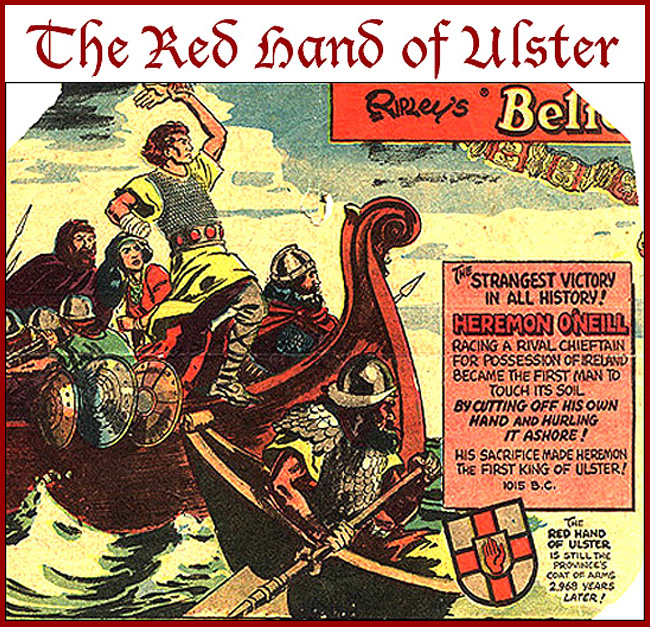 From "Ripley's Believe It or Not" (1953):
The strangest victory in all history!
Heremon O'Neill racing a rival chieftain for possession of Ireland became the first man to touch its soil by cutting off his own hand and hurling it ashore!
His sacrifice made Heremon the first king of Ulster! 1015 B.C.
The RED HAND OF ULSTER is still the province's coat of arms 2,968 years later!
That makes for an interesting tale, but is there any truth to it?
No, say historians. More likely the Red Hand of Ulster has its origins in a Biblical reference to the right hand being symbolic of God's power and authority. Interestingly, the Ripley cartoon shows Heremon O'Neil throwing his right hand ashore, though the legend usually says O'Neill cut off his left hand. Ripley's version fits the coat of arms that displays a right hand.
The Red Hand of Ulster may be traced to Psalm 98:1
O Sing unto the Lord a new song;
For he hath done marvellous things:
His right hand and his holy arm,
Hath gotten him the Victory
Also, The Children of Israel in their passage through the Red Sea gave the power and glory for their deliverance to the Right Hand of God (Exodus 15:6):
Thy Right Hand, O Lord, is become Glorious
In power : Thy Right Hand, O Lord, hath
Dashed in pieces the enemy.
We prefer the bloody hand legend. Maybe Hollywood will turn it into a movie, undoubtedly starring Johnny Depp (who'll insist on really cutting off his right hand).