Children of John and Mary Major
William James Major
(1845-1905)
William James Major and Mary Ann O'Neill (1847-1935) were married in 1865 in St. Mary's Church, Bellaghy, Magherafelt, County Derry, Ireland, connecting the Majors and the famous O'Neill clan and The Legend of the Red Hand. Soon after their marriage, William and Mary Ann Major emigrated to the United States and settled in Skaneateles Falls, NY, with William's younger brother, Charles.
Mary Ann (above) and William had ten children. I've found information on only the first eight children listed below, but further down is an explanation which accounts for twin boys born in 1888,
The birth years for William and Mary Ann Major vary with the source. I have changed them to correspond with the 1880 United States census, though I've seen other material that had William nine years older than listed on the census, and Mary Ann older by two years. The 1880 census said William Major worked in a paper mill and I found an 1897 newspaper clipping that identified him as the head fireman at the Glenside Woolen Mills in Skaneateles Falls, a company owned by the McLaughlin family.
For most of the following information, I thank Charles Thomas Major Jr., better known as Charlie Major, of Skaneateles, a great-grandson of Charles and Margaret Major.
Also, many thanks to Rob Major, a cousin who lives in Orlando, Florida, who in 1994 taped his father, Hugh Major, and uncle William "Bud" Major, who presented a long, rambling history of the family. To watch and listen, use the following link: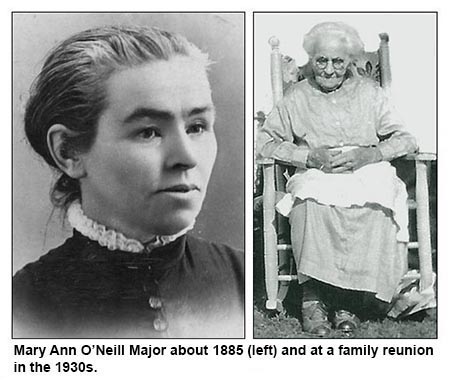 Children of William and Mary Ann O'Neill Major:
1. Mary Major (1866-1916) She was the only one of the children born in Ireland.
2. John W. Major (1869-1940) m. Rose McLaughlin (1872-1943)
3. Catherine "Kate" Major (1871-1934) m. William J. Dougherty (1869-1911)
4. William Major (1873) He died in infancy. The next son also would be named William.
5. William James Major Jr. (1875-1895) News item below.
6. Patrick Major (1878-1956) m. Mary Quigley (1890-1959)
7. Sadie Jane "Sate" Major (1881-1958) lived in Skaneateles Falls.
8. Elizabeth "Liz" Major (1885-1971) lived in Skaneateles Falls.
9.

Francis Major

(1888- ) Note below
10.

Edward Major

(1888- ) Note below
Skaneateles Press, November 1, 1895
The death of William Major, a young man of Skaneateles Falls, of typhoid fever, is peculiarly sad from the fact that he went to East Syracuse for an elder brother who was taken with the disease, bringing him to the family home at Skaneateles Falls. The brother first taken is recovering, while death claimed the younger one.
The brother who recovered, obviously, was John W. Major, grandfather of the person who created this website.
NOTE: A cousin, Rob Major or Orlando, Florida, sent me notes from a conversation he had with his father, Hugh T. Major, and his uncle William "Bud" Major, who were sons of Patrick Major (listed above). Years ago I had seen online a brief family tree posted by Rob Major which listed ten children for William and Mary Anne Major. The notes he sent me recently explain the discrepancy and put a sinister spin on a story elsewhere on the page.
For a long time I listed only the first nine children and set the death date for Francis Major as 1917, but in checking my notes I cannot find the reason I did so. According to the conversation Rob Major had with his father and his uncle – and this remains unverified by any other source – Francis had a twin brother, Edward. The twins, according to their recollection, died in infancy after getting into poisoned chicken feed. The Major family believed the poisoned feed had been left there by a neighbor.
That neighbor was arrested and charged with poisoning William Major's chickens (stories below), but I've found no mention anywhere that infant twins were born or died in Skaneateles in late 1888 or early 1889. Despite the result of the court action, the Majors remained convinced that the neighbor did indeed poison the chicken feed.
In 1897 there was an explosion that the Glenside Woolen Mills where William Major was employred.
Auburn Citizen, February 25, 1897
SKANEATELES, NY., Feb. 20 – An explosion occurred shortly after noon today in the boiler room of the Glenside woolen mills, seriously injuring four men.
J. M. Whitman of Philadelphia, a boiler expert, was making some tests on the boiler when the exhaust pipe suddenly burst and blew out through the ash pan with terrific force, scattering hot clinkers, ashes and steam about the room.
William Major, head fireman, and his assistant, Sidney Slater, were badly burned about the face and head.
Mr. Whitman was seriously burned about the face and received an ugly gash over his right temple from a clinker.
James H. Huxford, proprietor of the Glenside hotel, had just entered the boiler room with Mr. Whitman's lunch when the explosion occurred. He was horribly burned and it is feared he may lose his eyesight. The skin was almost completely burned off his hands.
Dr. D. J. McLaughlin was called and is relieving the awful suffering of the men.
Expert Whitman had been called by the Glenside company to test its boiler.
Shades of another Irish-English war
The complainant is one of the three Major brothers who were instrumental in planting our family tree in the United States. Seems someone might have been raiding his hen house:
Syracuse Weekly Express, September 12, 1889
SKANEATELES, Sept. 6 – Mrs. Mary English was arrested and brought before Justice Smith on the charge of poisoning hens belonging to her neighbor, William Major. Her trial was held yesterday and resulted in a verdict by the jury of not guilty. George Barrow of this place appeared for the people and M.E. Driscoll of Syracuse for the defense.
Mrs. English was pleased with the verdict, obviously, but felt she shouldn't have been arrested in the first place. And so she sued William Major for malicious prosecution:
Skaneateles Free Press, May 24, 1890
The malicious prosecution case brought by Mary English against William Major was tried at the Circuit Court in Syracuse on Tuesday, the 20th of May, resulting in a verdict for Mrs. English of $65 damages and costs.
It will be remembered that in July last, Mr. Major had Mrs. English arrested for poisoning his chickens and that she was tried before Justice Smith and a jury and acquitted. Mrs. English, feeling aggrieved at the arrest, which she claimed was wholly without cause, by Attorneys M. E. and W. W. Driscoll, immediately after her acquittal brought suit against against Mr. Major, alleging that he procured her to be arrested maliciously and without probable cause.
These were the questions which were litigated in the recent trial. Mr. Major and his counsel Mr. Barrow both claimed that he acted on good faith and on the advice of counsel, and that he was not liable, but the jury failed to accept such a plea and brought in a verdict as above.
Those who believe we live in a litigious society might do well to study our history. Granted, the amounts of money involved almost always seemed small, but people apparently were driven by principle, or concern for their reputation. Also, $65 was a whole lot more in 1890 that it is today. In any event, the chicken case wasn't over. Now it was William Major's turn again, and he and his lawyer filed an appeal because he remained certain Mrs. English had killed his chickens.
Syracuse Weekly Express, February 19, 1891
Mary English, respondent, vs. William Major, appellant. Judgment and order reversed on the exceptions and a new trial ordered with costs to abide the event. Opinion by Merwin, J.
If indeed there was another trial, I found no mention in Syracuse area newspapers. Perhaps they were tired of so much court time being wasted on what no seemed an unfortunate, but trivial dispute between neighbors. Apparently this dispute began long before William Major's chickens died.
Mary English was widowed in 1879. She had five children, all of them adults by the time of her legal battle with William Major. It wasn't her only court battle. She and four other neighbors – William Major wasn't one of them – tried to prevent the Town of Skaneateles from taking some of their land for a new road to the Glenside Woolen Mills, the biggest industry in Skaneateles Falls. (Major was employed at the mill.) So far I haven't discovered how that battle turned out.
Mrs. English died April 30, 1905. She was 74. William Major died less than three months later, on July 17. He was 60.