That's Coach Earl Hadley (standing, far left) and his 1920 Solvay High School football team. Fullback Buster Major is standing, fifth from the left. Holding the ball (center) is Mickey Welch, the captain.
I have last names for some of the players – going left to right from Welch, are Jackson, Hinsdale, Stewart, Kimberry, Kanar and Riley, the team manager. Sitting in the center is Cohen, the trainer. Moving left to right, the others are Conley and Larkin. Can anyone identify their teammates?
Here is how a Syracuse newspaper – I couldn't tell which one by the clipping that was left in my father's scrapbook – covered one of the Solvay football games from the 1921 season:
"Scholastic football in Central New York opened with a rush yesterday at Burnet Park when the strong Solvay High eleven smashed through Camillus High's gridiron representatives to score a 60 to 0 victory in the first half. Coach H. E. Hadley's Solvay team rushed its Camillus opponents off their feet from the start.
"The Camillus management, following the first half, which ended with the overwhelming score in favor of the Solvay players, withdrew from the game, admitting Hadley's charges were too strong.
"Major, fullback for the victors, scored three touchdowns, while Welch, quarterback, carried the ball over four times. McCarthy, Solvay's left halfback, made two touchdowns and kicked six goals.
"The Solvay scholastic eleven meets its next opponent a week from Friday, opposing the Christian Brothers team on that day."
As you can tell by the photo at the top of the page, Solvay, like most teams in that era, had only a handful of substitutes. A coach could not insert his second string – because he usually didn't have one.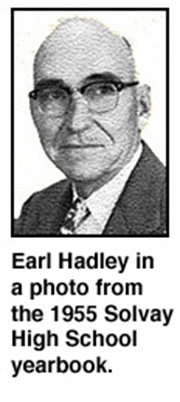 Hadley, who grew up in Sandy Creek, NY, graduated from Springfield (Mass.) College. He taught physical education for one year in Ilion, NY, before moving to Solvay in 1917. A year later his teaching career was interrupted for service as a Marine lieutenant in World War I. In 1920 he returned to Solvay High where he coached the football, basketball and baseball teams for many years, winning several league and county championships with each team.
He was way ahead of his time in preaching on behalf of soccer, finally establishing a team at Solvay High in the 1950s, though most of us remained unimpressed with the game even after we'd played it for four years in Hadley's gym class. (Many may also remember Hadley's claim that no one could do a one-handed pull-up. A lot of us tried, none of us succeeded. Maybe it can't be done.)
Hadley died in 1967, and in 2003 the Solvay High School stadium (below) was named in his honor.
– JACK MAJOR