The village Solvay had a tiny police force in 1908, but their responsibility often went beyond the border, north into Lakeland and west into places called Amboy and Gere's Lock. Thanks to the Solvay Process Company and other factories located in the village, Solvay was one of the most industrialized communities in the country.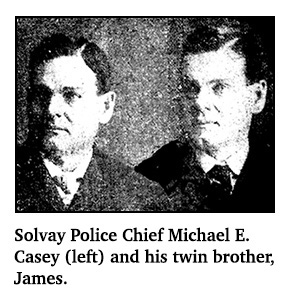 Because of that, Solvay attracted a large number of immigrants from Italy, Austria and what once was — and would be again — Poland, a divided country occupied by Russia, Prussia and Austria. They settled in Solvay and on the west side of Syracuse because that's where the jobs were. That's also where you'd find a heavy concentration of saloons, which were a breeding ground for much of the trouble that kept Police Chief Michael E. Casey very busy.
Chief Casey was a hands-on kind of guy, anyway. Unfortunately, he had a heart condition which, combined with his tendency to work long hours every day, sentenced him to a premature death. Hospitalized in August, Casey died in September, but he had already done a year's worth of work and had made more than a year's worth of headlines.
Syracuse Herald, Monday, September 21, 1908
Chief of Police Michael E. Casey of Solvay died at 10:10 o'clock this morning at St. Joseph's Hospital. For some time he had suffered from a form of heart disease and was taken to the hospital on August 21. For several weeks his condition had been critical and he had been delirious.

Michael Edward Casey was born in the town of Geddes on February 14, 1861. He was the son of James Casey, who for 21 years was constable of the town of Geddes and who had a hand in building the Erie Canal and also most of the salt covers in the vicinity.

Both Chief Casey and his twin brother, James Patrick Casey, were lifelong residents of Geddes, save for three years during which the chief lived in Leadville, Colorado, where he went soon after his marriage, which took place when he was less than 20 years old, the bride having been Miss Margaret Doyle of the First Ward.

While in the West, the young man was chief engineer of the "Nellie S." mine on Printers Bay mountain and was afterward employed by the American Refining Company in the California Canyon.

In 1883 he returned to Solvay where he worked for the Solvay Process Company as a foreman. Ten years ago he was appointed as a member of the Solvay police force and in 1905 was made chief of police.

Chief Casey had a fine record in hunting down offenders and had made capture of several important criminals. Among them was Edward Donohue, who killed Dr. A. M. Northrup at Benton Harbor, Michigan, and was taken by Chief Casey, aided by several Syracuse detectives, at the home of his brother at Belle Isle on Christmas Eve, 1903. Donohue was hiding under a bed and put up a desperate fight before he was finally taken.

A more recent capture was that of "Mike" Colombo, who murdered Mary Casey at Locust Valley, Nassau County, Long Island.

Morgan E. Elliott, a deserter from Fort Shaw, Montana, who had escaped by overpowering his guards in the military prison and was at liberty for six years, was another of Chief Casey's captures. While in his cell in the Solvay Town Hall, waiting for the arrival of military guards to take him away, Elliott took off his suspenders, and, making a sling shot of them, shot the keys off the walls of the jail and was about to make a dash for liberty when he found himself covered by a revolver in the hands of Chief Casey.

Chief Casey, in spite of his having scarcely attained middle age, had grandchildren as well as seven children. His twin brother, James Patrick Casey, has been for 26 years in the employ of the Onondaga Pottery Company and is now foreman of the company's kilns.

A striking resemblance had always existed between the two brothers, so strong that even their own children were unable at times to tell them apart, and it was their fancy to encourage the likeness by similarity of dress, manner of wearing the hair, etc.

Syracuse Chief of Police Martin L. Cadin said today: "I was greatly shocked to hear of Chief Casey's death. I had known him a great many years before he was connected with the department. He made a fine officer and a splendid Chief of Police. He will be greatly missed."
His children included four daughters, Mrs. Joseph O'Hara, Mrs. Thomas Riley, and the Misses Marguerite, Anna Loretta Casey, and three sons, James P., Arthur F, and Robert Casey. He also was survived by two sisters, Mrs. Catherine Sullivan and Mrs. Timothy Holland, and two brothers, William P. and John, in addition two his twin brother, James.
Newspaper would later report that Michael Casey's was the largest funeral ever held in the village of Solvay; a squad of 24 policemen — most likely from Syracuse — led the procession from Casey's home at 230 Charles Avenue, to St. Cecilia's Church. Over 50 carriages carried friends, this was in addition to those who marched behind the 24 policemen.
As an indication of how hands-on Casey was as police chief, the department's annual report for his last full year as chief, showed that 260 people were arrested in the village in 1907. Casey was responsible for 194, or 75 percent of them.
Casey made statewide news five weeks into 1908.
Syracuse Herald, Sunday, February 2, 1908
"Mike" Colombo, an Italian, wanted in Nassau County for murder in the first degree, was arrested last night at Solvay by Chief of Police Michael Casey, Constable Carmen Louise and Policeman Taylor. The Italian showed a disposition to resist arrest, but Chief Casey succeeded in getting the irons on his wrist in a very few moments. Colombo is charged with cruelly murdering Mrs. Mary Casey last May.

Yesterday afternoon, Sheriff Thomas Walsh received a letter from Sheriff Foster of Nassau County asking that a search be made for Colombo, who was thought to be in Syracuse. It was stated in the letter that on the night of the murder, Colombo disappeared, but his wife remained in the county. On December 12, of last year, the man's wife packed her household effects and shipped themm to Syracuse.
Chief
Casey, upon being furnished with a description of the Italian, notified Constable Louise and a search for him was begun. Upon investigation, it was learned that the furniture shipped by the woman had been sent to the home of Patrick Moriarity at the corner of Milton and Emerson Avenues, Solvay. It was later discovered that an Italian family had recently rented the upper floor of the house. The neighbors said his name was "Mike" Colombo and that he worked at the greenhouse of Bard & Davis on Wilbur Avenue.

It was shortly after 8 o'clock last night when Chief Casey, Constable Louise and Policeman Taylor went to the greenhouse. In the back part of the office, an Italian could be seen who answered the description furnished by Sheriff Foster. An officer was stationed at each door and the chief went in and laid his hand heavily on the shoulder of the Italian.

"I want you," said the chief, as the frightened man turned toward him.

"What have I done? What for?" he friend as he struggled to free himself from the grasp of the police officer.

"Murder," answered Chief Casey, and by this time Colom bo had been securely handcuffed. A moment later he was led away and locked up in a cell at the Solvay police station. Later he was brought to Syracuse and locked up in a cell at the courthouse jail. Sheriff Walsh communicated with the Nasau County authorities and they stated an officer would be sent to this city tomorrow to take the man back to the scene of his crime.

It was in the early part of May that Mrs. Mary Casey, proprietor of a boarding house, was murdered by a gang of Italians in her own home. Colombo was the man accused of the crime, but he managed to escape on the night of the murder and was not heard of again until tonight. The suspicions of the Nassau County sheriff were aroused when Colombo's wife sent her furniture to this city, with the result that the sheriff of this county was notified.

Columbo was arrested within two hours after receipt of his description, and the arrest is looked upon as a very neat piece of work. Colombo's picture has been posted in nearly every police office in the country for nearly a year. The man is about 35 years of age. He has only been settled with his wife at Solvay since the middle of December. When seen in a cell at the court house last night, he said he was at the Casey house on the night of the murder, but that he did not kill the woman.

He said he saw a gang of his countrymen in front of her home, and that he went home and went to bed. Latser, he said, he became frightened because he thought police might hold him in jail as a witness.
Weeks later a Nassau County jury rejected Colombo's story and sent him to Sing Sing Prison. There was no gang of Italians involved; Colombo and his landlady got into an argument about money. A fight resulted, and Mrs. Casey died from the blows inflicted by Colombo with part of a tree branch he picked up in the woods where the woman's body was found.
What I found most interesting about Mrs. Casey's boarding house was the make-up of her boarders — an Italian family, a Polish family, a German family, a family of white Americans, and a Negro family.
Also interesting was the fact the woman who lived with Colombo was not his wife, but a widowed more of a teenager. Colombo also had a daughter he had brought back from Italy after he discovered that his wife, who was to join him eventually, had been unfaithful. According to Colombo' daughter, her mother had a baby, then killed it in an effort to keep her infidelity a secret. That was three years before Colombo clubbed his landlady in Locust Valley, NY. After he was sent to prison, his daughter, Maria, was returned to Italy to live with her mother, who either was not punished for her crime, or had already finished her sentence.
Meanwhile, Chief Casey, the man who apparently never slept, did not go directly back to Solvay after he delivered Colombo to the Syracuse police.
Syracuse Herald, Sunday, February 2, 1908
Peter Chepano, an Italian who has a mania for stealing suitcases, was arrested at the Central station last night by Chief of Police Casey of Solvay on a petit larceny warrant. Chepano was released from the penitentiary on Wednesday morning after serving a term of one year for stealing suitcases at the Central station. Upon his release, he went to Solvay, where he told an overcoat and them came to Syracuse and took up his old stand at the depot.

During the last few weeks, several suitcases have been stolen, and police have been looking for the thief. Last night a Troy minister set his suitcase on the floor of the station and when he turned to pick it up, it was gone. Chepano confessed to having stolen the suitcases and two of them were recovered last night by Syracuse police.

Chepano was taken to Solvay, where he will be arraigned before Police Justice Smith Monday morning on the charge of petit larceny.
Since almost everyone traveled by train in thos days, stealing suitcases seems like a logical thing to do, if you happen to be a thief. Who's gonna be suspicious when they see someone walking away with a suitcase? And you never knew what might be inside, though chances are the only thing you could really count on is becoming the best-dressed thief in town.
But Chief Casey's biggest cases were weeks away. Both would occupy a lot of newspaper space and generate a lot of interest that would not be rewarded. The first broke in April, and had Syracuse police very excited because they believed it was related to recent Sicilian Mafia or Black Hand murders. However, Solvay'a Chief Casey, who led the investigation, knew early on the crime was not quite what it seemed, and he correctly guessed the identity of the victim and why everyone who could provide information about the case either said nothing or was telling one lie after another.
Syracuse Journal, Thursday, April 2, 1908
With three deep stabs, evidently administered by a stiletto in the hands of a powerful man, the body of an Italian, whom police authorities expect to identify as a laborer who lived on a farm in the vicinity of Pleasant Beach, was found on Wednesday buried under the covers of the salt vats in the Turks Island salt yards, about a quarter of a mile from Gere's lock.

The autopsy showed that one of the stab wounds which punctured the liver was the cause of death. According to Coroner Willer, the man probably lived several hours after he was assaulted.

Guiseppe Barnello and John Flasco of Solvay are held for an alleged attmpt to dispose of what authorities believe was the bag containing the body, as Barnello was seen by three witnesses in a wood near Camillus, two months ago, under alleged suspicious circumstances.
The above story continued on — and on — but provided little information about the victim or why he might have been murdered. However, the coroner was certain the body had been put in the salt yards at least two months before it was found, which is why police regarded the sighting of Barnello and Flasco as significant.
However, the two men were soon released because Chief Casey was convinced they had nothing to do with the case, and had been in the area to cut wood because Flasco, an employe of the Solvay Process Company, temporarily sidelined by an injury, needed some cedar posts.
The salt yards where the body was discovered is a short distance west of the village of Solvay. I'd never heard of Turk's Island before, and am not sure there is an actual island in that area, which is marshy in spots. I did learn Turks Island was the name of a salt company. It was an employe of the salt company, Dominico Demperio, who spotted a suspicious mound while he was checking the salt beds on March 31. Until the end of March, it's likely the mound was covered by snow, but with the snow gone, the mound definiely seemed out of place. Rather than check it himself, Demperio went looking for his foreman, James Fahey. The two men waited until the next day to investigate, and as soon as Demperio broke ground with his shovel, he found something — a large burlap bag. Inside was the body of a man who looked to be in his early 20s, though the salt-infested area complicated matters. The salt pickled, and the dead man's face resembled that of a mummy.
It took a few days for the body to be identified as Cologero Migliore, a young man who lived in Solvay with his sister, Maria Migliore. They were boarders at the home of their uncle, Salvatore Lanzo, and his wife. That home was located in the salt yards, and while newspaper described it as a "shack," a photo indicates it was about the size of an average Cape Cod-style house. The Lanzos, who had since moved, had two other boarders at the time.
Everyone involved was labeled "Sicilian" by the newspapers, which gave rise to all that talk about The Black Hand. No doubt there were Sicilians who settled in Syracuse and Solvay who were terrorized by countrymen who identified themselves as agents of The Black Hand, but Chief Casey rejected the idea, partly because he had a vague recollection of seeing Migliore several months earlier, and partly because Black Hand killers were known to plunge their stilettos into their victim's hearts. The three stabbings of Migliore were rather sloppy; the fatal wound was one to his liver, and the man lived several hours after it was inflicted.
The victim's name — Cologero Migliore — was spelled several different ways by the three Syracuse newspaper over the several days this case developed. What I found amusing was how the newspapers spelled the nicknames the young man had been given soon after he arrived in Solvay the year before —"Charley Sicily." The newspaper chose to spell it "Charley Sisley." Chief Casey said he had known the young man as Charley Migliore, but one newspaper, in a story probably written by an Irish-American reporter, spelled it "Charley McGlory."
Migliore's three relatives were a source of frustration for Chief Casey. None of them — Maria Migliore or the Lanzos — would identify the body. Migliore's sister finally slipped, and admitted it was her brother, but Mrs. Lanzo said something to her in Italian, and the young woman changed her story, saying maybe it wasn't her brother, after all.
There's no point dragging this thing out any longer. Chief Casey solved the crime rather quickly, but could offer no proof. By the time the body was discovered, the Lanzos and Maria Migliore had moved to Lakeland, a few miles northeast of the salt yards. Their other boarders also had moved — Antonio DeCalzi to a boarding house on Emerson Avenue, just inside Syracuse, less than a mile from Solvay's east side, and Vincenzo DiMarco had returned to Italy, and was said to have joined the Italian Army.
Maria Migliore, still denying the dead man was her brother, told Casey that Cologero had moved to New York City and had written a letter to her when he arrived there the previous November, but she could not produce the letter. She said the last time she saw her brother, he was wearing his good suit.
However, when Chief Casey went to the Lakeland residence, he found Cologero's clothes, including the black suit, as well as his passport. In the basement was a bloody mattress.
When Chief Casey found DeCalzi, he learned of the likely killer and the motive. DeCalzi said DiMarco owed Migliore a lot of money, and the two men argued about it a few nights before Migliore dropped out of sight. Casey also learned something that did not mean then what it usually means today — Migliore and DiMarco slept in the same bed.
Long story short, Casey believed Migliore was murdered while he slept. His body was dressed in bed clothes when it was discovered. None of Migliore's outer garments found in Lakeland had any stab holes. Casey was sure DiMarco killed Migliore during the night. Maria Migliore wanted to talk to her brother the next morning before she went to work at the Church & Dwight packing house on Milton Avenue, but DiMarco told her Cologero was sleeping. He'd give him her message.
Casey further believed Mrs. Lanzo was at home when DiMarco decided to move the body, and he threatened the woman into silence. It's likely Mrs. Lanzo helped DiMarco wrap Migliore's body and put it in a burlap bag. One of the things wrapped around the body was Mrs. Lanzo's black apron. It's also likely Migliore's body was stored for awhile in a sub-basement used as a wastebin for ashes. This suggested that Salvatore Lanzo may have later helped DiMarco moved the body to the salt yards. DeCalzi was dismissed as an accomplice because, as Casey put it, "he's an old man."
Italian police, learning of the Solvay murder, located and arrested DiMarco in June, but released him after three days. A year later, DiMarco was found and arrested again, but remained in Italy where he was to be tried for murder. He made it simple by confessing to the murder of Migliore. He was sentenced to 17 years in solitary confinement.
DiMarco must have done a convincing job in persuading the Lanzos and Maria Migliore to remain quiet even after he left the country. The dead man's sister must have known, even if the Lanzos didn't tell her, that Colegero was dead. After all, she had her brother's clothes and his passport and the knowledge that he hadn't withdrawn the money he had deposited in local bank run by Zefferino Pieri, the recognized leader of Solvay's Italian community.
What I found most interesting about newspaper accounts of the case was how much parts of the investigation resembled an episode of "Forensic Files." Police compared ashes found on the burlap sack with ashes found in the shack at the salt yards. They also checked out dirt found in the wagon used by Barnello and Flasco to haul the cedar posts with the dirt at the burial site, and learned they didn't match.
Chief Casey's handling of the case certainly impressed the Syracuse Journal.
Syracuse Journal, Friday, April 10, 1908
A DISCOURAGER OF MYSTERY
With no fuss and feathers and a complete ignoring of the usual politce methods of secrecy and sleuth-wisdom, the Solvay police department, mostly consisting of Michael Casey, has solved the mystery of the salt covers in less than a week. Chief "Mike" Casey, as he is known to nearly every man, woman and child in Solvay, does not look like Sherlock Holmes. He is not the sleek and smooth officer who looks as if politics and not accomplishment had landed him in office, and he does not spend three hours in impressing the multitude with the dignifity of his position to one hour of work.

Casey works all the time, directly and intently to the one point in view, and he does not believe that a cordon of police should surround him to keep the reporters off while he looks mysterious and sits and thinks and thinks.

An apparently unrecognizable body is found buried under a salt cover in Chief Casey's precinct, a place where there are close upon 1,200 Italians with hardly one that would be missed in the police world. Only a few scraps of cloth and the result of an autopsy was what the chief had when he started out. With the relatives of the dead man denying identification, the start is made, and there is no letting up for ponderous theories — just a businesslike seaeh which brings results. Instead of a mystery and a nine days' wonder, it is changed into a five days' solution.

The trustees of the village of Solvay, not looking so much for ornament as for practical work, have re-appointed Mr. Casey as hief of police. Of course, he tells the reporters everything, because the reporters help him. Things are no more mysterious with Casey than they really are. He has no time nor strength to carry around a burden of secrecy. He is more Casey than he ii Chief of Police Casey, and the result is there are no mysteries in Solvay.
Another big story soon emerged, one that ordinarily wouldn't involve Solvay's chief of police. I couldn't help but think of the second season of HBO's "The Wire," when the focus was on the port of Baltimore, and a conspiracy between the head of the stevedores' union and a gang headed by "The Greek." The deal allowed the gang to smuggle in drugs and prostitute in containers which soon went missing.
Back in 1908, goods were moved across the country in freight trains. Many boxcars headed for Syracuse and points north and south were kept overnight on the tracks of an extensive New York Central railyard just 200 feet north of the Solvay village line, in the town of Geddes, very close to the New York State Fairgrounds. There were several gangs that specialized in looting these boxcars. An article in the Syracuse Herald magazine section of July 12, 1908, referred to these gangs as modern pirates.

Much of the article was based on the findings of Chief Casey, who, when asked why he interested himself in the railroad car burglary case, replied, "I know that some of the stolen good have been brought to Solvay, and it is my place to run them down. I am not going out of my territory, but when the village of Solvay, which pays me for my work, is implicated, then it becomes my duty to protect the village. I know that some Solvay people are implicated in these cases and that their places have been made the storing house for the stolen property. I don't propose to let Solvay be made the dumping grounds for car burglars."
Syracuse Herald, June 27, 1908
John Cronin, a New York Central detective, was arrested by Chief Casey of Solvay early this afternoon. He pleaded not guilty on the charge of larceny and asked that his examination be set for Monday, as he desires to procure counsel.

Cronin was hired in the place of Jerry Dwyer by the Central. Since he has been holding the place, the thefts in the Solvay yards have increased, and Chief Casey decided to investigate. He found, he said, that Cronin was at the head of a gang and was the chief agent in the disposal of the stolen property. After two weeks' investigation, Cronin's arrest was made this morning.
Even the mere hiring of Cronin had raised Casey's suspicions. The man had a previous police record. Cronin soon confessed his involvement in railroad car burglaries, and he gave Casey the name of a man who was fencing many of the good being stolen.
Casey then arrested Max Putziger,, proprietor of the State Fair Hotel, not far from the railroad lines. Casey found witnesses who saw Putziger moving contraband from a shack on the shore on Onondaga Lake, a shack rented by Cronin, and also from a house at Long Branch, on the northern tip of the take, a home belonging to Cronin's mother and her second husband.
But after the arrest of Putziger, it became apparent some politicians would protect certain people involved in an activity that was costing someone — insurance companies or taxpayers — about a million dollars a year. And that was only in New York State. Without going into detail, as did that Syracuse Herald article, I can say it appears that New York Central's reputation may have suffered a bit, but the company wasn't seriously damaged financially by the pirates.
What Casey didn't have, and the New York Central investigator assigned to the case couldn't produce, was evidence the goods being moved by Putziger were stolen from a railroad boxcar. So said the judge who dismissed all charges against Putziger, who was setfree, though he spent the rest of his life in an arrested-and-released pattern.
Two months later, Casey was dead, and the railroad car burglars continued to operate. John Cronin lost his job, but he, too, led a rather checkered life after that, serving time in 1911 for threatening his ex-wife with a gun, and a year later being arrested again in connection with dealing in stolen goods.
Backing up a few months, it's amazing how many different problems there were for Michael Casey that year.
Syracuse Journal, Tuesday, February 25, 1908
Several people were bitten by a rabid collie that made a wild dash from the West Side of the city through the streets of Solvay yesterday afternoon.

Among those who unfortunately stood in the path of the mad animal were John Carroll, who lives at Midland and Herkimer street; Simon Phillips of Erie street; James White of Avery avenue, and an Italian.
The animal also attacked and tore the cloak off Miss Lillie Davidson on Hall Avenue, Solvay, and attacked other persons.

The dog made a dash at Chief of Police Michael Carey, who fought him off. It also attacked George Schattle, a Solvay village trustee.

The matter was reported to O. R. Casey of the Society for Prevention of Cruelty to Animals. Mr. Casey went to the home of Mrs. Ray, 203 Erie street, who owned the dog, but found that it had already been killed.

Two dogs belonging to Mr. O'Neill of Avery avenue were bitten by the mad animal. One of them died and the other will be killed as soon as possible.
Syracuse Journal, April 20, 1908
Justice of the Peace Thomas Smith of Solvay imposed a sentence of 25 days on Drolia Scobino, arrested Sunday afternoon by Chief of Police Michael Casey for carrying a dagger. The weapon was one of the most dangerous looking ever confiscated by the Solvay police.

Chief Casey discovered the dagger was made in a blacksmith shop in Ryan's salt yard and believes that others of the same kind were turned out there. The maker is known but as yet no arrest has been made.

It was said that after Scobino serves his time, an effort will be made to deport him as an undesirable citizen.
Syracuse Herald, Wednesday, May 6, 1908
A mystery which in all probability will not soon be solved came to light late yesterday afternoon when the fully developed body of a boy, apparently about 18 months old, was discovered floating in the canal, near Copley's locks, a mile and a half west of Solvay.

A milk pedler on his way home from the village of Solvay shortly after 4 o'clock yesterday afternoon noticed something floating in the water. He left his wagon standing in the road and looked closer, and recognized the body of a child. Part of the body was submerged, but the features could be plainly distinguished,

Solvay Chief of Police Michael Casey was notified, and with an officer hastened to the place. It was seen that the report was true and the chief then communicated with Meagher & Cody undertakers. Thomas Cody, an assistant, went to the place and removed the body from the water.

At the undertaking rooms this morning it was said the body was so badly decomposed that it was unrecognizable. Physicians who viewed the body, however, said the child was more than a year old, as the hardness of the skull and development of the brain showed. The color or nationality of the child could not be determined.
It
was also stated the body must have been in the water for nearly a year and had been under ice all winter, and might well have been hidden until it was washed up this spring.

There was no clothing or marks of any kind upon the body to serve for identification, and Chief Casey said this morning that no small child had been reported missing to him from that part of the county.

The theory is the child was killed either accidentally or otherwise and the body then thrown into the canal. An investigation was immediately begun to learn if any child disappeared from the foreign sections of Solvay within the last year. An investigation along the same lines will be made in the city.
Syracuse Post-Standard, Thursday, June 18, 1908
In a fight between two Russian Poles at 310 First Street, Solvay, yesterday afternoon, Jacob Katabi of that address had a temporal artery severed by a blow on the head from a beer glass. For twoo hours it was not known whether he would survive his injuries. Now his recovery is expected.

Aside from the temporal artery injury he had three scalp wounds. The other man, Seman Dekozekak, also of 310 First Street, is locked up at the Solvay police station with the fingers of one of his hands lacerated. He claimed Katabi hit him.

Katabi boards with Dekozekak. The latter claims that the former came home with two fellow countrymen and that they were drinking beear. Shortly before the fight occurred, Dekozekak claims Kotabi asked the former's daughter to get his a cuspidor, stating that he was ill. The child refused to do as she was big, and this angered the boarder. According to Dekozekak's version of the trouble,, the boarder called the child "a little devil."

Dekozekak protested, and he claims the other man attacked him.

When Solvay Police Chief Michael E. Casey found out about the fight, he investigated. On the way to the house, he met Dekozekak, who had a blood-stained handerchief about his hand. Casey placed the man under arrest, turning him over to J. Edward Buell of thie city, a private detective. The chief then proceeded to the house, and on his arrive found the apartments occupied by the Poles in the rear of the basement.

Katabi was unconscious on a cot, which was saturated with blood. Bread and water had been put on the cuts to stop the flow of blood. The other two men had disappeared,, and Solvay patrolmen were sent out to look for them.

Katabi was taken to the Hospital of the Good Shepherd in A. C. Schumacher's ambulance. Blood was still streaming from the severed artery. The cuts on the man's head were sewed up. He was weak from loss of blood and suffered from shock.

At the hospital last night it was said the danger from loss of blood had passed, but there was still danger from infection. Aside from the artery wound, the head cuts were not serious.

During the evening, Assistant District Attorney George W. Standen and Court Stenogrpher John H. Wilson went to the hospital with an interpreter to get a statement from Katabi,, who claimed Dekozekak had struckhims with a beer glass, bu denied that hewas to blame for the fight.

Dekozekek was locked up at the Solvay Police Headquarters without a charge being entered against him. Chief Casey refused to allow his release on bail. Dekozekak's wife gave birth to twins threes weeks ago, and the fight was said to have left her in a state of nervous collapse.

She was taken to the Solvay Police Headquarters and released after making a statement about the fight to Village Clerk Harry Waterfield. She gave the same version of the trouble as did her husband.
On November 10, the village board appointed Patrolman Harry J. Hunt as the new chief. Hunt became a Solvay policeman soon after the village was incorporated. Only three men applied for the position; Hunt was the only one who had any connection with the department. The new chief wasted little time making a name for himself.
Syracuse Journal, Monday, November 30, 1908
SOLVAY IS DRY TOWN SAYS HUNT
New Chief of Police Put Lid on Good and Tight Sunday
St. Louis on an exceptionally dry Sabbath would look like a wide-open cafe compared with Solvay all day Sunday.

In other words, Solvay was dry — painfully dry — so dry, in fact, that it has gone on record that some of the notorious topers of the village, growing desperate late in the afternoon, went so far as to moisten his parched lips with nature's old standby – water.

To say that the cosmopolitan village of Solvay went dry is making a very broad statement, for it should be known that although there are but 6,000 people in that suburb, there are fully 33 saloons. Arithmetic proves that, approximately, every 185 people in Solvay support one flourishing "boozery."

The direct cause of the closing of Solvay's 33 saloons Sunday was Chief of Police Harry J. Hunt of that village, who received his appointment about three weeks ago. The new chief decided that the best thing to do was to enforce the law rigidly, and started in on the saloon-keepers. The "chemists" smiled and some of them even laughed when they heard the rumor Saturday that Sunday was to be dry.

But about 1 a.m. Sunday, the police force — that is, Chief Hunt and his four policemen — left the Town Hall and just dropped in on each and every one of those "genial" proprietors. They were "tipped" off quietly to close up or things were liable to happen.
The result was that Sunday morning every curtain in every window in every saloon in Solvay was thrown away back so that anyone could get a good, long look at the bar.

"There is no doubt about it," said Chief Hunt to The Journal. "Solvay was dry Sunday, and what's more, Solvay is going to continue to be dry for some few Sundays to come."

That's all the new chief would say, but he seemed to mean business, and the police force, which was standing on the doorstep of the Town Hall, seemed to agree with the chief.

Although it was comparatively easy to gather statistics as to the number of saloons in Solvay, as they are mostly on one street, it was not so easy to find out just how many men there are in the village. One Solvayite seemed to think there were about 5000 children, 500 men and an equal number of women. The truth of the matter, however, is there are about 2,000 men in Solvay and the "bucket" trade supports the large number of saloons in the village.

The action of Chief Hunt is sure to bring about a large number of reforms. Most of the saloon-keepers would be willing to close on Sunday, and abide by the law, if all closed. A great deal of trouble has occurred during the last few years in Solvay on Sunday, and it is thought that the closing of the saloons will put a stop to this. Over half of the saloons are conducted and patronized solely by foreigners, and it is said that in the past a great deal of serious trouble has arisen among different factions who congregated about these places on Sunday.
There were some in the village who said the enforcement of the law that prohibited saloons for operating on Sundays was not Chief Hunt's idea, but the result of pressure applied by the Prohibition Club, headed by one of Solvay's more prominent citizens, Dr. George T. Boycheff.
A Prohibition Party would follow, and put forth a slate of candidates in local elections, all the while crusading to make Solvay a dry village — seven days a week. This movement would come within a few votes of succeeding in special elections held in the years ahead.
Apparently, this would have been one of the few instances residents of the Town of Geddes, in which Solvay is located, could have asserted control over the village, because those elections over going dry were town wide, and many of Solvay's hard-drinking residents were not citizens.
By 1915, Geddes came within 13 votes of taking awat Solvay's saloons. Fittingly, perhaps, Solvay would prove Onondaga County's most troublesome spot when Prohibition became the law of the land in 1920 when the numer of bars in the village — all of them illegal — actually increased over the number it had in 1908.