John Edward Major was born in Skaneateles Falls, and for a few years worked in a Skaneateles grocery store.

He moved to Auburn in 1928 after marrying Marie Anna MacBeth, a resident of that city. Ten years later he became a member of the Auburn police department. In November, 1951, he was appointed acting detective.

He was an enthusiastic hunter and enjoyed fishing, but had to give them up when he began having heart trouble.

He was a member of St. Mary's Church and of its Holy Name Societ. He also belong to the Cayuga Club Benevolent Association and the Auburn Council 207, Knights of Columbus.

(The photo, right, was provided by one of his nephews, Charlie Major of Skaneateles.)

John Edward Major and Marie Anna MacBeth Major had six children:
1. Anne Marie Major

(1929-2003) married
Theodore Walter Skowron
(1925-1992). They had four children:
• Theodore Walter Skowron Jr. (1953) m. Maureen Banfield
— 2nd wife: Linda Campbell
— 3rd wife: Karen Leubner
• Michael John Skowron (1956) m. Donna Mills; their daughter:

Amber Lee Skowron

(1981- )
Michael Skowron's second wife:

Toshiko Woodward

; their son:
Michael Skowron's third wife:

Brenda Lee Babbott

; their children:
Danielle Marie Skowron

(1995- )
Nicholas Paul Skowron

(1999- )
• John Joseph Skowron (1959)
• Ann Katherine Skowron (1962)
2. Laura Madeline Major

(1930- ) married

Russel Morehous

e (1924-2006). They had two daughters:
• Linda Lee Morehouse (1949- ) m. John Lewis Spencer (1939- )
• Robin Elaine Morehouse (1955- ) m. Gregory Eugene Becker (1950) Their three children:
Brian Gregory Becker

(1975- ) m.

Jodi W. Deering

(1973- ) (divorced); 2nd wife:

Erica Fitzgibbon

(1975- )
Ryan Russell Becker

(2007- )
Matthew Alan Becker

(2012- )
Jennifer Marie Becker

(1976- ) m.

M. Charles Brandt

(1966- )
Maria Nicole Brandt

(2006- )
Angela Marie Becker

(1979- ) m.

David Martin

(1971- )
Alyssa Marie Martin

(2007- )
David Gregory Martin

(2012- )
3. John Edward Major Jr.
(1934-2014) married
Donna Marie Fedigan
(1936- ). They had five children:
• Susan Marie Major (1960- ) m. Michael Robert Kahl (1961- ).
2nd husband: Jeffrey Wayne Harton
• Lorie Ann Major (1961- ) m. James Joseph Babiarz (1960- )
• John Edward Major III (1964- ) m. Michelle Marie Toole (1967- )
Liam Patrick Major
(1993- )
Kiernan Michael Major

(1996- )
• David Patrick Major (1967- ) m. Michelle Anne Maggio (1969- )
Ryan Patrick Major

(1997- )
Lauren Ashley Major

(1998- )
• Christopher Alan Major (1974) m. Cara Nicole Zentner (1974-2011) 2nd wife: Eve Purcell.

Chris Major is the driving force behind one of the big annual events in Auburn, NY, called Majorpalooza
Caitlyn N. Major

(2002- )
Nicholas A. Major

(2003- )
Nadine Marie Major

(2013- )
4. Joann Veronica Major

(1936- ) married

Carlton Corey

(1930-1983). Joann's second husband:

Frank Brechue

. Joann and Carlton Corey had six children:
• Cathleen Corey married Michael Feocco
Michael Robert Feocco
(1986- )
5. Rita Marlene Major

(1938- ) married

Gordon Linder

(1935-1995). 2nd husband:

Sam Winnie

(1929- ). Rita and Gordon Linder had three children:
• David Gordon Linder (1961- ) m. Julie??
• Cherie Linder (1962- ) m. Ray Lopez
• Barbara Linder (1963- ) m. Victor Ross (now divorced)
6. Patricia Ann Major

(1941-2005) married Frank John DeJoy (1942-2013). They had three children:
• Kathleen Marie DeJoy (1967- ) m. Ronald Eugene Judson (1962- ) (Divorced 2004) 2nd husand: Mark Edward Genkos
Deanne Marie Judson

(1992- )
Amy Elizabeth Judson

(1994- )
• Deborah Ann DeJoy (1969-) m. Robert Paul Blake (1965- )
Matthew Robert Blake
(1995- )
Zachary Robert Blake
(1997- )
Jacob Robert Blake
(1999- )
• Scott Alan DeJoy (1969- ) m. Monique Helene Chevrette (1965- )
Nicholas Frank DeJoy
(1997- )
Joseph Anthony DeJoy
(1999- )
Victoria Elizabeth DeJoy
(2000- )
July 24, 2016

Hi Jack

There is an exhibit currently at the Cayuga Museum of History and Art in Auburn, called "Cops and Robbers: Law Enforcement and Sensational Crimes" that is on display through September 4th. Chris Major (Auburn Police Officer and also grandson of John E. and Marie Major) provided the museum with som of grandpa's (John E. Major) Auburn Police relics and they are currently on display there. It's a really nice exhibit.

Also wanted to let you know that myself and my brother, Scott, recently published a local history book: "Hometown Heroes: The History of the Auburn Fire Department," which chronicles the history of the department back to 1815. I'm attaching photos of the front and back cover to this email for you to see. Being a history buff, we thought you would want to be aware of our project. We currently have the book for sale locally at Downtown Books & Coffee in Auburn, NY but it is also available through Amazon.com.

Take care,
Kathy DeJoy-Genkos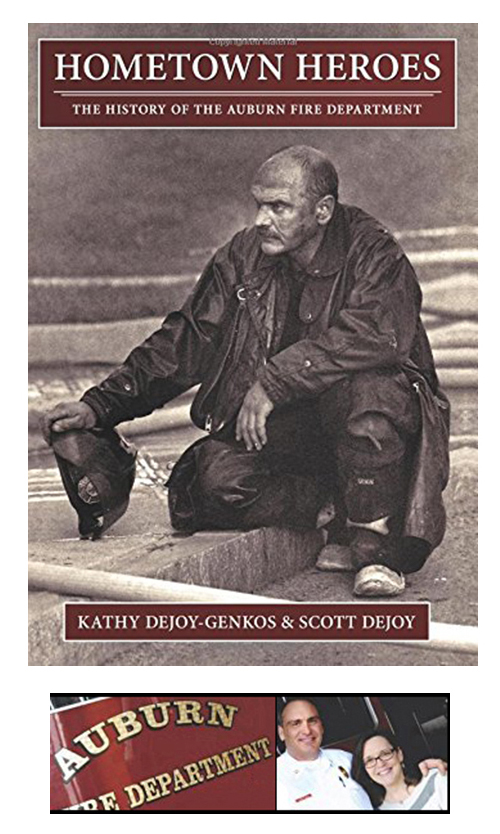 Kathy DeJoy-Genkos and Scott DeJoy are siblings who reside in Auburn, NY with their families. Their father, Frank DeJoy, was a firefighter in the Auburn Fire Department with over 31 years of service at the time of his retirement in 1999. Scott followed in his father's footsteps and joined the Auburn Fire Department in 1994. He was an Assistant Chief at the time of his retirement in July of 2015. That's a photograph of Frank DeJoy on the cover of the book.
Miscellany
Auburn Citizen, June 6, 1928
One of the prettiest of the many early June weddings took place at St. Mary's Church at 9:30 o'clock when Miss Marie McBeth, daughter of Mrs. Jake Hoegal of 31 Pleasant Street, became the bride of John E. Major, son of Mr. and Mrs. Thomas Major of Skaneateles. The ceremony was performed by Rev. Francis Burns, assistant pastor of the church.
The bride was charming in a white crepe wedding gown with veil. She carried an arm bouquet of white roses and sweet peas. Miss Nellie Major, sister of the bridegroom, was bridesmaid. She wore a creation of ashes of roses taffeta, with hat to match, and carried pink roses.
The bridegroom's best man was his brother, Sarto Major, also of Skaneateles.
Following the ceremony, the bridal party motored to Lakeside Inn where a delicious wedding breakfast was served to 25 people, including relatives and friends of the young couple.
After a wedding trip of two weeks to Buffalo and Canada, Mr. and Mrs. Major will reside at 21 Pleasant Street, Auburn.
Auburn Citizen-Advertiser, July 6, 1938
City Manager John D. Aiken today announced the appointment of John E. Major of 21 Pleasant Street as a patrolman in the city Police Department for a probationary period of three months. Mr. Major's name led the list eligible for appointment. The new appointee is a graduate of the Police School. He has been employed as a clerk.
Auburn Citizen-Advertiser, October 30, 1951
Two Auburn policemen have been added to the department detective staff as a result of the quarterly re-assignment of men which was announced today by Chief of Police Chester J. Bills.
Officers John E. Major and John T. Costello are the men who will be shifted to the detective bureau Thursday, Nov. 1. They will work under Det. Sgt. Thomas L. Monahan. Officer Major will work days and Officer Costello evenings.
At present, Det. Beecher D. Flummerfelt assists Sgt. Monahan days and Det. Lawrence H. Mentillo handles night assignments in the detective bureau.
Chief Bills reported that the large number of investigations which are being conducted by the local department necessitated the switch.
Auburn Citizen-Advertiser, May 16, 1952
Detective John E. Major, 48, of the Auburn Police Department suffered a heart attack and died yesterday afternoon at his home, 60 Elizabeth Street.
Although Mr. Major had suffered from heart trouble for some time, he did not complain to fellow officers yesterday of any pain while on duty. When he returned to his home shortly before 5 p.m. he told his wife that he wasn't feeling well.
After lying down for some time he went to the bathroom. When he didn't return Mrs. Major went to see if he was all right. She found him lying on his back on the bathroom floor.

Police were notified by phone. Capt. Robert J. Riley detailed Officers Francis J. Tenity and J. Wayne Armitage to the Major home.
Once before the officer had suffered a heart attack which confined him to his home for several months before he was strong enough to return to duty.
Chief Chester J. Bills today called Det. Major one of the "outstanding" men in the department.
"He was loyal, courageous and devoted to his duty," the chief said. "His work as a patrolman and detective has been outstanding. He reported to duty many times when, no doubt, his physical pain was great.
"Det. Major enjoyed not only the respect of his fellow officers but of the city and community," Chief Bills declared.
Black and white bunting was placed around the door of police headquarters early this morning. The flag will fly at half-mast in front of the station until after the funeral.
Born in Skaneateles Falls, Det. Major had lived in Auburn for 30 [24] years and had been a member of the Auburn force since 1938. Last November he was appointed acting detective.
Mr. Major was a member of St. Mary's Church and of the Holy Name Society of that parish. He held membership in the Cayuga Club Benevolent Association and the Auburn Council 207, Knights of Columbus.
For some years before becoming a member of the police department he worked in a Skaneateles grocery store [owned and operated by E. A. Cronauer of Skaneateles Falls]. He was an enthusiastic hunter and enjoyed fishing, but had to give them up when he began having heart trouble.
He joined the force as a patrolman and was well known in Auburn. When he was appointed acting detective in November, Mr. Major became a plain clothesman.

He is survived by his widow. Mrs. Marie McBeth Major; five daughters, Mrs. Russell Morehouse Jr. of Sennett, Mrs. Theodore Skowron, Miss Joann Major, Miss Rita Major and Miss Patricia Major; a son John E. Major Jr., all of Auburn; his father, Thomas E. Major of Skaneateles Falls; four brothers, Onondaga County Attorney Charles T. Major, and Sarto Major, both of Skaneateles; Floyd J. Major and Lloyd F. Major; two sisters, Miss Laura Major and Mrs. James O'Shea, all of Skaneateles Falls; a granddaughter, Linda Lee Morehouse of Sennett, and several nieces and nephews.
The funeral will be held at the home at 9 a. m. Monday, with services at 9:30 a. m. at St. Mary's Church. Burial will be in St. Joseph's Cemetery.
Syracuse Post-Standard, March 21, 2005
Marie McBeth Major, 96, formerly of Auburn, died Friday, March 18, 2005, in Waterloo. Survivers include three daughters: Laura Morehouse, Joann Breschue and Rita Winnie; a son, John "Jack" Major; 22 grandchildren; 33 great-grandchildren.
The Auburn Citizen, August 23, 2013
Frank J. De Joy, 70, from Auburn, died Thursday August 22, 2013 at University Hospital, Syracuse, died unexpectedly from injuries sustained while working at his home.

Born in Auburn, New York on October 2, 1942, Frank was the son of the late Joseph and Stella Skowron De Joy. He was very proud of his military service to his country. He was a veteran of the US Air Force working as a jet engine mechanic from 1962 to 1966.
On January 8, 1968, he began a career with the Auburn Fire Department; 31 years later on March 3,1999 he retired from the department.
During his firefighter career, Frank's professionalism earned him the respect of his brother firefighters. He also worked many years with Haresand Weeks, doing plumbing, heating and electrical.
He was a parishioner of St. Mary's Church, a member of the Auburn Fire Fighter's Retirees Association, a member of the SK Post, American Legion and the Prison City Ramblers.
After attending his first race, the Rebel 300 in Darlington, SC in 1963, Frank discovered his lifelong passion and continued to regularly attend NASCAR races in many different venues across the country.
He was an avid outdoorsman. He enjoyed attending the Merry Go Round Theater productions. He had a great love for working on cars, and over the years had owned
and restored many classic automobiles.

Frank is survived by his loving family, his two daughters, Kathy Genkos and her husband Mark, of Auburn, Debbie Blake and her husband Robert of Cicero, a son Scott De Joy and his wife Monique of Auburn, eight grandchildren, Deanna and Amy Judson, Matthew, Zachary and Jacob Blake, Nicholas, Joseph and Victoria De Joy, a sister Theresa (David) Suslik, of Elbridge, and many nieces and nephews. Frank is also survived by his companion of the last several years, Toula "Stella" Chronis.

Predeceasing Frank was his wife Patricia Major DeJoy, and his brother, Jerome J. De Joy.

His is buried in St. Joseph's Cemetery, Fleming.
Auburn Citizen, February 5, 2014
AUBURN — Mr. John E. "Jack" Major, 79, of West Drive, Auburn, died on Monday, Feb. 3, 2014 in Auburn Community Hospital.

Mr. Major was born in Auburn on May 22, 1934, the son of John E. and Marie McBeth Major. He had attended Le Moyne College and was a United States Army veteran having served from 1954 to 1956. He was a member of St. Mary's Church and Ancient Order of Hibernians, John F. Kennedy Division 1. Mr. Major had retired in 1997 from American Tobacco in Rochester; he had been their local sales representative for 37 years.

He is survived by his wife of 56 years, Donna Fedigan Major; their children, Susan Harton (Jeff), of Auburn, Lori Babiarz (James), of Auburn, John E. Major Jr. (Michelle), of Auburn, David Major (Shelly), of Seneca Falls, and Chris Major (Eve), of Auburn; grandchildren, Liam Major, of Auburn, Kiernan Major, of Auburn, Ryan Major, of Seneca Falls, Lauren Major, of Seneca Falls, Caitlyn Major, of Auburn, Maddy Major, of Seneca Falls, Nicholas Major, of Auburn, and Nadine Major, of Auburn; sisters, Laura Morehouse, of Auburn, Rita Winnie, of North Carolina, and Joanne Brechue, of Auburn; many nieces, nephews, and in-laws.

Along with his parents, he was predeceased by two sisters, Marie Skowron and Patty DeJoy.

A Mass of Christian burial will be celebrated at 11 a.m. Friday in St. Mary's Church, 15 Clark St., Auburn. Interment with full military honors will follow in St. Joseph's Cemetery, Fleming.

It was an open and shut case
that wouldn't stay shut
John Edward Major was an Auburn (NY) police detective, who died much too young (47), in 1952. His last case was one of the city's strangest, a murder that in one sense was easily solved, but nonetheless puzzled police and city residents for years afterward because of the ever-changing jailhouse tactics of a man who went to his grave without explaining what prompted him to take a life, but seemed determined to have another day in court. The headline on the first story below remains as true today as it was when it was written ore than 60 years ago.
Auburn Citizen, February 5, 1952
Mystery shrouds motive of slaying
Mystery late today still shrouded the motive for the fatal stabbing this morning of an Air Force corporal in the kitchen of his home on Walnut St.
Hugh Basil Tilkins, 23, of 26 Frances St., who told authorities that he stabbed Cpl. Charles Curtiss of 56 Walnut St., will be arraigned tomorrow morning on a homicide charge in Recorder's Court. [The Associated Press story said the stabbing was done with a pen knife; referred to Tilkins as a former merchant seaman.]
The slaying took place at about 12:30 a.m.
Questioned by D.A.
But late today, when questioned by District Attorney Theodore M. Coburn and Assistant District Attorney Gerald Saperstein, Tilkins insisted that he had not quarreled with Curtiss and that he had not been drinking.
Curtiss, on leave from Mitchel Air Force Base [on Long Island], was stabbed while other members of his family were sitting nearby in the living room of his home.
Curtiss staggered from the kitchen only seconds after Tilkins hurried from the house without speaking to anyone. He fell to the floor and was pronounced dead only a few minutes later.
Coroner Norman L. Woodford pronounced the man dead of a stab wound and said that apparently he had lived only a few minutes after the wound was inflicted.
Tilkins was arrested at his home at 26 Frances St. by Auburn policemen about 40 minutes after he left the Curtiss home.
No argument
Mrs. Curtiss said there apparently was no argument going on between the two youths in the kitchen. They had been talking quietly for some time before the stabbing.
Suddenly Tilkins came out of the kitchen and left the house without saying anything to anyone. Then Curtiss, holding his stomach, came staggering right behind him.
Curtiss toppled to the floor with a knife wound in his left breast. His sister, Margaret, called police and asked that an ambulance be sent to the house.
Sgt. Walter Walawender detailed officers Henry O'Hara, Earl Guthrie and Carl Nicandri to the scene. City Hospital sent an ambulance.
Officers Nicandri and Guthrie went to Tilkins' house on Frances Street and got Tilkins' father, Lawrence, out of bed. He gave them a description of his son and also said that his car was missing.
After patrolling the downtown area checking for the car, the two officers went back to the Tilkins home and arrested Hugh Tilkins, just returning home.
Out of breath
Officers, who said Tilkins was covered with sweat and out of breath, brought him to headquarters where questioning was begun.
The car, damaged on the right side, was located shortly before 3 a.m. by sheriff's deputies at the corner of Fleming Street and Pulsifer Drive. The keys were still in the car, but police could find no weapon in the vehicle.
Later, after questioning, Tilkins took police officers to the spot where he had abandoned the weapon. The knife was located by Detective [Beecher D.] Flummerfelt in a driveway at 44 Walnut Street.
Officers Robert Randall and John Koziol, District Attorney Coburn and Assistant District Attorney Saperstein, along with Detectives Flummerfelt and [John E.] Major made the check for the weapon.
Under further questioning by District Attorney Coburn and Assistant District Attorney Saperstein, Tilkins said that after eating supper yesterday, he had spent the evening downtown.
Sitting inside
Then he said he walked up East Genesee Street to Walnut Street and past the Curtiss house where he noticed Charles Curtiss sitting inside.
He said that he went up on the porch and knocked on the window and that Curtiss let him in. Then they went into the kitchen where they talked for about an hour.
After the stabbing, Tilkins told the district attorney, he ran out of the house and went to his home on 26 Frances Street and got his father's car. He said he abandoned the car on Pulsifer Drive and walked back to his house where he was picked up by police.
Neither of the youths' mothers today could offer an explanation for the stabbing.
Mrs. Curtiss said that the two young men were classmates at East High School in Auburn, but that they had not been in the habit of going around together.
She said that Charles was a quiet youth and not in the habit of arguing with anyone. She added that she did not believe he had been in Tilkins' company since he had come home on leave from the Air Force base.
Neither could Mrs. Tilkins offer an explanation for the stabbing. She said that she did not believe her son had been in trouble before.
Both mothers, though grief stricken, were concerned as much for the other woman as they were for themselves.
Mrs. Curtiss said that she had met Mrs. Tilkins quite some time ago and thought that she was a very nice woman.
District Attorney alerted
The district attorney and his assistant were alerted shortly after the stabbing, worked on the case straight through today.
Work at local police headquarters today was directed by Chief of Police Chester J. Bills. Fingerprint expert William Simmonds took prints and photographs of Tilkins.
Detective Sgt. Thomas L. Monahan and Detectives Flummerfelt and Major were in on questioning this morning at headquarters.
Later Tilkins was taken to the district attorney's office in the Court House where further statements were taken. Then Tilkins was returned to police headquarters this afternoon and lodged in jail to await arraignment tomorrow.
Auburn Citizen, February 5, 1952
Stabbing halts victim's sister
Always wanted to be nurse –
big chance must be postponed

Ever since she could remember, Miss Margaret Curtiss, sister of the dead man, has wanted to be a nurse.
Just last week she received word from officials at St. Luke's Hospital in New York City that she could begin her training with them. She was to leave tomorrow morning.
Miss Curtiss started working in the Auburn City Hospital when she was 16 years old and still in high school to save money for her training.
Worked all year
She worked all that year, but had to leave because her school work was piling up and she needed good marks if she planned to pass the tests for nurses training.
Then, in September, 1948, she rejoined the nurses aid staff at City Hospital where she worked until last Thursday when she received word that she had been accepted by St. Luke's. Fellow workers gave her a going-away party.
Last night Miss Curtiss was at home when her brother was stabbed. She notified the police. She hasn't decided what to do about her nursing course now, but it is doubtful that she will be able to leave for New York tomorrow as planned.
Note: Margaret Curtiss graduated from St. Luke's
Hospital School of Nursing in 1955.
In May, Hugh Tilkins was charged with second degree murder in an indictment returned by the grand jury. A month later he pleaded guilty to a lesser charge, manslaughter in the first degree. He was sentenced to a term of no less than 18 years in prison, no more than 20 years. In 1954 the sentence was changed to "from 10 to 20 years."

As years went by Tilkins became a sort of jailhouse lawyer, and in 1961, after serving almost nine years, he asked for a new trial because, he said, the coroner's report and the grand jury indictment did not agree on the number of times Charles Curtiss was stabbed.

That motion was denied, but two years later he again requested a new trial, asking that he be allowed to plea not guilty to the original charge against him — second degree murder.

It didn't matter. Tilkins soon was a free man. He made news again in 1978 when he was arrested for breach of the peace in Auburn; his neighbors complained Tilkins was using loud and abusive language, waking them up and threatening to break windows.

Tilkins lived for while with relatives in Detroit and later moved to Bridgeport, Conn., near one of his brothers. He was married, then divorced, and had problems with alcohol his whole adult life.

Despite his denial when arrested, he apparently had been drinking on the night he fatally stabbed Charles Curtiss. Tilkins died in Bridgeport in 2006, never explaining his motive for killing Curtiss, though it's believed alcohol was involved.

What triggered the stabbing remains unknown. Perhaps Tilkins himself couldn't remember.