Buffalo Courier-Express, October 1, 1950
On job since 1890, he laughs at vacations

All the talk about the health value of vacations leaves John P. Major cold. Eighty-years old and still on the job every day, Major, traffic manager for the Worthington Pump & Machinery Corp., has refused to take a single vacation in his 60 years with the company.
"There has never been any place I'd rather go than to work," explained Major simply. "The one thing I dread the most is a permanent vacation. That is, retirement. I wouldn't live two weeks if I had to sit around the house."
But Illness Halted Him
Major would like to be able to boast a record of never having missed a day's work, but he can't. While the colored travel folders have never caught up with him, a few stray germs have.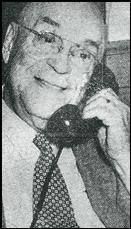 During the First World War he was laid up with influenza and several years ago again was off because of illness.
The traffic manager's last vacation goes back to the days he was a schoolboy. A native of Buffalo, he attended St. Mary's Parochial School and then St. Joseph's Collegiate Institute, which was then located on the Upper Terrace at Church St. By the time he was 14, both vacations and school were things of the past.
"My first job," said Major, "was as a bundle boy with the Jewett Shoe Company. Back in those days firms didn't have horsedrawn carts for delivery, but used two-wheel pushcarts. I pushed shoes all over Buffalo. My second job was about the same – bundle boy for Krause & Sheehan, a drygoods store."
Four Jobs at One Time
Another of Major's early jobs was with the Buffalo Distilling Company, and by the time he was 18 he had worked himself up to the post of deputy collector of internal revenue. At the age of 20 he became connected with the Snow Steam Pump Works, which is now Worthington Pump.
"I had a sort of jack-of-all-trades office job," he recalled. "There were just two of us in the office, the secretary and me. I was cashier, paymaster, order clerk and even office boy. As the years went on and the company grew, these jobs were broken down into separate positions and I wound up traffic manager.
"Things were sure a lot different in those days. We had only about 85 men in the whole plant, and we made nothing but small duplex steam pumps. Now we have about 1,800 in the local plant and have other plants at Harrison, NJ, and Holyoke, Mass., and Wellsville. The diesel engines, air compressors, and power transmission equipment we make now makes those old steam pumps look like tops."
Transportation a Problem
As the section where the plant is located, Clinton and Roberts, was out in the country back in 1890, transportation to work was a problem. The WNY&NP Railroad, Major related, had shops on Babcock Street and used to take their workers from the city proper by coach. The pump company, he continued, got the rail line to install a spur for commuting workers who paid 60 cents a week for the lift.
"I used to board the coach at Emslie and Eagle," Major stated. "That was about a two-mile walk from where I lived. About three times a week I'd miss the blamed train and have to walk to work – five miles.
"But that was okay. Hiking used to be a hobby of mine and it was nothing for me to clip off 25 miles through the country on a nice Sunday. Now my transportation is simple. A company truck picks me up and takes me home."
Rocking and Reading
With his hiking a thing of the past, Major's outside interests are limited. His chief pastime is filling his pipe, finding a comfortable rocker and reading the newspapers from the front page right through.
"The sport section," he said, "is my favorite reading. I'm a football and baseball fan, but I didn't see a single baseball game this summer. The team was so punk I figured going to the ball park would be a waste of time and money."
Major's chief interest outside of his job is his family. Although he lives with two sisters and a brother at 33 Ash Street, he sees a lot of his three sons, three grandchildren and two great-grandchildren. In fact, one son, John N. Major, works with his father at the Worthington Pump Corp.
"The Majors never had a major in service," he commented, "but we have a line of fighting men. John left Buffalo with Troop I during World War I and his son, John, was a Marine in World War II. He was called back into service just a few months ago.
"I've got a wonderful job and family. I can't see why I should want to get away from either for even a few days. My one hope in life is that I don't ever have a vacation forced on me.