James McLaughlin Jr.
(1849-1914)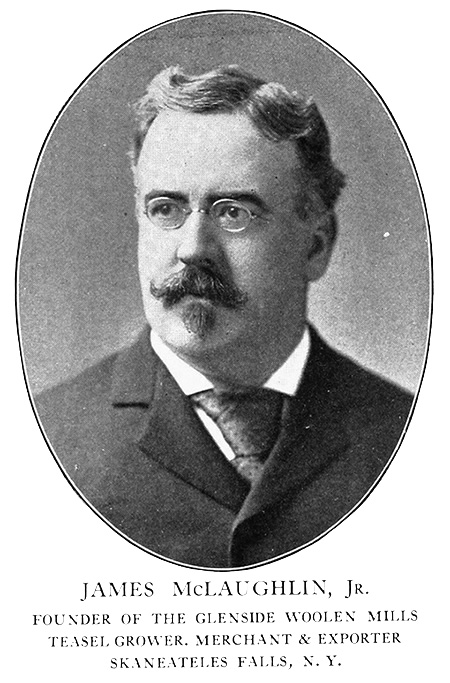 Above photo is from "Notable Men of Central New York,"
Dwight J. Stoddard, publisher (1903)
Skaneateles Free Press, February 27, 1914
James McLaughlin, a native and lifelong resident of the town of Skaneateles, and for years one of its most enterprising and active citizens, died at his home at Skaneateles Falls at 3 o'clock Thursday afternoon, Feb. 26, 1914, in the 65th year of his age. For several years past he had been in poor health, but was confined to his bed only since the 19th of December.
James McLaughlin was the eldest son of James and Ann McKinney McLaughlin, both natives of County Donegal, Ireland, who emigrated to the United States in 1848, settling in the town of Skaneateles.
He was born near Mandana, September 15, 1849, and came to this village with his parents when 6 years old. In his boyhood days he entered the employ of the late F. G. Weeks of this village, engaging at work in the latter's teasel shop. Here he mastered the business in a thorough manner and in the early '70s he engaged in the teasel business on his own account, conducting a big shop on the McLaughlin premises on Railroad Street which was destroyed by fire in the later '70s.
He rebuilt the shop, which is now the one conducted by his brother, Cornelius McLaughlin, and for over 40 years he had continued in the business, establishing a branch in Leeds, England, now under the management of his son, Charles J. McLaughlin. He engaged in exporting as well as importing teasels and did a large business in this line, both in the United States and abroad, selling the articles in Russia, Germany, France, Australia, and all other countries engaged in woolen manufacture.
In 1882 Mr. McLaughlin purchased for $4,000 the idle and bankrupt Skaneateles Iron Works property at Skaneateles Falls, converting the same into a woolen mill, which was operated under the firm name of McLaughlin Brothers, his brother, John McLaughlin of this village, being his partner.
Financial difficulties arose about 25 years ago, when the business was reorganized under the name of the Glenside Woolen Mills, which has developed into the most extensive industrial plant in the town of Skaneateles. He was the secretary and a leading stockholder in the company and took an active part in its management until about 10 years ago, when failing health and other causes compelled his retirement.
Mr. McLaughlin was courageous, enterprising and liberal and in his prime was one of the local captains of industry. He made several trips abroad, covering all the industrial sections of Europe. He was the author of many articles in the local papers, covering topic of public interest and especially the local teasel industry. He was well informed on many subjects and delighted in maintaining his views and defending his opinions. He was a Republican from his first vote and a loyal adherent of the party to the day of his death, though never a candidate for office.
Besides his wife, formerly Miss Mary O'Neill of this town, Mr. McLaughlin is survived by two sons, Charles J. McLaughlin of Leeds, England, and George McLaughlin of this town, and by five brothers, Dennis of Syracuse, John and Cornelius of this village, and William and Hugh McLaughlin.
Funeral services will be held at St. Mary's church in this village at 10 a.m. Monday morning. Interment in St. Mary's cemetery.
In slightly less than four years — from March 23, 1910 to February 26, 1914 — Skaneateles lost three prominent citizens named James McLaughlin. Two were father and son (James Sr., aka "Forty Acres" and James Jr.) plus one who was probably related. This third James McLaughlin was quite a character. If our McLaughlin family tree went back on more generation, we might fight him on one of the branches. Back to James Jr. ...
James McLaughlin Jr. started working as a boy — and never stopped. He became one of the best-known businessmen in Central New York, a supremely confident and determined person not easily discouraged by setbacks. He is remember primarily for operating what became known as the Glenside Woolen Mills and for his teasel business. Some called him "The Teasel King."
An article in The Syracuse Courier on Tuesday, May 29, 1894, under the headline, "Men From the Towns – Seen in Syracuse", described him this way:
"James McLaughlin Jr. of Glenside is a short, thick-set man, dark complexion with dark moustache. He started in the Glenside Woolen Mills ten years ago having discovered by his visit to England the way the English make coffin cloth. The Glenside mills started in small enough, but under Mr. McLaughlin's superintendence grew until now it is the largest establishment of its sort in the country. Mr. McLaughlin has become a familiar figure in Syracuse from his attendance at the water suits."

[I believe this is a reference to the legal battle between Skaneateles and the city of Syracuse over rights to use water from Skaneateles Lake.]
James McLaughlin Jr. was no stranger to courtroom battles (see below), including several that involved his strange and very strained marriage to Mary Jane O'Neill (1850-1940). She was born in Canada; her family moved to Skaneateles about twenty years later. Two of their four children died in infancy.
1. Charles J. McLaughlin Sr. (1872-1938) m. Sarah Ann (Sally) Meegan (1874-1959)
2. Dennis McLaughlin (1873-1874)
3. George McLaughlin (1876-1950) m. Elizabeth (Bessie) Huxford (1876-1953). He was a farmer, living most of his life in Skaneateles Falls.
4. Theresa McLaughlin died in childhood
Charles J. McLaughlin Sr.
(1872-1938)
Charles J. McLaughlin Sr. was sent to Leeds, England, by his father, James McLaughlin Jr., to act as agent for McLaughlin Brothers Teasel Merchants. Leeds was the center for the woolen industry in England.
It was in Leeds, at High Mass in St. Ann's Cathedral, that Charles met Sarah Ann (Sally) Meegan, daughter of Henry Patrick Meegan, who was born in Carrickmacross, County Monaghan, Ireland. After growing up in Ireland, Meegan went to England where he met and married Jane Linsley, a Quaker who converted to Catholicism. They had three sons, Walter, Thomas and Henry, and six daughters, Sarah Ann, Marie, Rose, Jane, Martha (known as Patty) and Elicia (Alicia?), all of whom were born in Leeds.
Charles J. McLaughlin and Sarah Ann (Sally) Meegan were married at St. Ann's in 1899, and on their honeymoon they sailed from Liverpool, England, to Londonderry, Ireland. Later they left Londonderry for New York aboard a ship called City of Rome. A few hundred miles from New York the ship struck a submerged iceberg. However, the ship's captain had reversed the engines in time to minimize impact and the City of Rome was able to continue its journey.
The couple settled in Skaneateles, New York, in a house next door to a famous village landmark, Krebs Restaurant. Their son Charles J. McLaughlin Jr. was born in Skaneateles in 1900, their second son, Henry W., was born in Skaneateles a year later.
In 1903 the family moved to England when James McLaughlin Jr. assigned Charles Sr. to establish and operate a branch office in Leeds. Within months Charles was visiting woolen mills throughout Europe, trying to convince their owners that Skaneateles teasels were superior to those from England and France. Charles Sr. also crossed the Atlantic several times to visit the home office in Skaneateles. In the meantime, his family was getting larger. Seven daughters and one son were born between 1903 and 1916.
James McLaughlin Jr. died in 1914 and the teasel business was then run by his brother and partner, John McLaughlin Sr. However, World War I adversely affected the McLaughlin business since their teasels were not used for treating the woolen cloth used for the British Army or Navy, and exports to other European countries were curtailed. Because of the war, Charles and Sally McLaughlin were temporarily separated after he returned to Skaneateles on company business and was prevented from returning to England. His wife ran the business until it was safe for her and her children to rejoin Charles in the United States. They left Skaneateles and moved to Syracuse.
As for the family business, things temporarily improved after the war, but it soon became clear the end was in sight for the teasel industry.
Skaneateles Press, February 18, 1938
Charles J. McLaughlin, 66, son of the late James McLaughlin, former owner of Glenside Woolen Mills at Skaneateles Falls, died Saturday in the General Hospital at Syracuse. He had been in failing health several months.
A former resident of Skaneateles, Mr. McLaughlin had lived in Syracuse many years. He was in the teasel industry and traveled all over the world as a representative of the Glenside Woolen Mills.
Surviving are his wife, Mrs. Sarah A. McLaughlin; four sons, Henry W. McLaughlin and L. Douglas McLaughlin of Syracuse, John T. McLaughlin of Miami, Florida, and Charles J. McLaughlin Jr. of Cleveland Ohio; seven daughters, Misses Dorothy A. McLaughlin, Martha E. McLaughlin, Mary A. McLaughlin and Patricia McLaughlin, Mrs. Thomas W. Hall and Mrs. Joseph Ball, all of Syracuse, and Mrs. J. V. Connor of Utica; his mother, Mrs. Mary McLaughlin; one brother, George McLaughlin of this village; five grandchildren and several nieces and nephews.
Funeral services were conducted at the home, 128 Delaware Street, Syracuse, Tuesday at 9:30 a.m. and in Most Holy Rosary Church at 10 o'clock. Burial was made in St. Mary's Cemetery.
Charles J. McLaughlin Sr. and Sarah Ann "Sally" Meegan had eleven children:
1. Charles J. McLaughlin Jr.
(1900-80) of Cleveland married
Anna James
(1898-1992). He was born in Skaneateles, educated in England, and moved to Cleveland in 1936. He was executive vice president of Associated Laundries of America for 26 years before retiring in 1962. He was buried in St. Mary's Cemetery, Skaneateles. He and Anna James McLaughlin had two children:
Charles J. McLaughlin III (1927- ) m. Nancy Jane Widener, lived in Chagrin Falls, Ohio (1980). Their children:
John Richard McLaughlin (1929- ) m. Roberta Brenk, lived in North Carolina (1980). Their children:
John Richard McLaughlin Jr.
Henry W. McLaughlin (below) attended Rosary Parochial School in Leeds. He later entered St. Michael's Jesuit College with his brother, Charles Jr., and studied until World War I broke out when their parents decided to send the boys to Black Rock Jesuit College outside of Dublin, Ireland, away from the German zeppelin raids on Leeds and other English cities.

However, the United States Consul in Leeds advised Charles Jr. that he could not go to Ireland. As a consequence of an agreement reached by England and the United States, Charles Jr. either had to join the British army or return to America and join the United States Armed Forces. Charles Jr. joined the United States Navy and was placed in the Machinists Mates School in Charleston, South Carolina.

Henry was summoned to the British Employment Bureau where it was determined that the young man's knowledge of Latin made him ideally suited to assignment to a pharmaceutical laboratory where medications were made for treating wounded soldiers. At the time all formulas were handwritten in Latin.

After the war Henry returned to the United States and took a job in New Haven, Connecticut, testing dyes. Later he moved to Syracuse and worked at Malleable Iron Works before he taking up the family's teasel business.
Dorothy Bishop and Henry W. McLaughlin had three children:
2. Henry W. McLaughlin (1901-1979) married Dorothy Bishop (1905-1989). They had three children:
Douglas Stephen McLaughlin (1943- ) m. Ethel Clinton (1946- )
Brian Henry McLaughlin (1946- ) m. Cecilia Siembor (1945- )
William Allen McLaughlin

(1978- ) m.

Nicole Lavonier

(1978- )
Cullen William McLaughlin

(2018- )
Phillip Andrew McLaughlin

(1981- ) m.

Robin Jones

(1977- )
Robert Bishop McLaughlin (1947- ) m. Virginia Lea Dowd (1953- )
3. Dorothy McLaughlin
(1903-1986). A native of Leeds, England, she lived in Skaneateles Falls before moving to Syracuse. Known for her expertise in fine china and glassware, she was employed with G. R. Crocker, Co., Warren Street, Syracuse, before starting her Dorothy of DeWitt store in Shoppingtown during the 1950s.
4. Jane
McLaughlin (1905-1982) married
Thomas Hall.
She was a native of Leeds, England, and after 1953 lived in Manlius, NY. Mrs. Hall was a member of St. Ann's Roman Catholic Church of Manlius and a member of its Altar and Rosary Society. She also was a member of the Manlius Lionelles and Manlius Historical Society. The couple had two children:
Thomas Wright Hall Jr. m. Sally ??
Judy Hall m. Thomas E. Kopfler. When they married in 1969 she was a teacher in Upper Marlboro, MD; he was an Army lieutenant assigned to the Pentagon as a computer systems analyst. In 1982, when her mother died, Judy Hall Kopfler and her husband were living in Slidell, LA. Their children:
5. Martha Eloise McLaughlin
(1906- ??). For many years she was a dietitian at Good Shepherd Hospital in Syracuse and later in the Syracuse school system. She remained single and after retirement had a second home in Orlando, Florida.
6. Sarah Kathleen McLaughlin
(1908- ) married
John Vincent Connor

.
Her second husband was
William Dobrinin.
Children:
Barbara Connor (died in childhood)
John Vincent Connor Jr. m. Jane Hall
Constance Connor m. Ronald Bauer
Norma Judith Connor m. William Cannon.
7. Mary Alexandra Victoria McLaughlin (1911-1997) married John O'Leary. A native of Leeds, England, Mary Alexandra Victoria McLaughlin lived in the Syracuse area most of her life. She retired in 1967 as a licensed practical nurse with the Visiting Nurses Association. She was a communicant of St. Daniel's Church and Our Lady, Star of the Sea Church in Mexico; a member of the Mary-Martha Society and the Catholic Nurses Association, and a former CCD teacher.
John O'Leary was a native of Butte, Montana, later lived in Solvay and was a 1932 graduate of Solvay High School. He retired in 1984 as an area manager after 26 years with American Linen Supply Company.
The couple had two children:
John David O'Leary (1939-2021) m. Kay Baker (1943- )
Mary Kathleen O'Leary m. Dr. Murray Grossman
Brian David Grossman
(1974- ) m.
Beth Brady
(1974- )
Brady Daniel Grossman

(2008- )
Zoe Kathleen Grossman
(2009- )
Sylve Spencer Grossman
(2012- )
Sarah Meegan Grossman

(1976- ) m.

Patrick Leonard

(1968- )
Claire Avery Leonard
(2011- )
8. Beatrice Ena McLaughlin
(1913- ) m.
Joseph Ball
9. Patricia Ann McLaughlin
(1915-1993) married
John Lynn.
A native of Leeds, England, Patricia Ann McLaughlin resided most of her life in the Syracuse area. She retired in 1984 as a clerical worker after 25 years with the Onondaga County Sheriff's Department. Patricia and John Lynn had three children:
John Patrick Lynn m. Sharon ?? He died in 2016. Four children:
Kelly Lynn
m.
James J. Sullivan
Barbara Lynn m. Ronald Maphey. Barbara Lynn Maphey is the education placement coordinator at Syracuse University. Their children:
Stephanie Maphey
(1972- ) m.
Shannon Brown
Jessica Leigh Maphey
(1975- ) m.
Robert James McQuatters III
Ronald Maphey Jr.

(1979- )
William Lynn m. Joann ?? He was an FBI agent out of Cleveland, Ohio.
10. John T. McLaughlin
(1916- ) married
Georgia Ingersoll
.
John T. McLaughlin was born in England and became an engineer for Tennessee Valley Authority, living in Knoxville. They had two children:
John Bruce McLaughlin m. Mildred Whittaker. It's always dangerous to make assumptions, but I think this one is safe. Online I found a website for McLaughlin Chiropractic in Knoxville, TN, founded more than 40 years ago by Dr. John McLaughlin. Its staff now includes his children:
Franya McLaughlin

m. ??

Peterson
Doris Sue McLaughlin m. Brian Logan
11. Lachlan Douglas McLaughlin
(1921-1996) m.
Marie Hahoney.
(Story below.) They had three children:
Lachlan Douglas McLaughlin Jr. (1953-2004)
Marie Roy McLaughlin m. ?? Spears; Sylvester, WVa (1996)
Thomas McLaughlin In 1996 was living in Wilbraham, Mass.
Skaneateles Press, March 30, 1945
Credited with having personally destroyed three enemy fighter planes during a Pacific air battle, as well as the destruction of another three grounded planes during a strike against islands of the Philippines, Lachlan Douglas McLaughlin, USNR, of 128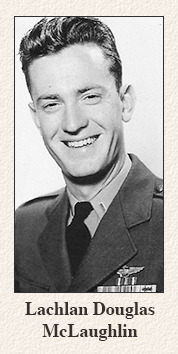 Delaware St., Syracuse, NY, has received the Distinguished Flying Cross and the Air Medal, it has been announced by Third Naval District Headquarters.
The son of Mrs. Charles J. McLaughlin of the Syracuse address, Lieutenant McLaughlin was employed by the Central New York Power Corp. before entering the naval service. He had previously attended Syracuse University.
The McLaughlin family lived at Skaneateles Falls. They moved from there about 15 years ago. He is related to the McLaughlin family of Syracuse.
A veteran of 36 combat missions, he trained at the Naval Air Station, Los Alamitos, Calif., and was commissioned on May 18, 1943. Flying an F6F (Hellcat), he has participated in major actions at Guam, Palau, the Volcano Islands, the Bonin Islands, Mindinao, Cebu, Leyte, Luson, Formosa, as well as in the Second Battle of the Philippines.
Award of the two honors to Lieutenant McLaughlin was authorized in the name of the President by Vice Admiral John S. McCain, USN, Commander Fast Carrier Task Force, Pacific Fleet. The citation accompanying the Distinguished Flying Cross read:
"For distinguishing himself by heroism while participating in an aerial flight while serving as pilot of a carrier based fighter aircraft on 6 Nov 1944 when he was one of a group of six fighters which aggressively countered attacks by fifteen enemy fighters, shooting down thirteen without loss to themselves. He personally destroyed three of these fighters thus contributing materially to the success of his mission. His courage and disregard for his own safety were at all times in keeping with the highest traditions of the United States Naval Service."

The text of the citation accompanying the Air Medal follows:

"For distinguishing himself by meritorious acts while participating in aerial flights as pilot of a carrier-based fighter aircraft in strikes against islands of the Philippines from 10 Sept. to 21 Oct. 1944. His low level strafing attacks destroyed three planes on the ground and badly damaged five others during this period. Again on 12 Oct. he joined his division in strafing runs which destroyed two small enemy ships and damaged three others near the Pescadores Islands. His courage and skill were at all times in keeping with the highest traditions of the United States Naval Service."
Vice Admiral McCain signed both citations.
Lieutenant McLaughlin is 24 years old. He was born at Skaneateles Falls.
George McLaughlin
(1876-1950)
George McLaughlin
and
Elizabeth (Bessie) Huxford
had six children:
1. Theresa McLaughlin
(1896-1939)
2. James McLaughlin III
married
Theresa Mahaney
(1901-1979). Born in King Ferry, she was the daughter of Matthew and Margaret Mahaney. She was a resident of Oswego and a member of St. Mary's Church before moving to Camillus.They had two children:
Dr. James Roger McLaughlin m. June Kathleen Collins
Dr. James "Roger" McLaughlin, 78, of Syracuse, died January 9, 2010. He was born in Auburn, NY, and earned his degrees in journalism and American studies/ journalism at Syracuse University. Roger retired as a professor of sociology/anthropology at SUNY Oswego after 23 years. He was predeceased by his wife, June Kathleen Collins in 1978.
Roger is survived by two daughters, Therese (Robert) Colvin and Deirdre Davis; brother, Raymond McLaughlin; and several nieces, nephews and grandchildren.
(From obituary published on syracuse.com)
Raymond McLaughlin, Clarence, NY
3. Marion McLaughlin
(1900-1947) m.
George Coombes
(1902-1970). Obituaries below. They had two children before they divorced; he re-married,
Irma ??
)
George Coombes Jr. (1919-1961) m. Annette ??
Skaneateles Press, April 11, 1947
Mrs. Marion McLaughlin Coombes of 38 State St., well known saleswoman, died unexpectedly last Tuesday morning (April 8, 1947) at her home. Death was attributed to a cerebral hemorrhage.
She was a native of Skaneateles and had clerked in local stores for several years, most recently at Ceil's Shop.
She was a member of St. Mary's of the Lake Church and its Altar Society.
Surviving are a daughter, Miss Dorothy Coombes, a son, George Coombes, her parents, Mr. and Mrs. George McLaughlin, a sister, Mrs. Herbert Kopp, all of Skaneateles, and three brothers, James McLaughlin of Akron, Donald McLaughlin of Syracuse and George McLaughlin of Skaneateles Falls.
Auburn Citizen-Advertiser, July 25, 1961
SKANEATELES – George A. Coombes Jr., 42, died unexpectedly Sunday at his home on Long Beach, Long Island.
A native of Skaneateles, he was a graduate of Skaneateles Central School and Tri-State College in Angola, Indiana. He was an engineer for the New York Port Authority.
Surviving are his widow, Mrs. Annette Coombes; one son, Kenneth; two daughters, Georgia and Susan, all of Long Island; his father, George Coombes Sr.; his stepmother, Mrs. Irma Coombes; a half-brother, Robert Coombes, all of Auburn; a sister, Miss Dorothy Coombes of Syracuse; his paternal grandmother, Mrs. Annie Coombes of Skaneateles.
Funeral services will be at 2 p.m. Thursday at the O'Dell Funeral Home, Rev. David Gillespie, rector of St. James Church, officiating. Burial will be in Lakeview Cemetery.
4. George C. McLaughlin

(1906-1976) m.

Margaret West
(1908-1988). A life resident of Skaneateles Falls, George McLaughlin was a retired foreman for P&S Textiles of Skaneateles Falls. He was a communicant of St. Bridget's Church of Skaneateles Falls and a member of the Ancient Order of Hibernians of Skaneateles Falls. Margaret West and George C. McLaughlin had three children:
1. Paul McLaughlin (1930-1984) m. Marilyn Gumaer. Paul McLaughlin was a court attendant for the Onondaga County Sheriffs Department. He was a member of St. James Church, the Valley Men's Club and American Legion Post 1468.
Karen McLaughlin

m.

?? Pitts

;

Elbridge, NY
Jodene McLaughlin

m.

?? Emerson

; Skaneateles Falls
Thomas McLaughlin

m.

Yvonne

??;

Texas
William P. McLaughlin
(1958-1996) lived in Elbridge, NY, before moving to Florida in 1979. He was a cardiac technician with Holy Cross Hospital in Fort Lauderdale and previously was employed with Auburn Memorial Hospital. A 1976 graduate of Jordan-Elbridge High School.
Michael McLaughlin

m.

Colleen ??

;

Elbridge, NY
Paul McLaughlin m. Martha Hugo [his second marriage]
Brendan McLaughlin

;

Syracuse, NY
2. Mary Anne McLaughlin (d. 2007) m. James Sedgwick. Born in Skaneateles Falls, Mary Anne McLaughlin was employed by Pediatric Associates in Camillus. She was a communicant of St. Patrick's Church in Jordan. She also played volleyball for the "Just In Time" team and participated in the Empire State and National Senior Olympic Games. Children:
Patricia Sedgwick
m.
James Mosley
3. James McLaughlin (1931- ) m. Elsie Skardinski; Skaneateles Falls. Story, below. Five children:
Skaneateles Press, January 23, 1965
The James McLaughlin children of Stump Road, Skaneateles Junction — at least, the older ones — are looking forward to pushing Daddy around the house in a wheel chair for some weeks.
Mr. McLaughlin, who is 33,, had both legs broken and was badly cut and bruised last Saturday night when he was struck by a car on Jordan Road, near Skaneateles Falls.
He is in Auburn Memorial Hospital and the compound fracture of his left leg is expected to keep him there for several weeks. After that he will be home with both legs in casts for several more weeks.
The children are Carol, nine; Nancy, five; John, three; Susan, two, and David, three months.
Mrs. McLaughlin is the former Elsie Skardinski of Jordan. When she explained what had happened to Daddy and how he would have to get around for awhile, the children decided they would plan on helping by pushing the wheel chair.
Mr. McLaughlin works in the chlorine plant at Solvay Process and it may be two months before he is permitted to return to work.
The accident happened in a blinding snowstorm when Mr. McLaughlin tried to help a motorist whose car had skated off the road.
Police said the driver of the car which injured Mr. McLaughlin was John P. Bowen of Hamilton Road, Elbridge.
5. Donald Delos McLaughlin
(1907-1994) m.

Mary Arleen Tobin
(1914-2004). Donald McLaughlin, born in Skaneateles, moved to Syracuse in 1940. He was a truck driver. Mary Arleen (Tobin) McLaughlin, 90, attended Cathedral High School and worked at St. Joseph's Hospital. She was a parishioner of St. Lucy's Church. Mary Arleen Tobin and Donald Delos McLaughlin had four children:
Dennis Michael McLaughlin (1941- ) m. June Alice Stewart (1943- )
Sean Patrick McLaughlin
(1966- ) m.
Heather Rae Gameon
(1974- )
Erin Stewart McLaughlin

(1974- ) m.

Maura Steves

(1976-2008) 2nd wife:

Traci Jo Winter

(1973- );
Joseph Thomas Lee McLaughlin
(2003- )
Elizabeth McLaughlin
(2007- )
Loren Michael McLaughlin
(1983- )
Donald McLaughlin (1943) m. Sharon Raymond (1945- ). He was a Syracuse police officer.
Celinda "Cindy" McLaughlin
(1968- ) m.
Robert J. Eipp
Darren McLaughlin

(1972- )
Matthew McLaughlin
(1980- )
Edward McLaughlin (1947- ) m. Ellen Clark. He was a Syracuse police officer.
Owen McLaughlin

m.

Naomi Raia
Maureen McLaughlin (1951- ) m. Tim Linehan.
6. Ann McLaughlin
(1911-2004) m.
Herbert W. Kopp

.
Ann McLaughlin was a native of Skaneateles; she had been a telephone operator for the former Skaneateles Telephone Company and retired from P & S Textile in Skaneateles Falls. She was a communicant of St. Mary's of the Lake Church in Skaneateles, was a past president of the Altar & Rosary Society and member of the Onondaga County Antique Dealer's Association. Ann McLaughlin and Herbert W. Kopp had four children:
David Kopp (lived in Auburn, 2004)
Herbert W. Kopp Jr. (lived in Skaneateles, 2004)
Ann Kopp m. Ronald Anthony Wolicki (lived in Marcellus, 2004)
Barbara Smyth Kopp m. Charles Gordon Hunt (lived in Skaneateles, 2004)
Lawsuits kept this McLaughlin busy
James McLaughlin Jr. was no stranger to lawsuits, even in death. His will was contested and dragged through the courts for several years. There was a long legal battle over agreements he had made with his wife, the former Mary Jane O'Neil, from whom he eventually separated. He also was involved in a legal battle over the terms of his sale of the Glenside Woolen Mills.

First up, however, is a small, almost humorous case that shows how much McLaughlin hated to part with even a small amount of his money.
Syracuse Post-Standard, October 27, 1904
An interesting decision affecting the pay of skilled workmen was given in Municipal Court yesterday by Judge Cady in the case of William P. Murphy against James McLaughlin of the Glenside Woolen Mills of Skaneateles, in which it is held that in the absence of any specific agreement, the custom governing employment in the city applies when a city mechanic is employed in the country. The action was brought to recover $12.72.
Mr. Murphy was called by telephone to do work as a plumber at Mr. McLaughlin's house and he charged according to the union scale in Syracuse. The first train leaving Syracuse in the morning making connections was at 10:30 o'clock, but Mr. Murphy charged for the time after 8 o'clock. On returning home, he left Mr. McLaughlins house at 9 o'clock in the evening, but did not get home until 11 o'clock, and he charged for this and from 5 o'clock in the afternoon until 11 o'clock and for half time extra in excess of the eight-hour day.
Mr. McLaughlin disputed the legality of these charges, claiming that in Skaneateles the custom was to charge only for the time actually at work.
The decision is in favor of Mr. Murphy and judgment is given in the full amount claimed and costs. Charles E. Cooney appeared for Mr. Murphy.
James McLaughlin Jr. was weighed down by many problems at work and at home. His businesses, particular the Glenside Woolen Mills, had some extreme ups and downs. His brother, William, disappeared in 1891, and it was James Jr., alone among family members, who made a long and eventually success effort to find him. McLaughlin also had much trouble at home, complicated by the way he used his troubled wife to shelter business investments.
Syracuse Sunday Times, July 27, 1879
James McLaughlin Jr. and wife, who have been absent for a short time in England and Ireland, arrived home today.
In 1879, apparently, things were well between James and Mary Jane McLaughlin, though they lost two infant children, Dennis and Theresa, a few years previously. But they had two other children, Charles (1872) and George (1876), and the family teasel business was going so well it expanded into Europe. James and his brother, John, also purchased the bankrupt Skaneateles Iron Works at Skaneateles Falls and converted it into a woolen mill, which used McLaughlin-grown teasels.

However, fortunes of the McLaughlin brothers hit a bump in 1888, putting them on the brink of failure at Glenside Woolen Mills.
Auburn Journal, January 12, 1889
A judgment against James McLaughlin Jr. and John McLaughlin for $139,254.33 in favor of S. Edwin Day as receiver of First National Bank of this city (Auburn) was docketed in the county clerk's office in this city yesterday afternoon. The McLaughlins are the proprietors of the Woolen Mill at Skaneateles Falls. The first failed sometime since, owing the bank the above amount.
Before declaring bankruptcy, James McLaughlin transferred stock worth about $50,000 to his wife. Relations between them already were strained, due to her drinking and erratic behavior.

The suspicion seemed to be that McLaughlin was taking money from his pocket and hiding it in his wife's purse. Weeks after the stock transfer, McLaughlin made a deal with a New York City company, Arnstaedt & Company, commission merchants, which kept the Glenside mill operating. A big chunk of stock remained in Mrs. McLaughlin's name.

Remarkably, business at the mill quickly turned around and the McLaughlin brothers prospered. On October 19, 1889, the Skaneateles Press reported the Glenside Woolen Mills were running at their fullest capacity, with the McLaughlin brothers employing about 170 people.
Syracuse Courier, May 29, 1894
James McLaughlin Jr. of Glenside is a short, thick-set man, dark complexion with dark moustache. He started in the Glenside Woolen Mills ten years ago having discovered by his visit to England the way the English make coffin cloth. The Glenside mills started in small enough, but under Mr. McLaughlin's superintendence grew until now it is the largest establishment of its sort in the country. Mr. McLaughlin has become a familiar figure in Syracuse from his attendance at the water suits.
[NOTE: "Water suits," I believe, refers to a series of legal battles between Skaneateles and Syracuse over Skaneateles Lake water rights. Since Syracuse drinking water has come from Skaneateles Lake for as long as I can remember, I'm assuming the city prevailed in court.]
In 1898 James McLaughlin Jr. and his wife separated. At his suggestion, she signed away the stock that had been put in her name ten years earlier. In return, she was given one of several houses the McLauglins owned, along with the use of a horse and carriage and the promise of $20 per week for the rest of her life.

At issue, when this agreement became public knowledge a few years later, was the real worth of the stock that had been reclaimed by James McLaughlin (right). Newspaper articles from the early 1900s give varying amounts advanced by McLaughlin's lawyers, their highest estimate being $62,000, which was the security against which Mrs. McLaughlin would receive her weekly payments. Others feel the stock may have been worth as much as $150,000.

In the meantime, McLaughlin sought to have his wife declared incompetent. She was examined, presumably by a doctor, but her fate actually seemed to rest with a person whose title suggests a Monty Python skit – the commissioner of lunacy.

Several states had commissioners of lunacy, as did England and Scotland. What constituted mental illness in those days were a variety of behaviors and physical conditions that are treated differently today. Epileptics often were labeled insane. Those appointed commissioners of lunacy weren't necessarily doctors. (New York state abolished the position about 1910.)

Mary McLaughlin was, indeed, declared incompetent, but continued to live in the house given her in the separation agreement. Her financial affairs were in the hands of a man designated as her "committee." Mary McLaughlin's court-appointed committee was Charles J. Keegan, who just happened to be her husband's confidential secretary and a bookkeeper at the Glenside Woolen Mills.

Taking notice was attorney A. Lee Olmsted, a local commissioner of lunacy. In July 1902 Olmsted began to suspect Keegan wasn't watching out of Mrs. McLaughlin's best interests. The legal battle over the stock and the mental state of Mrs. McLaughlin went on for many months. Nowhere did I find a story that explained whether she was living by herself, with son George (her other son, Charles, was working in a family office in Leeds, England), or with other relatives.

In 1904, a stressed-out James McLaughlin Jr. got away from it all, at least, for a few months.
Syracuse Journal, October 8, 1904
James McLaughlin Jr., the well-known teasel man, will spend the coming winter in the south of France. The firm of McLaughlin Brothers has four branch houses for the sale of teasels in various parts of Europe.
In 1909, James McLaughlin Jr. lost the services of brother, Dennis, who had worked first in the teasel business and then as chief mechanic at the Glenside Woolen Mills. Dennis McLaughlin left Skaneateles and settled in Syracuse to begin a new career as a contractor who went on to build several homes on the city's west side.

In February, 1910, James McLaughlin successfully concluded a frustrating, 19-year search for his younger brother William, who learned that three years earlier he had lost yet another child, Genevieve, who died at the age of 19.

William moved to Fulton and was reunited with his wife. The health of James McLaughlin Jr. continued to decline. Five months after finding his brother in Pennsylvania, James McLaughlin Jr. checked in at Clifton Springs (NY) Sanitarium, suffering from neurasthenia, a chronic fatigue marked by sleep disturbances and often linked with depression.

In July, 1911, James McLaughlin Sr., aka "40 Acres" McLaughlin, passed away. Time also was running out for his namesake son, but that didn't prevent him from entering into another legal battle.

Years earlier McLaughlin had sold majority interest in the Glenside Woolen Mills to Theodore W. Specht. Now a minority stockholder, McLaughlin took Specht to court, claiming large sums of money which should have gone to stockholders had instead by given to Arnstaedt & Company of New York, commission merchants. McLaughlin claimed Specht was guilty of fraud and conspiracy.

This court case outlived James McLaughlin Jr., who died on February 26, 1914. Meanwhile, the matter involving his wife also remained unsettled. Holding down the fort in both matters was James' brother, John.
Marcellus Observer, March 20, 1914

John McLaughlin and Charles J. Keegan Tuesday filed a petition for the probate of the will of James McLaughlin, Jr., whose estate is estimated at $142,000.
Mr. McLaughlin died on February 26th at his home at Skaneateles Falls. His will directs that his entire estate be turned into a trust fund, with his executors, John McLaughlin and Charles J. Keegan, as trustees.
The trust fund may terminate at the end of ten years, if in the judgment of the trustees, the two sons, Charles J McLaughlin and George McLaughlin, have not dissipated themselves or in any other way impaired their ability to manage the estate. Then, the entire estate is to be divided equally among them.
Out of the income of the estate, $20 a week is to be paid to the widow, Mrs. Mary J. McLaughlin. She has been declared an incompetent person. F. E. Stone is her committee. The bequest is to last throughout the lifetime of the beneficiary.
Mr. McLaughlin's estate consists of 240 shares in Glenside Woolen Mills, valued at $72,000; a farm, $20,000; eight houses in Skaneateles Falls, $30,000; a teasel business, $20,000; total, $142,000.
A damage suit against the Glenside Woolen Mills for $40,000 is pending.
When the dust finally settled — in 1917 — the estate of James McLaughlin Jr. turned out to be much smaller that $142,000. After a great deal of subtracting was done, the estate was worth $35,935.46.

Another complication was one that can be appreciated by anyone who recalls the 1981 movie, "Body Heat." Seems James McLaughlin Jr., in attempting to control the ultimate distribution of his estate, has violated the law against perpetuities, which made void many provisions of his will, including plans he had outlines for this grandchildren. Long story short, his brother, John, and his two sons, Charles and George, received the money and the property, minus the $20 a week set aside for the widow of James McLaughlin Jr. She, along with her sons, also owned a 96-acre farm that was deteriorating in value.

The brothers instituted proceedings to eliminate the right their 70-year-old mother had to the property, which was assessed at $10,000 (which is probably less than one percent of what that property is worth today).
Mary Jane O'Neil
There's little information available on Mary Jane O'Neill, who was born near Lindsay, Canada, in the province of Ontario, in 1849 or 1850. (She was baptized in 1850.) Her parents were Patrick and Jane O'Neill, natives of Canada whose parents were born in Ireland and emigrated to America in the 1820s.

Patrick and Jane left Canada and moved to Skaneateles, New York, in the 1870s. Their daughter Mary Jane, might have been the first family member to relocate to Central New York. She and James McLaughlin were married in Skaneateles on January 26, 1871.

Mary Jane's sister, Eliza, born in 1852, married James Welch and lived in Cortland, New York.

According to the 1880 United States census, the O'Neill family was living in Skaneateles and included Jane, the mother, and three children, John, 20; Martin, 18, and Kitty Ann, 12. Patrick, the father, was not included in the census, and might have been temporarily working and living elsewhere. John and Martin O'Neill were listed as "working at teasels."

On January 1, 1889, Kitty Ann O'Neill married Christopher McGuire in Cortland, where most of this O'Neill family had relocated.

Martin apparently died before 1910 because he was not listed among the survivors when his father, Patrick, died in Cortland in 1910, leaving his widow; son, John; daughters Eliza (Mrs. James) Welch and Kitty Ann (Mrs. Christopher) McGuire, all of Cortland, and Mary Jane (Mrs. James) McLaughlin of Skaneateles.

Jane O'Neill died sometime before 1924, the year her son, John, passed away in Cortland. He was survived by all three sisters, plus nine nieces and nephews, including Charles and George McLaughlin of Skaneateles. (NOTE: In obituaries for Patrick and John O'Neill, their last names are spelled with one L. Canadian marriage and birth records spell their last names with two Ls.)

Mary Jane O'Neill McLaughlin had been declared incompetent shortly after she and her husband separated in 1898, and I have found nothing about how or where she lived after 1905. Perhaps she eventually left Skaneateles to stay with relatives in Cortland or to a sanitarium.

The few clippings I've found make it seem as though she were abandoned not only by her husband, but by her sons.

Somehow, somewhere, Mary Jane O'Neill McLaughlin lived until 1940, passing away at the age of 90. It was then, in adjoining plots at St. Mary's Cemetery, Skaneateles, that she was finally reunited with her husband.