Elizabeth McLaughlin

(1817-1906)
Elizabeth McLaughlin was the second of nine children of William McLaughlin Sr. and Molly Quigley of Linsfort Glebe, County Donegal, Ireland. Like most of her siblings, Elizabeth emigrated to the United States and settled in Skaneateles. She married Patrick Doherty (1811-77) in Donegal and they had seven children, the first four of whom were born in Ireland. They arrived in Skaneateles in 1851. (The photo was provided by Lisa Rigge of Camillus, NY, who has done extensive research on the McLaughlin family.)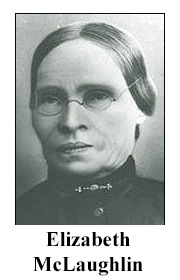 Jim Dougherty of Skaneateles, who also is researching the family and has done a lot of work for the village's historical society, sent me some family trees, copies of several newspaper articles and notes. For example, he told me that Patrick and Elizabeth Doherty sailed on the Hannah-Kerr on May 14, 1851 from Port Londonderry with their children, Hugh, Mary, Michael and Ellen. On the family tree I've prepared (below), there are three other children, all born in the United States.
However, Jim Dougherty's notes indicate the 1900 census said Elizabeth had nine children, and that five were living in 1900. My family tree accounts for those five; perhaps there were two children who died in infancy. Dougherty's notes say Elizabeth and Patrick Doherty could neither read nor write. In 1863 they bought a farm.
According to those note, Patrick Doherty had a long history of drinking large quantities of cider which was contaminated with lead. This was said to cause depression, prompting him to purposely take arsenic with his cider in 1877, causing his death.
Elizabeth McLaughlin Doherty died at the home of her son, James, on Railroad Street, Skaneateles, at noon on Saturday, January 27, 1906, at age 88.
Her granddaughter, Lauretta "Sweet" Dougherty frequently told of how, after reaching Syracuse in 1851, Elizabeth McLaughlin Doherty walked to Skaneateles with her spinning wheel strapped on her back. The spinning wheel is still with the family. In her later years Elizabeth Doherty smoked a clay pipe and warmed her feet in the oven of the cooking stove, much to the annoyance of Lauretta's mother, who had to prepare the evening meal.
The spelling of Doherty seems to be an ever-changing thing. Patrick is identified as Patrick Dougherty in the records of St. Mary's Cemetery in Skaneateles. Elizabeth McLaughlin Doherty is listed as "Mother Dougherty."
Elizabeth McLaughlin and Patrick Doherty had seven children:
1. Hugh Doherty
(1844-1921)
Hugh Doherty married Catherine "Kate" Buckley (1842-1899). Both Hugh Doherty and "Kate" Buckley were born in Ireland. They settled in San Jose, CA, where they had three children: William, Hugh and Thomas:
William J. Dougherty (1869-1911) m. Mary "May" Joseph Dwyer (1870-1939)

Claire Evelyn "Danny" Dougherty(1895-1965) m. Lloyd Byron Fletcher (1891-1945) Their wedding took place in 1912. In 1916 Claire Dougherty Fletcher m. John Edgar "Jack" Britschgi (1894-1980), a native of Switzerland.

Lloyd Byron Fletcher II (1913-63) m. ?? Wilson
Clare William "Bill" Fletcher (1913-44) m. ?? Mackenzie
Bonnie Jean Britschgi (1919-97) m. James Howard Paul (1918-1990). Obituary below.
Lynn
Paul
m.
William "Bill" McChristian
William L. "Willie" Dougherty (1897-1941) m. Marcia Carlton (?) (1898-1983)
Hugh Joseph Dougherty (1872-1923) m. Anna Matilda Smith (1876-1965)
Thomas Richard Dougherty (1874-1935) m. Viola Belle Stillwell (1884-1960)
The spelling of the last name varies by family member, some of whom preferred Doherty, others preferred Dougherty.
2. Mary Doherty
(1846-1918)
Mary Doherty married Theodore William Petersen (1837-1902). Peterson was a native of Denmark. The couple was married in San Jose, CA, where their three children were born.
Frederick Theodore Petersen (1869-99)
Lillie Petersen (1872-1905) m. Frederick Dreischmeyer Jr. (1866-??)
William Thomas Petersen (1880-1940) m. Mary (1882-??)
3. Michael Doherty
(1847-1915)
Michael Doherty married Mary ?? (1853-??) They lived in Troy, New York. Two children, Chester and Mary.
Mary E. Doherty (1872-1905)
4. Ellen Doherty
(1849-1852)
Notes provided by James Dougherty included an item from the Dec. 24, 1853 issue of the Skaneateles Democrat that says a girl named Ellen, daughter of Patrick Daugherty, died seven days earlier by inhaling steam from the spout of a tea kettle. Her age was given as 2 years and 9 months. This doesn't quite fit the dates of the girl's life or the spelling of her last name obtained from other sources, but those dates might be incorrect, and names often were misspelled (or spelled inconsistently) in newspapers, Doherty/Daugherty/Dougherty being a prime example. So the girl who died might well be the Ellen who belongs on this family tree. Such tragic household accidents were not uncommon in the 19th century. – JSM.
5. William Doherty

(1853-1893)
William Doherty married Ellen McDonald (1858-1901). William Doherty was born and died in Skaneateles. His last name is spelled Dougherty in the St. Mary's Cemetery records. He and Ellen had ten children – William, Frederick, Mary, Ada, Hugh, Grace, Genevive, Walter, Fanny and James:
William P. Doherty (1877-1923) m. Julia M. McCarthy (1877-1965). Two children, Ida and Helen.
Ida J. Dougherty (1906-2004) m. Herbert Leroy Slack (1905-48)
George W. Slack (1935-2002) m. Sally Tretsch
Helen C. Dougherty (1915-1998) m. Maurice J. Loveless (19??-1972). She worked for the Baldwinsville School District.
Beverly Loveless m. William Quartz. In 1998 she lived in Pulaski, NY.
Julia Loveless m. Michael Doran of Baldwinsville
Jennifer Ann Doran
(1972- )
Kenneth Andrew Doran
(1974- )
Maurice "Butch" J. Loveless (1938-2002) m. Janet M. Pendergast; they lived in Fulton.
Lisa Loveless
m.
Matthew Vickery
, Gloversville
Kimberly Loveless
m.
??? Pickard,
Fulton
Robin Loveless
m.
??? Smith,
Fulton
Frederick Doherty (1880-??)
Mary Doherty (1882-1953) m. Owen Haley (1879-1958) The 1920 U.S. census indicated they had no children.
Ada Catherine Doherty (1883-1982) m. William John Binns (1879-1952). [Separate family tree below.]
Hugh Dougherty (1885-1948) Unmarried. He survived an accidental shooting when he was a boy. Story below.
Grace Alita Doherty (1888-1972)
Genevive Ellen Doherty (1889-1976) m. Pete Schneider (1889-1955) She was a life resident of the Skaneateles area.
William Donald Schneider of Fort Worth, Texas
Peter J. Schneider of Skaneateles, NY
Dorothy Schneider m. Kenneth Lansbury
Walter M. Doherty (1891-1892)
Fanny Louise Doherty (1893-1980) m. Fritz Campbell (1892-1963). [Separate family tree below]
James Martin Doherty (1894, died in infancy)
6. Daniel C. Doherty

(1856- ?? )
NOTE: What follows involves more speculation and guesswork than usual. And if I am wrong, then apologies to this particular Daniel Doherty, whose nickname (according to information provided by Jim Dougherty of Syracuse) was Dapper Dan. Jim and I believe this Daniel Doherty was married to Ellen McGuinn, but at least one family tree online does not mention a wife, saying only that Daniel was somewhere in Texas in the early 1900s.

My theory is based largely on Skaneateles and Syracuse newspapers, with some support from census and cemetery records. My guess is this: Daniel was in Erie, Pennsylvania, when he was counted for the 1880 United States census. New York-born Daniel Doherty was listed as an unmarried carpenter living in either a hotel or a boarding house with several other people. I believe he later returned to Skaneateles, and got married about 1887. His wife was born in Ireland, the daughter of John McGuinn and Bridget Stenson.

There were three men named Daniel Doherty in or around Skaneateles in the 1880s. One was a horse trainer, one was the local highway supervisor, and the other had a wife named Ellen. The first two died around 1894. The third Daniel Doherty left Skaneateles and was reported living first in Solvay, then in Syracuse, where in 1899 his wife, Ellen, charged him with deserting the family. A Syracuse Post-Standard story (Oct. 31, 1899) identified her husband as a carpenter. It was also about this time that Dougherty became the preferred spelling for most of those previously known as Doherty.

The 1906 obituary for Elizabeth McLaughlin Doherty listed among her survivors a son named Daniel who was living in Texas, where he might well have gone – and remained.

When Ellen McGuinn Dougherty died in 1930 she was buried in St. Mary's Cemetery, Skaneateles. There is no Daniel Doherty (Dougherty) buried nearby, but she does share a plot with three of her four sons – James, John and Emmett.

To me, it's also significant that her other son, Paul Augustus Dougherty, had the same unusual middle name as Daniel's younger brother, James. Anyway, that's my story and I'm sticking with it. For now.

– JACK MAJOR
Daniel C. Doherty
married
Ellen McGuinn
(1867-1930). They had four children:
James M. Dougherty (1888-1906). An obituary in the Auburn Citizen Advertiser (March 29, 1906) seems to refer to this James Dougherty (though the online listing of burials in St. Mary's Cemetery, Skaneateles, lists his year of death as 1908).
The family moved to Auburn after the death of Daniel Doherty. James died at Auburn's City Hospital after a long illness that followed an attack of typhoid fever. The obituary said he was survived by his mother, Mrs. Ellen Dougherty, and three brothers. (Information provided by Jim Dougherty of Skaneateles indicates the boy had recently had his appendix removed and was recoverinng, but he and another boy engaged in some rough horse play, opening his stitches. As a result, he bled to death. This note also indicated James' middle name was Patrick, though the 1892 U.S. Census and his obituary give him the middle initital M.)
Paul Augustus Dougherty
(1890-1959) m.
Mabel "Marie" Spaulding
(1891-1986). They lived in Scipio Center, New York, near Auburn, and he was a guard at Auburn Prison for 39 years, retiring in 1958. He was a member of the Prison Guards Association, a communicant of St. Bernard's Church in Scipio and a member of its Holy Name Society. He was a member of the Auburn Council of Knights of Columbus for more than 40 years. Paul and Mabel Dougherty had six children:
1. Elizabeth Marie Dougherty (1918-1996) m. Albert Ilion Waddington. Waddington was from Pontiac, Michigan. Elizabeth Dougherty, a native of Auburn, graduated from Alma College, Alma, Michigan. At the time of their wedding in January 1949, she was a Navy lieutenant stationed in Washington, DC; he was a Marine sergeant stationed at Quantico, VA. Later they lived in Aiken, South Carolina, where she died.
2. Paul Dougherty Jr. (1919- ) m. Kathleen Barrington. Paul Dougherty Jr. was a pilot with the Army Air Force in World War II. In 1986 he and his wife were living in Deerfield, Illinois.
3. Linnette Dougherty (1920-2008) m. Robert Chester Slightam Jr. Slightam was from Madison, Wisconsin. Linnette was in the Women's Army Corps (WAC) in World War II, he was in the Army. They were married in 1946.
4. Ellen Irene Dougherty (1922-2001). Ellen Dougherty was a nurse and a nun. In 1959 Sister Paul Marie was at St. Joseph's Hospital in Elmira, New York; later she moved to Rochester, where she died. She is buried in St. Joseph's Cemetry, Auburn.
5. Margaret Ann Dougherty (1924- ) of Scipio Center, NY
6. Edwin J. Dougherty (1928-2004) m. Elsie Nicpon. Home: Salisbury, MD
John Michael Dougherty
(1892-1935). He was a veteran of World War I and was worked for a funeral home in Auburn. During the war both he and his brother, Emmett (below), were exposed to mustard gas.
Emmett Daniel Dougherty
(1894-1936). He was a veteran of World War I, lived in Auburn and Rochester. He also had worked as an undertaker in Auburn.
7. James Augustus Dougherty

(1857-1936)
James Augustus Dougherty married Anna Elizabeth Walsh (1863-1945). They had six children:
Marie Irene Dougherty (1891-1969)
Francis Leo Dougherty
(1894-1981) m.
Agnes Veronica King
(1894-1974). An article in the Skaneateles Press said he was better known by his nickname, "Con," and was noted as a star baseball player at Skaneateles High School and Colgate University.
Francis Leo Dougherty Jr. (1917-1994) m. Blanche Stewart. Francis Dougherty and Blanche Stewart were married in 1943 in Jackson, Mississippi. He was a native of Syracuse, graduated from Saint Michael's College, University of Toronto, Canada, and studied law at Georgetown University in Washington, DC. He was a special agent with the Federal Bureau of Investigation. His wife, a graduate of the Mississippi College for Women in Columbus, also worked at the FBI. When he died he was a resident Wilmington, Delaware.
Francis Leo Dougherty III (1943-1999) m. ?? Townsend; 2nd wife: Anne Lefferts (1941-1981); 3rd wife: ?? Harris
Stephen King Dougherty (1950-1955) in Wilmington, Delaware
Robert King Dougherty (1920-1999) m. Helen Fitzgibbons (1927-2006)
Raymond Patrick Dougherty (1897-1969). Apparently Raymond Dougherty never married, though he and Anna C. Shea (1897-1967) maintained a relationship for about 40 years. He was a life resident of Skaneateles and attended Skaneateles High School and served in the U.S. Navy in World War I. He retired as a postal mail carrier after 37 years of service.
James Henry Dougherty (1898-1956) m. Catherine Marie Heffernan(1894-1976). He was born in Skaneateles, but lived the last 34 years of his life in Syracuse where he was employed as a salesman for the Ward Baking Company. He also worked for the City Taxi Company of Syracuse. His obituary indicated he was often referred to as Hank Dougherty. She was born in Cazenovia, the daughter of Patrick Heffernan and Barbara Ryan. James and Catherine Dougherty had four children:
1. James Henry Dougherty Jr. (1928- ) m. Joanne Wills(1925-95). Her obituary said she and her husband lived in Long Island, and returned to Skaneateles in 1991 to retire. Location of their four children was taken from that 1995 obituary. Jim lives in Skaneateles, works with the local historical society and has been extremely helpful by providing me with much of the family information on this website. Joanne Wills Dougherty was born in Buffalo, the daughter of James Gardner Wills and Mildred Schwingle.
Peter John Dougherty (1954- ) of Eastport, Long Island
John Edward "Teddy" Dougherty (1955- ) of Steelton, Pennsylvania
Nancy Dougherty (1959- ) of Sayville, Long Island
Joseph Michael Dougherty (1964- ) of Smithtown, Long Island
2. Thomas Patrick Dougherty (1933- ) m. Margaret Ann Clemons(1934-1985). They were married in 1956, settled in Virginia Beach, Virginia, later moved to Chester, VA.
Theresa Anne Dougherty (1957- ) b. Emporia, Virginia
Thomas Patrick Dougherty Jr. (1958- ) m. Robin Scott Peterson
Dennis William Dougherty (1962- ) b. Hopewell, Virginia
3. Barbara Dougherty. According to the 2001 obituary for her brother, John Terrance Dougherty (below), Babara Dougherty was living in Sleepy Hollow, New York.
4. John Terrance Dougherty (1935-2001). John T. Dougherty was born in Syracuse, died in Hua Hin, Thailand; he was married three times, to Janet Ruth Fullerin Skaneateles in 1966, Virginia Pemberton in California in 1977 and, finally, to Ead ?? He was an alumnus of the Manlius Military Academy, attended the University of Alabama and was in the Marine Corps. For many years he was associated in business with his uncle in the J. W. Dougherty Construction Corp., later running the firm after his uncle died. Still later he worked for Aramco, a Saudi Arabian oil company. Known as Terry Dougherty he grew up in Skaneateles living wih his uncle and aunt, John and Dorothy Fraser Dougherty (below), who legally adopted him when he was 21. As a young man he briefly dropped out of sight, something not unknown in our family (see bottom of page).
Kim Elizabeth Dougherty (1967- ) m. Thomas Bursler; Dover, Del.
Lisa Colleen Dougherty (1969- ) m. Walter Upham Jr.; Central Square, NY
Anna Loretta Dougherty (1901-1987). She was a life resident of Skaneateles and for many years worked as secretary at the Don Clark Oil Company in that village. Her obituary said she was known to many by her nickname, "Sweet." Also, she also was known by her middle name, which is often spelled Lauretta.
John Walsh Dougherty (1904-1968) m. Dorothy Fraser (1901-1971). John W. Dougherty was a self-made man who bought a dump truck in 1926 and started a trash-hauling business that eventually became two companies, one for collecting garbage, the other for road work. John and Dorothy Dougherty had no children, but in 1956 adopted their nephew, John T. Dougherty (above). Obituary for John W. Dougherty below.
Ada Catherine Doherty

(1883-1982)
Ada Catherine Doherty was a granddaughter of Elizabeth McLaughlin (1817-1906) and Patrick Doherty (1811-77) and the fourth of ten children born to William Doherty (1853-1893) and Ellen McDonald (1858-1901).
Ada Catherine Doherty married William John Binns (1879-1952). St. Mary's Cemetery lists her at Catherine A. Binns. Binns was a native of England who moved to the United States as a young man. He became a farmer in the town of Sennett, near Auburn, New York. (His obituary below.) Ada and William Binns had 9 children:
1. Alexander Binns (19??-1973) m. Helen Smith (19??-1986)
Diane Binns m. Daniel Dougherty
2. Joseph Binns (1915-1979) m. Leona Waterman (1914-2009). He was a foreman at Camillus Cutlery Company. She was the daughter of Frederick and Effie Daniels Waterman; graduated from Solvay High School in 1932, and was employed for 25 years at Crouse-Hinds as a cost accountant, retiring in 1980.
Kathleen Ann Binns

m.

John Michael DePasquale
Dean E. Binns m. Patricia??
Deanna Elizabeth Binns

m.

Jim Ryan

;


2nd husband:

Cory David Nicolette
Jane Binns m. Richard James Flaherty
3. William Binns (1923-2008) m. Virginia Townsend. Home: Scipio Center, NY. William Binns retired as the plant superintendent of Laribee Wire in Jordan, NY. Virginia also was employed there.
Phyllis Binns m. Timothy Costello, Mason, Ohio
Julia Costello

m.

Lee Fox
Sharon Binns m. Wayne Pettit, Scipio Center, NY
Tammy Pettit

m.

Darrell David
Jody Wayne Pettit

m.

Melissa Holmes
Donna Binns m. Larry Perkins, Lansing, NY
Michael Binns m. Deborah Decker. Divorced, she resides in Weedsport, NY; he's in Indiana.
Wendy Binns

m.

Charles Bronson
Michael Binns Jr.

m.

Diana ??
Lisa Binns

m.

Philip Eipp,

Weedsport, NY
Mark Binns m. Penny Marie Walters, Nadine ?? (second wife)
John Binns m. Rebecca Mayers, Kings Ferry, NY
Alyssa Binns

m.

Jody Gunderson
David Binns

m.

Andrea Guy
Catherine Binns

m.

Chris Hynes
Donald Binns m. Cathy Tyrell, Genoa, NY
Christopher Binns

m.

Jody Stover
Bradley Binns m. Darlene Rafferty Aurora, NY
Carrie Rafferty Binns

m.

Dean Whitten
4. Marguerite Binns (19??-1982) m. Francis Nolan. They lived in Holiday, FL
5. Helen Binns (19??-1986) m. Roger T. Coyne. Second husband: Samuel Guarino. Roger Coyne ran two restaurants, the last one was called Coyne's Ranch House in Dresden, NY. He also was a Yates County deputy sheriff and a member of the Dresden Fire Department.
Shirley Anne Coyne m. Henry William Morgan, Auburn, NY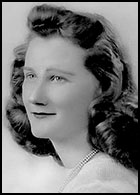 THROOP, NY — Shirley Anne Morgan died peacefully Feb. 29, 2020, with her loving family by her side.
She was born May 31, 1931, Shirley Anne Coyne and was happily married to Henry "Dula" Morgan for 71 years. Residing in the town of Throop for many years in the home they built together. Shirley's quiet strength and love of family was an inspiration to all who knew her! She will be greatly missed by the family who loved and adored her.
Shirley was predeceased by her parents, Roger Coyne and Helen Guarino; a sister, Sister Margaret Coyne; and great-grandson, Trevor Gillmore.
Shirley is survived by her seven children: David (Joanne), Donald (Deborah), Kathy (Steve) Gillmore, Patricia Hinman (Greg Martin), Darlene (Frank) Kimak, Dennis (Jodie), and Michele Morgan.
By 16 grandchildren: Rebecca, David, Cheryl, Dustin, Douglas, Shannon, Patrick, Joshua, Jeremy, Jason, Alex, Nick, Morgan, Mitchell, Maverick, and Marcus.
By 21 great-grandchildren: Bethane, Hunter, and Ellyson, Drew, Lucy, and Charley, Fiona and Stephen, Jack and Henry, Sean and Noah, Julia and William, Ivy and Isla, Kayleigh, Mae and Riley, Melody and Axel.
Obituary from auburnpub.com
David William Morgan

m.

Joanne Reyer.

David Morgan is a judge for the town of Conquest, NY.
Donald Henry Morgan

m.

Barbara Nova

(divorced); m.

Debra Andrews
Kathy Anne Morgan

m.

Stephen R. Gillmore
Patricia Jo Morgan

m.

Jeffrey Allen Hinman

(divorced)
Darlene Margaret Morgan

m.

Frank Kimak
Dennis Roger Morgan

m.

Jodie Dudden
Michele Renee Morgan

m.

Paul Janes

(divorced)
Margaret Katherine Coyne
Sister Margaret died in 2012. She was 79 years old. She was born in Elbridge, NY, to Roger and Helen Binns Coyne. She was a Sister of St. Francis for 62 years. Sister received a bachelor's degree in elementary education from the College of St. Rose in Albany, a master's degree in special education from Geneseo College and certification in administration from Syracuse University.

Sister taught in schools in New York and New Jersey. She was principal at St. Joseph's School in Liverpool and for 25 years was principal at St. Anthony's School in Long Beach, California. Upon leaving the area of education, Sister worked as a finance officer at Jolenta Convent.

from obituary on auburnpub.com



6. Katherine Binns m. Carl Stock. In 1979 they lived in Auburn, NY
7. Grace Binns (19??-1986) m. William Wingerter (1910-1992) of Camillus, NY
Peter Wingerter of Camillus
8. Robert F. Binns (1925-1978). He was employed by the State Department of Transportation; earlier had been superintendent at Cowles Chemical Company in Skaneateles Falls. He served in the Navy during World War II.
Robert R. Binns Jr. of Mottville
James E. Binns (1957-1987) of Weedsport. He owned Binns Construction Company.
Barbara A. Binns (1946-2009) m. David C. Knoski (1943-2008). Barbara Binns Knosky died December 27, 2009. She lived in Skaneateles and had been a hairdresser for more than 40 years. David Knosky was born in Auburn, worked for Stott & Davis Motor Express and retired from Howard's Trucking Company.
Louise Knoski
of Versailles, Kentucky
Beverly Jean Binns m. ?? Feeney
9. Geraldine E. Jean" Binns (1927-2007) m. William Wall. Home: Skaneateles.
Elizabeth Wall m. Carl DeFurio (In 2000 they lived in Naples, FL)
Lori Ann DeFurio
m.
Dennis Kenneth Schimpf
John W. Wall of Skaneateles
Fanny Louise Doherty

(1893-1980)
Fanny Louise Doherty was a granddaughter of Elizabeth McLaughlin (1817-1906) and Patrick Doherty (1811-77) and the ninth of ten children born to William Doherty (1853-1893) and Ellen McDonald (1858-1901).
Fanny Louise Doherty
married
Fritz Campbell
(1892-1963). Obituary lists her as Louise F. Campbell. She and her husband lived in Elbridge, New York. He was a farmer and also prominent in local politics as a supervisor for the town of Elbridge who became chairman of the Onondaga County Board of Supervisors Later he was deputy commissioner of Welfare and a tax collector from the town of Elbridge. He also was a president of the State Association of Towns and Republican town chairman.
1. James J. Campbell (1911-1994) m. Kathryn Sharpe, lived in Elbridge, New York. He was a life resident of Elbridge, retiring in 1974 after working asa a machine operator for 38 years with Crucible Specialty Metals. He was a member of Elbridge Community Church, Elbridge Rod and Gun Club and Local 1277, United Steel Workers of America.
Harold J. "Bud" Campbell of Elbridge
2. Donald Campbell (1913-1983) m. Julia Florczyk. They lived in Pennellville, New York; before that Cleveland, Ohio. He retired from the Fisher Body Division of General Motors Corporation.
Virginina Campbell m. Vernon Schmidt. Home: Cato, NY (1983)
Martha Campbell m. Alexander Dukat. Home: Columbus, OH (1983)
3. Harry Campbell (1917-1954) of Amber and Marietta, New York
4. Mary Ellen "Polly" Campbell (1919-1997) m. Stephen Karlik (1914-1983). "Polly" Campbell Karlik was a native of Elbridge, New York, a graduate of Elbridge High School, and deputy town clerk of Elbridge. Stephen Karlik was born in Newark, New Jersey, and lived in Skaneateles before settling in Elbridge in 1938. He retired in 1971 after 30 years with Fisher Body Division of General Motors Corporation.
S. Edward Karlik of Elbridge
Barbara A. Karlik m. James Edward Traver of Weedsport
Debbie Jean Traver
(1962- )
Mary Lou Karlik m. Richard Foster of Elbridge
Lori Ann Foster
m.
Edwin J. Krom Jr.
Nancy J. Karlik m. ?? Strong of Syracuse
Jane E. Karlik m. ?? Tamblin of Elbridge
Wendy Louise Tamblin
(1974- )
Heather Lee Tamblin
(1976- )
Miscellany
Santa Rosa Press Democrat, February 14, 1997
Bonnie Jean (Britschgi) Paul entered into rest on February 12, 1997 after a heroic struggle with cancer.
The wife of the late James Howard "Jim" Paul, Bonnie was born on January 14, 1919 in San Jose to the late Jack and Claire Britschgi.

The granddaughter of the late William Dougherty, a prominent pioneer San Josean, Bonnie spent the biggest part of her life in San Jose until moving to Santa Rosa in 1970.
During a short period in the 1930's, Bonnie lived with her family in Hollywood. She took great pride in recalling her father's accomplishments at Warner Brothers Studios as part of the team that invented "talking pictures."

After returning to San Jose, she attended San Jose and Los Gatos Highs and Heald Business College. Bonnie was a member of the Christian Missionary Alliance Church of Santa Rosa, a lifetime member of Sigma Alpha national Sorority, a member of Rose Valley Chapter #33 Order of Eastern Star and a life member of the Santa Rosa Memorial Hospital Rose Ladies Auxiliary.

Bonnie is survived by her daughters Susan Helzer and Lynn McChristian, son-in-law Bill McChristian and grandson John Helzer, all of Santa Rosa. She is also survived by her sister-in-law Emily Rudd, niece Leslie Evans and nephews Larry Fletcher and Gary, Bob and Jim Rudd.
Syracuse Herald, May 31, 1896
SKANEATELES, May 30 – What may possibly prove to be a fatal shooting accident occurred at Glenside this afternoon.
Hugh Dougherty, the 10-year-old son of Mrs. "Tom" Dougherty was fishing from the bank of the outlet, and behind a nearby clump of bushes Thomas Sheridan, also a Glenside boy, was shooting with a 22-calibre rifle at birds.
A bullet went through the bushes and struck Dougherty in the stomach. Sheridan summoned assistsance and the wounded boy was taken home. Dr. D. J. McLaughlin has probed for the bullet, but has been unable to find it. He says he does not think the wound is fatal, although it is serious.
The Sheridan boy feels very badly and it is evident that the shooting was purely accidental.
NOTE: There are several interesting elements here.
First off, Hugh Dougherty did not die of the injury. He didn't pass away until January 13, 1948, at the age of 63.
He was attended to by a relative, Dr. D. J. McLaughlin, and his widowed mother was referred to as Mrs. "Tom" Dougherty. "Tom" must have been the nickname for his late father, William Doherty.
Hugh seems to be the only one in a family of ten children who chose to spell his name "Dougherty." For a while he lived in Solvay.
Skaneateles Press, May 2, 1968
John W. Dougherty, 64, who started a one-truck business in 1926 and developed it into one of the largest businesses in Skaneateles, died Tuesday morning of a cerebral hemorrhage.
Mr. Dougherty was a native and life resident of Skaneateles and attended Skaneateles High School. He worked at the Draycott Paper Mill in Skaneateles Falls and started his business when he bought a Model T dump truck in 1926 from the late Mert Wieks. With it he started a trash-hauling business for the downtown stores and its grew into a residential enterprise. In 1932 it became a weekly house-to-house business.
In Mr. Dougherty's own words, the sand and gravel and excavating business started with a lot of hand shoveling, but in 1938 he acquired a power shovel and he business had continued to grow. The firm now employs some 40 men and uses about 100 pieces of equipment.
The two businesses, while operated out of the same location on Fennell Road, are separate concerns — John W. Dougherty Inc. and J. W. Dougherty Construction Corp.
Mr. Dougherty was president of both companies, with his wife, the former Dorothy Fraser, acting as secretary-treasurer, and son John T. (Terry) Dougherty serving as vice president.
A colorful contractor well known in all the Skaneateles area, Mr. Dougherty had a hand in a considerable amount of the blacktopping work done around the village. His firm for years has handled the snow clearance from the downtown area, and one of its triumphs was the speed with which it cleaned up after the big blizzard of 1966.
He was a son of James Augustus Dougherty and Anna Elizabeth Walsh.
On the road again ...
The story of William McLaughlin's 19-year disappearance is perhaps the strangest family tale, but he's not the only relative who dropped out of sight, at least briefly. Tragedies, accidents and resultant injuries can result in behavior that is unusual, but understandable. Or you might just be acting on an impulse that is not uncommon for someone your age.
Skaneateles Press, August 29, 1952
Terry Dougherty back home
after his nine-day trek
A wandering boy came back home last Thursday night, probably wiser if not sadder than when he went away, after a nine-day trek in the South
The youthful wayfarer is John (Terry) Dougherty, 16, nephew of Mr. and Mrs. John W. Dougherty, East Lake St., who disappeared after his uncle's truck he was driving became involved in an accident after he tried to avoid hitting a dog in Auburn on the night of Tuesday, Aug. 12.
According to Mr. Dougherty, the lad's uncle, Terry suffered a concussion at the time of the accident and knew nothing more until he came to sometime later to learn, to his surprise, he told his relatives, he was in Dallas, Texas.
Without funds, the boy set out for a cotton field and picked cotton for two days, being remunerated with the munificent sum of $4 for the two days' work.
With four simoleons now in picket and remembrance of an aunt in Washington, DC, in his mind, Terry took off for the Capital and Miss Irene Dougherty, U.S. Government employe and the aunt of his quest.
Once arrived at Miss Dougherty's home, that lady promptly put in a telephone call here to assuage the boy's worried folks that Terry was safe in her home in the nation's capital.
A few hours later and Terry was aboard a plane and back in Skaneateles where it is now related he is back on the job working for his uncle with no special hankerings for cotton pickin' or other chores necessitating far removal from his native heath.
There are Doughertys who prefer to spell their last name Doherty. One of them had an even weirder odyssey than did Terry. What happened to James Doherty in 1886 sort of set the stage for what was experienced four years later by William McLaughlin. How — or even if — this James Doherty belongs in the Major-McLaughlin family tree is unknown. He did, however, live in Skaneateles, which suggests a connection, perhaps back in Ireland a few generations earlier.
Syracuse Journal, January 18, 1887
Escaped His Captors
James Doherty, who until a short time ago resided in Skaneateles, was found in a demented condition in a barn at Palmyra Saturday night. He said that he left his home about a year ago and went to El Paso, Texas. He was pursued by some stranger, he says, who tried to lasso him. He thereupon bought a ticket for Auburn, but on reaching Rochester saw the same man with a lasso and since that time has been spending his nights in the woods. Arrangements have been made for taking Doherty to the Lyons asylum, but while going to Lyons he eluded his captors and escaped to the woods. He is thought to be in Syracuse. He has a wife living in Skaneateles.
Skaneateles Press, January 22, 1887


James Doherty, early last fall living on the west side of the lake, near Mandana, in this town, set out for El Paso, Texas, where his brother-in-law lived. It was his intention to locate there if he liked the country. He was accompanied to his destination by his daughter, aged about 14 years.
On his arrival at El Paso he obtained work in a railroad depot and attended his duties for two months with satisfaction to his employers.
He somehow became seized with the idea that some person had followed him to Texas from Skaneateles, with the intention of robbing him, and one day while setting a switch he said he saw this man coming to catch him with a lasso.
Alarmed by these fears, he bought a railway ticket and started home about three weeks ago. As he proceeded on his journey, it appears he still retained the idea that the man with a lasso was following in his wake.
Arriving at Rochester, he still imagined he saw his pursuer and jumped from the train. Making his way to Palmyra, Doherty spent Friday night of last week in a swamp near that place where he built a large fire and later was found by the Palmyra chief of police in a barn nearby.
He was taken to Palmyra Saturday, and word sent to his relatives in this place, and also to a sister residing in Syracuse, from whence he was brought to this village by the 4:30 p.m. train, and taken to his house. It is expected that he will recover from the strange hallucination that has possessed him for several weeks.
He is about 40 years of age and has a wife and six children. The daughter he took with him is still with her aunt at El Paso, in Texas.
Fourteen months earlier Doherty's two-year-old son, Henry, died as the result of a horrible household accident when the toddler fell into a kettle of boiling potatoes. The Skaneateles Free Press (November 7, 1885) reported the boy "was scalded in a terrible manner. The little one lingered in great agony until 5 o'clock Thursday morning, when death put an end to his sufferings."