Thomas Kane (1877- ) born in Ireland. He married Bridget Cosgrove (1882-1940) [She died between 1930 and 1940.]
Syracuse Herald, June 21, 1906
Thomas J. Kane of 1020 Emerson Avenue and Miss Bridget Cosgrove of 504 McBride Street were united in marriage at the St. John the Evangelist Church by the Rev. Richard Shanahan yesterday afternoon.
Miss Catherine O'Dea of Cleveland, Ohio, attended the bride and William S. Quinn of Solvay was the best man.
Mr. Kane has been employed by the Solvay process Company as a mechanic in the machine shop for a number of years.
Mr. and Mrs. Kane gave a reception to their many friends and relatives at the home of the groom's parents, Mr. and Mrs. Michael Kane of 1020 Emerson Avenue last evening. They received many beautiful and costly presents and many hearty congratulations.
After July 1 Mr. and Mrs. Kane will receive their friends at their new home, 1011 Emerson Avenue.
John Kane (1908- )
Syracuse Journal, July 18, 1933
The Independent A. C. baseball team will tackle two strong opponents over the next weekend when they meet the Mattydale A. C. team Saturday afternoon and Sunday they will journey to Oswego to meet the Lake Shore team. For games write to Manager John Kane, 1011 Emerson Avenue or call 4-3728 after 6 o'clock.
William H.Kane (1909-1990) married Margaret Murphy Kane (1912- ). They divorced.
Mary Ann Kane (1938-2005) She entered the Sisters of St. Francis in 1960 after graduatxed from the University of the State of New York in Albany. Sister Mary Ann Kane was a licensed practical nurse
William Kane (1909-1990) married Helen Mowczko of Buffalo.
William Kane

Home: Brockport, NY
Catherine Irene Kane (1911-1994) married Stanley Robert Brown. She was a secretary at General Electric at its Farrell Road facility in Syracuse.
Beverly Brown married Edward J. Kraus (19??-1977)
2nd husband: Leon "Red" Taisey. Home: Central Square, NY
Born in Syracuse, she had lived in the Brewerton and Central Square area most of her life. Beverly retired in 1993 as a secretary with the Town of Clay Recreation Dept. after 13 years of service. She also was an Inspector of Elections with the Town of Clay for 15 years.
Kathleen Kraus

m.

Dan Guereschi

Home: Bridgeport, NY
Sharon Kraus

m.

Paul House

Home: Hastings, NY
Mary Kay Kraus

Home: Cicero, NY
Michael Kraus

m.

June ??

Home: Hastings, NY
Timothy Kraus

m.

Angelique ??

Home: West Monroe, NY
Kim Taisey

m.

Don Bughart
Maureen Brown

married ??

Orzel

. Home: Clay.
Mary Kane (1881- ) born in Ireland; married John McEnery
Hester McEnery (1908-1989) m. William Wild (1908-1982) She and her husband owned and operated Wild's Paint Store in Syracuse.
Daniel McEnery

(1913-1983)
John J. Kane (1883- ) born in Scotland. He married Hilda ?? (1893- )
Syracuse Journal, November 22, 1932
John J. Kane of Pleasant Beach Road, died in Crouse-Irving Hospital Monday afternoon. He had been a carpenter for the Solvay Process Company 30 years.
Surviving are his wife, Mrs. Hilda Kane; two daughters, Hilda and Anne Kane; his mother, Mrs. Sarah Kane; four sisters, Mrs. Willis Bentley, Mrs. Mary McEnerny, Mrs. George Snyder and Mrs. George During, and two brothers, Thomas and William Kane. Burial in St. Agnes Cemetery.
Baldwinsville Messenger, 1967
The body of a 74-year-old Baldwinsville woman was recovered from the Seneca River about noon Tuesday after it was discovered by a fisherman.
The body was identified as that of Mrs. Hilda Kane of State Fair Boulevard by her daughter, Mrs. Hilda White of the same address.
The scene of the recovery by representatives of the medical examiner's office is a short distance east of the Community Park, and only a few yards from camps and home located on lower Morgan Road.
Sheriff's Deputy Paul Stevenson, a former Baldwinsville mailman, said that Elias V. Turner discovered the body while fishing. Turner told him that he first retrieved a raincoat from the water, then he noticed the woman's body floating face down.
Newsmen, deputies and local firemen and policeman on the scene were unable to identify the body. Later an envelope found on the body led deputies to Mrs. White.
The victim had been seen earlier walking on Morgan Road, according to reports.
A native of Cambridge, Mass., Mrs. Kane had resided in this area for about 20 years. She was a communicant of St. Augustine's Church.
Surviving besides her daughter are a sister, a niece and three grandchildren.
Burial will be in St. Agnes Cemetery, Syracuse.
Hilda M. Kane (1916-2005) married Albert White. She retired in 1980 after 23 years with General Electric.
Michael White

Home: Pulaski, NY
Douglas White

Home: Pulaski, NY
Sheila White

married

?? Nelson

Home: Baldwinsville, NY
Ann C. Kane (1920- ). U.S. Census of 1920 says she was born in Scotland.
Delia Kane (1885-1912) born in New York. She married Frank Spencer (1881- )
Lawrence Spencer (1906- ) married Hilda Hall (1902- )
Hilda T. Spencer

(1928- )
Frank Spencer apparently remarried. The 1930 U.S. Census lists him, plus wife, Anna, in a Syracuse household with son Lawrence (above), and six children by his second wife:
William Kane (1891- ) born in New York. He married Geneva Pate (1893-1968). She was an employe of the Onondaga County Health Department.
Syracuse Daily Journal, September 28, 1915
The marriage of Miss Geneva Pate, daughter of Henry Pate, and William P. Kane took place today at 1 o'clock in St. Anthony's Church. The ceremony was performed by the Rev. Francis J. Quinn.
Miss Pate was attended by her sister, Miss Alta Pate as maid of honor, and Anthony Kane acted as his brother's best man. The bride wore a brown traveling suit of broadcloth trimmed with beaver fur and her hat of brown velvet was trimmed with plumes of the same shade. She carried white bride's roses. Miss Alta Pate was gowned in dark blue broadcloth with a black velvet hat and she carried a bouquet of pink roses.
After the ceremony a luncheon was served at the home of the bride's father in Webster Avenue to which the immediate families of the bride and groom were bidden.
Mr. and Mrs. Kane will spend their honeymoon in New York and Albany and will reside for a short time on their return at 351 Webster Avenue
Those who came from out of town to attend the wedding include Mrs. Eugene Pate of Niagara Falls, Howard Pate of Niagara Falls, Miss Eva Bongville of Utica, Mrs. Jeanette Pate of Watertown and Mr. and Mrs. Clement Pate of Seattle, Washington.
Rosalie Kane (1916- ) m. Richard Lee. They lived in Mitchelville, MD.
Robert W. Kane (1918- ) married Irene Elizabeth Forth (1918- )
Loretta Kane (1922-2006) married Francis Orlando (??-1954). They had two children. Loretta's second husband: Edward Lindsay.
Thomas Orlando
lives in Lakeland, FL
Robert "Bobby" Kane (1928-1966)
Sarah C. Kane (1894- ) married George D. Snyder (1893-1949)
Syracuse Post-Standard, September 10, 1914
Stealing a match on their friends, George D. Snyder, 502 Hamilton Street, and Miss Sarah C. Kane, 100 North Avenue, were married on August 25 by Rev. James P. Magee, pastor of St. Patrick's Church, and for two weeks they kept it secret.
Not until yesterday, when W. P. Kane, a brother of the bride, received a special delivery letter from his sister telling him of the wedding, did any one but the constracting parties and the priest know about it.
The letter, which was mailed in this city, was brief. It told in a few words of the wedding, and that Mr. and Mrs. Snyder were just leaving for Niagara Falls. It said they would be at home to meet their friends after September 20.
The couple were married at 6:30 o'clock in the morning, and the bride returned home that day without letting anyone know her secret. The young couple had been friends about three years, and it was expected the wedding would take place soon. Mr. Snyder is employed as a foreman at the Monarch Typewriter Works.
Rita Snyder (1916- ) attended Nazareth College, married Franklin MacDonald.
George Snyder Jr. (1919- ) m. Pearl William (1919-2007) Pearl graduated from St. Joseph's School of Nursing in February, 1943. She was a head nurse at St. Joseph's Hospital for five years.
Susan Snyder

m.

Eric Gorham

(1943-2000) He was a designer for General Electric and Lockheed Martin for 20 years.
Patrick J. Gorham

m.

Heather M. MacAdam
Michael W. Gorham

m.

Stacey Ann MacDonald
Meghan Mary Gorham

m.

Riobart Eadbhard "Rob" Breen
Mary Jane Snyder (1920- ) married Joseph Scott
John E. Snyder (1923-1999)
Rose Mary Snyder (1928-1928)
Lillian Kane (1897- ) married Willis J. Bentley (1895-1941)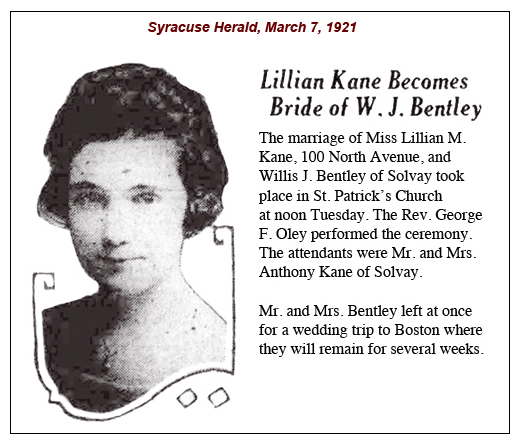 Rose E. Kane (1899-1984) married George During (1898- )
Rose June During (1924-2003)
George Richard During (1928-2004) married Irene Adamski (19??-1988)
Richard Gerard During

married

Erica Lee Nuzzo.

Home: Tully, NY
David G. During

m

. Karen ??

Home: Skaneateles, NY
Mark During

(1960-2011) m.

Karen Strauss
Jason During

m.

Erin Nicole Eschenberg