God Struck Out
In 1913, Mickey Major and 17 others were arrested. Their crime? Playing baseball on Sunday.
——————————
Tony Kane's last voyage
The bootlegging Kane could have been a character in "Boardwalk Empire."
——————————
Christmas tragedy
In December, 1929, Leo Major and six other teenagers crammed into a car to buy holiday decorations in Skaneateles for their school. Minutes later tragedy struck.
——————————
Missing brother found in Pennsylvania after 19 years
William McLaughlin, who disappeared from Skaneateles, NY, in 1891, was found in 1910 by his brother, James, in a hamlet in the heart of the Allegheny Mountains in Pennsylvania.
——————————
Adventurous job
Andrew Carrigan discovered that being a motorman on the electric railroad had its hazards.
——————————
Another James McLaughin


While there were several McLaughlin family members in Skaneateles, including two named James, it was a third James McLaughlin who may have been the most interesting

, though it's only a guess to say he was related to the others.

* The Big Bang
The explosion in Split Rock on July 3, 19188, was one of the worst tragedies in Central New York history.
——————————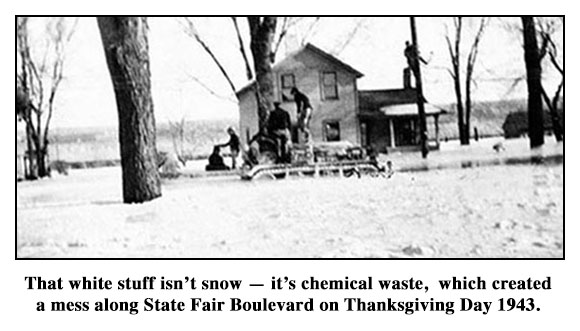 * What a mess!
On Thanksgiving Day, 1943, a dike broke on the Solvay Process waste beds, and sludge flowed over State Fair Boulevard, in our own version of "The Blob."
——————————
High School Prank Leads to Death
An annual Auburn High School night of fun and games came to a tragic end in 1915 when the mayor's son crashed his father's car into a tree and killed a friend.
——————————
* Did Capone Send Them?
Four would-be gangsters driving from Chicago to New York City made a stupid mistake that led to a wild chase from Fairmount Four Corners to the woods of Wolf Hollow, where they were captured.
——————————
Welcome to America
Life wasn't easy for many Italian immigrants in the 19th century, but one Syracuse family endured in a fashion that would make an entertaining mini-series.
——————————
It could have been much worse
It's a miracle only one Marcellus student was killed at the Kirkville train crossing.
——————————
Tragedy at Putnam's Crossing
Two lives were lost as the result of a spectacular, but perhaps inevitable train-car collision in Jordan, NY, in 1917.
——————————
Fatal mistake
That's what Joseph Carlucci made when he married his brother's 15-year-old stepdaughter.
——————————
Exasperating landlords
The McCarthy brothers waged frustrating legal battles with Solvay and the city of Syracuse over condemned properties.
* Also indexed under "Spotlight on Solvay"