Anyone who has watched a fair number of crime-solvers in movies or on television is familiar with a six-word declaration inevitably made by all lead investigators or the persons who trained them:
"I do not believe in coincidences!"
That line was much on my mind as I read about one of the most famous crimes from the 1930s — the murder of Rheta Gardner Wynekoop, the 23-year-old wife of ne'er-do-well mommy's boy Earle Wynekoop, whose only job in his first 27 years was at a world's fair — Chicago's 1933 Century of Progress — where, for a few months, he was a guide on one of the fair's top attractions, the Sky Ride. Wynekoop spent most of his time at the fair pretending he was a single guy named Michael so he could freely flirt with young women, whose names, addresses, phone numbers and descriptive code were later found a notebook that provided police with interesting reading.
While newspapers at the time described the Wynekoop case as a confusing mystery, to the lead investigator it was clear from the get-go only one person could have killed Rheta Wynekoop — her mother-in-law, Dr. Alice Lindsay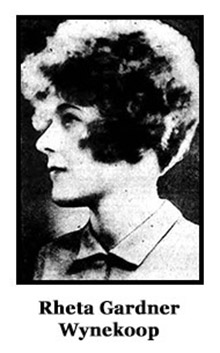 Wynekoop. The confusing thing is why anyone still claims the woman was innocent. The only miscarriage of justice is that Dr. Wynekoop's son, Earle, whom she lovingly called "Precious," was not tried and convicted as an accessory before the fact.
CONSIDER these "coincidences":
• A month before the murder, Dr. Wynekoop took out two insurance policies on the life of her daughter-in-law. The insurance wasn't much — tops, Dr. Wynekoop would have received $12,000 if she had gotten away with the murder of Rheta Wynekoop — but every dollar would have been appreciated, because there was a financial crisis at the Wynekoop home, where Earle and his wife lived with his mother. That is, when Earle found the time to be there. His mother had wanted more insurance — she asked for a $10,000, double indemnity policy on Rheta's life, but she'd spent so much time spreading lies about her daugher-in-law's health, that no insurance company would provide anything more than a $5,000 policy.
• On November 11, 1933, ten days before the murder, Earle had a gunsmith clean and oil a .32 caliber revolver he'd previously purchased for his mother. He also bought ammunition for the weapon. When he went home with the gun, Earle gave Mommy a shooting lesson in the family's garage, apparently having her fire blanks so that no slugs would be found.
• On November 12, Earle left the house, telling his wife he and a friend, Stanley Young, were driving to the Grand Canyon where Earle would take color photographs for a railroad advertisement. (I believe this would have been on spec, as they say. There was no mention of Earle being assured of any payment for this venture.)
But, in fact, Earle didn't leave Chicago until the morning of November 21, the day of the murder. He had remained in town and saw at least two of his girl friends. He and Young did attempt to leave town on Friday, November 17, but car trouble forced them back to Chicago.
• Two days later, a disgruntled Earle called his mother and asked to meet somewhere away from the house and his wife. He wanted to talk about something important. They had a long conversation in his automobile, parked seven miles from home. He told mommy he was miserable in his marriage, had fallen in love with someone else, and wanted to divorce Rheta. Mother didn't approve of divorce; she thought it would drag the Wynekoop name through the dirt. She apparently was sensitive to what other people thought, and the Wynekoops had been embarrassed for several years by the antics of Dr. Wynekoop's brother-in-law, Gilbert, a once-respected doctor who had a messy divorce 14 years earlier, and since then had been accused of sexual assault by several women. Anyway, during their secret meeting, Earle let his mother know he and Young would finally leave Chicago on Tuesday, November 21.
• Dr. Wynekoop arranged for the two non-family tenants of her 16-room house to be absent most of Tuesday, November 21, 1933. John Van Pelt, long past his prime, earned his keep by doing odd jobs around the house. Dr. Wynekoop sent Van Pelt to the suburb of Glencoe to stay with her older son, Walter, for as long as it took to paint Walter's house.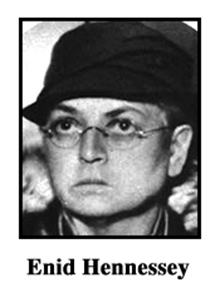 • That left Enid Hennessey, a character straight out of a Hitchcock film. (I thought of Hitchcock's daughter, Patricia, perhaps best remembered as Ruth Roman's sister in "Strangers on a Train.") Ms. Hennessey was a single, fifty-ish teacher, and, on the day of the murder, did not return home from work until six o'clock, because Dr. Wynekoop had asked her to run an errand downtown.
• Finally, Dr. Wynekoop asked her daughter-in-law, her target, to change her daily routine so she would be at the home in the middle of the afternoon instead going shopping or for a walk just before dinnertime.
POLICE would believe — logically and correctly, I think — that between 4 and 6 p.m., Dr. Wynekoop led or followed her daughter-in-law to the doctor's basement office where the young woman often went to weigh herself. Dr. Wynekoop would tell several versions of what might have happened to Rheta, whose body wound up face down on an examining table, covered by a sheet and blanket, with a bullet hole in her back. The shot had been fired from the .32 caliber revolver that Earle had repaired for the occasion.
Motives? The most obvious one was to free "Precious" to marry again. Divorce would be a matter of public record, and could prove costly. Murder, if done cleverly, could be blamed on someone else, especially since Dr Wynekoop, who had a spiritual advisor named John Hopkins, would claim she had become devoutly religious. If the woman wouldn't permit her son to divorce, surely she wouldn't allow herself to commit murder.
Her first scapegoat would be some unknown "moron" who broke into her basement office looking for money or drugs. She told police there had been two recent break-ins at her office, but hadn't reported them.
Another scapegoat wasn't mentioned until several years later, when Dr. Wynekoop attempted to win a parole, and one of her friends, Dr. Bertha Van Hoosen, lent her support by trying to convince authorities the real murderer was Gilbert Wynekoop, something some members of the family had come to believe. Apparently, these folks had forgotten Gilbert Wynekoop was in police custody when the murder was committed. Thus he had an airtight alibi; his sister-in-law didn't.
AFTER MURDERING Rheta, Dr. Wynekoop put on quite a show for Enid Hennessey, who came home shortly after six to have dinner with her long-time landlady. Pork chops were the main course. Dr. Wynekoop even put food on a plate and covered it to keep it warm for Rheta.
Miss Hennessey told police Dr. Wynekoop seemed annoyed because Rheta wasn't home. The young woman's absence puzzled the teacher for two reasons — first, Rheta usually cooked the meals; second, after arising from the supper table she'd noticed Rheta's purse and the hat and coat she ordinarily wore were lying on a table in the hallway. Dr. Wynekoop suggested Rheta must have left the house wearing a different coat. (Another lesson from detective movies and programs: Leaving her purse behind was very suspicious.)
At 7 p.m., Dr. Wynekoop phoned a neighbor, a young woman named Vera Duncan, one of Rheta's few friends, and expressed concern that her daughter-in-law wasn't home. Mrs. Duncan told her not to worry, not realizing Dr. Wynekoop's phone call was merely a ploy.
Dr. Wynekoop sent Miss Hennessey on another errand, and when the teacher returned, she complained of a headache, and the doctor went to her basement office to get some medication while the teacher went upstairs to her bedroom.
IT WAS NOW about 8:30. That's when Dr. Wynekoop pretended to discover Rheta's body, about three hours after she'd put a bullet in her daughter-in-law's back at such an angle that it passed through the young woman's heart and came to rest behind her left breast.
The doctor summoned Enid Hennessey from her bed, then called her doctor-daughter, Dr. Catherine Wynekoop, who was on duty at Cook County Hospital. Several calls were made to relatives and a couple of doctors, before undertaker Thomas Ahern was contacted. He arrived between 9:30 and 10, and Dr. Wynekoop wanted him to take away the body.
Ahern said he couldn't, because Rheta Wynekoop had obviously been murdered. He reminded Dr. Wynekoop, who should have known better, that police had to be notified. Dr. Wynekoop did know better, but wanted to keep Rheta Wynekoop's death strictly a family matter, and not involve police. She may have thought she was prominent enough to warrant special treatment, even to the point of covering up a murder.
Miss Hennessey was a witness to everything, but said little. (Picture Sgt. Schultz in "Hogan's Heroes," claiming, "I know nothing!") Police soon suspected the teacher knew something, and were annoyed when they caught her using a phone extension to listen in on a call to headquarters to report what had been found at the Wynekoop home. Said Miss Hennessey to Dr. Wynekoop, "These policemen will bungle this just like they did the Loeb-Leopold case. You know they couldn't solve that themselves.")
WHILE NEWSPAPERS would make it out to be Chicago's "greatest mystery," the murder was as good as solved soon after veteran city police detective John Stege arrived at the Wynekoop home. Stege saw through Dr. Wynekoop's theory her daughter-in-law had been murdered by "a moron" who broke into her office in search of money and/or drugs.
There was no evidence of a break-in. The murder scene was unusually neat. The murder weapon was found near the victim's head; the gun was neatly wrapped in a towel. And the only murderers who cover their victims are those who had some personal connection with them. Stege knew Dr. Wynekoop was lying about other things, but couldn't rule out another obvious suspect, Earle Wynekoop, until he learned of the young man's whereabouts when his wife was killed.
But why had Dr. Wynekoop delayed calling the police for 90 minutes after "discovering" the body?
It was too soon to make accusations, but Detective Stege told his associates, "It can't be any other way. This girl was shot in the back. You can have many theories as to how that happened, but when the one woman who was closest to her, who last saw her alive by her own admission, insists that she knows nothing about the shooting and then lies about other things— why, there is only one answer! Dr. Alice Lindsay Wynekoop murdered her daughter-in-law!"
WHAT TURNED this case into a media circus was the sad and unusual marriage of Rheta and Earle Wynekoop, and his affairs with other women, two in particular. Dr. Wynekoop's ever-changing story over the next few days added to confusion fanned by the state of 1930s journalism where money was dangled in front of anyone connected with the case if they would write what they knew or even thought they knew.
Thus Dr. Catherine Wynekoop was paid to write a six-part series about "the private life" of her family; her mother, an accused murderer, wrote articles presenting her side of the case; Dr. Harry Hoffman, a police psychiatrist — or "alienist," as they used to say — analyzed Dr. Wynekoop and her son, Earle, in print, and mentioned the unusual affection between mother and son. Dr. Hoffman would prove to be perhaps the most damaging witness when Dr. Wynekoop went on trial.
But if there's one thing — one word — that sets the Wynekoop case apart from the rest, it's "chloroform." If Dr. Wynekoop hadn't used chloroform to anesthetize her daughter-in-law before shooting her, Detective Stege might not have been quite so certain he'd solved the case. Also, the killer's neatness and concern for the modesty of the victim made it difficult to believe her murder was the work of an intruder.
While the Wynekoop children would later complain their mother had been mistreated during the police interrogation that followed at the Fillmore Street station — "My mother has been through the most terrific third degree that police have put anyone through in many years in Chicago," whined Earle Wynekoop — the truth was the woman simply had been outmaneuvered by Detective Stege and Assistant State's Attorney John M. Long.
After identifying Dr. Wynekoop as the suspected murderer, Detective Stege told the press there had been no need for the usual detective methods:
"What clues there were, were plain and evident. What has cloaked in deep mystery was the atmosphere of this strange family, living in the gloomy brick mansion on Monroe street ... Dr. Wynekoop's story of the death was not unexpected to me. It was the direct result of the psychological methods I followed. For two days I acted the part of the 'dumb cop' in the typical detective story. I allowed Dr. Wynekoop to build her house of cards. I was certain it would fall of its own weight eventually, and I was right. Throughout the questioning I used no 'third degree' methods. I found early in my career as a police officer that a kind word often produces much greater results than the brutal third degree of the old type. The key to this case is the striking and overpowering love of the mother for her son, Earle, and his love for her."
(Stege also joked that Dr. Wynekoop had worn out nine investigators during the questioning. After police were done, and the doctor was permitted to talk to family members, the first thing she said to son Walker was to ask him to order more coal for her house.)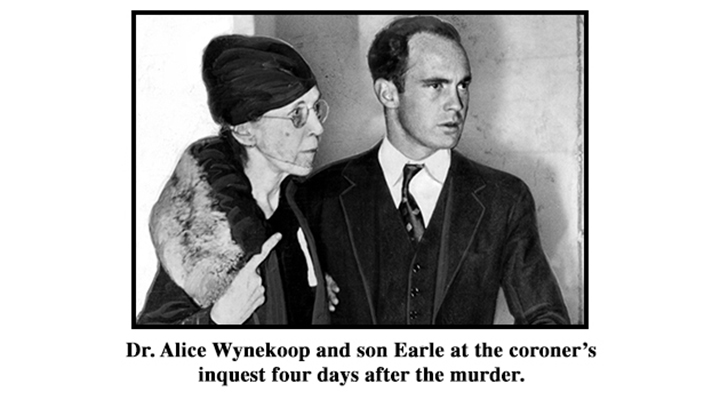 GOOD OL' EARLE turned out to be his beloved mother's worst enemy. He and his friend, Stanley Young, had reached Kansas City before they found out about the murder. Earle had taken the time to send a telegram to his mother from Peoria during the afternoon. That would present a bit of a problem for her when a messenger attempted to deliver it at 4:45 p.m., and there was no answer at the door, even though the messenger noticed lights on both in the house and the basement.
The telegram itself aroused suspicion: "Stanley having domestic trouble and leaving for home or somewhere. E."
Police learned Stanley Young had no domestic situation that could cause him trouble. And what did Earle mean by "leaving for home or somewhere?" "Somewhere" turned out to be Kansas City, where Wynekoop and Young arrived Tuesday about midnight.
They learned about Rheta Wynekoop's murder on Wednesday. Until then, Young said, he was unaware his traveling companion was married.
Earle contacted the Kansas City airport to book a flight to Chicago, but never showed up. Instead he returned home by train, but not until after he and Young had dinner at 6 p.m. Young was questioned by Kansas City police that evening while Wynekoop was headed back to Chicago. And soon after Earle arrived at his mother's house on Thursday, he was picked up by police and taken to the Fillmore Street station for questioning that included a lie detector test, after which Earle did something that would force his mother to make the first big change in her version of events. Earle confessed to murdering his wife, though he knew police would have little trouble proving he couldn't possibly have committed the crime.
Earle also freely told police and press he and Rheta had not been living as man and wife, and that he had several girl friends, including one who was wearing the engagement ring he had purchased for his wife. "She thought she had misplaced it," he said.
He told police Rheta was mentally deficient and had tried to poison the family by putting iron filings and drugs in the food. Too late Earle issued denials, saying his statements had been twisted or fabricated by police.
But before that, when police told Dr. Wynekoop about Earle's confession, she folded. Or so it seemed. Police may have thought she made her own confession, but it wasn't that simple. Not by a long shot, though it was now crystal clear to Detective Stege that the 62-year-old doctor had, indeed, killed her daughter-in-law.
OBVIOUSLY no shrinking violet, Stege may have given himself too much credit for the way he'd handled Dr. Wynekoop. "The Inside Story of Chicago's Weird Wynekoop Mystery," an article by Merlin Moore Taylor in True Detective (May 1934) gave a big chunk of credit to someone else. But the actual trigger for the change in Dr. Wynekoop's story was Earle's confession, which immediately put his mother in the protective mode. She finally admitted she and Rheta were in the examining room together. And then ...
It was Assistant State's Attorney Long who worked an old trick upon her. Where the others were severe and harsh and condemnatory, Long sympathized with her, spoke gently and courteously and won her confidence. Night had turned into day and noon was fast approaching when Long said to her:

"The coroner's chemist's report shows there was chloroform in Rheta's vital organs. Why don't you admit you chloroformed her?"

"All right," Dr. Wynekoop responded. "But how will I explain this part of it?"

She formed her hand to imitate a gun and went through the motion of pulling the trigger.

"Well, you shot her," said Long.

"If I did, how will I account for it?" Dr. Wynekoop parried.

"Well, maybe it was the chloroform killed her," said Long. "I don't know. I want you to tell me the truth."
Long and Detective Stege were certain it was the gunshot that caused Rheta Wynekoop's death, but the assistant state's attorney had just planted the seed that would lead Dr. Wynekoop into one of the strangest admissions a murder suspect ever made, a far-fetched story that sealed her doom, though within days she would repudiate her statement, because police were calling it "a confession."
She would claim she made her statement to save Earle, but police suspected she'd finally given them something that had gotten them close to the truth. For one thing, they were certain Earle was nowhere near Chicago when Rheta was murdered, and his mother's statement, though containing obvious lies, indicated she knew things that only her daughter-in-law's killer would know.
Dr. Wynekoop said the young woman complained of a pain in the pelvic region, so she suggested they go down to the office and the doctor would give her a treatment. This, said Dr. Wynekoop, occurred at 1 p.m. Rheta undressed, lay face down on the examining table, said the doctor, who began massaging her daughter-in-law, but when the young woman complained the massaging was painful, Dr. Wynekoop suggested a mild anesthetic.
"My mistake was to permit her to pour some of the chloroform over the anesthetizing mask. She may have dropped too much on at once and caused her death right there, for the took several deep inhalations."
Dr. Wynekoop said she soon realized her daughter-in-law was dead.
"I was stunned. I realized my career was at stake. Suddenly I gave thought to the gun that was in my desk in the other room. I decided to make it appear as though the girl had been murdered in a robbery. Getting the gun from the drawer, I held the muzzle within five inches of her skin and pressed the trigger."
THIS WAS Dr. Wynekoop's house of cards. Police knew a mask wasn't used. Rheta had been anesthetized by someone holding a towel over her mouth. They knew there had been too much bleeding for the woman to have been shot after she was dead. They also had interviewed neighbor Vera Duncan who said she talked to Rheta Wynekoop at 3 p.m. Conclusion: Dr. Wynekoop had killed her daughter-in-law, but later in the day, and used the chloroform to keep her victim still when she shot her at very close range. Rheta had powder burns on her back and chloroform burns on her cheeks, which wouldn't have come from a mask or from the sponge Dr. Wynekoop mentioned in a later story.
Meanwhile, the ever-helpful Earle told police, yes, his mother had a motive for murder. "She blamed Rheta for our unhappy marriage, as mothers will."
Dr. Wynekoop, on the other hand, claimed she loved her daughter-in-law, and she said this about her in an Associated Press story (November 24, 1933):
"She was a delightful child. Not fundamentally a philosopher, but the artistic type, you know. She was a quiet little mouse. She read, walked, did her little tasks. She could fix up delicious little evening suppers and tidbits. Her family history was tubercular, and she was always afraid of it. Always she was weighing herself, counting calories."
It was Earle who put the blame on Rheta for the failure of a marriage, that as we'll explain later, was doomed from the start.
"Rheta had only a high school education. I am a college man," Earle told police. "That's why we didn't get on so well. She wasn't up to my scholastic attainments. Gradually we drifted apart. Of course she could not understand me."
Earle Wynekoop also told police his wife once tried to poison the family. "I was unhappy in my married life," he said. "Rheta and I had not lived together as man and wife for years. She was sickly, and I considered her my mental inferior."
Not only hadn't they lived together as man and wife, they no longer lived in the same house. Dr. Wynekoop told police that in mid-October, Earle had moved to Beverly Hills, a community on the south side of Chicago.
MEANWHILE, as her husband was insulting her memory at a Chicago police station, Rheta Gardner Wynekoop was buried in Indianapolis on November 25, laid to rest next to her mother, who died in 1927. Hundreds of people attended the funeral. The murdered woman's father had gotten into a dispute with the Wynekoops over the burial. Seems they wanted to do it in Chicago as they continued to proclaim their love for Rheta while denying what would be obvious to the jury that decided the fate of Dr. Alice Wynekoop.
According to Merlin Moore Taylor, who wrote an article about the Wynekoop case for True Detective magazine (May, 1934), Burdine Gardner, Rheta's father, had this to say to reporters soon after he arrived in Chicago to view his daughter's body:
"The Wynekoops have been trying to prepare me for this for months. Dr. Wynekoop has repeatedly written and telephoned me that Rheta's health was precarious and asked me to send money for her care, although the few letters I received from my daughter invariably were cheery until, after a silence of four months, she wrote a short letter that made me suspect she was not happy.

"Today, as soon as we were alone, she [Dr. Wynekoop] said to me, 'Don't talk too much to the police. When you do, be sure and tell them that your daughter had not been well, that she had been ill considerable of late and don't forget to tell them that her mother died of tuberculosis' — which is a lie, because her mother died in an asylum. I'm frank to say I don't know why she gave me such strange advice, and I believe it is all a part of a plot to hide the truth. I think the Wynekoops know who killed Rheta, and why."
AFTER realizing her favorite child was off the hook for murder — though he was held briefly on a charge of being an accessory before the fact — Dr. Wynekoop repudiated her statement/confession, and tried to return to her "a moron did it" defense, but her lawyers would come to believe they had a stronger case by claiming Rheta had killed herself, either accidentally or perhaps on purpose, by inhaling too much chloroform. But that kind of defense kept alive the question — why would someone shoot a dead person? Obviously, Rheta didn't shoot herself in the back. The "someone" had to be Dr. Alice Lindsay Wynekoop.
But the prosecution knew it was the gunshot that killed Rheta Wynekoop. This is how it was spelled out by the state supreme court in ruling against Dr. Wynekoop's appeal nine months after she was found guilty of murder.
An examination of the body disclosed that Rheta had been shot once. The bullet had entered her back and pursued an upward course, lodging under the skin near her left nipple. Her face bore some scratches and other parts of her body were abraded and discolored.

A postmortem examination disclosed a hemorrhage along the course of the bullet, with the left chest cavity full of blood. The cause of the death was fixed as a result of the gunshot wound in the left chest, hemorrhage and shock.

Because of the extensive hemorrhage in the chest cavity, it was the opinion of medical examiners that Rheta was alive when the bullet entered her lung.

Dr. Wynekoop's house of cards had collapsed, but many doubted the state could get a conviction. Statistics at the time showed few women, particularly if they were young and attractive or old and feeble, were found guilty of murder. Dr. Wynekoop was sixty-two and looked frighteningly frail.
THERFORE, it was not surprising that from her arrest in November until her conviction almost four months later, Dr. Wynekoop had one medical emergency after another. She was first reported ill at the Cook County jail on November 28. The Associated Press said: "Wracked by a severe bronchial cough and menaced by extremely high blood pressure, the elderly prisoner was described as in danger of pneumonia."
Two days later, AP reported Dr. Wynekoop had told her jailers she would not live to go on trial. She said she'd diagnosed her case. "All the medical men in the world can't help me." She was immediately put on suicide watch. Considering the woman lived 22 more years, one suspects she was never quite as ill as she seemed.
Her trial, scheduled to begin January 4, was postponed a week, and when it began, Dr. Wynekoop was in the courtroom, but while the danger of pneumonia had passed, her heart became a problem.
Dr. Francis McNamara, county jail physician, said Dr. Wynekoop was suffering from angina pectoris, pain in the chest and arm due to blockage of the coronary arteries. She was having angina attacks because of nervous strain.
On January 19, Judge Joseph B. David postponed the trial because Dr. McNamara warned him Dr. Wynekoop could suffer a stroke if it continued.
Dr. Wynekoop protested, saying she wanted to get the trial over with, so did the state, but the judge and her lawyers did not want to risk having a defendant die in court, so a second trial — with a new jury — was set for February 19, though her health hadn't noticeably improved.
According to Harry Read, a former city editor of The Chicago Herald, in "Who Killed Rheta Wynekoop?", a story he wrote for the April 1934 edition of Real Detective magazine, an informal poll of the first jury indicated a majority thought she was not guilty. In view of how the second jury ruled, one has to believe Read was fed the wrong information, or that the informal poll reflected wishful thinking on the part of Dr. Wynekoop's lawyers.
DURING the second trial, Dr. Wynekoop was wheeled into the courtroom, and when she testified, she was carried to the witness stand, but this was done without the jury being present to witness it. Still, jury members had to be aware of what was going on, and perhaps some suspected the doctor, who turned 63 on February 1, was faking it a bit. Clearly, this jury did not like Dr. Wynekoop.
That became clear when the case was given to the jury to render their decision, and the matter was decided in only 36 minutes and two votes. The first vote was eleven to one in favor of conviction, the second vote was unanimous. Both the prosecution and defense were stunned by such a speedy verdict, but, at least, the jury did not vote for the death penalty.
I suspect there were several factors in how easy it was for the jury to reach its verdict. First, there was only one logical suspect. The claim a burglar or some other intruder did it was quashed by the neatness of the murder scene, the fact there was no sign of a break-in, and all doors to the house were locked. It didn't help that in one of her statements, she admitted to moving around the six dollars she originally said had been stolen. (Police had quickly found the money's new hiding place.)
Second, while she may have been exhausted during questioning, Dr. Wynekoop told too many lies and changed her story too many times. The one in which she administered chloroform probably did the most damage. Who else would have administered it? And no one bought the idea Rheta Wynekoop would have committed suicide that way. I'm Dr. Wynekoop's lawyers didn't opt for an insanity defense, considering the crazy stories she told. Police chalked up her behavior to her love for her son, Earle. Police psychiatrist Dr. Harry Hoffman said the love wasn't abnormal, but described it as "accentuated."
IN THE MATTER of Earle, Dr. Wynekoop and her defense team faced a no-win situation. They decided to put Earle into hiding for fear he might be called as a defense witness, so he remained out of town at an undisclosed location.
In any event, Earle would have been a distraction, and a reminder of a motive she had for killing her daughter. And perhaps jury members had seen — and recalled — three photos of Earle that had appeared in newspapers on November 28, 1933, six days after the murder. Photo one showed Earle with a silly grin as he supposedly read a newspaper story about being a murder suspect; photo two had him shaking hands and "making up" with Stanley Young, his traveling companion on the automobile trip that provided Earle with an alibi for the murder; photo three showed Earle gobbling down a meal, with the caption saying his troubles with the law didn't affect his appetite.
Or maybe jurors recalled this part of a story about the scene at the Fillmore Street police station after police finished questioning Dr. Wynekoop:
Associated Press, November 25, 1933


Suddenly, the mother saw her daughter, Dr. Catherine, on the other side of a glass partition and expressed a desire to talk to her. But at the moment, the other turned and commenced a conversation with Earle, and the scene was shifted.

Earle was busy clipping newspaper accounts of the case. Occasionally he made comments on an article or a photograph.

"Ma looks like a hyena in this picture," he said as he passed a photograph to his sister. "And isn't this a lousy picture of me?"
Earle may have been his mother's favorite, but he was her worst enemy, and a reading of his behavior and his statements in the days after the murder can make you wonder whose side he was on.
No doubt, Dr. Alice Lindsay Wynekoop was guilty as charged, but I can't help but think Rheta Wynekoop's murder was orchestrated by her husband. What clinched the guilty verdict was an eight-word answer Dr. Wynekoop gave after she signed the later-repudiated statement in November admitting she was responsible for her daughter-in-law's death. Police psychiatrist Dr. Harry Hoffman asked her, "Why did you do it?"
Her reply: "I did it to save the poor dear."
Dr. Hoffman repeated this during the trial, though the identity of "the poor dear" was open to interpretation. Did she mean her son, Earle? Or was she referring to Rheta? If so, how could killing her also save her? (I don't know why, but when I read this, I was reminded of "Citizen Kane" and his final word, "Rosebud.")
In my opinion, "the poor dear" was Earle, but there's an interesting possibility Dr. Wynekoop was referring to her victim. I'll save that tidbit for later.
NEWSPAPER reporters have a tendency to praise closing remarks by prosecutors and defense lawyers, but Dr. Wynekoop's attorney, W. W. Smith, may have torpedoed her during his summation by telling jurors they "might never see again such an evidence of mother love as shown by the defendant in attempting to shield her errant son, Earle."
Not only errant, but absent. I believe some jurors took Smith's remark as an admission his client killed Earle wife in order to save her son from a bad marriage.
Most unfortunate about this whole thing, of course, was the needless death of a young woman who'd put herself in a loveless marriage, and stayed there. At the age of 23, she had plenty of time to lead a productive and happy life with someone else.
Meanwhile, Dr. Wynekoop and her family had launched a campaign to convince Rheta's father, who lived in Indianapolis, that his daughter was in poor health. The truth, according to Dr. Frank Chauvet who had examined her shortly before her death, was that Rheta Wynekoop was healthy.

"Dr. Alice was there, and dominated the interview," he said. "This much I can say: Rheta Wynekoop had no tuberculosis, and she was not insane or mentally deranged."
Also unfortunate is that Dr. Wynekoop's crime and punishment — a twenty-five-year prison sentence — erased the legacy of what, for her first sixty-two years, had been a remarkable life.
ALICE LOIS LINDSAY was born February 1, 1871 near the Illinois village of Onarga, about 90 miles south of Chicago. She was a sickly child, unable to attend public school until she was nine years old. However, her parents, Frank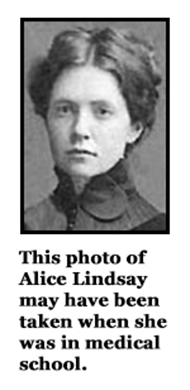 and Frances Lindsay had prepared her well, and she did well in school. Her father was against her going to college, but she defied him and paid her own way through Northwestern University Women's Medical School.
In her senior year, she met Frank Eldridge Wynekoop, who'd also worked his way through medical school after graduating from Wabash College. He was five years her senior. She was a very attractive young woman who reportedly had several boy friends over the years. She was in no hurry to get married, but after a long courtship, said yes to Wynekoop, and married him in Onarga in 1900. This was five years after they'd graduated from medical school.
They had their first child, Lindsay, in 1902, and Walker was born 20 months later, in December, 1903. James Earle Wynekoop followed in 1905. Tragically, Lindsay died in 1907, but the Wynekoops had another child the following year when Catherine was born. Wanting another daughter, the Wynekoops adopted Mary Louise in 1909.
WHAT FOLLOWED was an almost 10-year period in which Dr. Lindsay Wynekoop, as she was best known, became a prominent lecturer on a variety of issues. Because of her experience with Mary Louise, Dr. Wynekoop was a strong believer in adoption, saying every family should adopt a child.
She also was associated with the Illinois Congress of Mothers, and was the first chairperson of its hygiene committee.
Her activities came to a stop in 1918. According to journalist George E. Morgenstern, in a November 27, 1933 article for Universal Service, this is what happened:
A strange phase of this startling murder mystery came to light when musty newspaper files revealed that an apparently complete change in the personality of Dr. Wynekoop, the brilliant physician, had come after an operation in 1918 for a malignant growth.

Prior to that time she had been a leader in feminist causes, in political activity, in welfare organizations and many other lines of work.

From that time on, as a relative explained, "she seemed to withdraw into herself." Where once she had been a prominent figure, she seemed to go into an eclipse.
HOWEVER, after the murder, memories of Dr. Wynekoop, the crusader, would come back to haunt her. She was recalled for her outspoken support of eugenics, which put her in a group with Adolf Hitler and another despicable person, W. E. D. Stokes, the Donald Trump of his day. Some felt Dr. Wynekoop's feelings about people she considered inferior may have played at least a small part in the murder of her daughter-in-law.
When she was active on the lecture circuit, Dr. Wynekoop made disturbing remarks about "race suicide," which was how some described the action of women who chose not to have children. Addressing the National Congress of Mothers in St. Louis in 1912, Dr. Wynekoop said race suicide was a great blessing when practiced by certain persons.
"Don't imagine I am advocating race suicide for all," she said, "but it would be a great thing for the race, however, if neither the miserably poor nor the criminal ever reproduced their like. They are a burden on the rest of humanity. Race suicide is being widely practiced today by our women, especially the so-called better class of near-society women. This is not to be deplored in the least, because a reproduction of their like would in no way benefit the human race. There are too many of them already."
MANY LIKELY felt one Earle Wynekoop was one too many. At the time of his wife's death, the 27-year-old Earle was unemployed, Rheta was an accomplished violinist. His first and only job to date was working at the Sky Ride, one of the big attractions at Chicago's "Century of Progress" world's fair, which had closed for the winter.
While on the job at the world's fair, Earle met more than 50 women whose names he entered into his little black book. He told them his name was Michael, and, unless pressed, did not mention he was married. Apparently he was quite a character at the fair, and a few days after his wife was murdered, this photo surfaced and appeared in several newspapers.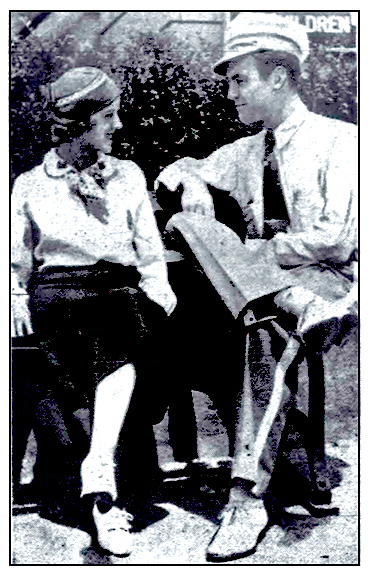 The caption explained he was Earle Wynekoop, widower of Mrs. Rheta Gardner Wynekoop, victim in what was called "Chicago's operating room slaying." The photo was taken while he was working at the World's Fair and known as "Sky Ride Mike." He is wearing the uniform of a Sky Ride guide. With him in the photo is Mary Gerken, a cashier at the exposition. She was questioned by police and told them she had never been involved with Wynekoop. However, two other woman who were questioned admitted they were romantically involved with him, both claiming they didn't know he was married until they read of his wife's death. Later one of them, Margaret McHale, would admit she was well aware of Rheta's existence while she was alive.
Earle had proposed to Miss McHale, had gone to her house to try to convince her Catholic parents to allow their daughter to marry Earle after he divorced his wife. They did not budge. Neither did his mother when he told her about his dilemma. The only way out of it was for Rheta to die or be killed.
Miss McHale didn't hold back with police. "He (Earle) told me he had built an ideal around this girl (Rheta), then, he said, he learned that a strain of inherited insanity existed in her family, and the something that his mind had built up around this ideal of his courtship then refused to accept Rheta as a part of it.
"Then he said the matter was out of his hands and had been placed in his mother's. When I asked him where she (his wife) was, he only said she had been 'put away.' "
This conversation, she said, took place four days before Rheta was murdered.
(Interestingly, it was Earle who had a family member who was insane, though a ruling on the mental condition of Dr. Gilbert Wynekoop was still a few days away. More on his in a little bit.)

IN ANY EVENT, the press had a field day with Earle Wynekoop's little black book, and settled on 50 as the number of girl friends he may have had, though there were more than 50 names in his date book. Margaret McHale, for example, was listed as number 52. She was the one who was wearing the engagement ring Earle had purchased years before for Rheta. Miss McHale said he gave her the ring and asked her to keep it while he was on his Western trip.
Police already knew about Wynekoop's relationship with Miss Priscilla Wittl, who told two different stories about how long she had known him, and whether she knew he was married. She said she loved Earle and had expected to marry him on his return from his trip to the Grand Canyon. She had been with him the night before his wife was murdered until 1:30 a.m. the next morning.

"He was a nice fellow, but very unhappy," said Miss Wittl. "He seldom went home. Although it was never stated in so many words, I considered that we were engaged to be married."
Not surprisingly, Dr. Alice Lindsay Wynekoop offered an excuse for her son's infidelity. This is from an Associated Press story:

"You know," she said, "the World's Fair ... we are all just beginning to understand, was a vast whirligig. It whirled us around and about, and before we knew it, many of our young people had lost their bearings somewhat. I think we can see that more and more clearly."


Police commented released information about the little black book. Some newspapers published a photo of Miss Florence Conley, one of the women Earle had included among his girl friends. It was a weird thing for the press to do, since Miss Conley's only connection to the murder investigation was her name and address in the black book.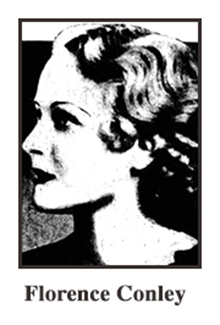 Police made and effort to locate and interview all 50-plus women listed, but Miss Conley's name was never mentioned until her face appeared in several newspapers.
I suspect the young woman may have had an agent, because, judging from the photo, Florence Conley could have been the most attractive young woman involved in Earle's project. I'd say she greatly resembled actress Virginia Mayo, but it would be more accurate to say Miss Mayo resembled Miss Conley, since the soon-to-be movie star was only 13 at the time of Rheta Wynekoop's murder.
With Miss Conley's photo were her name, address and the numbers 2-4-9-10, which was Earle Wynekoop code for (2) blonde, (4) pretty, (9) exhibit and (10) sentimental. Just what Wynekoop meant by those last two, I have no idea.
ON DECEMBER 11, three weeks after the murder, Earle was released from jail when police dropped the accessory charge. Two days later, he made news again when he was driving an automobile that ran down a nine-year-old boy, Frank McGovern.
Luckily for Earle, his sister, Dr. Catherine Wynekoop, was with him, and administered first aid, determining the injuries were painful, but not serious. The boy's parents told police they didn't wish to prosecute.
The Earle dropped out of sight. As mentioned, he was not present at his mother's trials, though his brother, Walker, teased the press during the first trial, telling reporters he expected Earle to testify the next day. He didn't, of course, and when another reporter asked Walker Wynekoop about his brother's whereabouts, Walker replied, "Wouldn't you like to know?"
It wasn't until his mother was delivered to the Illinois women's reformatory in Dwight on March 30, 1934 that Earle resurfaced. Described by the Associated Press as "shabbily dressed, his hair disheveled and untrimmed," Earle Wynekoop was in the crowd that greeted his mother at the prison entrance.
The AP story went on:
The limbs of the 63-year-old prisoner, who was being helped into the prison ante-room, failed her completely at the sight of her son. She fell into his embrace. For several moments mother and son clung to each other in silence.
Earle helped his mother into a chair and, bending low, he whispered rapidly for several minutes. He appeared to be trying to win her assent to something, but the mother shook her head vehemently. Unruly wisps of iron gray hair straggled out from beneath her slightly awry black felt hat.
Then attendants helped her to her feet and she was half-carried away for the routine incident to her new and probably her last home.
His eyes bloodshot and his hands trembling, Earle joined his sister and brother, Dr. Catherine and Walker, who had driven from the county jail to the reformatory behind the sedan carrying their mother. The three returned together to Chicago.
Dr. Wynekoop's lawyers, gearing up for an appeal, said on May 18 that Dr. Wynekoop had lost seventeen pounds since her incarceration in the women's reformatory at Dwight, Illinois, and her daughter, Dr. Catherine Wynekoop, made a familiar pronouncement:
"If she stays in Dwight, she will never live until October. Mother has failed so rapidly that the most we are hoping for is that she may be allowed to die in peace. The prison environment has pulled her down mentally. She weighs only 105 pounds now." (Alice Lindsay Wynekoop was five-foot-eight.)
Through it all, the Wynekoops came across as a people who lived in their own wacky world. Translated, Dr. Catherine Wynekoop's statement was, "Let my mother out of prison because she doesn't like it there."
The state supreme court wasn't buying it, ruling Dr. Alice Wynekoop's appeal had no merit, and so she remained at Dwight, where she adjusted to prison life, though she was never considered a model inmate.
Thereafter
Six months after his mother went to prison, Earle Wynekoop's car went off a cliff while he rounded a curve near Denver, Colorado. Chicago newspapers reported the accident on October 19; his sister told reporters it had happened three weeks before. He suffered a fractured skull and a triple fracture of his back. Doctors gave him little chance of recovery, but he defied the odds and survived.
Dr. Catherine Wynekoop and Earle came up with their own version of a witness protection program They both changed their last name to Lindsay, their mother's maiden name. Earle's decision was made public in the fall of 1935 when he was in the news yet again.
Washington Evening Star, September 19, 1935
CHICAGO, September 19 (AP) — An eviction suit yesterday revealed that Earle Wynekoop, whose wife, Rheta Gardner Wynekoop, was killed in the "operating table" murder of 1933, has remarried and adopted the name James Lindsay.
The owner of a bungalow in which "Lindsay" lives filed the suit, charging the tenant was in arrears in rent and had stored chemicals and machinery in the basement in violation of the lease.
Wynekoop denied he owed rent or that chemicals were stored in the bungalow. He told interviewers that his full name was Earle James Lindsay Wynekoop and that "I am tired of being pointed out as Earle Wynekoop."
Details of "Lindsay's" life after his mother went to prison are few; apparently he and his wife had a son. Her identity remained a secret, though it's highly unlikely she was Margaret McHale or Priscilla Wittl. Earle wound up in California where he died in 2000, at the age of 94. According to his page on lindsaygenealogy.tripod.com, he served in the U. S. Army in Alaska in 1934, which seems doubtful, in view of his near-fatal automobile accident that fall, and he worked as an aerospace engineer, which also seems doubtful, but is possible, I suppose. (He did get a pilot's license in 1932, but put it to little use.)
Catherine also died in 2000, at the age of 91. She had a long and successful career in medicine, and somewhere along the line married Willard Dobson.
Walker Wynekoop did not change his name. Only 18 when he married Marcia Miller, herself just 19, he went on to own a label and seal manufacturing firm, but, tragically, died on October 24 1948 of lung cancer, at age 44. His widow remarried 11 years later, and lived to the incredible age of 107.
Most unexpectedly, I discovered Walker Wynekoop has his own page on imdb.com — the Internet Movie Database. Seems he appeared in a 1918 version of "Little Red Riding Hood" when he was a member of the Chicago Children Players. And, according to a story in the Chicago Sunday Tribune (June 24, 1917), he appeared as the prince in a production of "Cinderella," that also was filmed by Wholesome Films Corporation, a Chicago company.
That's Walker standing in the photo below.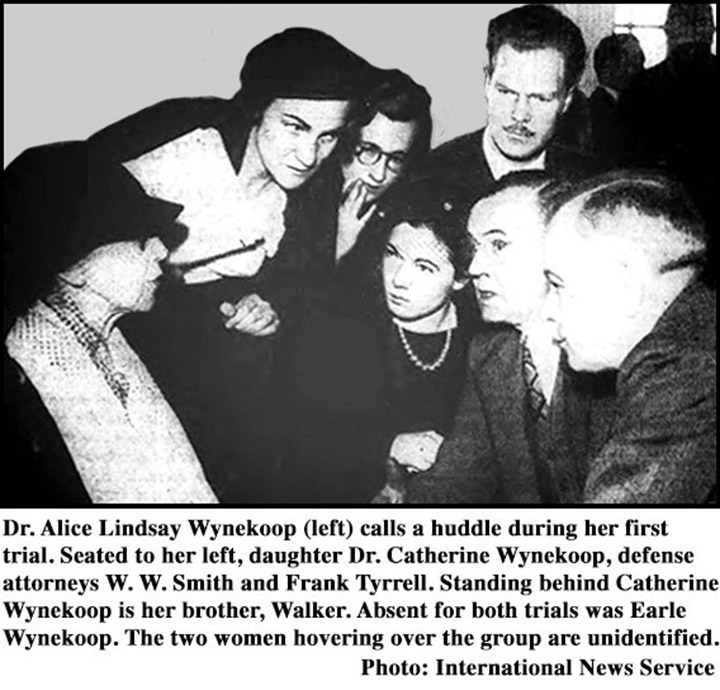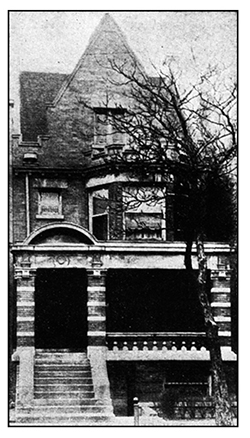 "The Dream House." That's what Catherine Wynekoop called her parents' 16-room home at 3406 West Monroe Street, Chicago, but newspapers referred to it as "a gloomy mansion" or "The Death House." Her father built the house in 1905, and I expect it was paid off at one time, but financial problems after her husband's death in 1929 forced Dr. Alice Wynekoop to borrow $6,000 against he house, and in 1933, she owed $3,500 to the bank.
Perhaps she had to borrow even more money against it to pay her lawyers the next year, because when her children sold the home to the owner of an adjacent apartment building in July, 1934, the reported price was $1,200, plus assumption of a $9,000 mortgage. The new owner tore down the Wynekoop home on September 8, 1935, and Chicago was without a building that had briefly been a stop for some tourist buses.
Its nickname as "The Death House" referred to more than the murder of Rheta Gardner Wynekoop. Between 1929 and 1933, four other people had died at 3406 West Monroe Street — Alice Wynekoop's husband, Dr. Frank Wynekoop; their adopted daughter, Mary Louise; Augustus L. Hennessey, father of school teacher Enid Hennessey, and Kate Porter, a sixty-seven-year-old spinster who also lived there. Police briefly considered investigating these deaths to find out if any or all of them were suspicious.
Back to Dr. Alice Wynekoop's financial situation. According to "Wynekoop Murder! How Woman Doctor Killed Son's Wife," an article in the Chicago Daily Tribune (July 28, 1935), at the time of Rheta Gardner Wynekoop's death, her mother-in-law owed her grocer, her butcher, and the family undertaker, for the funeral of adopted daughter, Mary Louise, who had died in March. This was in addition to the $3,500 mortgage. As of October 31, 1933, Dr. Wynekoop had a bank balance of only $26. This particular article was written by Virginia Gardner, a well-known Tribune columnist who was no relation to the murder victim.

Often listed as being on death's door, Dr. Alice Wynekoop served 13 years and nine months of her prison sentence, then, in 1947, was released, not because of good behavior, but — you guessed it — her health. At 76, she entered a Chicago nursing home where she would follow the lead of Catherine and Earle by going back to her maiden name.
In 1950, as Alice L. Wynekoop, she filed suit against Walker's widow, Marcia, and against Marcia's children and her own children, Catherine and Earle, in an attempt to recover rental property she had signed over when she was sent to prison. Her lawsuit was unsuccessful.
In 1955, an 84-year-old nursing home resident known as Dr. Alice Lois Lindsay passed away, and Catherine kept her mother's death a secret for a year before Chicago newspapers discovered Dr. Lindsay was convicted murderer Dr. Alice L. Wynekoop.
One other bit of weirdness for the activist-turned-murderer: In 1948, a year after her release from prison, and before she dropped her last name, she was used as a guinea pig by one Dr. Orlando Scott, who'd invented something he called a "psycho-detecto meter" that he felt was an improvement over the lie detector.
Dr. Wynekoop hoped to clear her name and agreed to have her brain waves measured by the "psycho-detecto meter." Dr. Scott told the Associated Press Dr. Wynekoop could not take a conventional type of lie detector test because her blood pressure was too high. That was the same reason she used for refusing to take a lie detector test in 1933.
She passed Dr. Scott's test, causing him to proclaim she had just proved her innocence in the murder of her daughter-in-law. Others felt Dr. Wynekoop simply proved she was 77 years old, and convinced of her innocence by 15 years of denial.
There may have been more to it. At lindsaygenealogy.tripod.com is a page devoted to Alice Lindsay Wynekoop, which includes a story that, unfortunately, is not credited to anyone, though the writer obviously sides with Dr. Wynekoop in the matter of Rheta Gardner Wynekoop's murder.
The story mentions that in 1944, Dr. Wynekoop made a plea for her pardon, but was denied. One of her friends, Dr. Bertha Van Hoosen, put forth her theory that the actual murderer was Dr. Wynekoop's brother-in-law, Dr. Gilbert Wynekoop. Perhaps, by 1944, both Dr. Van Hoosen and Dr. Wynekoop were having difficulty remembering things. While Dr. Gilbert Wynekoop, once a respected surgeon, had become an embarrassment, he was in police custody when Rheta Wynekoop was murdered.
Dr. Van Hoosen did recall that Gilbert attacked his estranged wife, Lucille, while they were going through a divorce, and says this took place "in the home of Dr. Alice," which implies it happened fairly close to the time of Rheta's murder. But Gilbert Wynekoop's divorce took place in 1919.
Dr. Gilbert Wynekoop, because he'd once been so highly regarded, managed to run amok for many years, even though he was the subject of assault complaints by several women.
Chicago Tribune, December 8, 1933
Dr.. Gilbert H. Wynekoop, once noted surgeon, a brother-in-law of Dr. Alice Lindsay Wynekoop, went to trial before Judge Harry B. Miller and a Criminal court jury yesterday on the issue of his sanity. Dr. Wynekoop had been in custody since Nov. 13 on a charge of attempting to rape a nurse for whose services he had advertised.
Although Dr. Harry A. Hoffman, director of the Criminal court behavior clinic, declared Dr. Gilbert insane, and two other physicians summoned at his own request declared him to be suffering delusions, the jury was unable to agree on the defendant's mental status. Deadlocked 6 to 6 after two hours' deliberation, the jury announced itself unable to agree and was discharged by Judge Miller, who set a new hearing for next Tuesday.
On the stand in his own behalf, Dr. Gilbert excitedly averred that Dr. Hoffman was trying to "railroad" him to an asylum in order to steal several inventions, such as a set of wooden cutlery, a lockable safety razor, and a cellophane bathing suit. He was merely suffering, the defendant said, from a malady known as "alcoholic inconsistency," but added that he never drank to the point of intoxication.
A week later, another jury found him to be insane. I think it was the cellophane bathing suit that clinched the verdict. Dr. Wynekoop was ordered to the Illinois State Hospital at Menard, thus escaping trial for an alleged attempt to rape a nurse.
Released from Menard at the end of 1936, Dr. Wynekoop was soon arrested again, this time for attempted rape of a black woman who answered his ad for a housekeeper. This attracted the attention of a black newspaper, the Pittsburgh Courier (January 21, 1937), which noted the white doctor was charged only with disorderly conduct because the woman failed to press charges.
Instead, Dr. Wynekoop again was held insane and sent to a state hospital, this one in Elgin. Whether at Elgin or Menard, Dr. Wynekoop proved troublesome because of his advances to woman patients, attendants and others. He popped up in the news again in 1950 for illegal sale of narcotics.
Oh, yes, in 1930, Dr. Gilbert H. Wynekoop and Miss Veronica Shearer invited several people to their wedding at Chicago's Belmont Hotel. The guests were there, so was Miss Shearer, but Dr. Wynekoop was a no-show. He died in 1956, at the age of 76.
Odds 'n' ends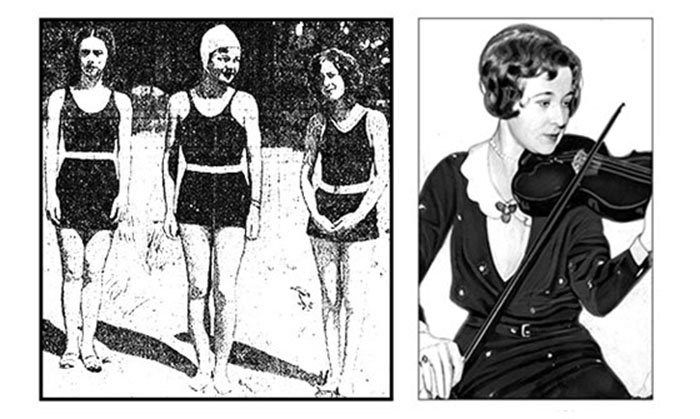 The above photos — that's Rheta Gardner Wynekoop playing the violin, and standing on the right in the bathing suit photo — plus statements that she was so weight conscious that she regularly went to the basement, stripped, and weighed herself, suggest she was anorexic, not tubercular.
The others in the photo taken on a Lake Michigan beach near the Wynekoop vacation home in Frankfort are Mary Louise on the left and Catherine in the middle. Mary Louise was the adopted daughter of Dr. Alice Lindsay Wynekoop. Tragically, Mary Louise died in 1933, eight months before Rheta was murdered. Mary Louise was 23, the same age as her sister-in-law.
It was surprising in reading newspaper stories from 1933 that reporters seemed to have little curiosity about how, when and where Earle Wynekoop met Rheta Gardner. There was some mention in "The Private Life of the Wynekoop Family," a six-part series commissioned by the Newspaper Enterprise Association days after the murder. Putting her name to the series was Dr. Catherine Wynekoop, who said this in her foreword:
"I hesitate to place before the public the intimate story of my family, which I have considered sacred. But so much has been written that is both unfair and untrue that I have decided to accept this opportunity of telling the facts of my mother's life as they are."
Unfortunately, there are serious mistakes in the Chapter Five telling of the story of her brother and the young woman he would marry. It's possible the NEA writer who worked with Catherine Wynekoop messed it up, but I was surprised these mistakes appeared in every newspaper I located that printed the series. Here is the relevant section:
In the mist of a saddened household, romance was lurking. It had its beginning in December, 1929, when Earle drove mother and me to an Indianapolis musical party being given by the Nu Sigma Phi medical sorority to which we belonged.
Rheta played the violin at the party. Her cute way of playing, together with her bright red hair, her pretty, animated face, and her petite form instantly captivated my brother.
"Find out who she is," he begged mother. "I want to meet her."
Mother, always Cupid's great co-operator, found out. Also, she found someone who would introduce him.
That was the last we saw of Earle that evening. But next morning, on the drive back to Chicago, he told us that he had escorted Rheta home and extracted from her a promise to answer his letters.
For the next two and a half years, we — mother, Mary and I — had a lot of fun keeping abreast of their romance ... However, he never deigned to satisfy our curiosity. He was madly in love with the charming young violinist, and her letters to him were strictly private.
Skipping ahead a few paragraphs, it's August, 1929, and Rheta issues an ultimatum. She and Earle have seen each other face-to-face only once, and she writes that if he doesn't deliver his next letter in person, their relationship is over.
Earle drives to Indianapolis. Things go well, so he calls his mother and asks if he can bring Rheta to Chicago. She says yes, her father reluctantly agrees, and the couple head to Chicago where their infatuation goes out of control.
Earle wanted to be married at once. And Rheta, to whom life at home had not been the same since her mother's death, was enthusiastically acquiescent.
But mother demurred. She insisted that the lovers talk it over first with Rheta's father and stepmother.
Burdine H. Gardner, Rheta's father, when reached over the telephone, readily consented to their marriage and said he and his wife would start for Chicago at once. So the wedding was set for the following day.
The marriage took place August 31, 1929 in Sycamore, Illinois, near Chicago. The newlyweds then went to the Wynekoop country home in Michigan for a 10-week honeymoon.
Did you notice anything peculiar? Hint: The dates on this page are the same as they were in the newspapers that published Chapter Five on December 16, 1933.
You're right. Unless you have access to a time machine, you cannot marry someone four months before you meet them. Obviously, Earle and Rheta met in December, 1926, not three years later. And since they met in 1926, the Wynekoop household wasn't saddened, not like it was in 1929 after the death of the head of that household, Frank Wynekoop, who thus was alive when his wife and two of their children went to Indianapolis. Why Frank Wynekoop remained at home — if, indeed he didn't go on the trip — wasn't explained.
Also, Burdine H. Gardner did not readily consent to his daughter's marriage. He did so under protest, knowing his headstrong daughter, who apparently did not get along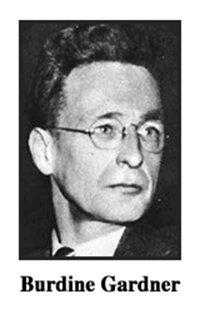 with her stepmother, would elope, if necessary, and not necessarily with Earle Wynekoop. Why she settled for him, only she could answer, but she could easily have found someone else. What seems most clear is she was eager to leave home and remain away even after her marriage soured within weeks.
As far as I know, Catherine Wynekoop also misled readers by implying Rheta's father attended the wedding. Burdine Gardner, who came across in newspapers as a cold fish, told reporters four years later he hadn't made the four-hour drive from Indianapolis. He maintained until the tragic end that his daughter had made a mistake, and said Rheta's death was "a murder of convenience" for Alice Wynekoop and her son.
So on Chapter Five of her series, Dr. Catherine Wynekoop did a poor job with the facts. And in Chapter Six, she concluded her series with a jab at law enforcement: "The most noble of women is being crucified upon the altar of police stupidity."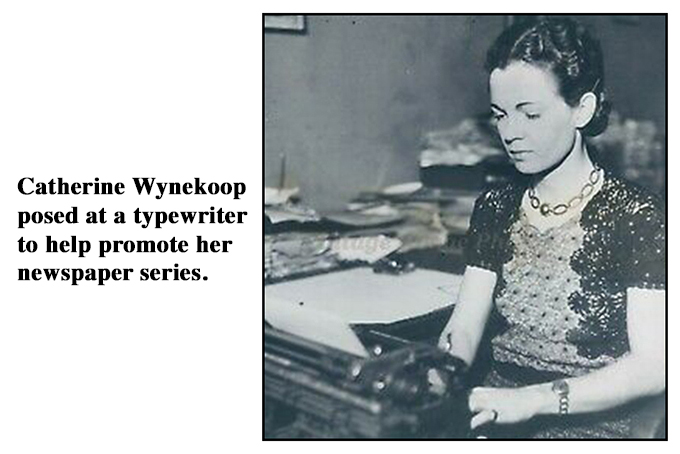 THREE DAYS after Rheta Wynekoop's murder, Elva Staron, one of Rheta friends in Garfield Heights, Ohio, made public a letter she'd received from Rheta before she was married. Keep in mind, Rheta was only 16 when she met Earle Wynekoop, who was 21 at the time. They were married a week before her 19th birthday. I'm guessing she was 17 at the time this letter was written, because Earle's father is mentioned in the present tense. Wrote Rheta:
"I'm looking for a man with a cook and everything that goes with it after a few years ... I have one spotted in Chicago ... He is a professional striver ... He has gone through Northwestern and is a sophomore in medical school there ... Good looking ... tall, dark ... wavy auburn hair, and, well, just right. His mother and father are doctors and his sister also is studying it. As to his brother, I don't know and care."
With that, she switched topics to another boy friend who suggested she enter Purdue because the school "needed some good-looking girls ... Break down! Criminently, dill pickles and cheese! Rats! I bawled a fellow out I correspond with up there for not telling me about their great need for women."
She then bragged about being voted the best-looking girl by the January class a her school, before mentioning her music, said to be the main interest in her life.
WHY NOT annul the marriage? That was the obvious question raised when the public found out about the strange marriage of Rheta Gardner and Earle Wynekoop that followed a courtship unusual even by the standards of 1929. That marriage was doomed from the start, and she should have gone back to Indianapolis during the 10-week honeymoon, which must have seemed 10 years long.
That's the impression you'd get from reading the story by Dr. Harry A. Hoffman, director of the criminal court behavior clinic, who separately interviewed Earle Wynekoop and his mother at a police station, but functioned more as a police investigator than a psychiatrist. There was no doctor-patient privilege. Dr. Hoffman told all in a newspaper article published November 27, 1933, and distributed by Universal Services and the Chicago Herald and Examiner.
Dr. Hoffman said Earle Wynekoop told him he was impressed with the educational and intellectual trend of the letters Rheta Gardner had written him, which seems strange in view of the comments he made about her after her death.
I have a feeling he was more charmed than impressed by her letters. Judging from the sample above — the letter circulated by her Ohio friend — Rheta Gardner wrote like she talked, and wrote whatever popped into her head. I expect her letters were a fast and funny read. (By the way, when I first read "criminently, dill pickles and cheese!, I didn't hear it correctly in my head because I didn't recognize the first word as one from my youth, a word I pronounce cry-minn-UTT-lee!)
Two days earlier, Dr. Hoffman had told reporters, "Earle implies the frigidity between them was due to her mental inferiority and physical weakness. The evidence would seem to indicate it was due to a revulsion on her part. That the mother felt profound sympathy for the boy in his unhappiness is unquestionable; that she might have developed resistance toward the girl for the same reason is probable."
He said Dr. Alice Wynekoop had "not an abnormal, but an accentuated affection for Earle. He was the ne'er-do-well and wayward boy on whom she lavished great affection by reason of his backwardness. Her other son, Walker Wynekoop, and her daughter were successful. He was not."
Backing up a paragraph, David J. Krajicek, in the New York Daily News (November 24, 2013) quoted Dr. Hoffman as saying of Rheta and Earle Wynekoop, "The evidence would seem to indicate it was due to a revulsion on her part against certain abnormal tendencies in him."

Krajicek added: "No one ever spelled out what those deviations were. But Burdine Gardner told cops Alice Wynekoop had for months been warning of his daughter's "precarious" health. He figured the murder was a kooky family job.

"I believe that they had been planning to get her out of the way for a long time and that this seemed a good time to do it," Gardner said. "I believe Dr. Wynekoop murdered her … for the convenience of her son."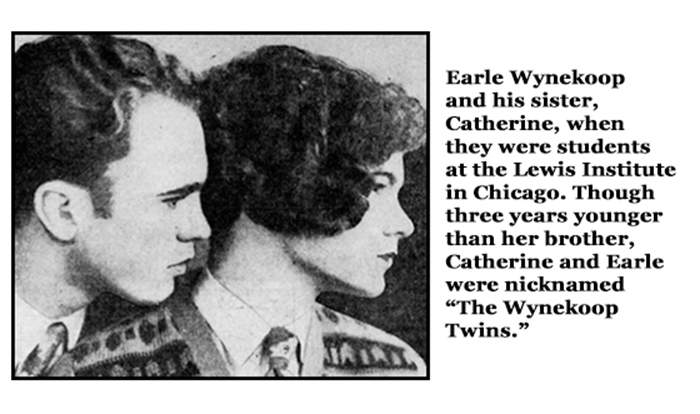 I saw no mention anywhere, so it probably didn't happen, but I would have thought some Hollywood studio would have tried to lure Catherine Wynekoop away from her medical career to try her hand at movies. It would have been a tasteless thing to do, but that has seldom been a factor in La-La Land. She and her ill-fated sister-in-law looked somewhat alike in profile, but judging from all the photos I've seen, including the one at the typewriter, Catherine Wynekoop truly had movie star looks from any angle, and a healthy-looking figure.
But, of course, I've only seen black-and-white photos of her. Merlin Moore Taylor, who wrote an article about the Wynekoop case for True Detective magazine (May, 1934) described Catherine as "a petite young woman with carroty-red hair." At the time of Rheta Wynekoop's murder, Dr. Catherine was 25-years old and the resident surgeon in the children's division of Cook County Hospital.
Like her sister-in-law, Catherine Wynekoop played the violin. Somewhere along the way, Catherine acquired a Stradivarius from a member of the Chicago Symphony who was willing to part with it to settle gambling debts. So she told a reporter for the Chicago Tribune (February 15, 1995). Funds from its sale, she said, would endow a professorship — in the name Catherine Lindsay Hobson — at the University of Chicago Medical School after her death.
She had been among the first class to admit women at Northwestern University Medical School in 1926.
"It was really rough," she recalled in that 1995 interview. "There were four of us among 120 men. They didn't want us. We stuck out and it was awful."
That's why, after two years, she transferred to the University of Chicago, which had more women medical students. She went into private practice in 1936, and continued to work until 1980, when she was 72 years old.
She lived to the age of 91, and credited her eating regimen. She told the Chicago Tribune reporter that her father, who made house calls, stopped at a West Side restaurant every night before returning home and ate pie a la mode. She had strong views on the role of diet in longevity, and said she favored carrots, broccoli, cauliflower and yogurt.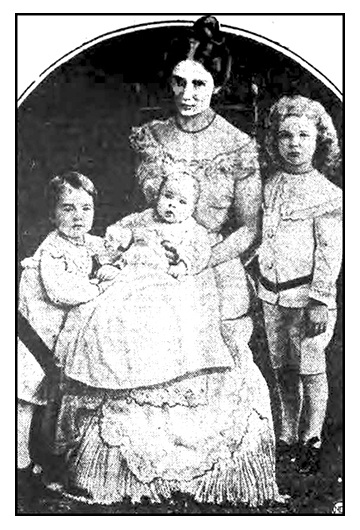 The impression Catherine was Earle's older sister was so strong it led Newspaper Enterprise Association (NEA) to make a couple of mistakes with this photo that was sent to its client newspapers a few days after the murder. The caption said the photo was taken in 1912, which was four years later than the actual date, and it identified the baby in Dr. Wynekoop's lap as Earle, but it was Catherine, who was born June 4, 1908.
It was an understandable error, sort of. Earle, born in 1905, has short hair, but is wearing a dress. And that long hair makes Walker, born in 1903, also look like a girl, or a young European prince. No wonder he played the prince in that "Cinderella" movie.
As a freshman at Kent State University, I was assigned to read "Language in Thought and Action" by Samuel Ichiye Hayakawa, and, frankly, didn't get much out of the book at the time. Since then, I've come to appreciate semantics and what I believe was the overall gist of the book, which was on my mind when I read Dr. Alice Wynekoop's reaction to what became key testimony during her trials. No one can be sure she had this reaction when she and Dr. Harry Hoffman exchanged the words, or whether this was a rationalization that occurred to her later, but if it's the former, she should have said something at the time.
On November 25, 1933, after she had confessed to police that she'd been responsible for the death of her daughter-in-law, Dr. Alice Lindsay Wynekoop signed that statement, as did the witnesses. One of those witnesses was police psychiatrist Harry A. Hoffman, who regarded the statement as a confession. He asked Dr. Wynekoop, "Why did you do it?"
"I did it to save the poor dear."
Those eight words would become the heart of the prosecution's case, though it didn't make much sense for Dr. Wynekoop to say, in essence, "I murdered my daughter-in-law to save her." Later, the accused tried to convince everyone that wasn't what she was saying.
On January 22, 1934, Universal Service and Chicago Herald and Examiner published a column reportedly dictated by a physically ailing Dr. Wynekoop to her son, Walker, because she wasn't up to the task of writing it herself, though she hastened to add, "My mental faculties, of course, are unimpaired."
The column continued:
"Inevitably, my thought returns to my fate. I cannot, I shall never forget those words of Dr. Harry Hoffman, the alienist, who testified yesterday.
" 'I asked her (meaning me) why she did it (meaning kill Rheta) and she answered, "to save the poor dear".'
"The tiny word 'it' is so huge, so pregnant with potentiality that I am staggered with the familiarity with which we make use of it.
"I was horrified at the interpretation, the non-interpretation — of the eminent behaviorist, that almost, my heart stopped — literally."
She went on to claimed that when Dr. Hoffman asked, "Why did you do it?", she interpreted the question differently than he did.
"I naturally thought 'it' had reference to the statement I had just made, and which the state calls my 'confession', while, evidently, the significance to him was the tragedy of Rheta's death."
I can't help but wonder how long it took Dr. Wynekoop to come up with that excuse. I'd estimate nine people out of ten — perhaps 99 out of 100 — would know exactly what Dr. Hoffman meant. It would be assumed she confessed because it was the truth. Police wanted a motive, but her response came across as a non-sequitur.
If her explanation is true, then the "poor dear" in question is not Rheta Wynekoop, but Dr. Wynekoop's son, Earle. That is, Dr. Wynekoop confessed in order to trump the obviously bogus confession her son had given the police earlier. And with that in mind, then you could well believe Dr. Hoffman and the prosecution were wrong in taking those eight words — "I did it to save the poor dear" — as a confession of murder.
On the other hand, there may have been a reason those words applied to the murder victim. Read on ...
Welcome to uncharted territory, a place "good" people and responsible journalists avoided back in the day.
As Dr. Wynekoop began her second trial in February, 1934, Real Detective magazine went to press with its April edition that contained a story — "Who Killed Rheta Wynekoop?" — by Harry Read, former city editor of the Chicago American. In it, Read revealed things that went unreported in every newspaper article I've read about the Wynekoop case. Perhaps there is no truth to these items, but considering the often hypocritical newspaper standards of the time, it's possible they were truths considered too ugly to print.
I'll start with something that wasn't made clear by most reporters — that as far as Rheta Wynekoop was concerned, her husband left Chicago on his trip to the Grand Canyon on November 12, but actually remained for a few days in Chicago. His mother was aware of this. She had even met Margaret McHale, and had been told by Earle that Miss McHale was his one true love.
That didn't stop him from spending his last night in Chicago with Priscilla Wittl. Earle also managed to have a letter delivered to his wife dated November 14, apparently mailed from Kansas City, perhaps by a young woman he knew there. (Stanley Young said that Earle had a date on the night they actually were in Kansas City.) In that phony letter to Rheta, he asked her to look after his mother while he was gone.
You may recall from earlier on this page, Dr. Wynekoop said she put a bullet in her daughter-in-law's back because she feared her reputation would suffer if it were revealed she'd accidentally given Rheta an overdose of chloroform. What Read says in his article indicates a clumsy handling of the chloroform, which, I think, was administered hastily simply to knock out Rheta to make it easier for Dr. Wynekoop to fire a fatal bullet in the young woman's back. The doctor had claimed, during police interrogation, that Rheta had inhaled chloroform that had been poured on a sponge. However, Read pointed out:

There was no sponge found in the office or in the house. There was a wet towel under Rheta's nose and mouth, and yet Dr. Wynekoop emphatically denies having touched a towel at any time. Burns on the cheek and about the mouth of the dead girl seem to indicate that chloroform was administered by being poured on a wet towel, a procedure which increases its volatility to a marked degree.

An additional fact uncovered by the police investigation was that there were two regular chloroform masks close at hand in the examination room, but neither had been used in anesthetizing the girl.
I believe Dr. Wynekoop went to the basement with the intention of murdering her daughter-in-law, then putting the blame on an intruder. She may have known Rheta would want to weigh herself after eating, and since the autopsy found food in the young woman's stomach, one might conclude Rheta ate before the dinner Dr. Wynekoop served Enid Hennessey shortly after six o'clock. The murder occurred around 5:30, perhaps several minutes earlier. Conclusion: Dr. Wynekoop prepared two dinners that evening, or maybe Rheta, that "delightful child" and "quiet little mouse" fixed up one of her "delicious little evenings suppers."
A telegram from Earle, sent from Peoria, Illinois, was delivered to the Wynekoop house at 4:45, but no one answered the doorbell, though the messenger noticed lights on inside the house on the first floor and in the basement. Perhaps that's when Rheta Wynekoop was being murdered.
It has been assumed — correctly, I believe — that Dr. Wynekoop committed murder to free her precious son from an unhappy marriage and to collect insurance money that wouldn't have been a lot, but would have paid off the mortgage on the house, with almost $9,000 to spare.
But let's go back to Harry Read's article for what may reveal another motive for Rheta Wynekoop's murder.
" ... it was late at night on November 21 that Dr. Thomas L. Dwyer, coroner's physician stood aghast as he made his examination of the dead girl's body.

"What he found has not, to the best of my knowledge, ever been disclosed in any newspaper or any other magazine.

"Rheta, Dr. Dwyer ascertained, was suffering from a disease which the victims always try to keep secret because of the shame connected with it! ... Rheta was a victim of this disease — yet an examination subsequently showed that her husband, Earle, was in perfect health!"
That could put a new spin on what Dr. Wynekoop meant by, "I did it to save the poor dear." If Rheta Wynekoop had a venereal disease, her mother-in-law might have justified her action by thinking the young woman's murder would save her family from humiliation and rumors. Dr. Wynekoop may have been an unusually bright woman, but I suspect her heightened concern for "Precious" affected her ability to think straight.
In the Real Detective article, author Read may have hinted at Rheta's lover when he wrote that she had continued taking violin lesson after marriage, and had become "quite friendly" with her instructor. Later, Read revealed the violin teacher had died in August, but he didn't mention the cause of death, the age or even the sex of the teacher.
Or Rheta could have been having an affair some a man she met on outings with Vera Duncan, a neighbor with whom she'd also become friendly. I suppose it's possible Rheta confided in the neighbor, who perhaps agreed to cover for her.
It was like a scene straight out of a Hollywood mystery when Dr. Wynekoop, at least 90 minutes after murdering Rheta, phoned Mrs. Duncan at 7 p.m. to ask if she'd seen the young woman, expressing concern that Rheta hadn't come home.
I believe Dr. Wynekoop was setting up an alibi, knowing full well where her daughter-in-law's body was. I think when the doctor went to the basement around 8:30, supposedly to fetch medicine for Enid Hennessey, it was really an excuse to "discover" the body and make Miss Hennessey a witness to that discovery. Turns out the teacher really believed in going to bed early, and, indeed, she tried to get to sleep before the undertaker and the police arrived.
Also, Dr. Wynekoop may have put off calling the police in order to delay the arrival of a medical examiner. Chloroform leaves the body quickly, and might have been missed if it hadn't been for examinations conducted later that evening by Virgil Gant, described as a chemist who worked for the coroner, and Dr. Charles Muehlberger. Both said they found a significant amount of chloroform in the body, though the amount of blood found would prove more significant.
Dr. Dwyer would report that when he performed an autopsy later, he found no chloroform, the same result that would be reported after Rheta Wynekoop's body was exhumed about two weeks after her murder. However, Dr. Dwyer said he knew chloroform had been used because of the burn marks on Rheta Wynekoop's cheeks and mouth.
Some who have written about the case thought it was significant for the defense that no chloroform was found after Rheta's body was exhumed a couple of weeks after it was buried. That would make more plausible Dr. Wynekoop's claim the young woman was killed by an intruder.
But this exhumation was done by the state to be sure the young woman had died from the gunshot because there was no indication a break-in had occurred. So the lack of chloroform actually worked against the defense, which could no longer use its back-up argument that Rheta Wynekoop was dead before the bullet was fired.
DIFFERENT folks were bothered by different things. What bothered Harry Read in his Real Detective article were the three empty shells in the murder weapon, a .32 caliber revolver. Why three empty shells when only one shot as fired?
In the May, 1934, issue of True Detective magazine, Merlin Moore Taylor, in his article, "The Inside Story of Chicago's Weird Wynekoop Mystery," said Earle Wynekoop explained the mystery of three exploded shells.
"When I had the pistol cleaned and oiled, I took mother out in the garage and tried to teach her how to shoot it," he said. "She got the hang of it, but she was awkward and to guard against accidental discharge as much as possible I put three loaded cartridges in the pistol with a discharged shell between each loaded one."
That's an interesting explanation, but still doesn't account for a gun that was found near the body with three discharged shells and two loaded cartridges after Dr. Wynekoop fired one shot into her daughter-in-law's back. The only slug found was the one in Rheta Wynekoop's body. So where were the other two?
Police had a theory, one formed after locating gunsmith Louis Shulkin, who told them that, on November 11, when Earle Wynekoop purchased a box of 50 cartridges for a .32 caliber pistol, he also asked for some blank cartridges, but did not want to purchase a whole box. Shulkin wouldn't break open a box for Wynekoop, who managed to get his hands on some blanks elsewhere, because several were found with the ammunition at the Wynekoop home.
The theory is Wynekoop put three loaded cartridges and two blanks into the gun, and when he gave his mother her shooting lesson in the garage, she fired the gun twice, using the blanks both times, which is why no .32 caliber slugs were found in the garage.
Earle didn't bother to put more ammunition into the gun, knowing even his mother needed only one bullet to kill a chloroformed Rheta, who was shot with the barrel of the gun only six inches from her back.
One of the many oddities of the case is a bullet slug was found in a bedroom wall, but it was from a .38 caliber handgun also owned by the Wynekoops. One story said this gun was found in a drawer in Dr. Wynekoop's office — the murder weapon was found near the body — while another story said Earle took the .38 with him on his trip west.
According to the Philadelphia Inquirer (November 24, 1933) and other newspapers, Dr. Alice Lindsay Wynekoop occasionally went to her office in her dressing gown and talked to her dead husband.
Several days after Earle supposedly left Chicago, his mother went to meet him without telling his wife. Dr. Wynekoop said he telephoned her to meet him at Sixty-seventh and Kedzie Streets, several miles from her home, and that she had gone there by street car and they sat for at least two hours in his car and talked.

"Why did he not come home and talk to you there?" she was asked, prompting one of her typically convoluted responses.
Earle was "a sensitive soul," she said, and he felt the neighbors made fun of him and regarded him as a misfit. His Western trip would prove they had misjudged him, but if they saw him that night, they would not believe car trouble was responsible for his return, and the poor young man would feel humiliated. But she was so overjoyed for the opportunity to see him, she gladly hopped on a street car to he meeting place of his choice.
Trivia tidbit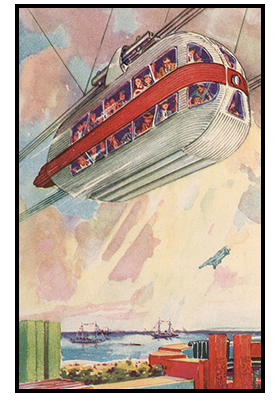 Some words about the Century of Progress World's Fair Sky Ride.
It was an aerial tramway that kept Earle Wynekoop employed for a few months and carried passengers about one-third of a mile from one tower to the next in rocket-shaped cars that traveled about 23 stories (218 feet) above a lagoon, and on a clear day afforded an incredible view that carried far beyond Chicago.
There were observation towers a the top of both towers that were 628 feet tall. There were 10 double-deck cars, each holding 36 passengers. In 1933, the cars carried 2,616,389 passengers. The fair resumed in 1934 — without Wynekoop, of course — but the novelty was wearing off, and the Sky Ride was taken down in 1935.
Today the attraction would be heavily criticized by the ultra judgmental wokesters because the Sky Ride towers were named Amos and Andy, and each car was named after a character in the "Amos 'n' Andy" radio show, which had originated on a Chicago station a few years before. That's why, in photos of the Sky Ride, you may see, printed on the side of its cars, Amos, Andy, Kingfish, Brother Crawford, Mrs. Crawford, Lightnin', Madame Queen, Ruby Taylor, Quindel or The Landlord (shown below).
Freeman Gosden and Charles Correll, who got their start as blackface comedians, did most of the voices on the broadcasts in what came to be viewed as the radio's most offensive show, though it was very popular. Black actors took over when the program moved to television, but the National Association for the Advancement of Colored People (NAACP) objected to the way the characters were portrayed.