I grew up in the Central New York village of Solvay which borders on Syracuse, geographical hub of New York and for years the hub of my universe. I loved Central New York, its geography, its seasons, even its long, hard winters, but most of all I loved its names – Camillus, Cazenovia, Chittenango, Marcellus and my favorite, Skaneateles (which we pronounced "Skinny Atlas").
Off to college at Kent State University I discovered Ohio's treasure trove – Chippewa on the Lake, Conneaut, Coshocton, Newcomerstown, Put-in-Bay, Gnadenhutten, Wapakoneta, etc. My family had a special fondness for Ashtabula. (When we passed signs for it along a highway we'd sing it out to the tune of "Oklahoma.")
It was a fondness for place names that started me reading state maps like they were best sellers. I discovered towns such as Choccolocco (Alabama), Hungry Horse (Montana), Deadhorse (Alaska), Marmaduke (Arkansas), Crested Butte (Colorado), What Cheer (Iowa), Waterproof (Louisiana), Good Thunder (Minnesota), Chain of Rocks (Missouri), Hoodoo (Tennessee), Zig Zag (Oregon) and Chickasawhatchee (Georgia).
Unique names stand out, but I also couldn't help but notice names so popular they were everywhere. What state doesn't have its very own Springfield? Or Arlington? Fayetteville?

So far I've found 22 Auburns, including one about 25 miles from my hometown. According to American Place Names (George R. Stewart, Oxford University Press, 1970), the original Auburn is a British village in Yorkshire that was praised as "Sweet Auburn, loveliest village of the plain" in Deserted Village, a poem by Oliver Goldsmith.
As you head westward across the United States you'll find many places that weren't named because they fit a particular description, but because settlers had carried with them a love of their previous home. California's Auburn is named for the Auburn in New York. So are several others.
Many American cities were named for places in England. We have countless cities and towns named for Liverpool, Birmingham, Cambridge, Chelsea, London and Warwick, for example.
Others towns borrowed from ancient Greece and Rome. This was especially true in Central New York, thanks to a 19th century surveyor who sprinkled names that sounded like characters in "I, Claudius" – Camillus, Fabius, Marcellus and Pompey.

Native Americans obviously inspired many place names, but their words were filtered through French, Spanish and English spellings. Often the original meaning was changed in the translation and spelling was always uncertain. Alabama has Opelika, from a Creek Indian word for "big swamp." The Seminole Indians used a similar word, but the Florida city that bears the name is spelled Opa Locka. And imagine if Iowa were still spelled the way a it first appeared on a map of the New World – Ouaouiatonon.
Even cities named from simple Spanish words are open to interpretation. Boca Raton, Florida, is a good example. Why boca ("mouth") and raton ("mouse")? American Place Names says the city's name means "hidden rock that frets cables," like a mouse gnawing, which may be a description of troubles encountered by ships that approached shore near the present site of the city. In any event, Boca Raton sounds chi-chi and upscale; Mouse's Mouth certainly doesn't.

Railroad officials were responsible for many place names, particularly in the western half of the country. Fargo (North Dakota) was named for W.G. Fargo, director of the Northern Pacific Railway (and also founder of Wells-Fargo Express); Orem (Utah) for W.C. Orem, who built an electric railroad in the city, and Billings (Montana) for Frederick Billings, president of Northern Pacific Railway which founded the town. Annelly (Kansas) was named by a railroad official for his wife Ann and their daughter Ellie. And then there's Colo (Iowa), named after a railroad official's dog, a fitting memorial since the animal ran onto the tracks and was killed by a train.
As tiny post offices popped up all over the United States, there was a need to give a name to each village that had one. These names had to be submitted to the United States Post Office in Washington, D.C., for approval. Sometimes approval didn't come easily. The Post Office rejected several names for a town in Kentucky before it gave the okay to Chevrolet, which turned out to be the make of the mail carrier's car. Cuzzie (West Virginia) was named for the town's first postmistress, Mrs. Cuzzie Smith. Durwood (Oklahoma) was supposed to be Deerwood, but an official at the Post Office Department misread the application, certainly an argument for neat handwriting. An Idaho postmaster submitted Eagle, but was told the state already had one. The postmaster dropped the first letter and substituted another. Weeks later Sagle, Idaho, was officially born.

And then there's tiny Retsof (New York), south of Rochester, near Geneseo. Retsof was home to a huge and successful salt mine that unfortunately closed in the early 1990s because of underground flooding. The mine was started in the 1880s by William Foster Jr. who declined when people suggested his company and the town where it was located be named in his honor.
Fine, said the people, who turned Foster's name around and created Retsof. Likewise, Retsil, Washington, is a reverse spelling of Lister, as in Gov. Ernest Lister. Several other American places were named in similar fashion.
Millions of Americans were witness to an unusual name change in the 1950s when residents of Hot Springs, New Mexico, voted to become Truth or Consequences, in honor of a popular radio show that broadcast the event as a publicity stunt. The program is long gone, but the city still bears its name.
Some memorable names don't appear on maps. As a teenager I came upon a place called Rattlesnake Gulch, which I assumed was a joke. Only later did I learn there really are eastern rattlesnakes. (Had I had known earlier I wouldn't have taken the road through Rattlesnake Gulch when I drove from Solvay to Oneida Lake.)
I've yet to find any map that indicates its location, but if you drive through the Cicero Swamp on Route 298 you'll see a road sign announcing the existence of Rattlesnake Gulch.

It's impossible to account for most of the information because sources borrow from each other. The granddaddy of them all, in my case, is American Place Names by George Stewart, who did his research many years ago. For this reason his books may be the most reliable sources. (He's done a bunch of them.)
Also invaluable is one of my favorite websites, www.epodunk.com, which offers brief histories on thousands of towns.
And I recommend an interesting book called "A Place Called Peculiar" (Miriam Webster) by Frank K. Gallant.
I've spent much time online googling away on Google.com, searching for place-name information.
There seems to be a place-name book for every state, but their authors and publishers — most of them, anyway — are understandably reluctant to make their well-researched information available for nothing.
There are exceptions. My favorites are websites in Georgia, Oregon, Vermont and Washington, though I was disappointed when I read the long list of Vermont place names. Tommy Squatter was missing, leading me to wonder if it had been a figment of my imagination.
But, no, it exists on the pages of American Place Names.
T.B. or not T.B.?
Even being on a map doesn't necessarily prove a town's existence. In Maryland there's a place called T. B., named from initials carved into a tree or a stone many, many years ago by a man named Thomas Blandford. Several road atlases show T.B. where U. S. Route 301 crosses state highway 373. I've driven through that intersection several times, but I've never found T.B.
—

JACK MAJOR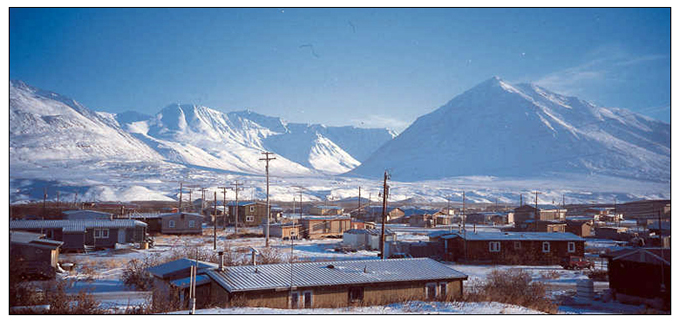 Place name explanations: A top ten
1. Anaktuvuk, Alaska
Sometimes residents are better off not knowing what their town name means. Anaktuvuk Pass (above) comes from an Eskimo term translated as "dung everywhere." The town is located near an area where migrating caribou gathered.
2. Pike's Peak, Indiana

This one I owe to Frank K. Gallant's A Place Called Peculiar. Seems a fellow named James Ward wanted to move his family out west. He put 'em all in a wagon, attached a sign (Pikes Peak or Bust) and made a very public exit from his hometown – only to have his whole family get homesick in a matter of hours. They returned, Ward opened a store, and for years endured the sarcasm of people who announced they were going to Pikes Peak when they went to Ward's store. A village grew up around the store and the village name was a no-brainer.
3. Hoquiam, Washington

Driftwood flows down the Chehalis River and piles up at the mouth in Grays Harbor. A tribe of Native Americans known as the Ho-qui-umpts pictured the harbor as a giant mouth that was hoquiam, an Americanized spelling of an expression interpreted as "hungry for wood," a terrific description.
4. Wewanta,
West Virginia

This town doesn't show up on my road maps, but I found reference to it online, including the West Virginia community listings on epodunk.com. The name looks Native American, but it's really a plea from town residents who wrote to Washington saying, "We want a post office," and joined those first three words to form the town name.
5. Chagrin Falls, Ohio


I'd really like to believe this story, but like many others that have been passed down, it is suspect. Anyway, Moses Cleaveland was leading a party in search of the Cuyahoga River, which empties into Lake Erie in the city which later took Cleaveland's name (and then dropped the first A so it would fit on a newspaper masthead). Anyway, Cleaveland was sure he had found the river, only to be later embarrassed – chagrined, even – that he had made a mistake. This smaller river and its falls then became known as the Chagrin.
6. Ella, Oregon

A group met at the home of Frank Oviatt and decided it was the best location for the town's post office. Next on the agenda: selecting a town name. Oviatt's young daughter, Ella, was playing in her father's blacksmith shop. She hurt herself and began to cry. One of the men said they'd name the post office after her if she stopped crying. She did.
7. Nag's Head, North Carolina

The story is that pirates – land pirates, that is – fastened lanterns to a horse's neck and walked the horse on the beach on stormy nights. The horse's gait made the light resemble that of a ship, the idea being to lure other vessels toward shore. Fact or fiction? Who knows? But it's better than being named for an incident in The Godfather.
8. Nuyaka, Oklahoma

A delegation of Creek Indians went to New York City in 1790 at the invitation of President Washington for the signing of a treaty. Upon their return home – then Alabama – the Creeks put into their language Nuyaka, their name for New York. Many years later a tiny community in Oklahoma borrowed that name. Today some might consider it an example of reverse confusion. White pioneers have littered the landscape with Americanized spellings of Indian words. Here the Creeks may have created a word to fit the New York City accent ("Yo, I'm a Nu Yaka!")
9. Ecru, Mississippi

Railroads and railroad officials figured in the naming of countless towns across the United States, but this name's railroad connection is unique: Ecru was the color of the paint used on the depot. As we all know (don't we?), ecru is a light brown, beige-like color.
10. Yale, Oklahoma

Likewise, post offices determined many place names. Often towns took their names from the postmaster (or postmistress), or the names of mates, children, other relatives or friends, sometimes in combination (example: Arletta, Washington. named for Arla and Letty Powell, daughters of the postmaster). Yale, however, was named for the make of lock on the door of the post office building.
– JACK MAJOR
Places with tongue-tickling names
Apalachicola


Florida

Indian expression meaning "people on the other side." Town sits on Apalachicola Bay, off the Gulf of Mexico.

Azusa


California

Could be a Native American term meaning "hill to east," or a Gabrielino Indians word for "skunk," but the best bet is it came from a local store that boasted it sold everything from A to Z in the USA.
Chattahoochee


Georgia

Muskogean term for "rocks marked."
Cheektowaga


New York

This Buffalo suburb gets its name from a Native American term translated as "land of the crab apple."
Chickasawhatchee


Georgia

F

rom the Hichiti tribe of Chickasaw Indians, who had a council house along the shore of what became known as Chickasawhatchee Creek.

Chittenango




New York

Americanized spelling of a native American term translated as "where waters divide," which happens a lot along Chittenango Creek, one of the most crooked streams in the world. Three's also Chittenango Falls, located near Syracuse.

Chugwater




Wyoming

Indian term translated as "water at the place where the buffalo chug." First there was Chug Springs, then Chugwater Creek, then tiny Chugwater, about 50 miles north of Cheyenne.

Clatskanie




Oregon

From a Native American word, Tlats-kani, used to designate an area south of the Columbia River.

Delaware Water Gap




Pennsylvania

Don't know why, but I've always liked this name, which is self-explanatory – for the gap through which the Delaware River flows between Mount Minsi and Mount Tammany at the Pennsylvania-New Jersey border.

Gnadenhutten




Ohio

Town between Zanesville and Canton got its name from the German "tabernacle of grace."

Gnaw Bone




Indiana

According to

"A Place Called Peculiar," a fellow named Jim Schrougham took a piece of broken sawmill equipment to a nearby town for repairs. When he picked up this equipment, and later when he returned it, the sawmill proprietor, John Ayers, was gnawing on a bone. Schrougham jokingly suggested the town ought to be called Gnaw Bone. The name caught on.

Hackensack




New Jersey

Named for a native tribe and village Dutch settlers spelled Achensachys and/or Achkencheschakey. The city is across the Hudson River from New York City.

Ho ho kus




New Jersey

F

rom the language of the Chihohokies Indians and the shortening of mehohokus, meaning "red cedar."

Irondequoit




New York

This Rochester suburb sits on the shores of Irondequoit Bay and Lake Ontario, and was named for the bay, an example of the redundancy that often resulted when Native American words were used for place names. Irondequoit means "bay," so what we've got is Bay Bay, evoking memories of the way Mickey and Sylvia sang the word "baby" in their classic hit, "Love is Strange." Well, no stranger than the names of the places on this list.

Itte Bena




Mississippi

From the Choctaw language, bina (camp) and ita (together).

Kalamazoo




Michigan

This city, well known and celebrated in song ("I've Got a Gal in Kalamazoo"), is named for the nearby Kalamazoo River. It's an Americanized spelling of a native term pronounced Ke-Ken-a-ma-zoo, variously translated as "boiling water," "otter tail" and "reflected river."

Knob Noster




Missouri

This village on US 50 about 70 miles east of Kansas City was named for two hills in the prairie, which, to me, at least, may explain the Knob. But what the heck is a Noster?

Lackawanna




New York

Buffalo suburb named for a Native American term meaning "fork stream."

Loachapoka




Alabama

English spelling of a Native American term translated as "turtle killing place."

Mariposa




California

Spanish word for "butterfly."

Meddybemps




Maine

Imagine someone with a head cold saying "many bumps." It's actually from an Algonquian phrase translated as "plenty of alewives," but, then, Darmiscotta (Maine) was translated the same way.

Minnetonka




Minnesota

A small toy truck? No, the creation of Alexander Ramsey, first governor of the Minnesota territory, who took it upon himself to combine two Dakota words, minne (water) and tonka (big, great) to name the lake, which provided a name for the city.

Nankipoo




Tennessee

A town founder loved the Gilbert and Sullivan operetta, "The Mikado," and its key characters, Nanki-poo. Somehow he convinced other residents this was a good name for the town, though without the hyphen.

Ochlockonee




Georgia

From a Muskogean term meaning "yellow water," perhaps a better fit for the New Jersey place name three spaces down.

Osawatomie




Kansas

Names for its location when Pottawatomie Creek flows into the Osage River. Osawatomie is famous for the raid by abolitionist John Brown, who burned the town.

Oxnard




California

The name cries out for an interesting story, perhaps about a nerdy ox, but, alas, the town was named for Henry T. Oxnard, owner of the American Beet Sugar Company.

Piscataway




New Jersey

From an Algonquian term meaning "fork river."

Punxsutawney




Pennsylvania

No list would be complete without the town where "Groundhog Day" was filmed; also the home of Punxsutawney Phil, the groundhog who annually tells us how long winter will continue. Actually, the name comes from an Algonquian word for "sand fly" or "gnat," because early settlers were plagued by swarms of insects.

Ponchatoula




Louisiana

From a Choctaw term meaning "hair to hang," a nice way to describe Spanish moss that hangs from trees in the area (and from trees throughout the South).

Rabbit Hash




Kentucky

Named for a frequent meal in an area where high water along the Ohio River forced rabbits out of their habitat and into the frying pans of hungry settlers.

Schenectady




New York

The Iroquois called it "the place of the pines," while the Dutch named it Scheaenhedstede, the -stede meaning "town." (The Dutch version also produces the sound of a person allergic to all those pines.)

Shickshinny




Pennsylvania

This town on the Susquehanna River comes from an Indian term for "five mountains."

Skaneateles




New York

"You say toe-MAY-toe, I say toe-MAH-toe." Nearby residents say "skinny-AT-lus," but it's more correct to say "SKAN-ee-at-ell-is." From an Iroquois word, skan-e-a-dice, meaning "long lake." The village was named for the long lake it borders. A lovely place, and very important in the American history of our Major family.

Skullbuster




Kentucky

Chances are you won't see this on a map; the Scott County community never had its own post office. The story goes that sometime in the mid-1800s, a tall man entered a log structure and hit his head on the cap of the door. A friend had warned him to duck, saying he could bust his skull. He didn't, though he did provide the community with a name.

Smackover




Arkansas

There is dispute over how this place was named. I lean toward the version that says the town was settled by French trappers who named the place Sumac-Couvert (soo-MACK-coo-VAIR), which means "covered with sumac bushes." Later settlers, most of them English, changed the spelling to match their pronunciation.

Sopchoppy




Florida

From a Native American term translated as "red oak."

Sylacauga




Alabama

Not an explanation that would attract tourists. The name comes from a Muskogean term meaning "buzzard roost."

Tommy Squatter




Vermont



This place may no longer exist. The name reportedly was taken from temi-isquattan, an English spelling of an Algonquian term meaning "deep water here."

Toomsuba




Mississippi

Chocktaw word for "pigeon hawk" or "blue darter."

Tucumcari




New Mexico

The name of this small city near Interstate 40 in eastern New Mexico is from a Comanche word for "to lie in wait," as in an ambush. The site was frequented by war parties.

Tuscaloosa




Alabama

Named for a Choctaw chief. The word also means "warrior black," and the town sits on the Black Warrior River.

Walla Walla




Washington

Fondly remembered from the Pogo comic strip as part of Walt Kelly's lyrics to his "Deck the Halls" spoof ("Deck us all with Boston Charlie, Walla Walla Wash. and Kalamazoo ... ). It is an Indian tribal name that appears in the Lewis and Clark journals as Wollah Wollah and Wallow Wallow. The name is translated as "little swift river." There's also a Walla Walla in Oregon.

Wapakoneta




Ohio

Names for a Shawnee chief.

Weeki Wachee




Florida

Americanized spelling of a Muskogean term for "little spring."

Winnemucca
Nevada

Names for a local Native American chief.
Thanks to "American Place Names" by George Stewart, and
"A Place Called Peculiar," by Frank K. Gallant