Mount Vernon, (NY) Daily Argus, November 22, 1933
CHICAGO (UP) — Police announced today they believed beautiful Mrs. Rheta Gardner Wynekoop, 23, was murdered either by a drug fiend or by someone with an intimate knowledge of the habits of the Wynekoop family.
The brutal slaying of the titian-haired young woman, whose almost nude body was found on the private operating table of a prominent woman physician, plunged the city's best criminologists into a mass of conflicting clues.
The young woman was the daughter-in-law of Dr. Alice Lindsay Wynekoop, one-time University of Illinois faculty member.
Murder of a young, prominent and talented woman will always be newsworthy, especially when the press also describes the victim as "beautiful."

But what made the death of Mrs. Rheta Gardner Wynekoop so unusually interesting was the standing, the circumstances and the age of the killer, someone who'd change her version of the murder so many times she made everyone around her dizzy.

Initial reports treated the crime as though police regarded it as a puzzle that might never be solved, but a careful reading of the facts in the case pointed to an obvious prime suspect, especially to those who sensed there was something unhealthy about a 62-year-old woman's love for her son. However, the real motive for the murder came as a surprise to nearly everyone.

Many accounts of this murder have been written in the 80-plus years since it occurred. Some of those accounts attempt to raise doubts that justice was served. Perhaps not ... but if there was some injustice, it doesn't involve the person convicted of the crime. Despite the countless denials she made after her confession, Dr. Alice Lindsay Wynekoop was the murderer of her daughter-in-law. That's the obvious certainty in the whole clumsy, complicated and tragic case.

As for her son, Earle Wynekoop, husband of the murder victim, one can only hope he went on to accomplish something in his life, which continued until 2000, because he pretty much wasted his first 30 years and would have been a much more deserving target of the bullet that killed his wife.
Syracuse Journal, November 22, 1933
CHICAGO (INS) — A deliberate slayer, who induced or forced his victim to disrobe, then lie, face down, upon a physician's operating table to receive one fatal bullet through the back, was sought today in the mysterious murder of pretty 23-year-old Mrs. Rheta Gardner Wynekoop.
Through a maze of mysterious circumstances and developments, police delved into the events which preceded and followed the killing yesterday of the red-haired young wife of Earl Wynekoop in the operating room of the 16-room mansion of his mother, Dr. Alice Lindsay Wynekoop, prominent physician and civic leader.
Major developments in the murder case, termed by police more baffling than the "best of thrillers," were:
— Discovery of $6 which Dr. Wynekoop had reported stolen from her desk. The money was found in a drawer of the desk and eliminates the burglary angle.
— Finding of scratches from human fingernails on the face of the slain girl. The scratches were found by Police Lieutenant Stewart P. Moss, who said they indicated the victim had struggled for her life before she was fatally shot in the back. The scratches also indicated, Moss said, that a hand had been placed over the young wife's mouth to keep her from screaming.
Police were unable to locate Earle Wynekoop, the victim's husband. Reports from Peoria, Illinois, where he was yesterday, indicated he might have gone to Kansas City instead of coming here. He had been west on a photographic expedition.
Another mystery angle in the investigation was an ardent note found in the bedroom of the mother-in-law. Police said it was written in a feminine hand. It was merely addressed "Precious" and was unsigned.
The body was discovered about 8:30 by Dr. Wynekoop, who said she became alarmed over the absence of her daughter-in-law from the dinner table and from her room.
The body had been carefully laid out, as though for examination on the operating table.
Earle Wynekoop, husband of the slain girl, was happily married, according to police. He left Chicago November 13 with a man friend for the Grand Canyon of Arizona, where he planned a photographic expedition. He had communicated with his wife almost every day.
Earle Wynekoop showed up at home on Thursday, two days after the murder. He was taken to a police station for questioning.

Within a few hours his mother, Dr. Alice Lindsay Wynekoop confessed to the crime.

"I knew that Rheta was anemic, sickly and tubercular. I gave her some chloroform and then took her down to the basement and shot her. I did it about 5 o'clock in the afternoon, We were alone at the time."

So much for the story she had told police earlier about being out of the house all afternoon, returning at 6 p.m., and discovering her daughter-in-law at 8:30p.m. That original story claimed Dr. Wynekoop had dinner with Enid Henessey, 53, a teacher who lived in the over-sized Wynekoop home. (Miss Henessey refuted everything Dr. Wynekoop said about the time they supposedly spent together early Tuesday evening.)

A day later it was reported that Earle Wynekoop had shown his mother how to use the revolver which killed his wife. This raised suspicion that his mother had killed Rheta Wynekoop at her son's request.
Syracuse American, November 26, 1933
CHICAGO (INS) — Mystery which cloaks the slaying of Rheta Gardner Wynekoop on an operating table deepened last night when her husband, Earle, formally was charged with the murder.
Thus he was linked as a defendant in one of Chicago's strangest homicides with his gray-haired mother, Dr. Alice Lindsay Wynekoop, whom a coroner's jury yesterday ordered held to the grand jury on a murder charge.
Over this pair — one a gay Lothario, the other a staid, aristocratic physician — the grim shadow of the electric chair appeared to hover last night.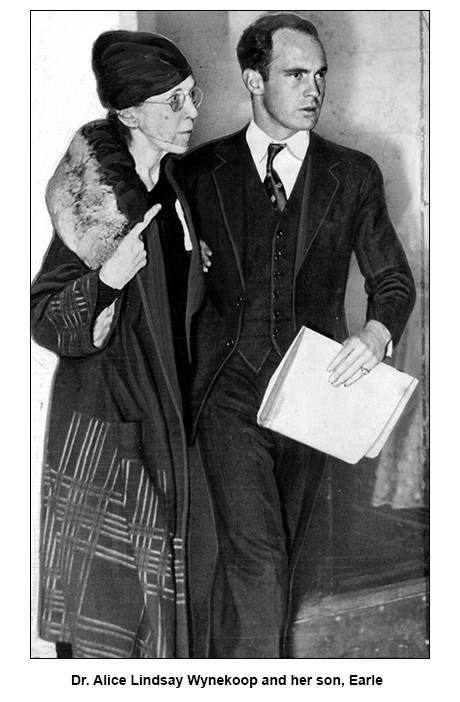 There's something about photographs from the first half of the 20th century that usually makes the people in them appear older than they really were. Maybe it had to do more with fashion than photography, but something about the images adds ten years or more to the faces.

Today the average 62-year-old woman would look much younger than Dr. Alice Lindsay Wynekoop appears in every photo taken as a result of the murder she committed. And while her son, the one she called "Precious," was no angel — there were several women who considered themselves his fiancée even before his wife was killed — it was Dr. Wynekoop who had the motive for murder.

That motive was money. Dr. Wynekoop was running out of it, probably by supporting her son's playboy lifestyle. Earle Wynekoop and his wife did not have a happy marriage. They hardly qualified as roommates. Big news in Chicago in 1933 was the "Century of Progress" world's fair. Earle Wynekoop must have spent every day at the fair, for it was said he had little black book containing the names of about 50 women he had met at the fair and bedded soon thereafter.

And if Earle's wife had lost the engagement ring he had given her in 1929, well, all she had to do was contact a woman named Margaret McHale, who worked at the fair and said Earle had given it to her. Or one exactly like it.

So a couple of weeks before the murder, Dr. Wynekoop took out two insurance policies on the life of her daughter-in-law, policies that would pay double if the young woman were murdered.

A mistrial ended the state's first attempt to convict Dr. Wynekoop, but she was convicted the second time around and sentenced to a prison term of 25 years.
Buffalo Courier-Express, March 30, 1934
DWIGHT, Illinois (AP) — The long missing Earle Wynekoop reached the door of the Illinois women's reformatory today just in time to bid an affectionate greeting and farewell to his mother, Mrs. Alice Wynekoop, as she entered upon a 25-year prison term.
It was a startling epilogue of the tragedy — the murder of Earle's wife, Rheta, in his mother's surgical office, and the sensation-packed trial of the mother while her son remained hidden.
Shabbily dressed, his hair disheveled and untrimmed, the son for whose love Dr. Wynekoop was charged by the state with having taken the life of her daughter-in-law, appeared in the crowd at the prison entrance about three minutes before his mother's arrival.
The limbs of the 63-year-old prisoner, who was being helped into the prison ante-room, failed her completely at the sight of her son. She fell into his embrace. For several moments mother and son clung to each other in silence.
Earle helped his mother into a chair and, bending low, he whispered rapidly for several minutes. He appeared to be trying to win her assent to something, but the mother shook her head vehemently. Unruly wisps of iron gray hair straggled out from beneath her slightly awry black felt hat.
Then attendants helped her to her feet and she was half-carried away for the routine incident to her new and probably her last home.
His eyes bloodshot and his hands trembling Earle joined his sister and brother, Dr. Catherine and Walker, who had driven from the county jail to the reformatory behind the sedan carrying their mother. The three returned together to Chicago.
It was the first time Earle and his mother had met since their joint questioning at the Fillmore police station in Chicago immediately after the murder last November 21.
Earle refused to tell questioners of his whereabouts during the two trials of his mother, or of his recent activities.
"I just dropped out of the sky," he parried. "I'm not going to stay in Chicago. I have a job on the outside and I am going back to it. If I tell you where it is, it will endanger my career."
Prison attendants said that for two weeks Dr. Wynekoop will go through the customary quarantine routine. She will be examined physically, mentally and vocationally. Light work, such as sewing, may be found for her, they said.
It was disclosed that Dr. Wynekoop has requested that her three grandchildren, the children of Walker, never be brought to visit her in her prison surroundings.
Earle Wynekoop did not attend either of his mother's trials. His older brother, Walker, offered this explanation, which simply did not ring true:

"I suppose everyone is wondering why Earle isn't there. We have our reasons, never fear.

"He wants to come. He wants to be with mother during this ordeal. We practically have to tie him down to keep him away. But it is the best thing. They might try to force him to appear as a state's witness. Perhaps, when it is too late for that, he will attend."

More likely Dr. Wynekoop's attorney believed Earle's courtroom presence would be an unpleasant and damaging distraction.

That fall Earle Wynekoop was in the news again:
The Troy Times, October 19, 1934
CHICAGO (AP) — Earle Wynekoop, whose wife was slain almost a year ago in an operating table murder case, was reported by Chicago newspapers today to be near death from automobile accident injuries in a Denver, Colorado, hospital.
Young Wynekoop was said to have suffered a fractured skull and a triple fracture of his back when his automobile was forced off a cliff by a car approaching from the opposite direction as Wynekoop rounded a turn.
He recovered, eventually moved to Los Angeles, where he died in 2000, at the age of 96.

Dr. Wynekoop served 13 years and nine months of her prison sentence, then was released, not because of good behavior, but because of her health. At 76, she not only entered a Chicago nursing home but a Wynekoop version of the witness protection program. Seems some members of the family had taken their mother's maiden name — Lindsay — as their last name. For instance, Earle, whose real full name was James Earle Wynekoop, was now known as James Lindsay.

Thus it was in 1955, that an 84-year-old nursing home resident known as Dr. Alice Lois Lindsay passed away unnoticed by the public, and was cremated. It wasn't until a year later that Chicago newspapers discovered Dr. Lindsay actually was Dr. Alice L. Wynekoop.

My favorite line from all the coverage I read of the Wynekoop case was spoken by the doctor after a pre-trial relapse sent her to the county jail infirmary. She was erratic, changing her story on a daily basis, and on November 29 declared:

"I am innocent. I had nothing to do with the murder of my daughter-in-law. Rheta was the victim of a moron."

And I really believe she was talking about herself; at least, the person she was when she chloroformed Rheta Gardner Wynekoop, stripped off her clothes and fired one shot into the young woman's back.