1. Alexander Binns (19??-1973) m. Helen Smith (19??-1986)
Diane Binns m. Daniel Dougherty
2. Joseph Binns (1915-1979) m. Leona Waterman (1914-2009). He was a foreman at Camillus Cutlery Company. She was the daughter of Frederick and Effie Daniels Waterman; graduated from Solvay High School in 1932, and was employed for 25 years at Crouse-Hinds as a cost accountant, retiring in 1980.
Kathleen Ann Binns

m.

John Michael DePasquale
Dean E. Binns m. Patricia??
Deanna Elizabeth Binns

m.

Jim Ryan

;


2nd husband:

Cory David Nicolette
Jane Binns m. Richard James Flaherty
3. William Binns (1923-2008) m. Virginia Townsend. Home: Scipio Center, NY. William Binns retired as the plant superintendent of Laribee Wire in Jordan, NY. Virginia also was employed there.
Phyllis Binns m. Timothy Costello, Mason, Ohio
Julia Costello

m.

Lee Fox
Sharon Binns m. Wayne Pettit, Scipio Center, NY
Tammy Pettit

m.

Darrell David
Jody Wayne Pettit

m.

Melissa Holmes
Donna Binns m. Larry Perkins, Lansing, NY
Michael Binns m. Deborah Decker. Divorced, she resides in Weedsport, NY; he's in Indiana.
Wendy Binns

m.

Charles Bronson
Michael Binns Jr.

m.

Diana ??
Lisa Binns

m.

Philip Eipp,

Weedsport, NY
Mark Binns m. Penny Marie Walters, Nadine ?? (second wife)
John Binns m. Rebecca Mayers, Kings Ferry, NY
Alyssa Binns

m.

Jody Gunderson
David Binns

m.

Andrea Guy
Catherine Binns

m.

Chris Hynes
Donald Binns m. Cathy Tyrell, Genoa, NY
Christopher Binns

m.

Jody Stover
Bradley Binns m. Darlene Rafferty Aurora, NY
Carrie Rafferty Binns

m.

Dean Whitten
4. Marguerite Binns (19??-1982) m. Francis Nolan. They lived in Holiday, FL
5. Helen Binns (19??-1986) m. Roger T. Coyne. Second husband: Samuel Guarino. Roger Coyne ran two restaurants, the last one was called Coyne's Ranch House in Dresden, NY. He also was a Yates County deputy sheriff and a member of the Dresden Fire Department.
Shirley Anne Coyne m. Henry William Morgan, Auburn, NY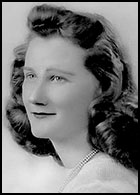 THROOP, NY — Shirley Anne Morgan died peacefully Feb. 29, 2020, with her loving family by her side.
She was born May 31, 1931, Shirley Anne Coyne and was happily married to Henry "Dula" Morgan for 71 years. Residing in the town of Throop for many years in the home they built together. Shirley's quiet strength and love of family was an inspiration to all who knew her! She will be greatly missed by the family who loved and adored her.
Shirley was predeceased by her parents, Roger Coyne and Helen Guarino; a sister, Sister Margaret Coyne; and great-grandson, Trevor Gillmore.
Shirley is survived by her seven children: David (Joanne), Donald (Deborah), Kathy (Steve) Gillmore, Patricia Hinman (Greg Martin), Darlene (Frank) Kimak, Dennis (Jodie), and Michele Morgan.
By 16 grandchildren: Rebecca, David, Cheryl, Dustin, Douglas, Shannon, Patrick, Joshua, Jeremy, Jason, Alex, Nick, Morgan, Mitchell, Maverick, and Marcus.
By 21 great-grandchildren: Bethane, Hunter, and Ellyson, Drew, Lucy, and Charley, Fiona and Stephen, Jack and Henry, Sean and Noah, Julia and William, Ivy and Isla, Kayleigh, Mae and Riley, Melody and Axel.
Obituary from auburnpub.com
David William Morgan

m.

Joanne Reyer.

David Morgan is a judge for the town of Conquest, NY.
Donald Henry Morgan

m.

Barbara Nova

(divorced); m.

Debra Andrews
Kathy Anne Morgan

m.

Stephen R. Gillmore
Patricia Jo Morgan

m.

Jeffrey Allen Hinman

(divorced)
Darlene Margaret Morgan

m.

Frank Kimak
Dennis Roger Morgan

m.

Jodie Dudden
Michele Renee Morgan

m.

Paul Janes

(divorced)
Margaret Katherine Coyne
Sister Margaret died in 2012. She was 79 years old. She was born in Elbridge, NY, to Roger and Helen Binns Coyne. She was a Sister of St. Francis for 62 years. Sister received a bachelor's degree in elementary education from the College of St. Rose in Albany, a master's degree in special education from Geneseo College and certification in administration from Syracuse University.

Sister taught in schools in New York and New Jersey. She was principal at St. Joseph's School in Liverpool and for 25 years was principal at St. Anthony's School in Long Beach, California. Upon leaving the area of education, Sister worked as a finance officer at Jolenta Convent.

from obituary on auburnpub.com



6. Katherine Binns m. Carl Stock. In 1979 they lived in Auburn, NY
7. Grace Binns (19??-1986) m. William Wingerter (1910-1992) of Camillus, NY
Peter Wingerter of Camillus
8. Robert F. Binns (1925-1978). He was employed by the State Department of Transportation; earlier had been superintendent at Cowles Chemical Company in Skaneateles Falls. He served in the Navy during World War II.
Robert R. Binns Jr. of Mottville
James E. Binns (1957-1987) of Weedsport. He owned Binns Construction Company.
Barbara A. Binns (1946-2009) m. David C. Knoski (1943-2008). Barbara Binns Knosky died December 27, 2009. She lived in Skaneateles and had been a hairdresser for more than 40 years. David Knosky was born in Auburn, worked for Stott & Davis Motor Express and retired from Howard's Trucking Company.
Louise Knoski
of Versailles, Kentucky
Beverly Jean Binns m. ?? Feeney
9. Geraldine E. Jean" Binns (1927-2007) m. William Wall. Home: Skaneateles.
Elizabeth Wall m. Carl DeFurio (In 2000 they lived in Naples, FL)
Lori Ann DeFurio
m.
Dennis Kenneth Schimpf
John W. Wall of Skaneateles