2. Anne McLaughlin (1877-1962)
On April 30, 1907 in Skaneateles, NY, Annie McLaughlin married Mickey Major, a well-known Auburn area athlete who for awhile played minor league baseball. They later resided in Syracuse. (McLaughlin records refer to her as Anna.)
Skaneateles Press, July 6, 1962
Mrs. Anne A. Major of 137 Whittier Ave., Syracuse, died last Sunday, July 1, 1962, at her home after a long illness. A native of Skaneateles, Mrs. Major lived most of her life in Syracuse.
She was a communicant of St. Patrick's Church, Syracuse, and a member of the church's Altar and Rosary Society. She was a member of the Royal Neighbors of America. She was the aunt of the late Judge Charles Major of Skaneateles, who also died Sunday.
Surviving are her husband, Michael J. Major; a son, Harold J. Major of Binghamton; four brothers, Harry J., Arthur L. Clarence F. and Leo J. McLaughlin, all of Syracuse, and two grandchildren.
Burial was in St. Mary's Cemetery, Skaneateles.
Michael and Annie Major had two children, Harold and Mary:
Harold T. Major
(1909-1990) m.
Marybelle Kelly
(1911-2008)
Harold Major served in the Pacific during World War II and was wounded at Okinawa and received the Purple Heart. He became district manager for Atlantic-Richfield and lived in Watertown and Binghamton before retiring to Fort Myers Beach, Florida. Because of his father, Harold also was nicknamed "Mickey."
Michael Major m. Diane Toman
Mary Sheila Major (1944- ) A former airline hostess; her most recent address was Fort Myers Beach, Florida. She has a daughter:

Jo Ann Agree
(1966- ) was adopted by Josephine and Irving Agree. She is married to Ole Roynestad and lives in Columbus, New Jersey.
3. Catherine "Kitty" McLaughlin

(1877-1959)
Catherine "Kitty" McLaughlin married Henry Slater (1871-1911). Henry D. Slater was born in Auburn, but lived most of his life in Skaneateles Falls and Hart Lot. He managed the Central Hotel at Skaneateles Junction. A few years after his death Catherine married Daniel Ryan (1878-1936), who died as the result of an automobile accident. Catherine McLaughlin and Henry Slater had three children:
1. Charles Slater (1899-1981) m. Beatrice Bouker
Julie Slater m. ??? Leach
2. Helen Slater (1901-1969) m. Robert Davern (1898- ). They had three children:
Robert Davern (1927-2016)
The Catholic Sun, May 5, 2011
Msgr. Robert Davern is celebrating his 60th jubilee, a priesthood filled with many accomplishments and much fulfillment.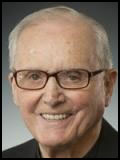 Msgr. Davern grew up on Syracuse's West side and attended St. Patrick's schools. He completed his seminary work at St. Andrew's and St. Bernard's Seminaries in Rochester.

After his ordination on May 19, 1951, Msgr. Davern was assigned to Immaculate Conception in Fayetteville as associate pastor. In 1952 he began serving in the same capacity at Our Lady of Lourdes in Syracuse.

Before taking on the position of associate director of Syracuse Catholic Charities in 1954, Msgr. Davern began to earn his master's degree in social work from Catholic University in Washington, D.C. He then served as director of Catholic Charities in the Binghamton area from 1961 until 1970, when he took a leave of absence to serve as director of social services in San Juan, Puerto Rico.

Upon his return to the U.S. in 1971, Msgr. Davern began to work with Catholic Charities in Syracuse as co-director of development and social action. From 1973 to 1975, he served as pastor at St. Vincent de Paul in Syracuse. From 1975 to 1977, he worked as co-director of Catholic Charities in Binghamton.

From 1977 to 1982, Msgr. Davern served as director of the diocesan Development Office. It was during this time that he worked with Bishop Frank Harrison to coordinate the first HOPE Appeal.

From 1982 to 1993, Msgr. Davern served as chaplain at the Onondaga County Penitentiary, a ministry that he found very rewarding. "I immensely enjoyed the time I spent in prison cells, talking to the forlorn," Msgr. Davern said.

Msgr. Davern was named Monsignor in 1964.

Msgr. Davern's special assignments included serving as the diocesan representative for the Triple Cities State Commission Against Discrimination and chaplain at Loretto Geriatric and Van Duyn Hospital in Syracuse. In addition, he served as temporary administrator at St. Patrick's in Binghamton and at St. John the Evangelist and St. James in Syracuse.

"In the end," Msgr. Davern said, "it's the one-on-one contact to those in need that really matters. My work has been very rewarding. Every day I would go home knowing that I had helped someone.
Marilyn Davern (1926- ) m. Thomas Moore
Kathryn Davern m. John P. Shea
Timothy Shea
m.
Megan Elizabeth Carroll
Sarah Ann Shea
m.
Andrew Myers.
2nd husband:
James Vincent Kilpatrick
(m. 1999)
Zachary Kilpatrick
(2006- )
Benjamin Andrew Kilpatrick
(2006- )
3. John William Slater (1908-1914)
Syracuse Journal, December 12, 1914
John William Slater, six-year-old son of Mrs. Catherine McLaughlin Slater, died this morning at the family home, 503 Tompkins st., after an illness of a few weeks. He was a grandson of Dennis R. McLaughlin of this city and also leaves, besides his mother, one brother, Charles, and a sister, Helen Slater. The family moved here from Skaneateles Junction last April.
4.

William D. McLaughlin

(1881-1959)
Skaneateles Press, May 22, 1959
William D. McLaughlin, a well known Syracuse school teacher where he taught for many years, died Tuesday (May 12, 1959) at his home, Highbridge Rd., Manlius. He was 78 years of age.
A native of Mottville, Mr. McLaughlin was the son of Mr. and Mrs. Dennis McLaughlin of that community. He attended local schools before attending Cornell University, Syracuse University and Oswego Normal schools.
Interested in the industrial arts from his youth, Mr. McLaughlin first taught at the Cornell University Industrial Arts School from 1912 to 1915, became an industrial arts teacher at Vocational High. He also taught at Nottingham High and Valley High. He was the athletic director at Valley High, retiring in 1951 after 39 years of teaching.
Mr. McLaughlin helped to organize the first golf teams in Syracuse high schools and was well known in area golf circles.
He was a member of Kappa Phi Kappa educational fraternity, a life member of the Syracuse Industrial Arts Club, a member of the American Vocational Association and National Teachers Association. He was also a member of Turn Hall.
William D. McLaughlin married

Eloise Munson Briggs

(1883-1965). They had two children:
1. Gertrude McLaughlin (1909-1987) m. Everett Van Alstyne
2. Robert McLaughlin (1911- ) m. Jeannette Clark Fulton, NY
Robert McLaughlin Lived in Baltimore (1979)
5. Harry McLaughlin

(1885-1967)
Harry McLaughlin married Bridget O'Hara (1890-1917). Later he was remarried, to Jane Tucker. According to "This History of the McLaughlin Family" (by Edward F. McLaughlin), Harry McLaughlin taught carpentry and woodworking at Continuation School in Syracuse.
According to her obituary in the Syracuse Journal (April 18, 1927), Bridget Agnes O'Hara McLaughlin died at the Crouse-Irving Hospital, no cause was given. She was born in Syracuse and lived in the West End. She was survived by her father, Patrick O'Hara; two brothers, Patrick and Martin O'Hara; two sisters, Mrs. Fred Blattner and Mrs. John P. Coughlin, and her daughter, Grace.
Besides Grace, Harry McLaughlin fathered two more daughters, Jane and Ann, by Jane Tucker McLaughlin.
1. Grace McLaughlin (1915- ) m. Thomas Dwyer
Kevin Dwyer (1942- ) resided in California, worked for the Southern Pacific Railroad.
Thomas Dwyer also resided in California, worked for the Southern Pacific Railroad.
Brian Dwyer m. Marilyn LaMartina
Sheila Dwyer m. Edward Sarkowski
Deborah Dwyer m. Michael Krupa
2. Jane McLaughlin (1924-1965) m. George Grover (1922-2013). He was a pilot in the Army air Corps during World War 2. Thirteen years after Jane McLaughlin died, he married Carol Ragan.
Thomas Grover m. Martha LaCasse
Dennis Grover m. Susan Dates
Christopher Grover m. Leigh Talbott
3. Ann McLaughlin m. Donald LaCasse; they lived in Loudonville, NY
6. Arthur McLaughlin

(1887-1971)
Arthur McLaughlin married Florence Sullivan (1887- ) on July 25, 1911 in Syracuse. As a teenager, Arthur and two friends set out on a great adventure that was stopped far short of their goal:
Rochester Democrat and Chronicle, June 24, 1904
Dennis R. McLaughlin, of Mottville, reported to Chief of Police Cleary yesterday that his son Arthur, aged 17, had left home with two other boys, all on wheels and that their plan was to ride to Rochester, sell their wheels and go to the St. Louis fair. Lieutenant Klubertans received a telephone message later last night saying the three boys were under arrest at Syracuse.
Syracuse Post-Standard, June 25, 1904
John Mulrooney, Edward Feeley and Arthur McLaughlin, who ran way from their homes at Mottville Wednesday and were arrested at the Central station Thursday, were turned over to their parents yesterday and taken home.
Florence and Arthur McLaughlin had no children. The 1930 U.S. census had them living in Syracuse; ten years later the census listed them as residents of Yonkers, New York.
7. Clarence McLaughlin
(1890-1984)
Clarence McLaughlin married Agnes Reilly (1892- ). He taught industrial arts at Theodore Roosevelt Junior High in Syracuse. Clarence and Agnes McLaughlin had four children – Charle, Rita, Jean and Frank:
1. Charles F. McLaughlin (1917-1984) m. Elsie Polano
Thomas McLaughlin m. Alma Boone
James McLaughlin m. Patricia Curtis
2. Rita McLaughlin (1919-1957)
4. Jean McLaughlin
(1924-29) She was killed while playing in the street with friends
when she was pinned under the back wheel of a truck carrying cement blocks.
3. Frank R. McLaughlin (1927-1999) m. Alice Mells
8. Leo McLaughlin

(1893-1979)
Leo J. McLaughlin
married
Mayme Gleason
(1898- ). They had two children:
1. John R. McLaughlin (1924- ) m. Elizabeth Vander Water
Margaret McLaughlin
m.
Michael McLaughlin
2. William McLaughlin (1927-2009) m. Beatrice Madden
9. Grace McLaughlin

(1896-1912)
Syracuse Journal, Monday, October 7, 1912
Miss Grace M. McLaughlin, daughter of Dennis R. and the late Mary McLaughlin, died early Sunday morning at her home, 235 Whittier av., aged 16 years. She had been suffering from heart trouble for ten days.
Besides her father, she is survived by six brothers and two sisters.
The funeral will be held from her late home at 6:30 o'clock Wednesday morning and a half and hour later from St. Lucy's Church. Burial will be made at Skaneateles.