If only Aunt Liz were here . . .
Liz Major, well known around Skaneateles, New York, always reminded me of one of those two eccentrics in "Arsenic and Old Lace." And during some of the years I knew her she lived with her sister, Sadie (aka Sate), who was even better suited for a leading role in the famous play.
Liz was the self-designated family historian, as Irish as it is possible to be. Because of that, I tended to regard a lot of her tales as so much blarney, but have come to realize her version of family history was as much fact as fiction, even with her embellisment.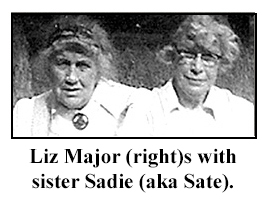 Which is why I regret not having paid more attention. She'd have been a terrific resource for this website. When this began I had no information on my maternal grandmother — didn't even know her maiden name, in fact — and gave short shrift to my paternal grandmother, Rose McLaughin Major, except to make a statement that resulted from a false assumption on my part: that she had a sister who had become a nun known as Sister Mary Antonia.
Sister Mary Antonia settled back in Skaneateles after spending several years at a convent Belgium. Invading German troops in World War 1 chased her to England, and after working with Belgian refugees for awhile, she returned to the United States and wrote a book about her war experience, "From Convent to Conflict."
SOON AFTER my website was launched, I received an email from a distant relative I had never met, Lisa McHugh Rigge, of Camillus, New York, who told me Sister Mary Antonia (nee Mary McLaughlin), did not have a sister named Rose.
So I began to research the McLaughlins of Skaneateles, unaware my Grandmother Rose was just the tip of an enormous iceberg. (As it turned out, Rose and Sister Mary Antonia were first cousins.)
With help from Lisa and from two others who early on discovered this website — James Dougherty, a Skaneateles resident and very distant relaltive, and Charlie Major, a Skaneateles legend and not-so-distant relative — I was able to start a McLaughlin tree.
Of enormous help has been www.fultonhistory.com which makes available old newspaper pages from New York. There's a ton of information available online, though I hasten to add I have not enlisted any genealogy websites; the only genealogist-approved information on my several family trees has come from relatives who have shared it with me.
Most of my information has come from newspapers, which, of course, are fallible, though obituaries tend to fairly reliable — except for spelling of married names —because they are submitted by the family of the deceased, usually through a funeral home. Families occasionally forget some survivors who should be listed. (Obituaries for my grandmother Rose and two of her sisters had three different spellings for married name of the fourth sister.)
ONCE I STARTED down the road that led to other families in the Major-McLaughlin tree, I couldn't stop. The O'Neills, for example, were very important to Liz Major because her mother was Mary Ann O'Neill, who married William Major.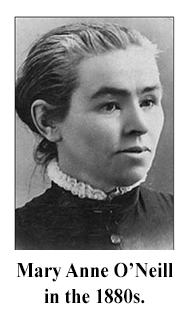 Liz's parents left the village of Bellaghy in the town of Magherafelt in County Derry (aka County Londonderry), Ireland, in the late 1860s and settled in Skaneateles Falls, New York. William had two brothers, Charles and John Major, who also emigrated to America. They were the sons of John and Mary Major.
Why Skaneateles Falls? I'm not sure, though there is some resemblance between the Finger Lakes region and part of Ireland. That familiarity may have attracted early Irish settlers. Another possibility is the James O'Neill, older brother of Mary Ann O'Neill Major, had settled in Skaneateles, and may have been the first person connected with our Major family to do so.
In any event, Charles and William Major settled in Skaneateles Falls, their brother John moved west to Buffalo. (Two of John Major's descendants, Kevin William Major and Rita Major Crawford, furnished family tree information.)
MAJORS DONT figure much in Irish history. Some folks don't even consider Major an Irish name, and it didn't do our reputation much good among diehard Irish that the best known Major — first name John — was a prime minister of England.
According to Liz, our Major family originated in France and showed up in England and Ireland about the 11th century. She said the original spelling as Majeur. I began to doubt her story when I noticed she tended to blend the Majors with the O'Neills long before they were actually connected by marriage in the 19th century. It seemed to me she was saying Shane O'Neill, chased out of Ireland way back when, had fathered a bunch of children, one of whom married a Majeur who emigrated to Ireland. (It seemed odd that Liz, a devout Catholic, took such delight in talking about an ancestor's illegitimate children.)
Liz's tale of Shane O'Neill's adventures in France was fantasy, but history does indicate the Major family —with various spellings of the name — showed up in England in 1066. Those spellings included Malgier, Mauger, Mager, Major and Mayger. Just when a Major settled in County Derry, Ireland, I have no idea, but Liz always gave me the impression she believed the family went directly from France to Ireland. I don't think she liked to consider that most of the Majors who left the continent had settled and remained in England.
AS FOR THE McLaughlins, Liz talked mostly about one Dr. John McLaughlin, saying he was our most famous ancestor. Like her tales about our French connection, this story is questionable.
Dr. McLaughlin, sometimes called "The Father of Oregon," was born in Canada, and his grandfather arrived there approximately 100 years before any of our Skaneateles McLaughlin ancestors left Ireland.
Also, the preferred spelling of the Oregon pioneer's last name is McLoughlin, which may be of little significance because I've found different spellings for several people from the same family. (Most common example in our family tree is Daughterty/Doherty where even siblings can't agree on the spelling of their last name.)
Dr. John McLoughlin's grandfather grew up on the Inishowen peninsula in County Donegal, Ireland. That's where a certain William McLaughlin was born in 1793. Eight of William's children left Ireland for America, though one returned, leaving his son, William, to live with a brother, James McLaughlin, nicknamed "40 Acres" for the size of the land he purchased in the Skaneateles area in 1848.
While it's a longshot, Liz Major may have been correct about Dr. John McLoughlin (or McLaughlin), whose grandfather may have been a sibling of William McLaughlin's grandfather
CHANCES ARE I'll never know for sure. As soon as your research goes into the 1800s you discover families tended to draw from short lists of names for their children. In our case it's a challenge to tell one William McLaughlin from another. (Also, there once was an election in Skaneateles where the name John McLaughlin created confusion because voters claimed they didn't know which of the town's three adult John McLaughlins was running.)
Meanwhile, other descendants of Donegal's William McLaughlin are gathering information on the family history. Some have visited Ireland and provided photos.
Maureen McLaughlin Lester, a great-great-granddaughter of James "40 Acres" McLaughlin, took the photo at the bottom of the "40 Acres" page.
Owen McLaughlin, a great-great-great-grandson of "40 Acres", proposed to his wife in the ruins of an ancient church by the cemetery in Linsfort, Ireland, where William McLaughlin is buried. Owen hopes to learn more about our family history.